Notice!
 This service is no longer supported. See 
Remote Software Access
 for information on available services.
 Ulteo Instructions

Ulteo allows you to run Windows or Linux software on your OS X, Windows, or Linux computer.
Requirements
Install the latest version of Java, which is available free of charge for OS X, Windows, and Linux operating systems. Test your Java plugin after installing. You should also ensure that you're using a current browser with JavaScript enabled.
Getting Started
Log in with your uNID and password. If you see a Java security window, accept or allow it in order to start the Java applet. You can choose to always allow content from this website so that you don't see this message every time.
After logging in, a list of available software will load in the left column of the screen. Click the software you'd like to use once and it will begin loading. Once it has loaded, you can use the software like you normally would. However, it's best to avoid minimizing the software. Also keep in mind that your session will time out after 60 minutes of inactivity.
Troubleshooting
"Application Blocked by Security Settings": Search the Start menu for the application titled "Configure Java". Go to the Security tab > Edit Site List > Add. Type in 'https://bifrost.scl.utah.edu' and click OK twice.
Session ends immediately after logging in: Try clearing your browser's cache and cookies, clearing your Java plugin's cache (OS X and Windows instructions), and restarting your computer.
Firefox 18 or later: You will need to always activate plugins for the site.
Saving & Opening Files
You can save files to or open files from your local computer. To access your local computer go to "Desktop on [computer name]" or "Documents on [computer name]".
With some software, it will be necessary to select "My Computer" in the left column before you can view these folders.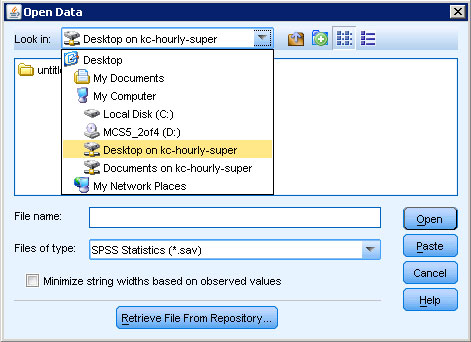 Closing Applications & Logging Out
When you are finished with your work and have saved your files locally, go to File > Exit or click the X in the top right corner. Click the Logout button in the top right of the web site to end your session.