Course Reserves - Students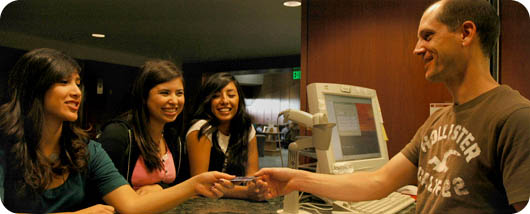 The Reserve Desk is located on Level 2 of the Marriott Library.  The closest entrance is the West Entrance on Level 1.
Save some cash! Did you know you can order any textbook for any course to be placed on Reserve?
Find your textbook at Course Reserve and save money! Your textbooks are available for short checkouts of 4 hours, 1 day, 3 days, or longer. Flatbed scanners are available near the Reserve Desk for easy access. These books are available throughout the semester, so there's no need to spend big money buying your own copy.
If we don't have your textbook, you can suggest we purchase it. Be sure to tell us the course number and professor's name so we can rush it.
To access your class reading list and view e-reserves, search your professor's name or the course number in the Course Reserve tab on our main page. More information is available on our Course Reserves How-To Guide.
---
See Faculty Course Reserves for more information on submitting material for your course.
Contact
Reserve Department
801-581-6049
801-581-8203
 Email
Related Links