Just Fill It!
 Water Bottle Filling Stations & Exhibit
funded by SCIF 2011
Just Fill it
Just Fill It!  is an exhibit designed to increase awareness of the negative impact of plastic bottles on our environment and to encourage people to use refillable water bottles. Each year in the United States more than 50 billion water bottles end up in landfills.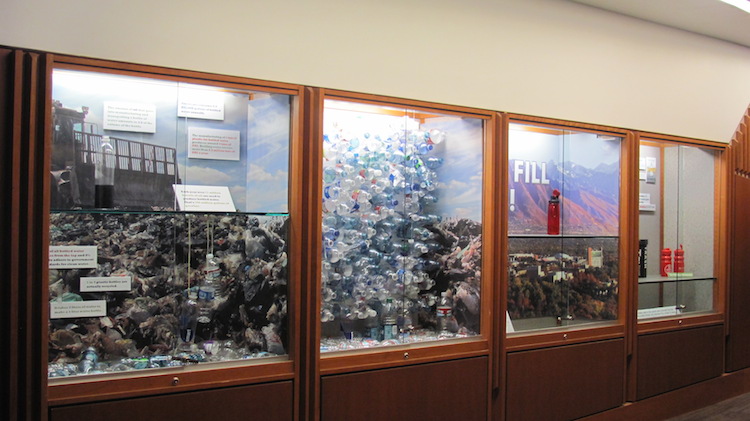 The plastic bottles used to create this exhibit represent the number of water bottles that end up in our landfill in the Unit ed States, per person annually. Take a good look…  Now multiply what you see by 50,000, which is the approximate number of students and employees at the University of Utah.
If every student and employee at the University of Utah used a refillable water bottle, it would keep more than 8 million bottles out of our landfill each year. Imagine how many more plastic bottles would be eliminated if that same bottle was used for other beverages. Even using a refillable bottle some of the time can make a difference.
This exhibit was funded through a Sustainable Campus Initiative Fund (SCIF) grant awarded to Karren Nichols, which also funded the installation of two (2) water bottle filling stations located on level 1 of the J. Willard Marriott Library. 
These filling stations fill water bottles fast with cold, filtered water. Using a refillable water bottle keeps money in your pocket, reduces waste, and conserves resources.
This exhibit was created summer of 2011 by: Karren Nichols, Senior in Sociology and Alex Quitiquit, Senior in Economics.
Special thank you to the J. Willard Marriott Library for its ongoing support of campus and student sustainability initiatives.