The Paper Project Exhibit: The Life Cycle of Paper
funded by SCIF Spring 2012
The Paper Project Exhibit: The Life Cycle of Paper
The Life Cycle of Paper  is one of two exhibits that ran during April and May of 2012 as part of The Paper Project.  The Paper Project was a collaborative project between the J. Willard Marriott Library Green Committee and the U's EnviroClub designed to educate and create awareness about paper consumption, print alternatives, environmental impacts, and individual choice. The project was funded by the Sustainable Campus Initiative Fund (SCIF) and included the run of two exhibits: The Life Cycle of Paper and Print Alternatives & Smart Printing. The project was led by Karren Nichols, Marriott Library Sustainability Coordinator, and Todd Lehman, President, U of U EnviroClub.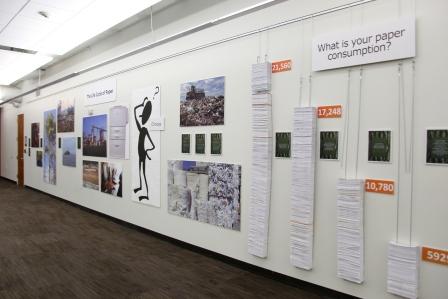 Impact on Forests and Environment
Natural forests are being destroyed at an unsustainable pace with most surviving forests degraded by roads, agriculture, pollution, and invasive species. More than 30 million forested acres - an area about the size of Pennsylvania - are lost annually. Society's insatiable demand for products drives the destruction. More than 40 percent of logged trees are used for paper. For every ton of paper produced, two to four tons of trees are brought to the mill, with old-growth trees supplying nine percent of that fiber.
Logging
Areas being logged by the companies contain some of the richest biodiversity anywhere in the world, which provide habitats for Sumatran elephants, tigers, and orangutans.
The extreme reduction of these habitats, which is partially due to logging, has created a situation where these species are on the ver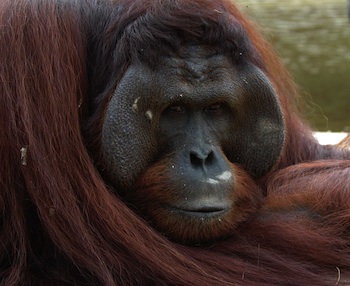 ge of extinction.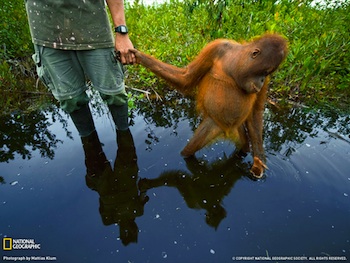 Waterway Contamination
In Maine, the discharge of dioxins by "bleach kraft" paper mills contaminates fish in paper-making rivers and the digestive glands of lobsters in the bays of these rivers to levels that make them unsafe to eat. The bleaching of chemical pulps has the potential to cause significant environmental damage, primarily through the release of organic materials into waterways.
Pulp Mills
Pulp mills are almost always located near large bodies of water as they require substantial quantities of water for their processes.
As public awareness of environmental issues increased during the 1970-80s, environmental organizations were formed that influenced the pulping industry and governments to regulate and reduce the amount of toxic materials being released into these waterways.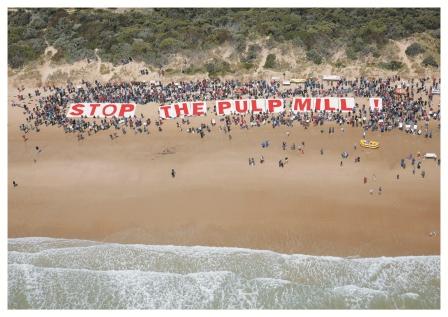 One pulpwood project in the Brazilian Amazon consists of a Japanese power plant and pulp mill. To set up this single plant operation, 5,600 square miles of Amazon rainforest were burned to the ground and replanted with pulpwood trees. This single manufacturing plant consumes 2, 000 tons of surrounding rainforest wood every day to produce 55 megawatts of electricity to run the plant.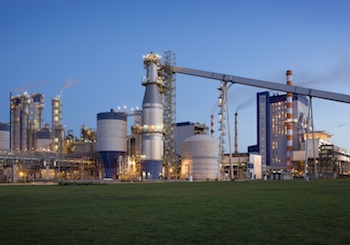 The plant produces more than 750 tons of pulp for paper every 24 hours, worth approximately $500,000 and has built 2,800 miles of roads through the Amazon rainforest to be used by its 700 vehicles.
More and more rainforest is destroyed to meet the demands of the developed world's paper industry, which requires a staggering 200 million tons of wood each year simply to make paper.
 You have choices when printing! Ask yourself . . .

Do I need to print?                    


 -Keep electronic documents

 -Print to PDF file

 -Send via email

 

Do I really need copies?        


 -Scan to electronic copy

 -Distribute electronic copies via email

 -Project documents for group viewing

If printing:

-Duplex

-Reduce Margins

-Choose Eco Friendly Fonts

-Use smaller font size

 
Be part of the solution: Reduce, Reuse, and Recycle!
Paper recycling is one of the great environmental success stories of our day. 
Americans are recovering record amounts of paper for recycling - more than 53 percent of the paper consumed in the U.S. is recovered. 
While this is great news for the environment, there is more that can be done.  Continuing to increase paper recovery will require the renewed commitment of the millions of Americans who recycle at home, work, and school every day. 
The environmental benefits of paper recycling are many
 -Reduces greenhouse gas emissions that can contribute to climate change by avoiding methane emissions and reducing energy required for a number of paper products.
 -Extends the fiber supply and contributes to carbon sequestration.
 -Reduces energy and water consumption.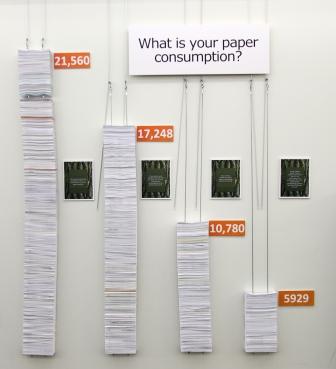 -On the other hand, when trees are harvested for paper making, carbon dioxide is released.  When the rate of carbon absorption exceeds the rate of release, carbon is said to be "sequestered".  This carbon sequestration reduces greenhouse gas concentrations by removing carbon dioxide from the atmosphere.
What is your paper consumption? 
On average American's consume 216 lbs. or 21,560 sheets of printer paper annually.
If you reduce margins to 1/2 inch and use fonts size 10 or 11, paper consumption can be reduced by up to 20%. Reducing consumption to 17,248 sheets of paper.
If you always double-side print, paper consumption could be cut in half. Reducing consumption to 10,780.
Do all of these things, in addition to reducing how much you print by 25%, and your print consumption could be less than 5,929 sheets of paper per year!
Resource List
Hattam, Jennifer. (2010). Tree Hugger. Eco-Certified paper razing Sumatran orangutans' rainforest homes, displacing indigenous peoples. Retrieved from  http://www.treehugger.com/corporate-responsibility/eco-certified-paper-razing-sumatran-orangutans-rainforest-homes-displacing-indigenous-peoples.html 
Natural Resources Council of Maine. (2012). Healthy Waters. Maine's Dioxin Problem: The Paper mill Connection. Retrieved from http://www.nrcm.org/dioxin_facts.asp
Resource Conservation Alliance. (2012). Focus on Paper. Paper Consumption. Retrieved from http://www.woodconsumption.org/products/paper.pdf
Sonnenfeld, David A. (1999). Berkeley Workshop on Environmental Politics. Social movements and Ecological Modernization: The Transformation of Pulp and Paper Manufacturing. Retrieved from http://escholarship.org/uc/item/3zc0r2km 
Taylor, Leslie. (2012). Raintree Nutrition. Wealth of the Rainforest, Pharmacy to the World. Rainforest Facts. Retrieved from http://www.rain-tree.com/facts.htm
United States Environmental Protection Agency. (2012). Paper Recycling. Basic Information Details. Retrieved from http://www.epa.gov/osw/conserve/materials/paper/basics/index.htm