Print Alternatives & Smart Printing Exhibit
funded by SCIF 2012
The Print Alternatives & Smart Printing in the Library Exhibit  is one of two exhibits that ran during April and May of 2012 and was located in the display cases on level 2 of the J. Willard Marriott Library. This exhibit was part of a larger sustainability project titled The Paper Project, which included the following:
 •   Implemented the use of 30% post-consumer recycled paper in all public printers and copy machines. This change not only is environmentally smart but economically.  The library received a cost saving of $3.00+ per carton of paper.
 •   Scrap Paper Bins are located in the Knowledge Commons to encourage the re-use of paper before recycling.
 •   EcoFonts was installed on all library computers and everyone is encouraged to use the top ten eco-friendly fonts identified in this exhibit that can also be found on all library computers.
 •   Print Alternatives: Patrons are encouraged to use print alternatives such as scanning, jump drives, email, and print to PDF.
 •  Print Smart: Existing posters were updated to encourage not only duplex printing and specifying text or page range, but also to decrease margin sizes.
The Paper Project was a collaborative project between the J. Willard Marriott Library Green Committee and the U's EnviroClub designed to educate and create awareness about paper consumption, print alternatives, environmental impacts, and individual choice. The project was funded by the Sustainable Campus Initiative Fund (SCIF) and included the run of two exhibits: The Life Cycle of Paper and Print Alternatives & Smart Printing. The project was led by Karren Nichols, Marriott Library Sustainability Coordinator, and Todd Lehman, President, U of U EnviroClub.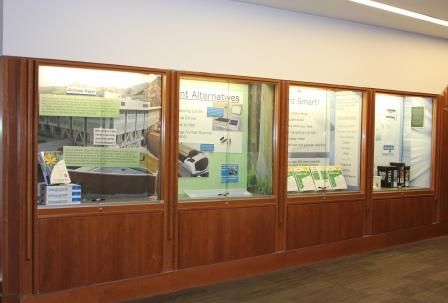 Why doesn't the library use only post-consumer recycled paper?
As a research institution, Marriott Library is responsibilities for preserving and archiving records pertaining to the history of the University and the State of Utah.
The Marriott Library initiated passage of Utah's Centennial Permanent Paper Law in 1996 to help ensure that all state institutions participate in the selection process for the paper they use.
Use of alkaline paper for office printing means the basic media on which these records exist is chemically stable, simplifying the problem of preserving them over time. Using alkaline paper minimizes long-term conservation costs thereby providing a significant economic advantage when retaining a portion of the State's paper records in perpetuity.
The library is continually looking for ways to expand its use of post-consumer recycled paper as the quality of recycled paper is getting closer and closer to that of archival.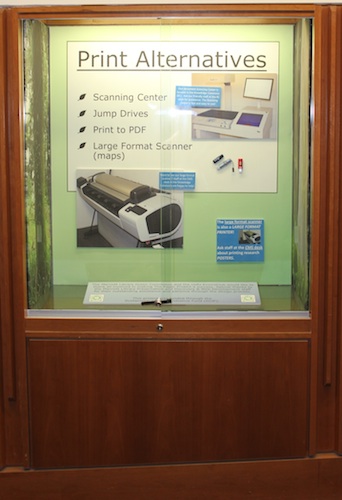 Print Alternatives
There are many print alternatives that can be found in the library. A document Scanning Center can be found in the Knowledge Commons (KC), located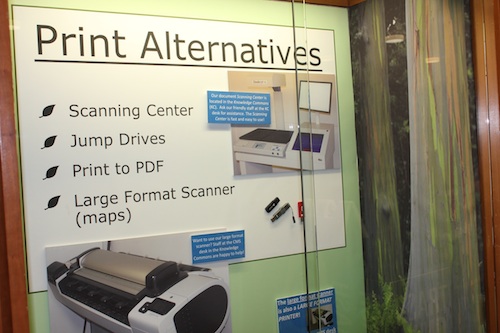 on level 2.  Ask our friendly staff at the KC desk for assistance. The Scanning Center is fast and easy to use! 
Have a job that is too big for the flatbed scanners in the KC or Fine Arts library? A large format scanner can be found at the Knowledge Commons (KC) desk on Level 2. Knowledgeable staff are always on hand and happy to help.
Other print alternatives include saving your document to a jump drive, maintain your document in digital format by choosing PDF format from the printer drop down menu, or sending documents via email.
For meetings, try projecting agendas and handouts for group viewing instead of printing copies.   
Print Smart!
Library computers have eco-friendly fonts installed.
Eco-friendly fonts can use up to 31% less toner. (Printer.Com (2009) Printing  costs: Does font choice make a difference.)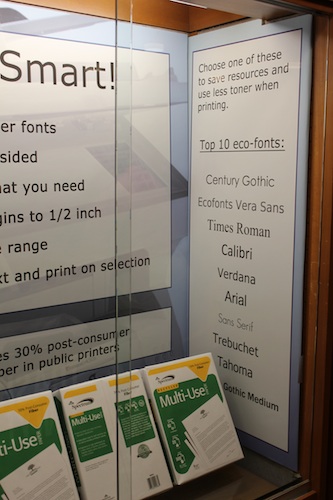 Eco-Friendly Fonts
Choose one of these eco-friendly fonts and save resources and use less toner when printing.
Top 10 eco-fonts:
1.Century Gothic
2.Ecofonts Vera Sans
3.Times Roman
6.Arial
7.Sans Serif
8.Trebuchet
9.Tahoma
10.Franklin Gothic Medium
Reduce   Re-Use   Recycle
Reduce: Scan more, print less!
Re-Use: Scrap paper when only printed on one side; Make Art! Re-use paper for creative projects.
Recycle: When you can no longer use it, recycle it!