Recycling at the Marriott Library
The Marriott Library's recycling program serves on average 370 library staff/faculty and thousands of library patrons, who collectively visit the library more than 1.5 million times annually! The Library has an extensive recycling program that includes mixed paper, office pack, cardboard, plastics #1 & 2, aluminum, batteries, books, and Styrofoam. Throughout public spaces patrons will find recycling quads to sort their recycling and trash. All Marriott Library employees contribute to this program by emptying and sorting their individual trash and recycling cans into larger receptacles located in staff suites. 
Sorting recycling correctly is key to the success of our program! Contaminating a recycling bin with trash may result in the entire contents being sent to the landfill. Correctly sorting recycling materials will result in less waste being sent to the landfill and additional funding for the campus-wide recycling program. In addition to recycling, the library employs green purchasing practices and engages in activities that encourage the re-use and redistribution of operational materials to reduce our overall waste stream.
Where to Recycle and What: 
Office Pack/Paper: These blue cans with WHITE labels titled "Office Pack" can be found all throughout the Library (mostly by copy machines and printers) and are clearly labeled with what can and cannot go in them.
PAPER ONLY. Examples: any white or pastel colored paper (including white and pastel colored junk mail and sticky-notes), any index card, manila envelopes and folders, envelopes, – AND the staples, tape, paper clips and bindings are ok. 
Why sort paper? Office Pack consists of paper that can be recycled back into paper and it can be sold at approximately 3x ($$$) the price as Mixed Paper. This means more money for the campus recycling program!
Mixed Paper:  There are RED recycling containers in all recycling quads for the collection of Mixed Paper. This is where to put items such as magazines and newspapers.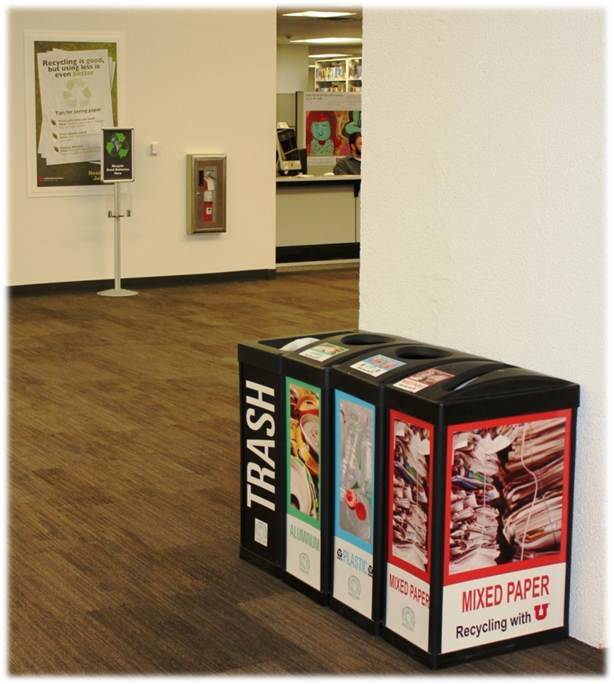 PAPER ONLY. Examples: brightly colored paper and junk mail, newspapers, advertising inserts, magazines, catalogues, phone books, paper ream wrappers, paperbacks, pressboard (ie. paper towel roles and the box your frozen lunch comes in so long as there is no food on it)– AND the staples, tape, paper clips and bindings are ok.
Because there is so much paper collected in the library, you may also see single blue cans with RED labels titled "Mixed Paper" throughout the Library and in staff spaces. These recycling bins are clearly labeled with what can and cannot go in them.
Corrugated Cardboard: Please break down your boxes. Cardboard Boxes can be left by any trash can or, for staff, in an area designated by your department. Pizza boxes that are empty and clean of food residue may also be recycled. Ask custodial staff if you have any questions about a specific item.
Batteries: A recycling/disposal bin for batteries is located by the Knowledge Commons (KC) desk in the Knowledge Commons on level 2.  An additional bin for staff is located in the Staff Break Room on level 5.
Aluminum Cans:
There are
GREEN
recycling containers for aluminum cans located in all recycling quads throughout the library. Only put aluminum cans in these bins.
Plastics #1 & 2: There are BLUE recycling containers located in all recycling quads for plastics #1 and #2. At this time, campus does not recycle plastics #3-7. Please do not put these in our recycling bins.
Want to go the extra mile? If an item can't be recycled on campus, consider the "Pack it in, Pack it out" model. Often items can be recycled at home or in various drop off locations around the Salt Lake Valley. Information can be found on the Salt Lake County's website at http://slco.org/recycle/.
Staff can also recycle the following:
Styrofoa m: Place Styrofoam next to cardboard or, email MLIB-facilities_group for pickup. The library recycles its Styrofoam through Marko, who turns it into surfboard. More information can be found at http://www.markofoamblanks.com/surf-green/surf-green-program/.
Office Supplies: Return any unused or re-usable office supplies to Purchasing on level 1 for re-distribution.
Bubble Wrap & Popcorn Packing: Deliver to the Mailing department on level 1 for re-use.
Corrugated Cardboard: If you have a large amount of cardboard please bring it to the Recycling Room just to the right of the freight elevator on Level 1 and contact facilities.
Facilities is working diligently with Campus and the Library Green Committee to increase the number of items and the number of recycling stations/ containers throughout the Library. If you are unsure of where to recycle an item, please ask. Ask at a service desk, ask employees/co-workers, supervisors, or any member of our facilities staff. If you see someone putting an item that does not belong in a recycling container, please stop them and let them know how to dispose of the item correctly.
To staff: Watching our "Wasteline" at the Marriott Library, by Jay Mumma