Watching our "Wasteline" at the Marriott Library
Jay  Mumma was a familiar face at the J. Willard Marriott Library for more than 29 years and we will be forever saddened at his loss. He was known for his dedication to the library and its mission, his willingness to help anyone who needed him, his big smile, and his ability to make a pun out of anything. Jay played a big role in the early recycling efforts at the library and over the years actively engaged in many sustainability efforts at the library and on campus. Jay was always eager to support students and staff with sustainability efforts. Before he left us, he wrote the following letter to our staff:
By Jay Mumma
July 6, 1944. - May 16, 2011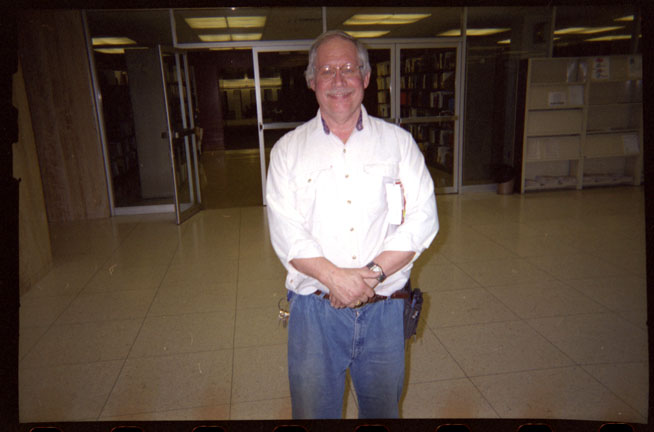 A practical guide to help in the separation of paper, cardboard, plastic containers, batteries aluminum cans, Styrofoam, and packing materials from the trash and other waste that we generate in the operation of the library.  
We are big-time paper users and produce a lot of waste paper. Our campus recycling vendor prefers our "best paper" stock for premium recycling. This paper is primarily used for remanufacturing high quality paper. Designated as "Office Pack", it is typically copy machine and print station off-prints as well as your discarded drafts and files. Any white or pastel papers are fine, as are envelopes, manila folders and index cards; staples, paper clips and spiral or plastic binders are not a problem. All other paper is collected in public and work area containers marked as "Mixed Paper". This is where magazines, newspapers, and pressboard go along with other paper waste.   Cardboard, coffee cups, paper plates, and product packaging are not recycled in these bins, and their presence is the bane of our faithful recycling custodians. These custodians place and monitor these bins throughout the library. They and your department waste team leaders are eager for our contribution to the campus recycling program to work smoothly. They are the best people to ask about sorting decisions, to set up more customized recycling for your department, to notify if a bin is overfull or overlooked. They are the go-to people for the take out of recyclables and our, hopefully diminished, collected trash.  
Much of our book stock, printer and copy paper, computers and office equipment come in corrugated cardboard boxes. Plan on flattening the boxes to make it clear that they are not going to be reused and place them in designated cardboard recycling bin or, if you do not have a bin, stack them next to your other recycle bins.  
All of our Styrofoam packing materials are recyclable. Most of our computer packing is removed and bagged for recycling as the equipment is checked in by our faithful and efficient purchasing and Receiving Department and the PC/Mac groups that deploy the machines.  
Like Styrofoam, all plastic bottles with a marking of 1 or 2 are recyclable. You will easily find box containers for them in public areas, and dedicated bins in your work space. Please remove the caps and empty the bottles before recycling. The loose caps can also be deposited in the plastic recycling bins. As with cardboard packing it is important to not allow food contaminants into our recycle bins. This is trash, not stash for recycling.  
Aluminum cans are all recyclable. Bins are at Mom's café, in our staff room, in the Gould Auditorium, and in your work areas.
We are happy to help you recycle old batteries. Drop them into the "Battery Bin" in the staff break room or give them to the staff at the Student Computing Services (SCS) service desk on level 2. Batteries are hazardous waste and proper disposal includes recycling.  
As always, you can return any extra office supplies to purchasing on level 1. Facilities will happily pick up excess furniture and equipment at any time. University Surplus is the preferred destination for all unused furniture and equipment. 

Again, as always thank you all for recycling.