ABC: An Artists' Book Abecedarium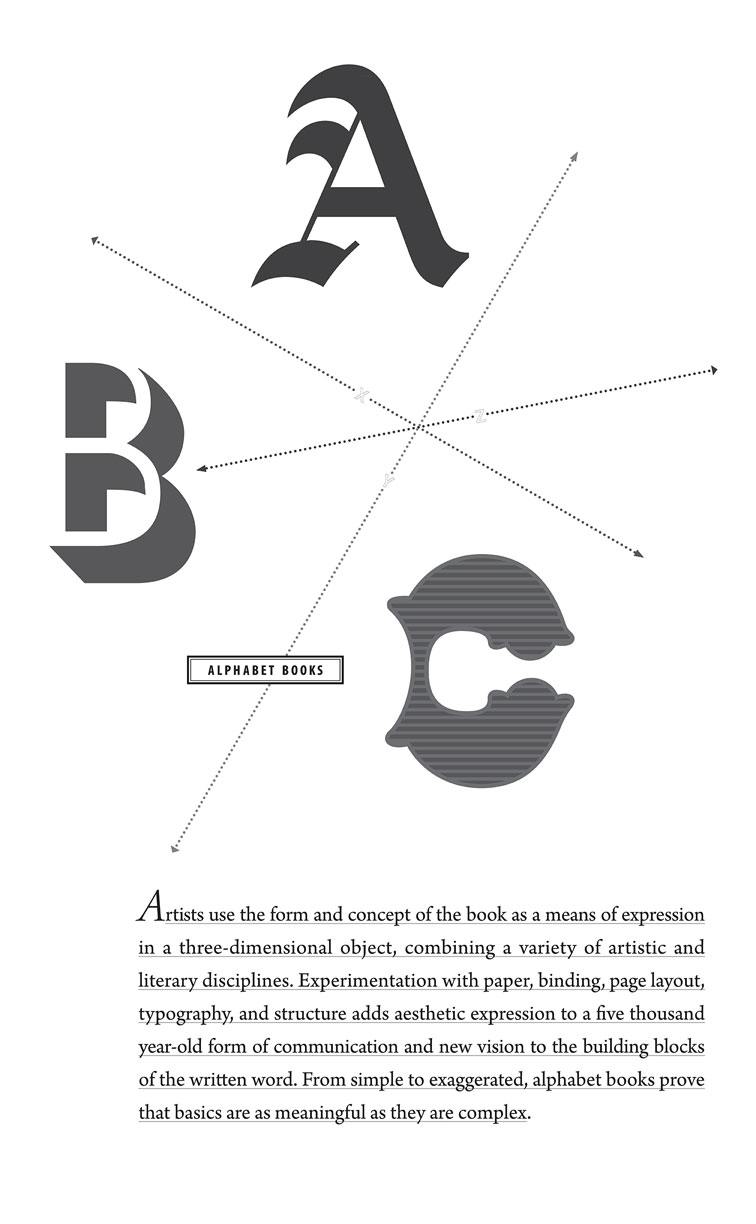 Artists use the form and concept of the book as a means of expression in a three-dimensional object, combining a variety of artistic and literary disciplines. Experimentation with paper, binding, page layout, typography, and structure adds aesthetic expression to a five thousand year-old form of communication and new vision to the building blocks of the written word. From simple to exaggerated, alphabet books prove that basics are as meaningful as they are complex.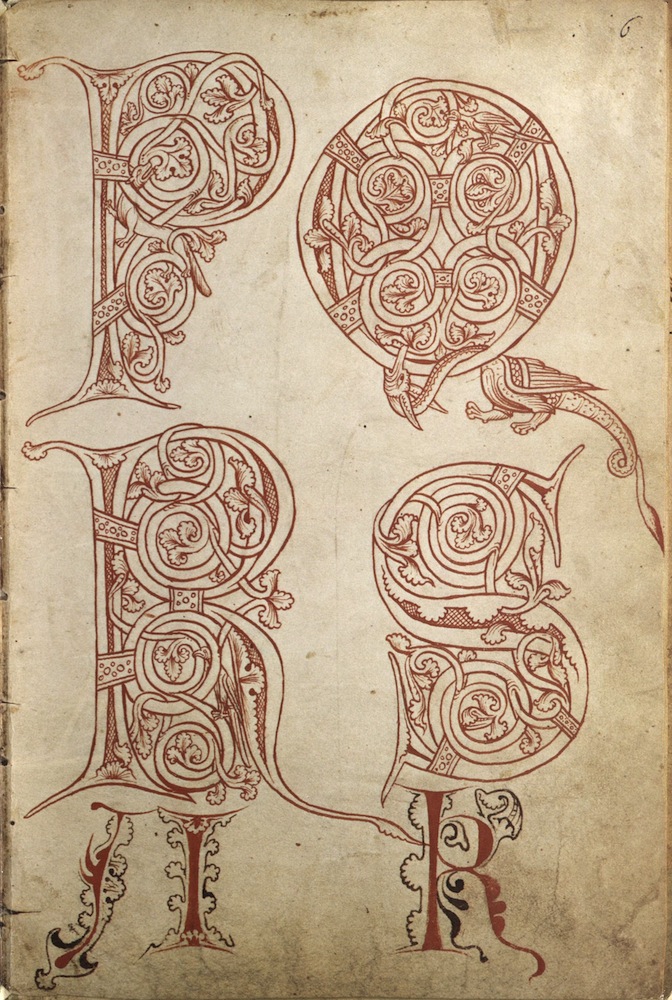 facsimile Reiner Musterbuch
Graz: Akadem. Druck- u. Verlagsanst, 1979
NC75 R34 R43 1979
Some thirty-six ancient and medieval model books have survived, from a second century Egyptian papyrus sheet of drawings for sculpture to a late fifteenth century Italian sketchbook. Preparatory drawings would be shown to potential clients or handed to workshop artisans involved in decorating manuscripts. Most of these guides have been preserved only in a fragmentary state, such as the one here of thirteen leaves of Romanesque pen-drawings. Ornamented initials and animals are two of the various motifs included. The manuscript was produced at the Rein Abbey in Austria.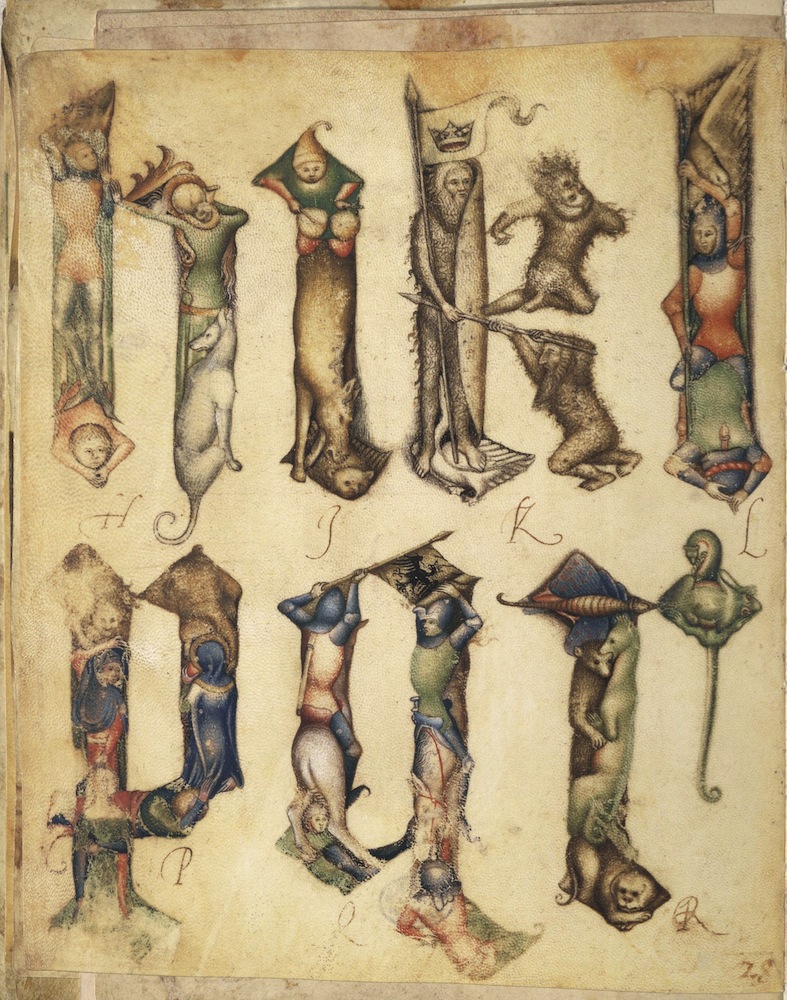 facsimile model book of giovannino de grassi
Luzern: Faksimile Verlag, 1988
NC257 G7315 1988
This model book was created by painter, sculptor, and architect Giovannino de Grassi in Milan in the late 14th century. Model books were indispensable to the artist's workshop as guides to ornamental elements, calligraphic initials, animals, and the human body in various poses and at specific activities. De Grassi's model book is known for his Gothic alphabet, consisting of human and animal figures. All model books influenced the stylistic evolution of art. This one influenced the development of script. De Grassi was a pioneer in Italian art at the beginning of the Renaissance.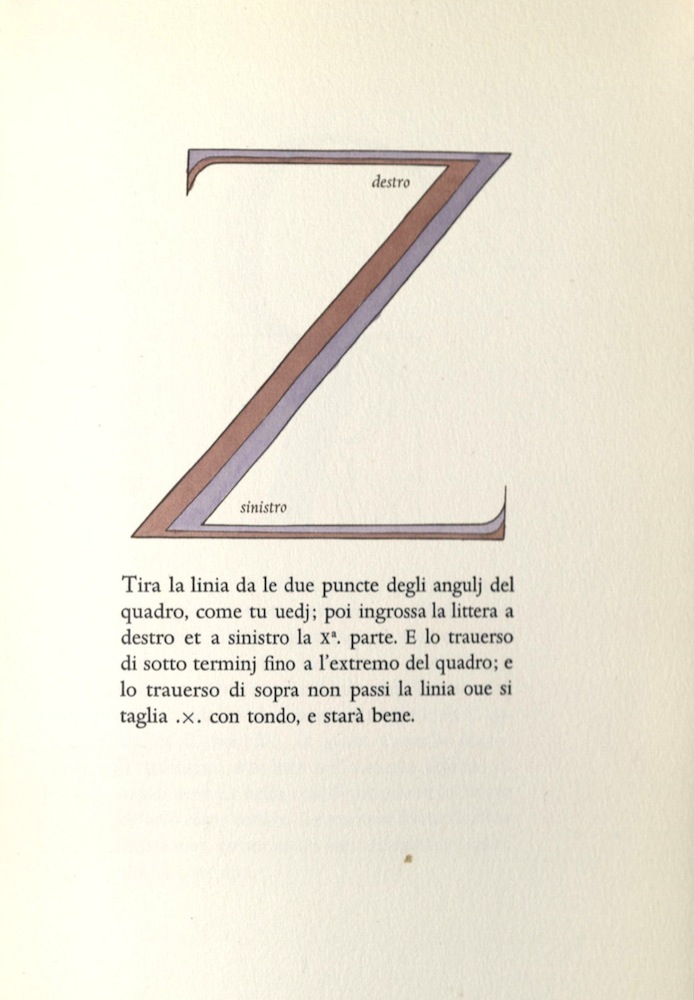 facsimile alphabetum romanum
Zurich: Belser Verlag, c1985
Z40 F43 1960
Veronese calligrapher Felice Feliciano wrote in 1463 that he constructed his Roman capital letters based upon ancient marble tablets found in Rome. The text of this codex is in Italian.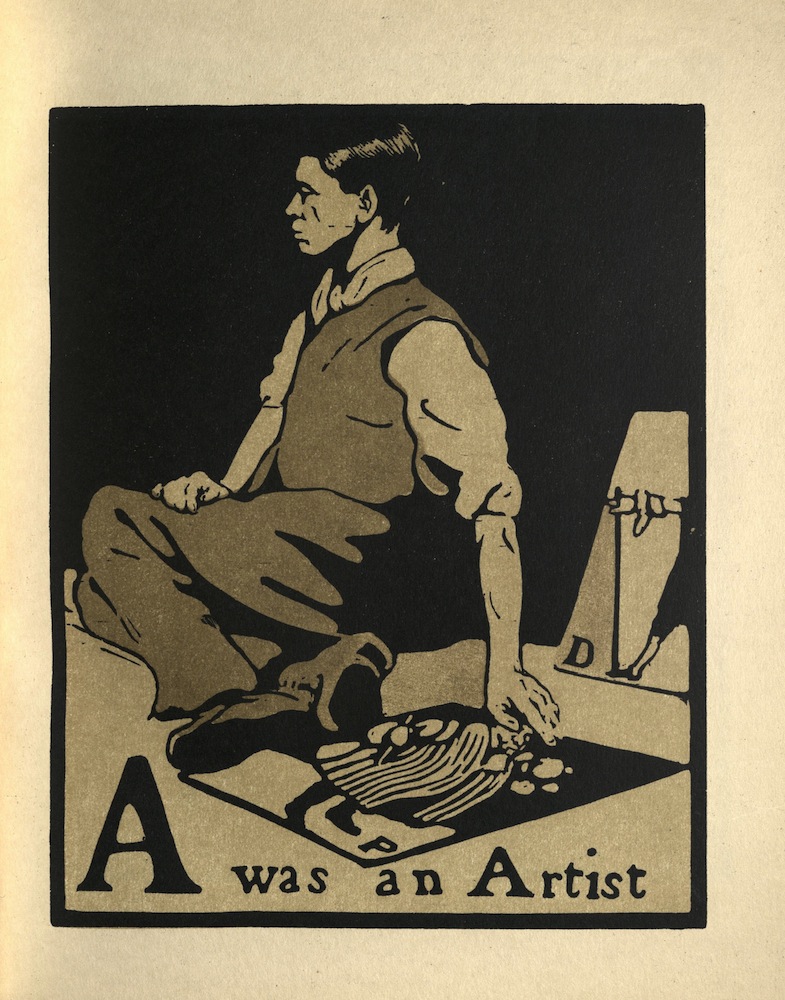 AN ALPHABET
London: Published by William Heinemann, 1898
NK3631 N5 A4 1898
William Nicholson was a distinguished painter, but he made his reputation in the 1890's as a graphic designer. This "popular edition" of Sir Nicholson's Alphabet, with twenty-six color lithographic plates is based on the original edition, which was larger in size and whose illustrations were woodcuts. Each letter is depicted by a person, a figure from life in Victorian England. The subjects were carefully chosen. "A was an Artist" is a self-portrait. The original edition existed in two states: the earlier has "E is for Executioner" and the later has "E is for Earl." The change occurred because the executioner was deemed too scary for children. The "popular edition" follows the original second state. This copy has the original pictorial boards, stained red edges, and all the tissue guards.
ABC BOOK, DESIGNED AND CUT ON WOOD…
New York: Doubleday, Doran and Company, Inc., 1923
PE1155 F24 1923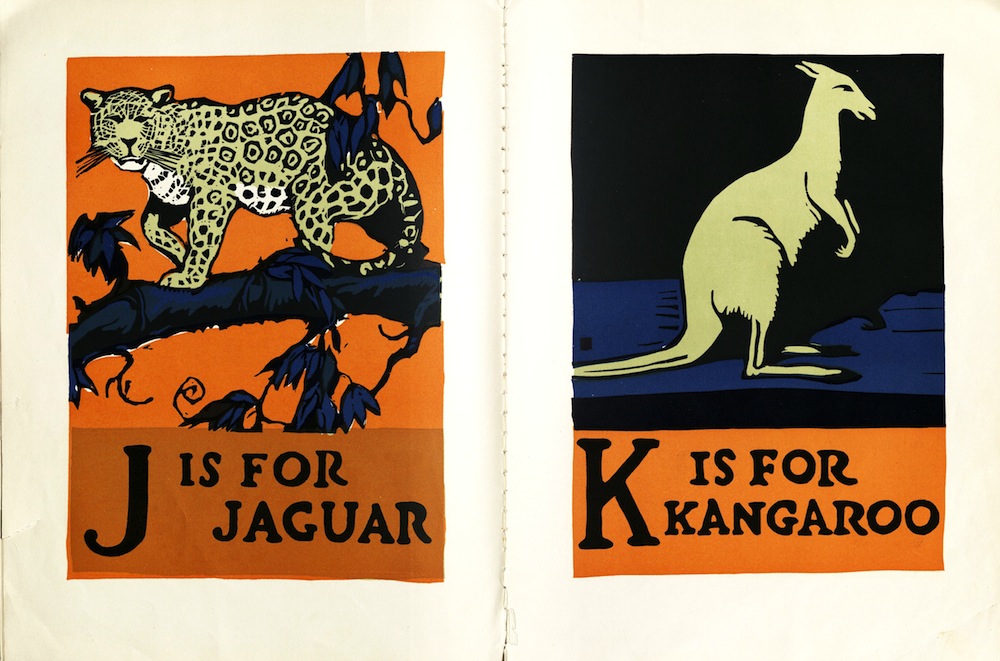 ALPHABETS FOR SIGNWRITERS, ARTISTS, AND...
London: Crosby, Lockwood & Son, 1927
Seventeenth edition
NK3600 D45 1927
Contains fifty specimens of the alphabet in a wide variety of fonts and scripts. Bound in paper over boards.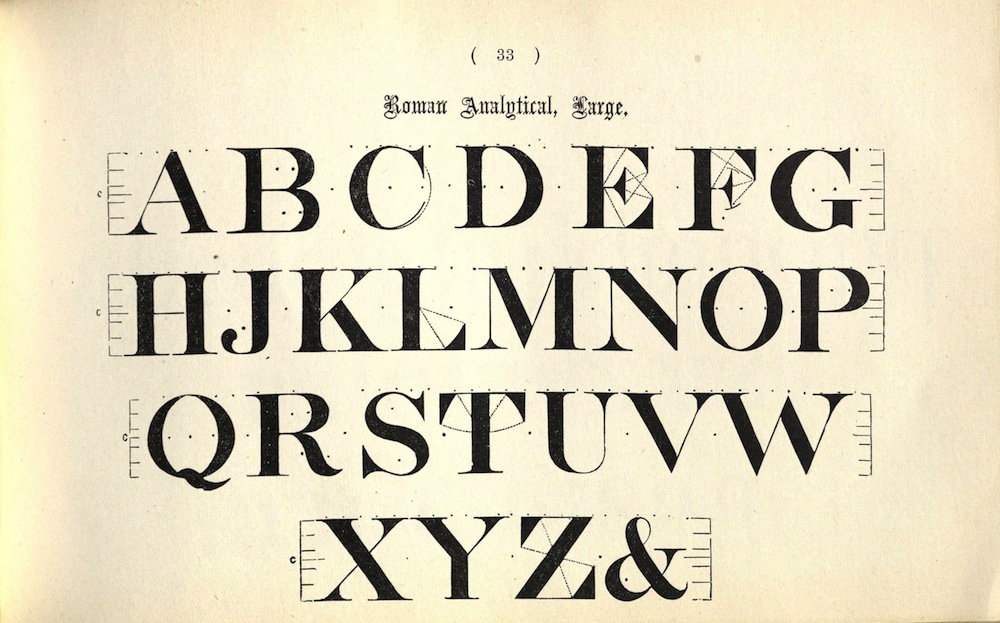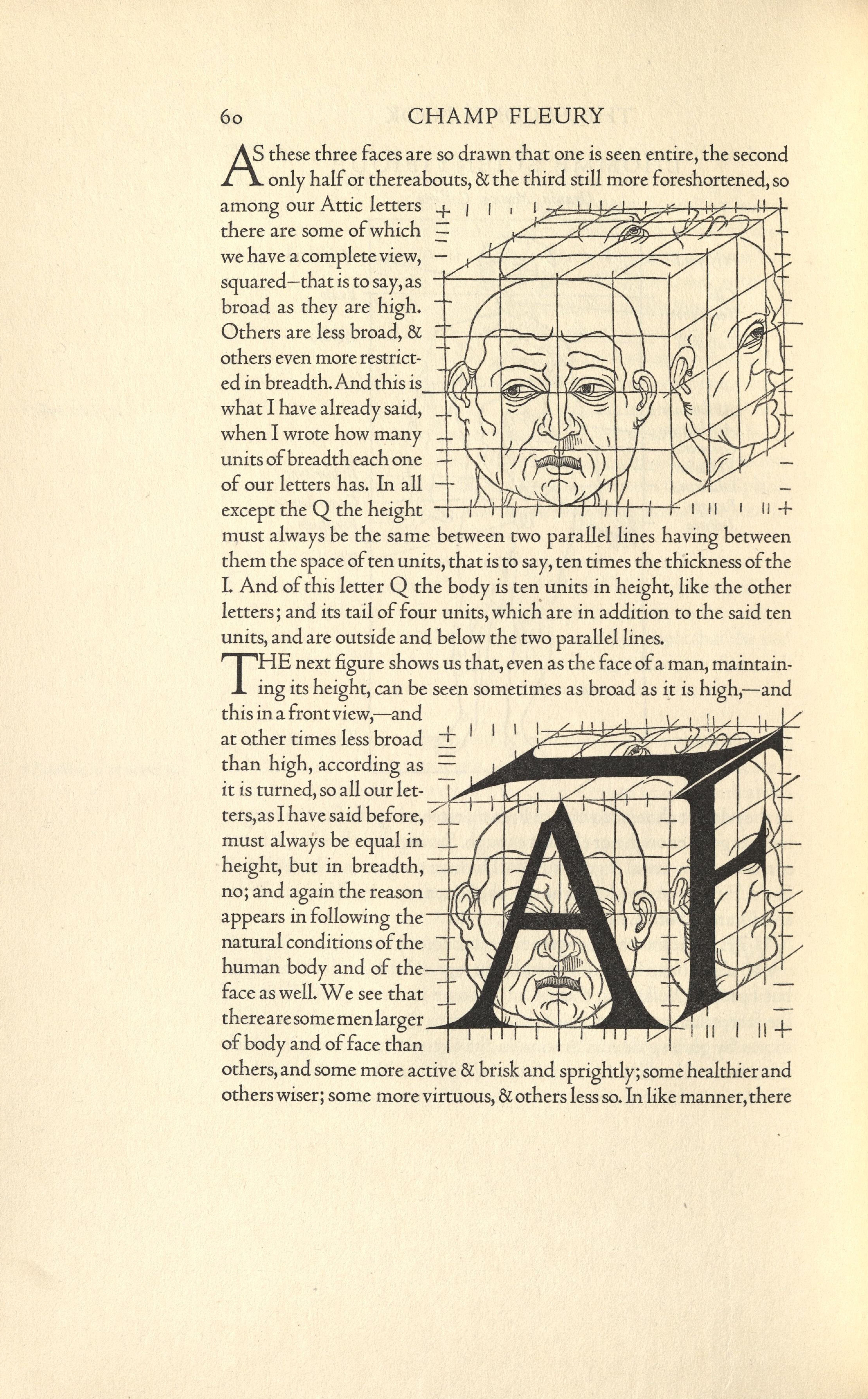 CHAMP FLEURY
New York: Grolier Club, 1927
First English edition
NK3615 T62 1927
This is the first edition in English of Geofroy Tory's famous work on Roman letterforms, first published in Paris in 1529. In 1531, Geofroy Tory was named Imprimeur du roi. Tory developed a method of drawing letters with geometrical aids and then related their proportions to the human body. The English edition was printed for the Grolier Club at The Printing House of William Edwin Rudge and designed by Bruce Rogers, one of the premier American typographers of the twentieth century. The typeface is Centaur, designed by Rogers and based on traditional Venetian typefaces first developed around 1465 by master printer Nicholas Jensen. Rogers redrew all the original specimens and illustrations, thereby omitting the imperfections resulting from the over-inking and poor printing of the Paris original. This book was one of Rogers' own favorites. Printed on American wove rag paper, it was bound in half vellum, lettered in gold, and covered with a paper in a pattern of alternating fleurs-de-lys and thistles, also designed by Rogers. The University of Utah's copy is signed by Bruce Rogers.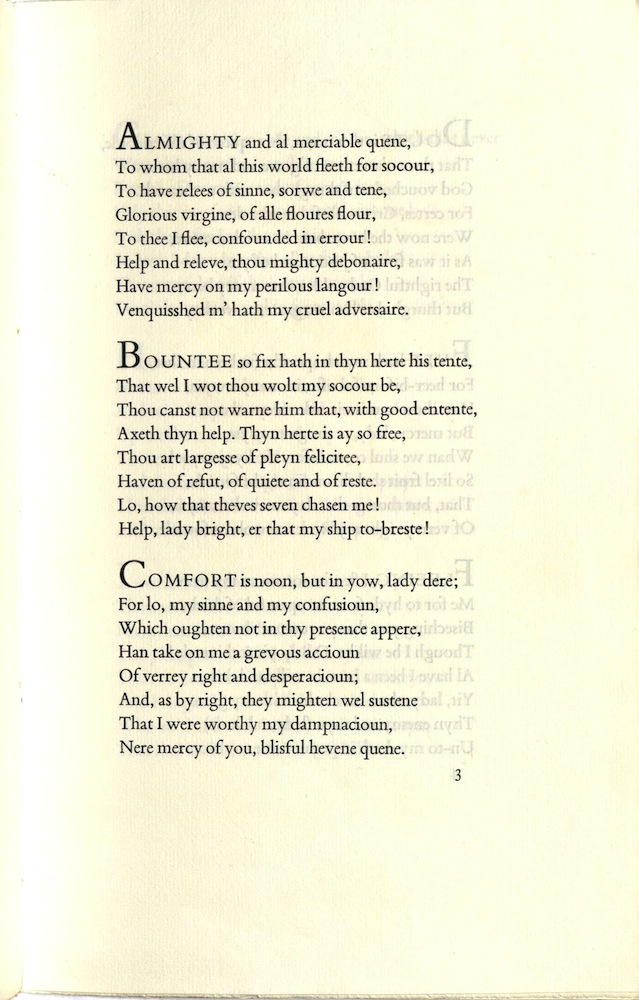 A.B.C.
Birmingham, England: Birmingham School of Printing, Central School of Arts and Crafts, 1933
PR1897 A2 A2 1933
The headmaster of the Birmingham School was Edward R. Taylor, a disciple of William Morris. Arranged and printed under the direction of Leonard Jay.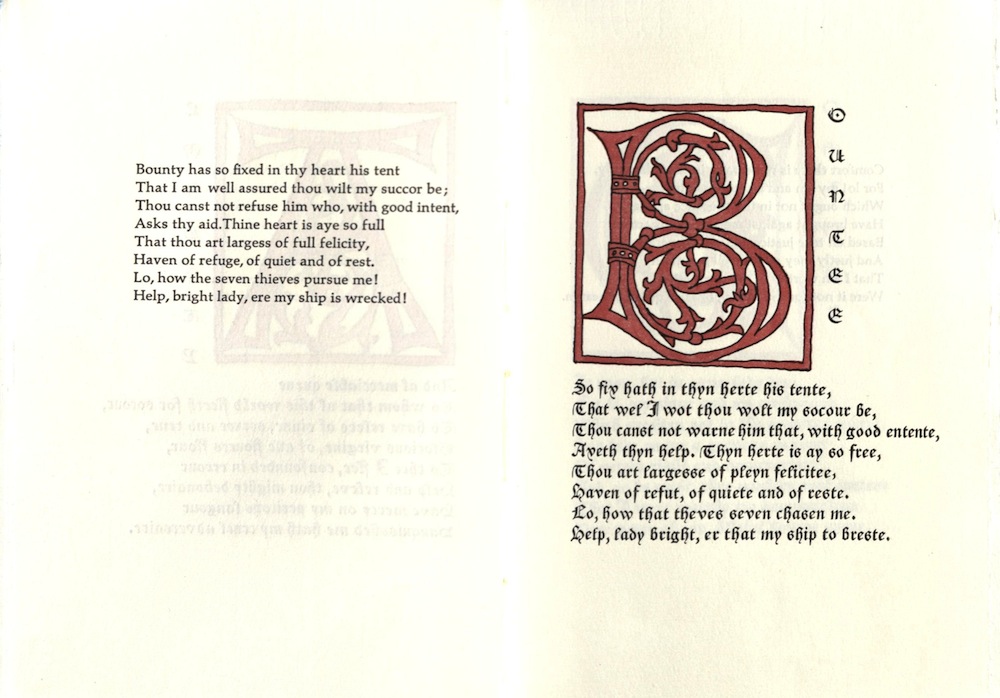 A.B.C., CALLED LA PRIERE DE NOSTRE DAME...
San Francisco: Grabhorn-Hoyem, 1967
Z232.5 G7 C52 1967
Printed by Robert Grabhorn and Andrew Hoyem. Edition of one thousand copies.
AN ALPHABET BOOK
S.l.: s.n., 197?
[CALL-NUMBER]
NK3631 A63 1970Z

WITTY WORDS LAVISH LETTERS
Mill Valley, CA: Splendid Press and Paper Works, 1976
NK3631 W45 1976
Edition of one hundred and fifty copies. University of Utah copy is no. 78, signed by author.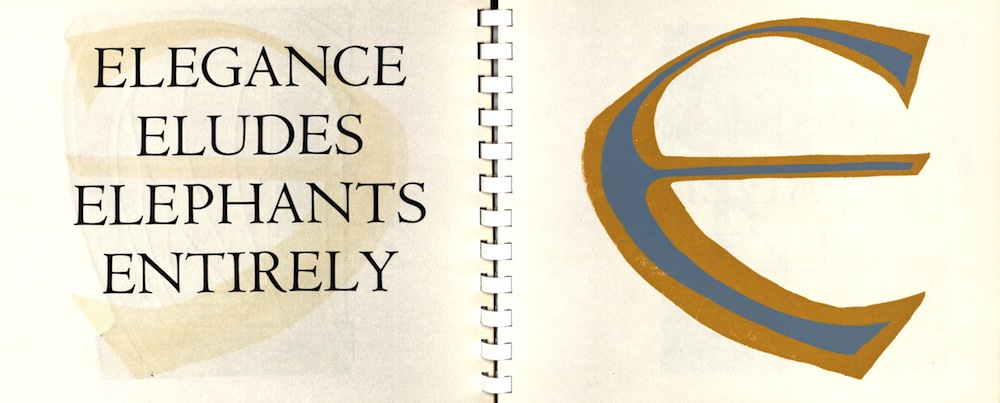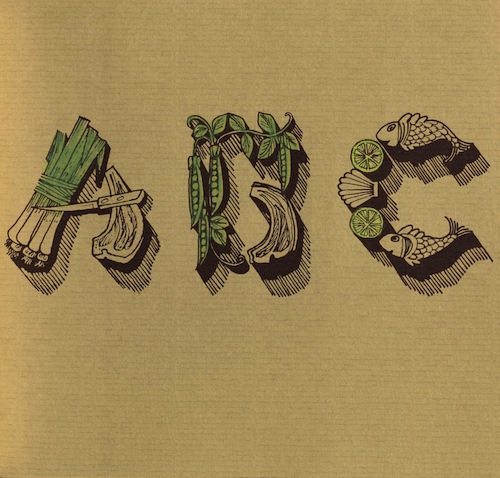 PINKS: AN EDIBLE ALPHABET
Oxford: Inky Parrot Press, Oxford Polytechnic, 1980
N7433.4 S747 P5 1980
The lettering for the word "Pinks" was originally designed and drawn for Pinks Restaurant in Fairford by Sylvia Stokeld. This booklet, designed by Dennis Hall, was printed via hand-lithography by Harry Crook at the Inky Parrot Press in the design department of Oxford Polytechnic. Edition of fifty copies. University of Utah copy is no. 44, signed by the author.
ALPHABET CONCERTINA
Guildford, Surrey: Circle Press, 1983
NK88553.5 K56 A4 1983
Designed as one strip, folded accordion-style to create fifty-four page surfaces, on every two of which is formed, by cutting of the paper, a letter of the alphabet, "a" through "m" on one side of the strip, "n" through "z" on the other. The ends of the strip are pasted to separate boards. The boards, title-page and colophon are letterpress printed.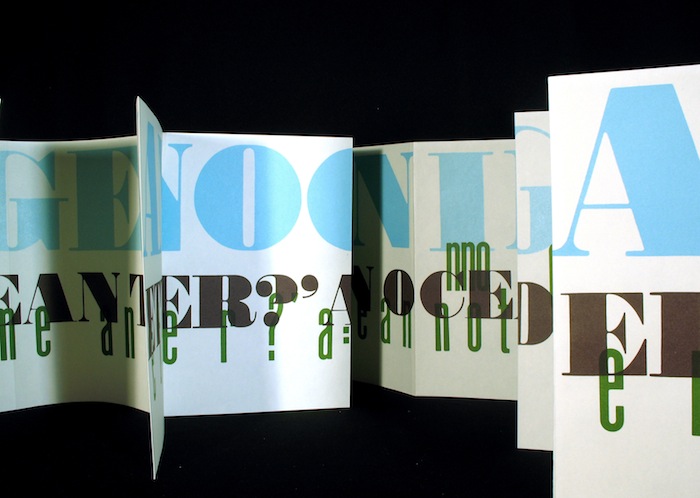 ABAB
Oxford: Campbell Books, 1984
N7433.4 C36 A33
Written and designed during the artist's Brinkley Fellowship in the Department of Graphic Design at Norwich School of Art, 1983-4. One folded sheet. Bound in plywood. Issued in slipcase lined with green cloth. Edition of fifty copies. University of Utah copy is no. 20.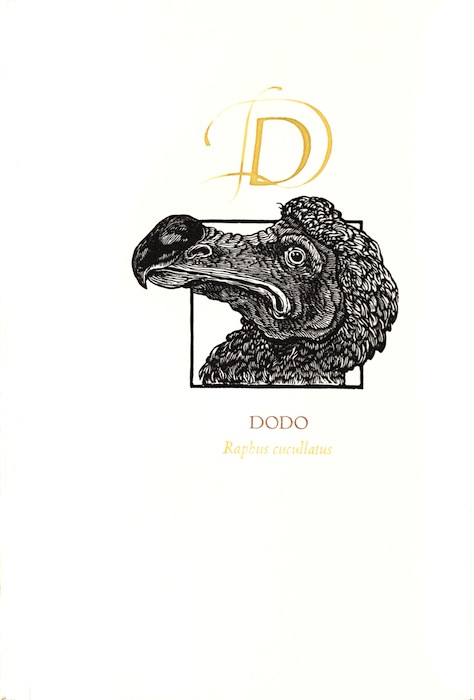 A FOWL ALPHABET
Easthampton, MA: Cheloniidae Press, 1986
QL674 R63 1986
Wood engravings by author. Lettering by Suzanne Moore. Title printed in brown and black; initials and headings printed in brown and gold. Issued in cloth clamshell box. Edition of fifty copies, signed. University of Utah copy is no. 36.
LADY LETTERS
Hyattsville, MD: Rebecca Press, 1986
PE1155 S36 1986
Shape of alphabet letters suggested by the combined arrangement of various body positions and articles of clothing. The alphabet was designed and illustrated by the author, who also modeled for the letterforms. Book design by Rebecca Saady Bingham. Edition of two hundred copies, the first fifty of which were specially bound. University of Utah copy is no. 39, signed by the bookmaker.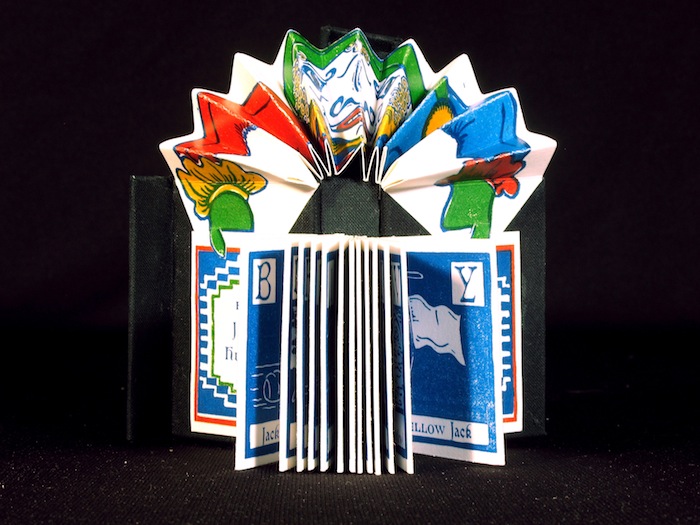 JACK-IN-THE-BOX: AN ALPHABET
Berkeley, CA: Poole Press, 1991
N7433.4 A23 J33 1991
Movable book of one accordion-folded sheet in box with elastic clasp. Each letter of the alphabet is represented by some 'Jack'-related concept.
HOCKNEY'S ALPHABET
London: Faber and Faber for the AIDS Crisis Trust, 1991
First edition
NC343 H6 A4 1991
Facing each letter is a short essay or poem on "whatever [the letter] suggest[ed]" to the artist, David Hockney. The list of those who contributed to the book is a veritable who's who of twentieth-century English-language literature: Douglas Adams, Martin Amis, Julian Barnes, William Boyd, Margaret Drabble, Patrick Leigh Fermor, William Golding, Seamus Heaney, Kazuo Ishiguro, Erica Jong, Doris Lessing, Norman Mailer, Ian McEwan, Arthur Miller, Iris Murdoch, Nigel Nicolson, Joyce Carol Oates, V.S. Pritchett, Craig Raine, Susan Sontag, Paul Theroux, John Updike and others. Edition of two hundred and fifty copies, signed by David Hockney, Stephen Spender, John Julius Norwich and twenty-three writers.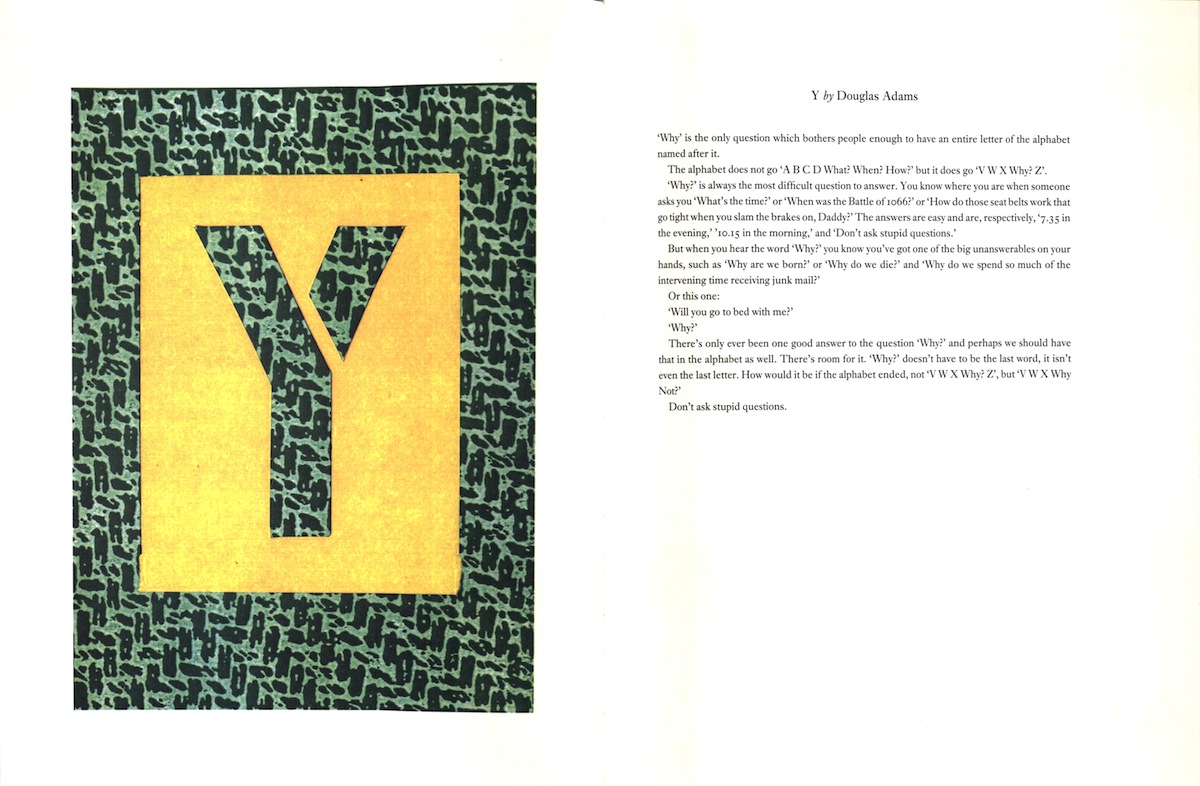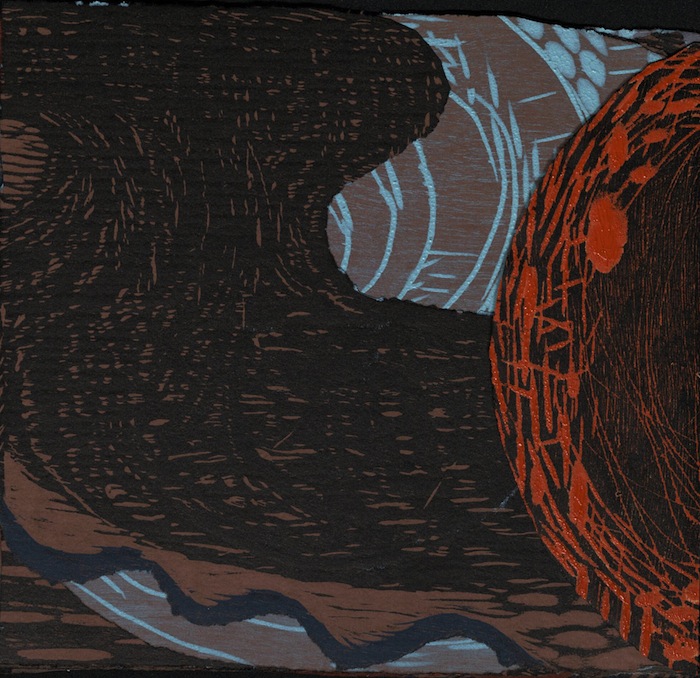 O&
Lincoln, NE: Blue Heron Press, 1991
N7433.4 K84 O2 1991
From the colophon: - woven wattle, wheat waves, hay rolls, fence rows, mangers, chutes - malleable, entwined, shaped, sequenced, permutations of shifting screens - herein the true Venetian rococo of my mind, memory. O& has been printed and bound at Blue Heron Press by artist Karen Kunc. Woodcuts are printed relief and intaglio on handmade Roma Moretta.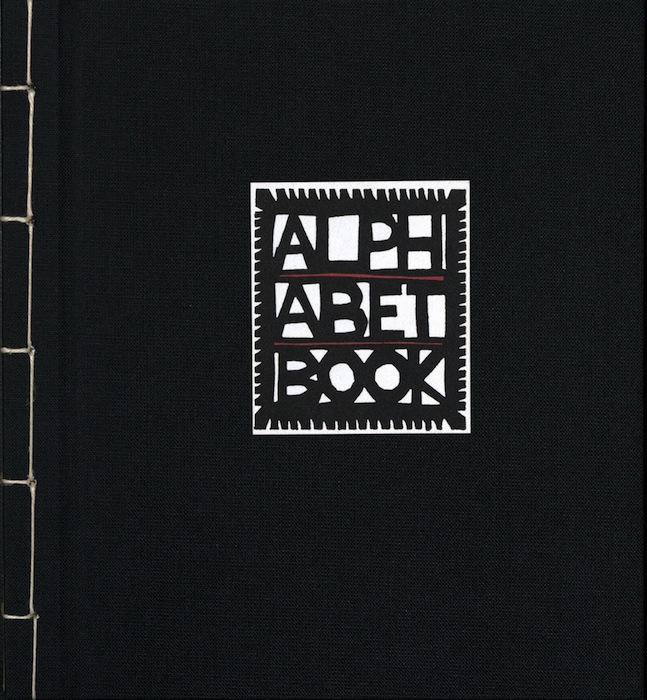 ALPHABET BOOK
Berkeley: Peter Koch, 1991
N7433.4 K89 A73 1991
Each letter began as an original paper-cut and was photo-engraved for the printing of the book. Printed on Masa paper. Binding with pastepaper linings by the artist. Edition of one hundred and twenty-six. University of Utah copy is no. 57.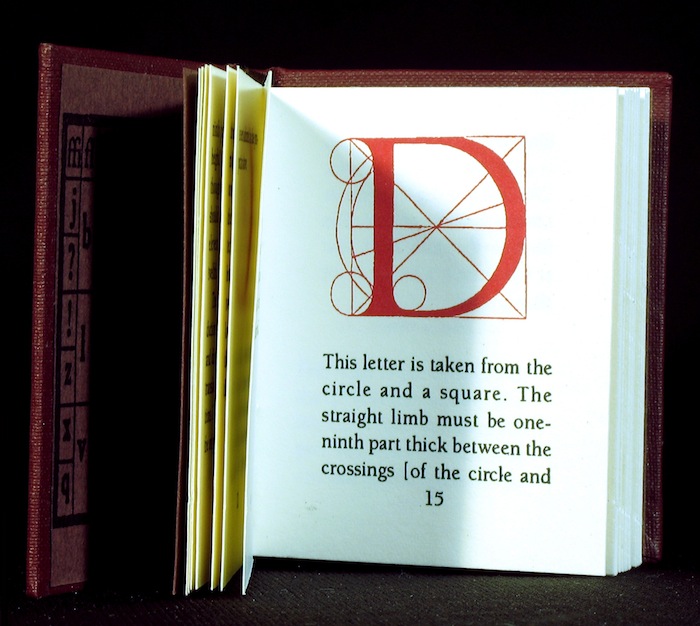 ALPHABET OF CREATION
Seattle: Tabula Rasa Press, 1993
N7433.3 A46 1993
Miniature book issued in slipcase. Three texts include a legend taken from the Zohar, with drawings by Ben Shahn; "The Divine Alphabet" by Luca de Pacioli; and "Direction for the Construction of the Text or Quadrite Letters" by Albrecht Durer. "The Alphabet of Creation" printed in an edition of one hundred and twenty-five copies. "The Divine Alphabet" printed in an edition of two hundred copies. "Direction" printed in an edition of one hundred fifty copies. University of Utah copy of each is no. 64.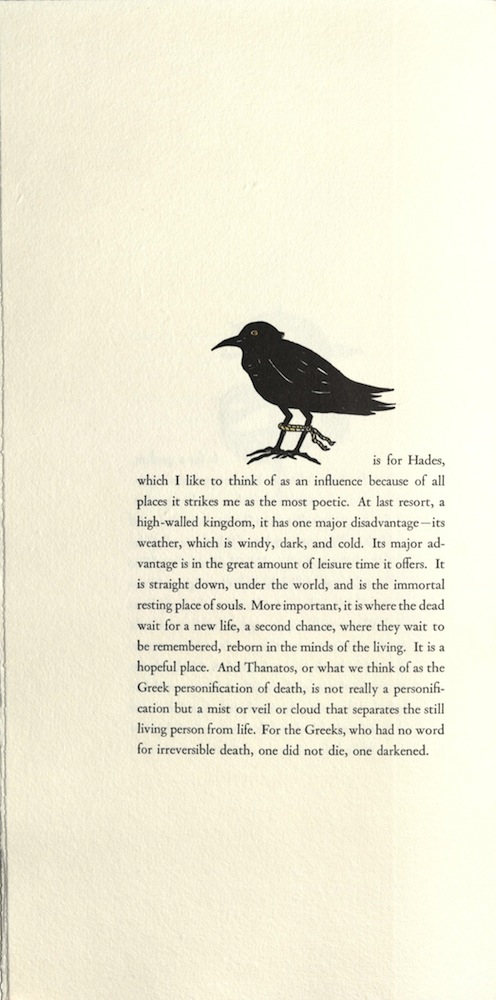 A POET'S ALPHABET OF INFLUENCES
Salt Lake City: Red Butte Press, c1993
PS3569 T69 P64 1994
Drawings by Bonnie Sucec. Fine press book from the Red Butte Press, University of Utah, J. Willard Marriott Library. Printed under the direction of Everett L. Cooley. Issued in a linen-bound case. Edition of 75 copies, signed by poet and artist. University of Utah copies are no. 20 and no. 27.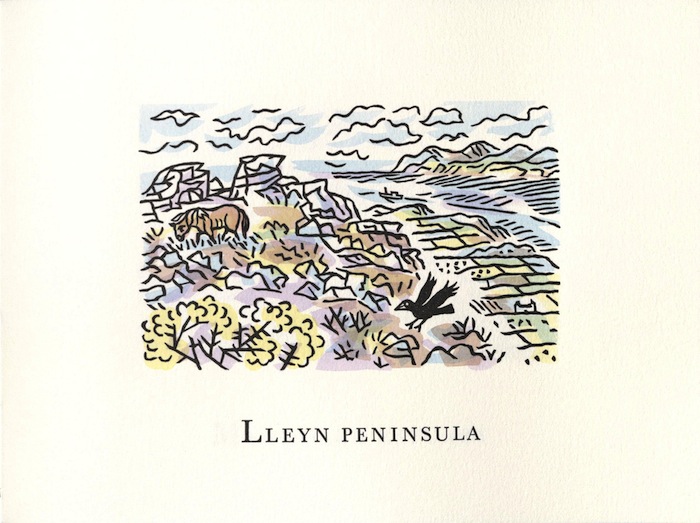 AN ABC TOUR OF WALES
Newtown, Powys: Gwasg Gregynog, 1994
DA731.2 A45 1994
Hand colored by Peter Allen. Edition of three hundred copies.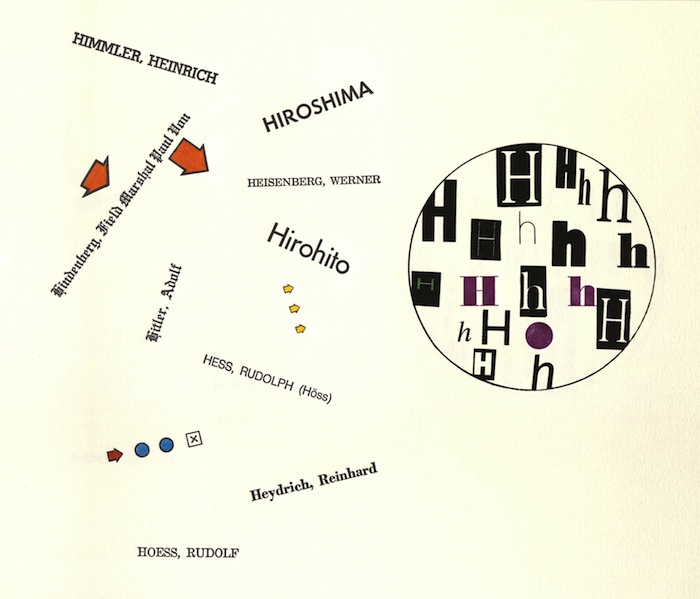 THE ALPHABET BOOK - WWII
Providence, R.I: Ziggurat Press, 1996
N7433.4 F44 A72 1996
This two-volume alphabet book contains a series of collages that consist of letters in a variety of fonts. The designs are concerned with letter identity and the formal relationships of the distinctive shapes within the geometry of the circle. In volume one, each page depicts a letter of the alphabet with names and places of World War II, in different types and font sizes. A series of each of the twenty-six letters, in different colors, are inscribed in a circle. Volume two contains descriptions of the names and places listed in volume one and some images. Collage pages printed by silkscreen and letterpress. Paper is mould made Somerset. Printed on a Vandercook Universal III. The leaves are hole-punched and bound in 3-ring binders with printed grey cloth-covered boards, and housed in a slipcase. Edition of thirty-five copies. University of Utah copy is no. 14.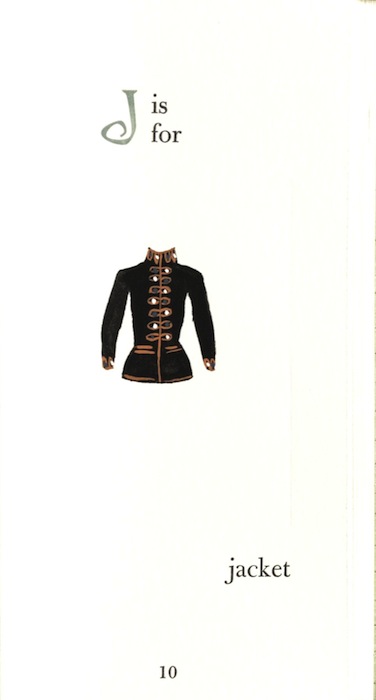 AN ALPHABET BOOK
Ann Arbor, MI: Digger Pine Press. Bloodroot Press, 1998
N7433.4 B84 A47
German Ingres covered boards have an inlaid letterpress label and exposed longstitch sewing, cloth spine. The Rives text papers are illustrated with original gouache paintings and letterpress-printed in twenty-seven typefaces, including Bulmer for the text. Edition of 20 copies, three containing original art work. University of Utah copy is no. 3.
AL PHA BET
Iowa City?: Half Moon Press, 1998
N7433.4 L455 A62 1998
Bound in a French-door structure which is further subdivided into top and bottom signatures, two to a side and four up. The book has dual exposed spine sewing in silk cloth over board covers with a printed title window. Letterpress printed in Bembo and wood type on Fabriano Artistico paper. Edition of eighteen copies. University of Utah copy is no. 16.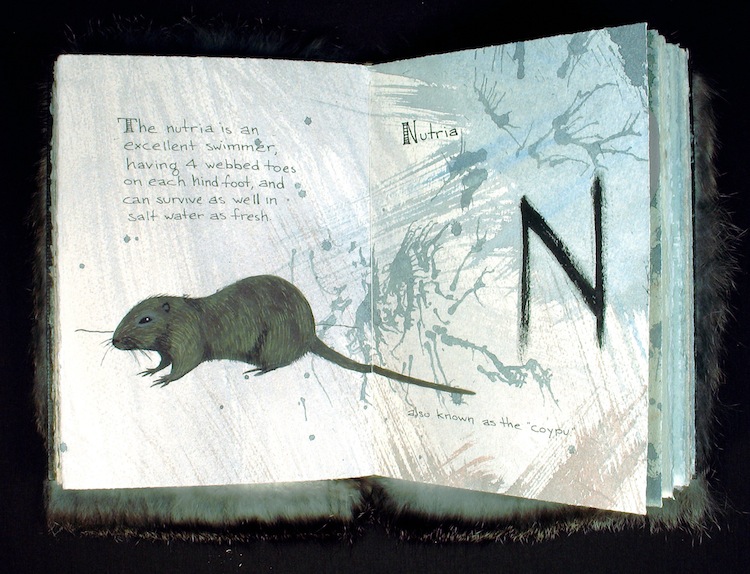 RODENTIA ABECEDARIUM
Tuscaloosa, AL: Small & Simple, 1998
N7433.4 M257 R63 1998
Illustrated with acrylic, gouache, and ink. Bound in goat and rabbit with hemp cords and leather endbands.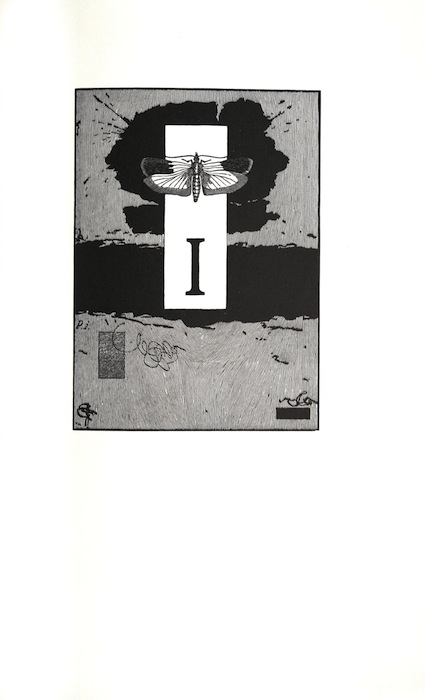 ZEBRA NOISE: WITH FLATTED 7TH
Berkeley: Peter Koch, 1998
N7433.4 W324 Z4 1998
An alpha-bestiary with woodcuts of animals from Armadillo to Jumping Mouse (Zapus hudsonius) accompanying twenty-six short prose statements. Designed and printed by Peter Koch and Richard Wagener on Zerkall paper. Twenty-six full-page wood-engravings and twenty-six smaller woodcut section titles in red. Bound in quarter red morocco over Fabriano laid paper boards with gilt spine. Title and illustration in brown on front cover. Issued in slipcase with red cover with printed paper label. Edition of seventy numbered copies, signed by the author.
THE SACRED ABECEDARIUM
Stevens Point, WI: sailorBOYpress, 1999?
NE53 M664 S33 1999
Handmade paper from abaca, linen, and cotton. Typeface includes Cochin Light. Handsewn signatures housed in a linen covered clamshell box. Edition of 26 copies, signed.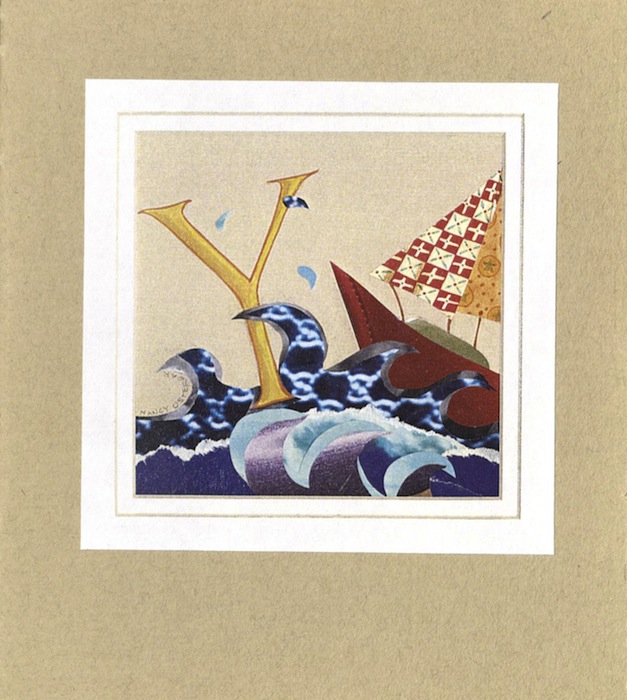 UTAH CALLIGRAPHER'S ROMAN HOLIDAY
Sl., UT: Utah Calligraphic Artists, 1999
N7433.4 U83 U83 1999
Color copies of alphabets on Japanese and Nideggen papers. Bound and signed by Faye Maxfield.
A MUSHROOM ABC
Santa Cruz, CA: Peter & Donna Thomas, 2001
N7433.4 T517 M87 2001
Printed watercolors on one side of an accordion-folded handmade sheet, shaped to resemble a mushroom. First and last fold mounted on paper boards, covered with mushroom shaped gray paper. Title paper label on front cover. Slipcase covered with paper and a Mylar front that reveals the shaped book. Edition of fifty copies. University of Utah copy is no. 22.

ABC
San Mateo, CA: Green Chair Press, 2001
N7433.4 A65 A23 2001
Accordion-fold, inkjet printed, handbound. Edition of one hundred copies. University of Utah copy is no. 24.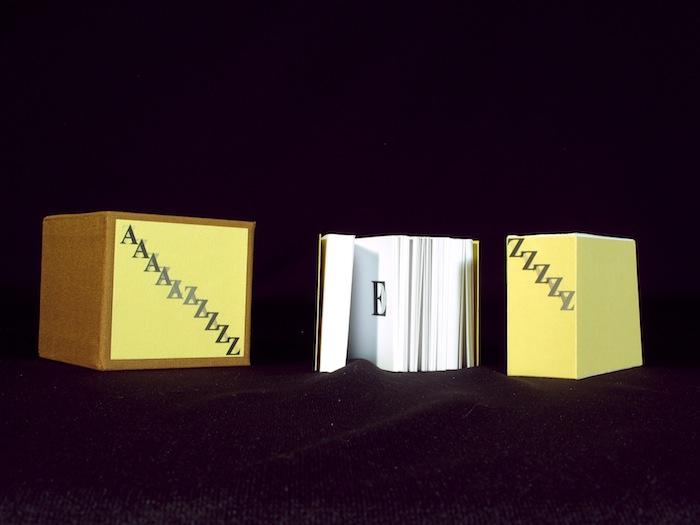 AAAAAZZZZZ
Glenville, IL: Karen Hammer, 2002
N7433.4 H357 A6 2002
Housed in box. Title on box shows the letter "A" turning into the letter "Z." Edition of eight copies. University of Utah copy is no. 6, signed by the author.
THE ALPHABET OF TIME
San Diego, CA: Bay Park Press, 2002
N7433.4 M2595 A6 2002
Multi-media including photopolymer plates, wood type, hand painting, marbling, silk screen, and collage for the images. For the text several fonts of Clarendon, Bernhard Modern, and Bodoni were hand set and printed on Rives BFK paper. Bound at the press. Edition of twenty-six copies, signed by the authors. University of Utah copy is no. 23.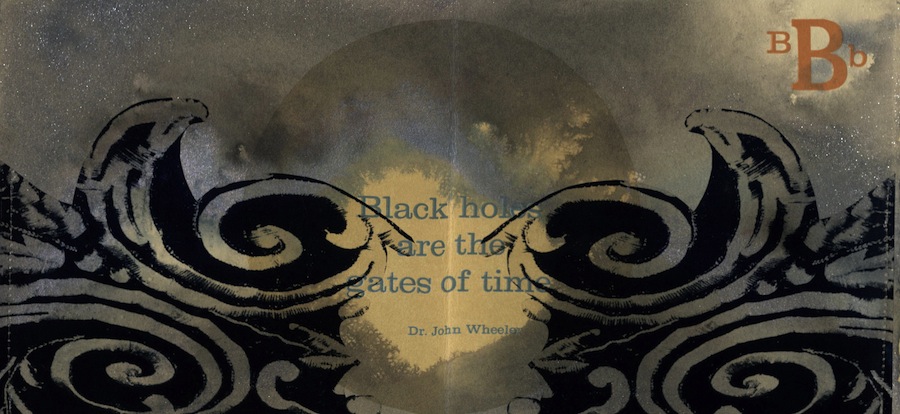 ACCORDION TO ZITHER: A MUSICAL ABC
Santa Cruz, CA: P. & D. Thomas, 2002
N7433.4 T52 A24 2002
Illustrations by Donna Thomas on handmade paper by Peter Thomas. Edition of one hundred copies. University of Utah copy is no. 22.

THE SPECTRUM A TO Z
Glenview, IL: K. Hanmer, 2003
N7433.4 H357 S6 2003
Accordion-style alphabet book. Edition of twenty copies. University of Utah copy is no. 4.
CHERUB ALPHABET: PRINTS FROM ORIGINAL DRAWINGS
New York: Dance Marathon Press, 2003
N7433.4 S552 C4 2003
Resin cherub on front cover with Swarovski crystal book tie. Edition of four copies. University of Utah copy is no. 3, signed by author.

3-D ALPHABET BOOK
Ogden, UT: M. Wells, 2003
N7433.4 W45 T4 2003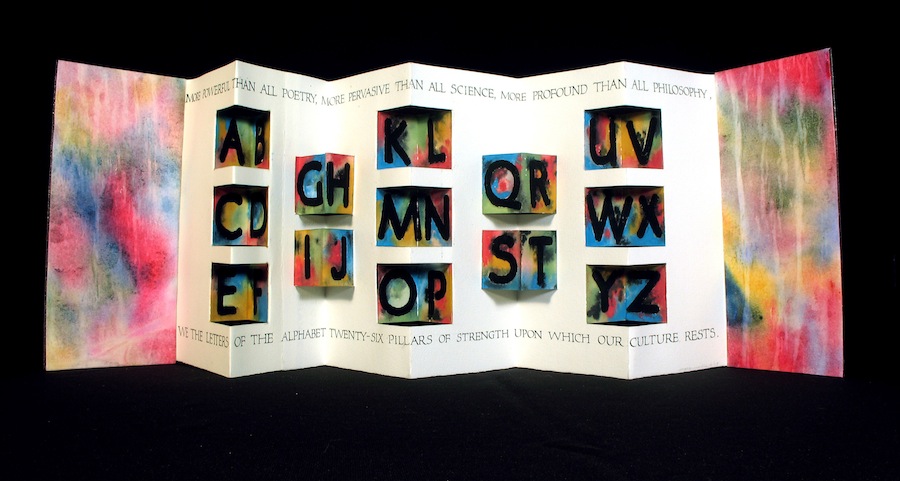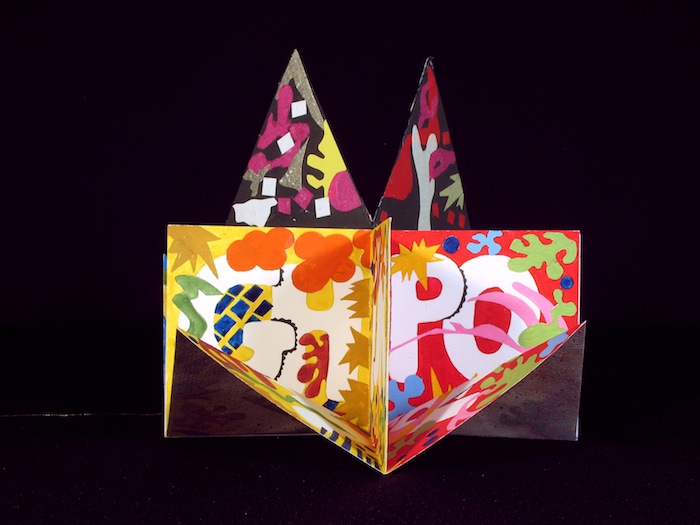 HOUSE BOOK WITH MATISSE ALPHABET
Ogden, UT: M. Wells, 2003
N7433.4 W45 H6 2003
Accordion-fold paper cover ties with attached gold ribbon.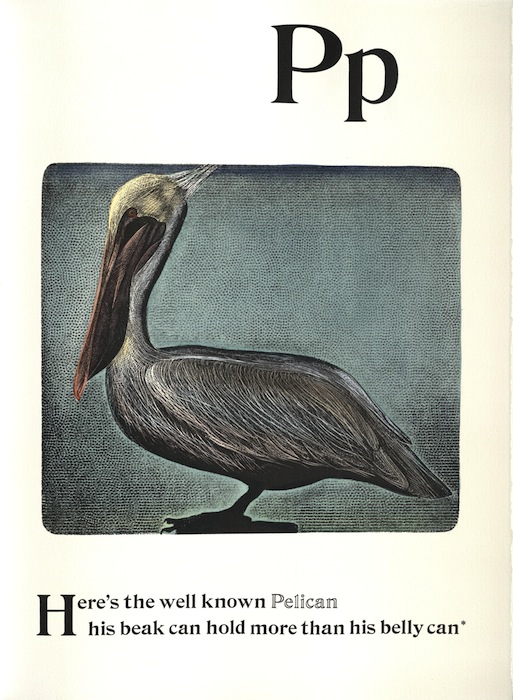 THE BIRD BOOK
Westminster Station, VT: Bridge Press, 2004
PS3605 A54 B57 2004
Illuminated with hand-colored relief etchings by Brian D. Cohen. Typeface is De Vinne. Designed and hand set by Dan Carr. Printed by Julia Ferrari of Golgonooza Letter Foundry and Press in Ashuelot, New Hampshire with wood type from the artist's collection and with type for the poem cast by Swamp Press, Northfield, Massachusetts. Etchings printed on Somerset Book Wove by Brian D. Cohen with assistance from Sara Kazemi at Bridge Press. Prints hand-colored by the artist with assistance of Sara Kazemi and Annie Walter. Cover boards are bird's-eye maple, crafted by cabinetmaker Richard Holmquist. Titling carved by Julie Chen of Flying Fish Press, Berkeley, California. Hand binding completed by Linda Lembke of Green River Bindery, Guilford, Vermont. Housed in portfolio box covered in brown cloth. Production partially funded by the Vermont Council of the Arts. Edition of twenty-six with four artist's proofs. University of Utah copy is lettered "W" and signed by the author and the artist.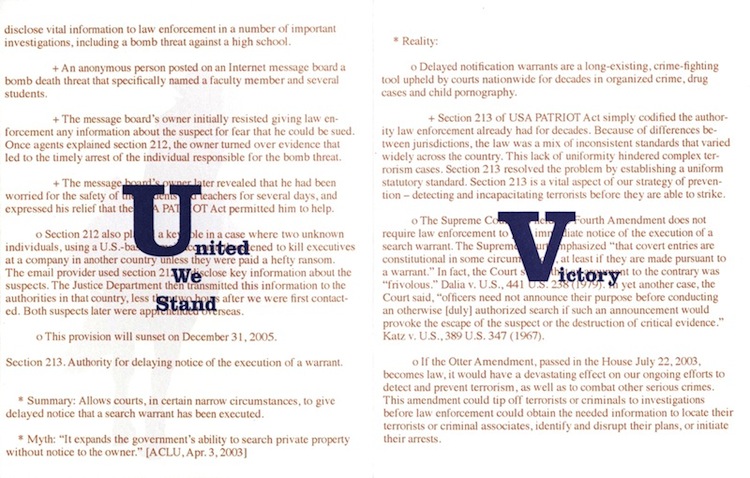 PATRIOT ALPHABET
Glenview, IL: K. Hanmer, 2004
N7433.4 H357 P37 2004
Karen Hanmer layers fragments of text and image, evoking personal memory within cultural context. Intimate but strong, her books are designed to be handled, their sculptural elements giving way to the physicality of reading the old-fashioned way, by turning a page.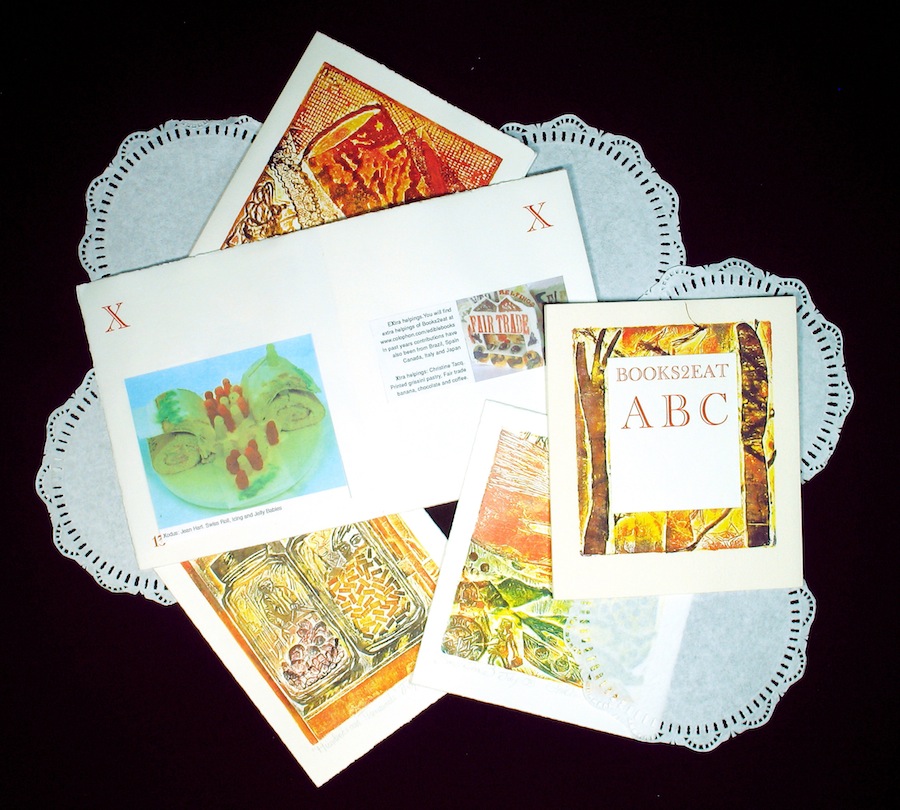 BOOKS2EAT ABC
Thame?: s.n., 2005
N7433.3 B75 2005
From the colophon: This zigzag shaped ABC was inspired by the 1st UK Books2eat tea party, held in Thame. Edible Books High/Low Tea was initiated by Judith Hoffberg in 1999 and became international through the artist Beatrice Coron's website. As with the website, the book's contents can be changed. Digital images are from works by party-goers. Collagraphs are from various artists and young people, including friends who meet up to grow food and eat together. Zerkall folded in a double zigzag was letterpress printed in Caslon Open Titling at the p's & q's press in Thame. Interlinked pages are held in a drop side box by Heather Hunter with a cover by Christine Tacq. Collagraphs from the workshops were also relief printed at the Oxfordshire studio. Laser Prints were tipped in. Books2eat ABC was published on April Fools Day 2005 in an edition of 25 copies. University of Utah copy is no. 12, signed by the author.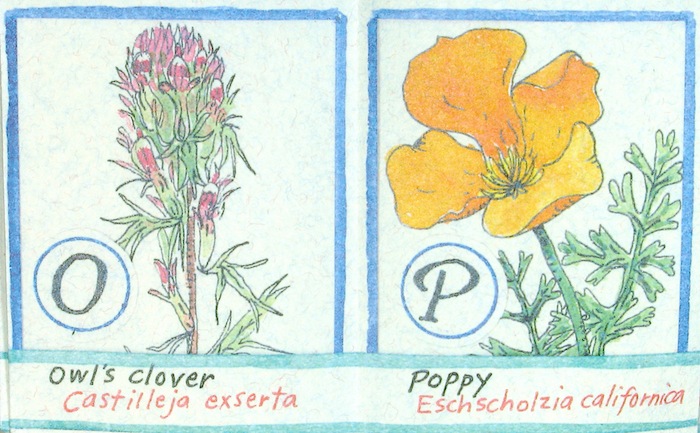 SPRING WILDFLOWERS ABC
Santa Cruz, CA: P. & D. Thomas, 2006
N7433.4 T52 S67 2006
Edition of one hundred and fifty copies. University of Utah copy is no. 12.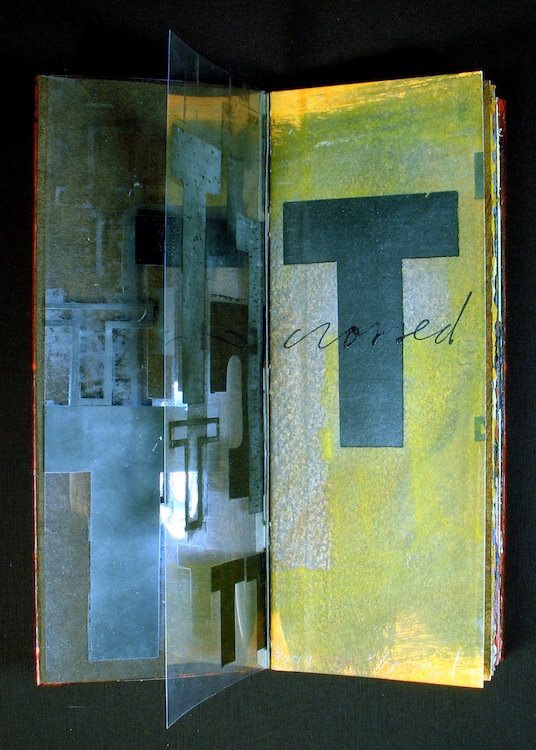 T-CROSSED
Steamboat Springs, CO: Laura Wait, 2007
N7433.4 W34 T3 2007
An exploration of the letter "T" - the axis-mundi - including the crucifixion of murderers, the burning cross of the Ku Klux Klan, the tree of life, the Blood of Christ, the Greek letter Theos and Tau, the Semetic "X," the mathematical sign for addition, Thor's hammer, the worldwide sign for flags. Manuscript on half-title and subsequently repeated throughout the book. Leaves and Mylar sheets first printed with wooden type on an etching press. Paper versos printed with etchings. Paste-painting completed on both sides of all paper in many layers. Pages sewn onto a concertina with linen thread. Bound by the author with spine in reddish-orange Harmatan leather with "T" hand-tooled in gold gilt on the spine. Boards are aircraft plywood covered in etchings printed on Japanese paper with multiple layers of acrylic paint and varnish applied to the covers. Endpapers are walnut-dyed Cave paper. Issued in box. Edition of seven copies. University of Utah copy is no. 2, signed by the author.