Women's Studio Workshop - An Exhibi...
Friday, September 4 – Wednesday, November 25, 2015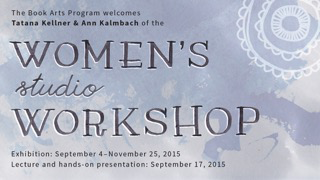 September 4,  2015 – November 25, 2015

This exhibition presents the J. Willard Marriott Library's collection of bookwork from Women's Studio Workshop (WSW). Exhibition curators selected work from the Fine Arts Locked Case and the Rare Books Collection to share in celebration of the WSW's visit to the Marriott Library on September 17, 2015.

September 17, 2015
Lecture: 6pm, free and open to the public, in the Rare Books Classroom on level 4.
Hands-on presentation: 2pm, free and open to all university students, in the Rare Books Classroom as well.

Committed to developing an alternative space for artists to create new work and share skills, Ann Kalmbach, Tatana Kellner, Anita Wetzel, and Barbara Leoff Burge founded the Women's Studio Workshop in 1974. Programs were centered on the artistic process and often informed by feminist values. WSW maintains facilities for etching, letterpress, papermaking, book arts, silkscreen, 3D work, ceramics, and photography. Studios are housed in an historic building, located in the foothills of the Hudson Valley's Shawangunk Mountains and are extensively equipped and well-maintained. Artists can take workshops, rent the studios, schedule private instruction, or apply for artist residencies. Campus Locations: Marriott Library - J. Willard (M LIB)
Room Name/Number: Marriott Library, Level 1 Showcases and Hallways
Cost: Free to the Public
Transportation / Parking: Park in the visitor parking lot, west of the library, next to the bookstore., www.lib.utah.edu…
Contact Name: Ian Godfrey
Contact Phone: (801) 581-6577
Contact Email: ian.godfrey@utah.edu
Campus Wide Event: Yes
More info: lib.utah.edu
Read More!