Bound to Travel: Mini Leather Journ...
Saturday, August 18, 2018, 1 – 5pm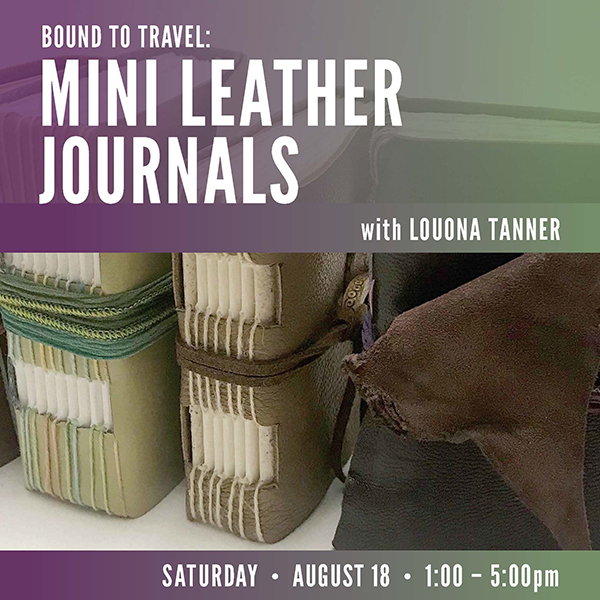 Hitch up your horse for a bit and join us for a half-day, journal making hoe-down! Saddle-up to the long-stitch with expert instruction using ruggedly beautiful materials. Each participant leaves with a 4" x 3.5" blank book and the know-how to wrangle hides into book form when ridin' solo.

- - - - -

Louona Tanner is a calligrapher, book artist, and educator. She has taught bookbinding with The Leonardo, Utah Museum of Fine Arts, Utah Arts Council, Great Salt Lake Book Festival, and the Utah Calligraphic Artists Association. Louona taught books with Youth City Artways for eight years prior to its closing. She served as the Book Arts Program's K-12 Education Specialist for twelve years, taking the history of the book into Utah schools and teaching educators how to apply book forms across the curriculum. Campus Locations: Marriott Library - J. Willard (M LIB)
Room Name/Number: Level 4, Book Arts Studio
Cost: 60
Ticket URL: umarket.utah.edu…
Transportation / Parking: Park in the visitor parking lot, west of the library, next to the bookstore., www.lib.utah.edu…
Contact Name: Allison Milham
Contact Phone: 8015859191
Contact Email: bookartsprogram@utah.edu
Campus Wide Event: Yes
More info: lib.utah.edu
Read More!