Glimpse - 2016 Book Arts Instructor...
Ongoing through Friday, January 29, 2016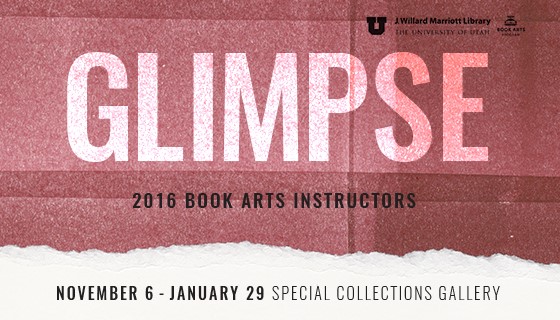 "Glimpse" is an exhibition featuring artists' books and fine press books created by instructors who will teach in the 2016 Book Arts Program. The covers of a book enclose worlds constructed of text and image. To open a book is to expose the intimate details of story, experience and idea. Part of the J. Willard Marriott Library since 1995, the Book Arts Program champions wide-ranging explorations of the book. In our fully equipped studio, bookbinders, printers, and book artists utilize type, letterpress, photo engravings and bookbinding equipment as they combine traditional techniques with modern aesthetics and technology. Campus Locations: Marriott Library - J. Willard (M LIB)
Room Name/Number: Level 4
Cost: Free
Transportation / Parking: Park in the visitor parking lot, west of the library, next to the bookstore., www.lib.utah.edu…
Contact Name: Allyson Milham
Contact Phone: 801-585-6019
Contact Email: allison.milham@utah.edu
Campus Wide Event: Yes
Read More!