1995 John Neerhout, Jr.
The Making of the Channel Tunnel – A Modern Day Wonder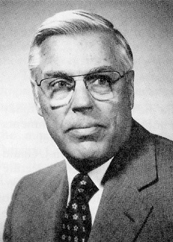 John Neerhout, Jr. is an executive vice president, director, and senior partner of Bechtel Group, Inc. (BGI), and a member of its executive committee. The Bechtel Organization provides engineering, procurement, and construction services in some 135 nations spread across seven continents. In February 1990, Neerhout served in the United Kingdom as project chief executive for Eurotunnel, owner of the Channel Tunnel - the largest private construction project on record. Neerhout returned to Bechtel's San Francisco office in February 1993.
Neerhout received his bachelor's degree in mechanical engineering from the University of California at Berkeley in 1953. Neerhout is a member of the American Institute of Mining Engineers and currently serves as director of the Homestake Mining Company. He is also a member of the American Petroleum Institute, the United States Committee on Large Dams, and a fellow of the Institution of Civil Engineers (U.K.).
Neerhout was elected to the National Academy of Engineering in Washington D.C. in 1992 and elected a Foreign Member of The Royal Academy of Engineering (U.K.) in 1995.
Contact
Dean's Office
801-585-9521
Past Lectures