Simple Book Repairs for At-home Cur...
Wednesday, July 26, 2017, 5:30 – 8:30pm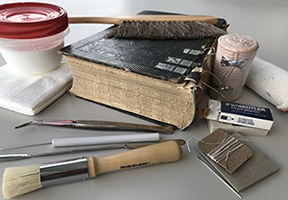 June 28, July 5, July 19, July 26, August 2
Wednesdays, 5:30–8:30
$244, Registration Coming Soon

This course explores basic methods of book conservation as well as the reasons for performing, or not performing, conservation treatments. The class works together to determine the best treatment options for specific damaged books while also considering the ethics of performing those treatments. As students perform conservation treatments, they learn about appropriate conservation materials, adhesives used by conservators, and the tools of the trade. Students leave with a minimum of two treatments, a basic kit of conservation tools, and foundational knowledge to complete basic repairs at home. Space is limited to 15 participants.
- - - - -
Instructor Christopher McAfee received a BFA in printmaking in 1993 from Brigham Young University (BYU) where he was first introduced to bookbinding. In 1995, he received an MFA in bookbinding from the University of Alabama where he developed an interest in book conservation. He has since worked as a conservator of books, documents, and photographs for BYU and the Church of Jesus Christ of Latter-day Saints Archives. He is currently Head Conservator of Rare Books and Manuscripts at BYU. Campus Locations: Marriott Library - J. Willard (M LIB)
Room Name/Number: Book Arts Studio, Level 4
Cost: 244$
Transportation / Parking: Park in the visitor parking lot, west of the library, next to the bookstore., www.lib.utah.edu…
Contact Name: Allison Milham
Contact Phone: 8015859191
Contact Email: bookartsprogram@utah.edu
Campus Wide Event: Yes
More info: lib.utah.edu
Read More!