Just Digitize It! : The Geology Theses Project
The need to organize, preserve, and share the geoscience materials available at the University of Utah motivated the J. Willard Marriott Library's Geospatial Information Committee to begin a project of digitizing the University of Utah's geological theses and their associated maps.
We compiled a list of the geology theses and dissertations created by University of Utah students during the years 1950-1975. Using this list of ninety-three theses and associated maps, we set out on an adventure to gather all of the maps and texts for digitizing. The files were added to USpace (the University of Utah's institutional repository), bringing each complete thesis together once and for all in a digital environment.
While the digitization project progressed, the Geospatial Information Committee enlisted the assistance of the library's Geospatial Information Specialist, in collaboration with the Utah Geological Survey, to georeference the map images and create files which can be utilized for 3-D viewing and spatial analysis using GIS software. As a final step, these files were also included in USpace and linked to their corresponding thesis for users to download and manipulate in GIS programs or view in Google Earth.
What began as a project of the J. Willard Marriott Library's Geospatial Information Committee to improve access to geological scholarship has evolved into a multi-departmental endeavor to not only make the material easily accessible, but interactive as well.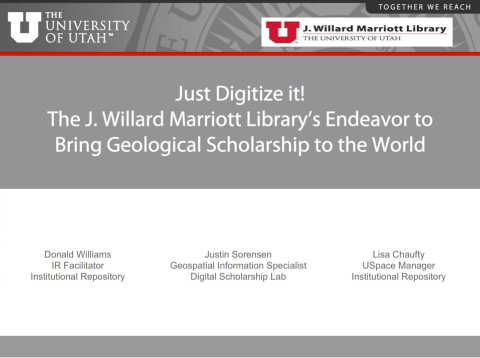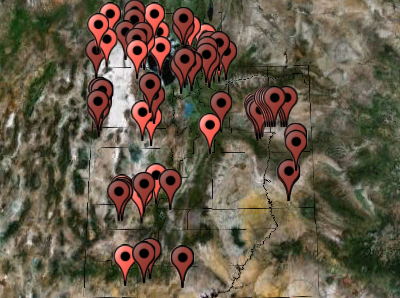 Acknowledgments
This project was made possible through the hard work of several departments at the Marriott Library in partnership with the Geospatial Initiatives Committee,
April Love (Chair), Dave Morrison, Ken Rockwell, Amy Brunvand, Justin Sorensen, Donald Williams, Lisa Chaufty, Lorelei Rutledge, and Anne Morrow.
Individuals who contributed significant leadership and hours to the project are listed below:
Justin Sorensen, Geospatial Project Lead
Donald Williams, USpace Project Lead
Cindy Russell, USpace Scanning and metadata application
Lorraine Chin, USpace Scanning and metadata application
Lisa Chaufty, USpace Manager
We would also like to thank the Digital Library for their large-format scanning work.
Contact
Special Collections
801-581-8863
801-581-3886

Related Links