Welcome to GIS Services
GIS (Geospatial Information Systems) Services offered through the J. Willard Marriott Library are available to collaboratively support and assist University of Utah students, staff and faculty with the transformation and visualization of data through the creation of geospatial projects.
Featured Project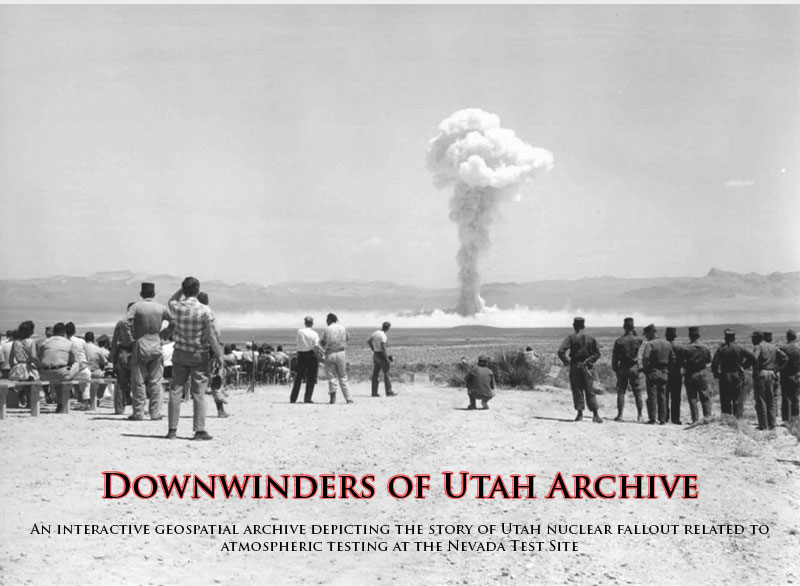 Learn about nuclear testing conducted at the Nevada Test Site and the devastating effects nuclear fallout has had throughout Utah.
---
  View Presentations from the Archive Launch

Downwinders of Utah Archive Launch Event
Map of the Week

Tornadoes have been found to occur during each month of the year; however, March through June marks an especially higher outbreak of these occurrences during a time known as "Tornado Season".
This interactive map examines the density of tornado occurrences over a 60-year period and how F5 tornadoes (the largest and deadliest) correlate with tornado prone areas of the United States.
---
 *Bi-weekly maps will be released throughout the 2017 Spring Semester on a variety of topics.
Archived Map of the Weeks
Release Date
August 29, 2016
September 12, 2016
September 26, 2016
October 10, 2016
October 24, 2016
November 7, 2016
November 21, 2016
December 5, 2016
December 19, 2016
Release Date
January 23, 2017
February 5, 2017
February 20, 2017
March 6, 2017
March 20, 2017
April 3, 2017
Contact Information
Justin Sorensen
GIS Specialist
J. Willard Marriott Library - 1705M
(801) 585-7349
Email
Schedule an Appointment

Creativity & Innovation Services Blog
GIS Services is a unit within the Creativity & Innovation Services Department. Learn about the latest projects, services and events from all of the units through our weekly blog posts.