Tunnel Vision
A Selection of Tunnel, Pop-up and Movable Books from the Rare Books Department
Curated by Luise Poulton and Allison Milham, 2016
Exhibition photographs by Scott Beadles, 2016
Digital Exhibition produced by Lyuba Basin, 2020

Tunnel Vision
Tunnel books derive from the traveling peep shows of the 19th century. Tunnel Vision features a selection of pieces from the rare book collections produced using various paper manipulations to create the illusion of depth — framing and narrowing the viewers' perspective. This exhibition is the result of a collaboration between the Book Arts Program, the Utah Museum of Fine Arts, and the Rare Books Department. It coincides with two events inspired by Nancy Holt's famous land art piece, Sun Tunnels, located in Utah's west desert.
---
PROMENADE DE LONGCHAMP, OPTIQUE NO. 4
Paris, ca. 1810 – 1827
Z1033 T68 O68 1827 
The Promenade de Longchamp was an annual social event which took place on the Wednesday, Thursday, and Friday of Holy Week every spring along the Champs-Élysées and through the Bois-de-Boulogne. The tour ended at the abbey of Longchamp, where the nuns sang the office of Tenebrae, a village four miles from Paris. A convent there, established in 1256, had long been a destination for religious pilgrims.
In the late seventeenth century, the pilgrimage became unauthorized secular spectacle. The nun's choir was fortified with singers from the Paris Opera. The theater in Paris was closed during Lent, which made the Promenade one of the few ways in which high society could flaunt their new spring fashions. A procession of people in festive costume traveled on horseback, in carriages, and on foot. Wealthy citizens of Paris vied to have the most elaborate carriages and clothing, while the lower classes, including laborers, soldiers, and prostitutes, lined the route to gawk. Police turned out in force, to keep the parade participants safe. The Paris Archbishop de Beaumont tried to halt the parade by ordering the convent closed during Holy Week. The parade did not stop. Participants were there to see and be seen.
In 1789, the Promenade was disrupted by an angry mob. The convent, by then wholly peripheral to the show, was closed by the Revolutionary government.
Napoleon revived the parade in the 19th century, in part as a way to bolster the fashion industry, but the later parades did not match the lush grandeur of those in the 18th century. Still, the parade contributed to later fashion phenomena. The American "Easter Parade" and the big, ostentatious hats of the Kentucky Derby can be traced back to the Promenade de Longchamp.
This early 19th century concertina-style peepshow depicting the Promenade de Longchamp in Paris is etched on the front and back panes and contains four cut-out sections in-between, all hand-colored. The front panel has a circular viewing aperture. It is housed in its original marbled paper slip-case with engraved label.
---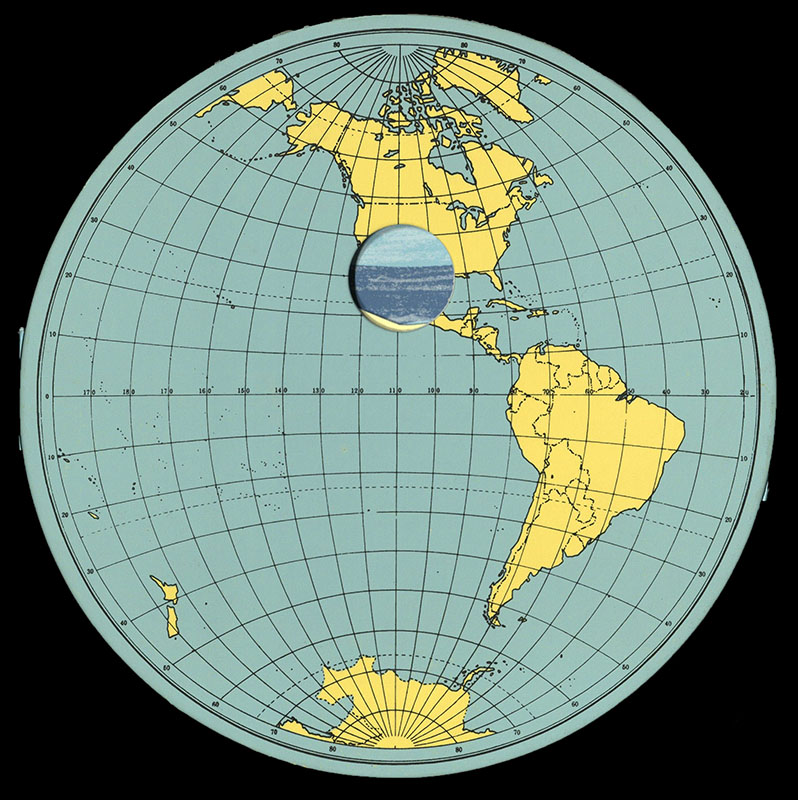 TUNNEL MAP 
Carol June Barton
Bethesda, Md: C.J. Barton, 1988
N7433.4 B376 T86 1988
A circular book with a peephole in the cover. Peering through the peephole in the cover of this circular book, successive layers transport the viewer from one landscape to another. Nine interconnected discs with holes separated accordion style. A colored world map is printed on portions of the discs. The cover contrasts the flatness of the outer world map with the "topography" depicted inside the tunnel. Silkscreen printed.
Edition of one hundred and fifty numbered copies. Rare Books copy is no. 139.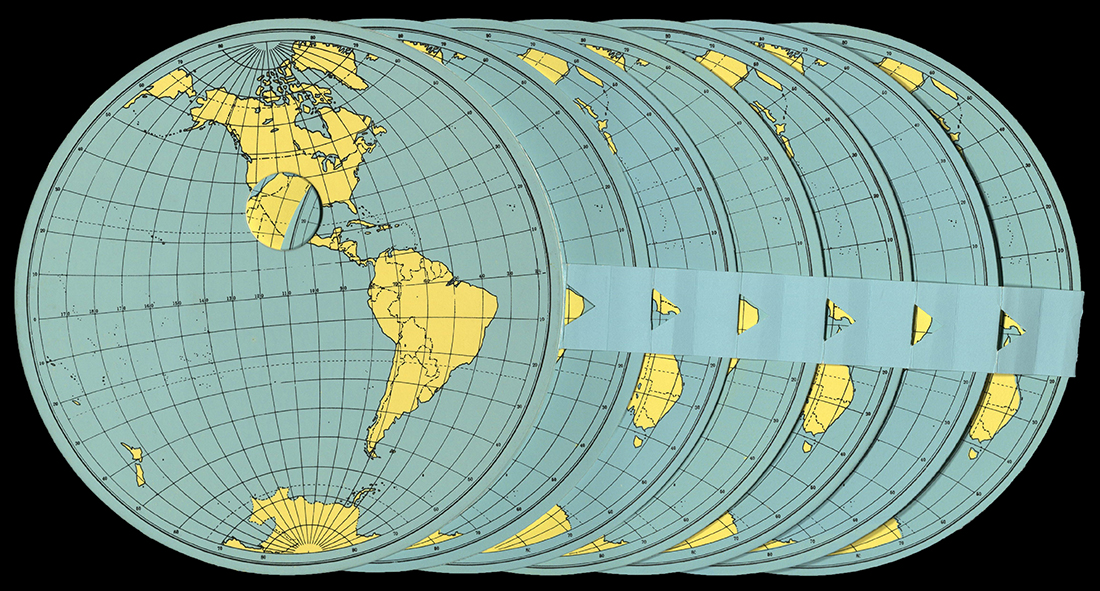 ---
LEWIS CARROLL'S ALICE'S ADVENTURES IN WONDERLAND, THROUGH THE LOOKING CLASS ... 
Maryline Poole Adams
Berkeley, CA: Poole Press, 1989
N7433.4 A23 L48 1989
Each volume shows illustrations on folded successive leaves to be viewed in kaleidoscope fashion.  Issued in a box.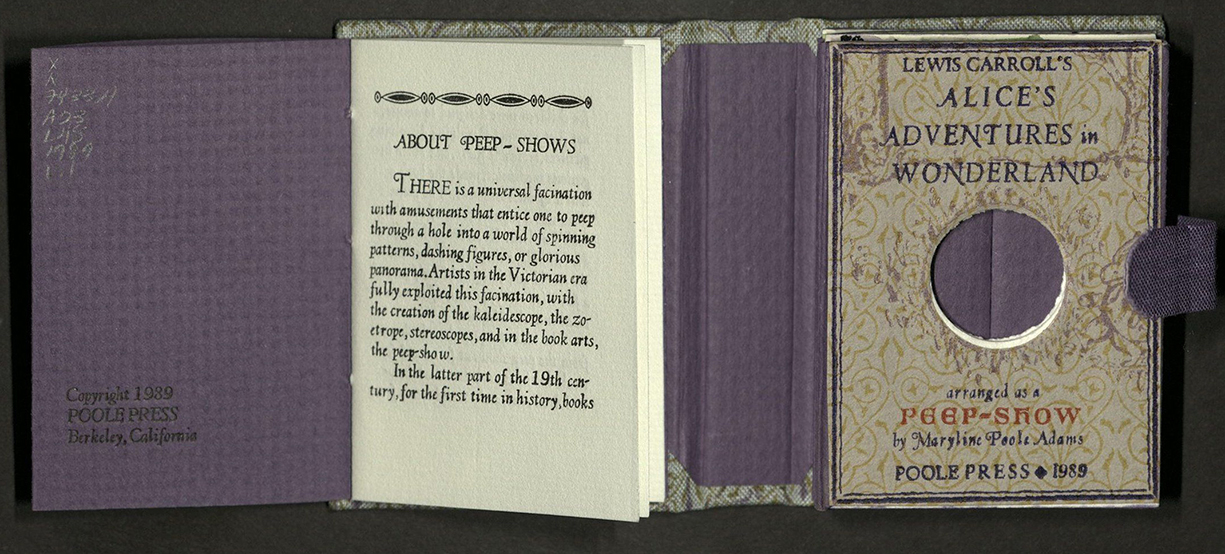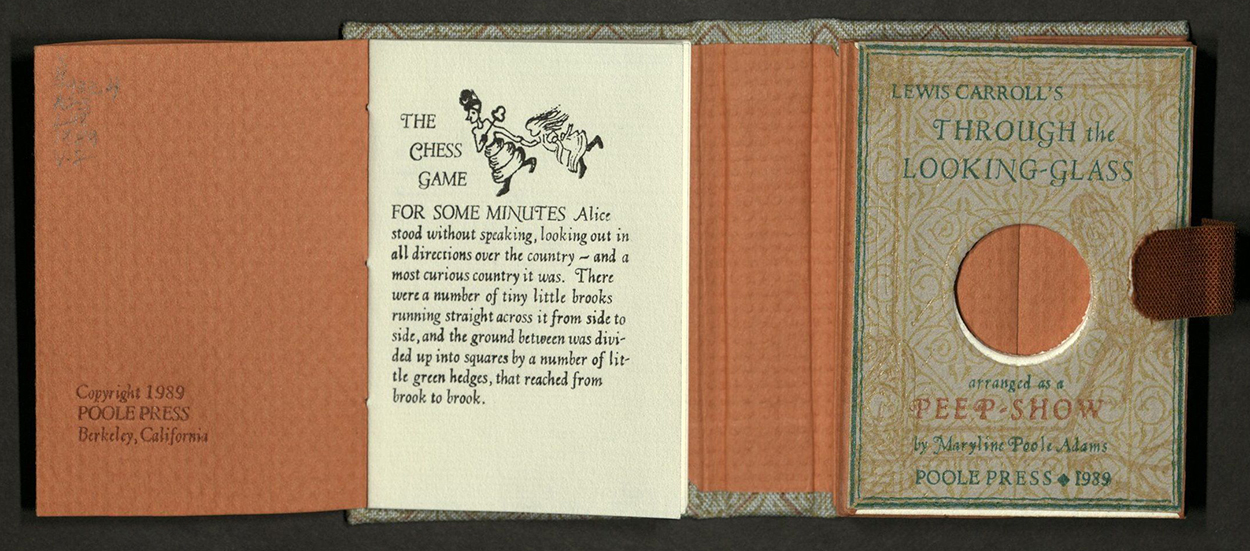 ---
A MAZE IN MYSTERY : AN AMAZING PEEP-SHOW 
Maryline Poole Adams
Berkeley, CA: Poole Press, 1992
N7433.4 A23 M29 1992
The boards are connected by fan-folds; the views are through a door in the first board.
Edition of one hundred copies. Rare Books copy is no. 22.
---

OCTOPUS 
Elizabeth McDevitt
Berkeley, CA: Flying Fish Press, 1992
N7433.4 M424 O37 1992
Bound in accordion-style to produce a three-dimensional effect.
Edition of one hundred copies.
---
YA VIENE LA BANDA 
Gloria Morales
San Francisco, CA: City College of San Francisco, 1998
N7433.4 M648 H47 1999 
Tunnel book inspired by popular Mexican bands. Printed and bound by the author. Produced in Kathy Walkup's Book Arts class at CCSF. Six leaves of color illustrations mounted with accordion-folded paper between boards, to be viewed three-dimensionally through a peephole in the cover. One leaf of text laid in.
Edition of seven copies, numbered. Rare Books copy is no. 14.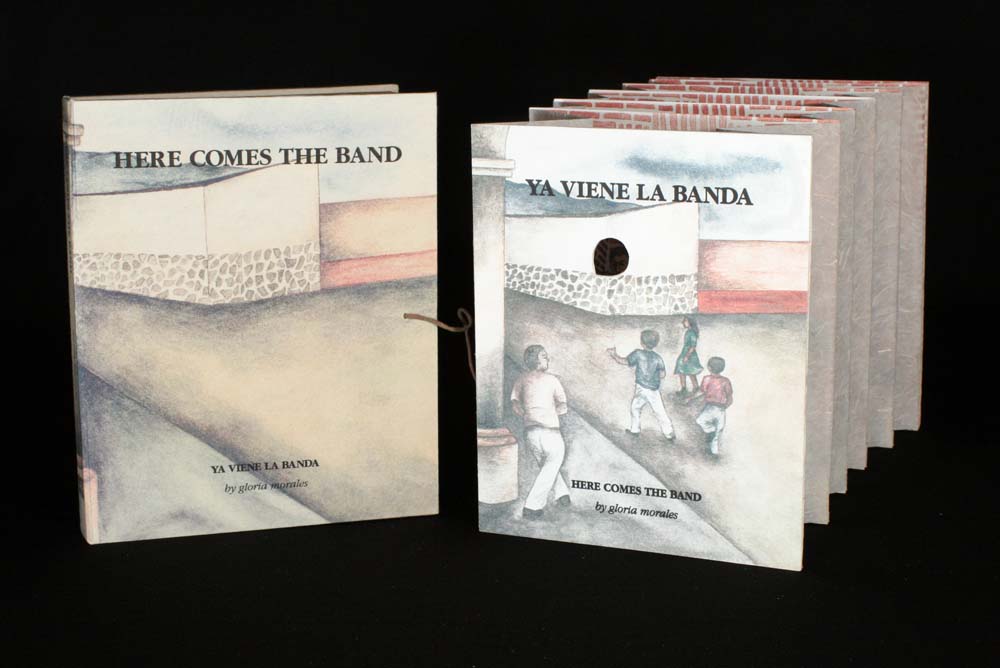 ---

(IN)VERSIONS
Julie Chen
Berkeley, CA: Flying Fish Press, 2000
N7433.4 C44 I58 2000
This collaborative work combines drawings by David Turner with monoprint and collage elements by Julie Chen. It is composed of illustrated card-stock in accordion-fold format bound on both sides to form double tunnels. One tunnel looks from the inside out, the other from the outside in. The pages are printed on a Xerox DocuColor 40. Housed in a box covered with dark red silk fabric with a plexiglas window on the front and on the back, each offering a tunnel view. Two full-length orange title strips, one on the spine and one on the fore-edge attach to a magnetic flap to keep the book closed. The book has no evident front or back.
Edition of thirty copies, signed and numbered. Rare Books copy is no. 14.
---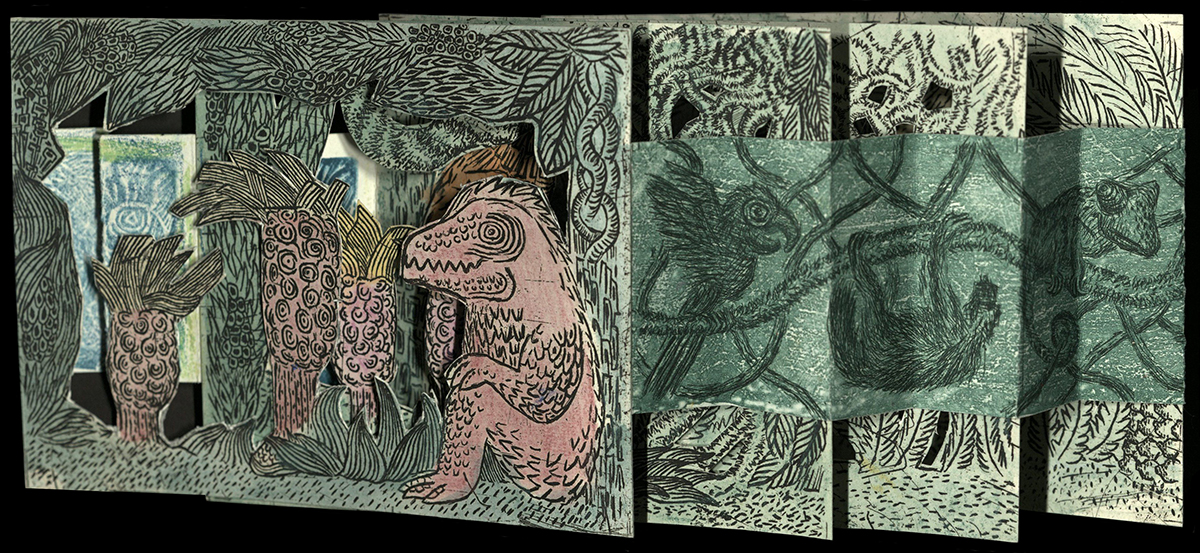 NOT OUT OF THE WOODS YET 
Rand Huebsch
New York, NY: Parrhasia Press, 2003
N7433.4 H84 N6 2003
Comprised of five hand-colored etchings on panels and etchings and relief printing on accordion strips structured as a tunnel book.
Edition of fifty copies. Rare Books copy is no. 14.
---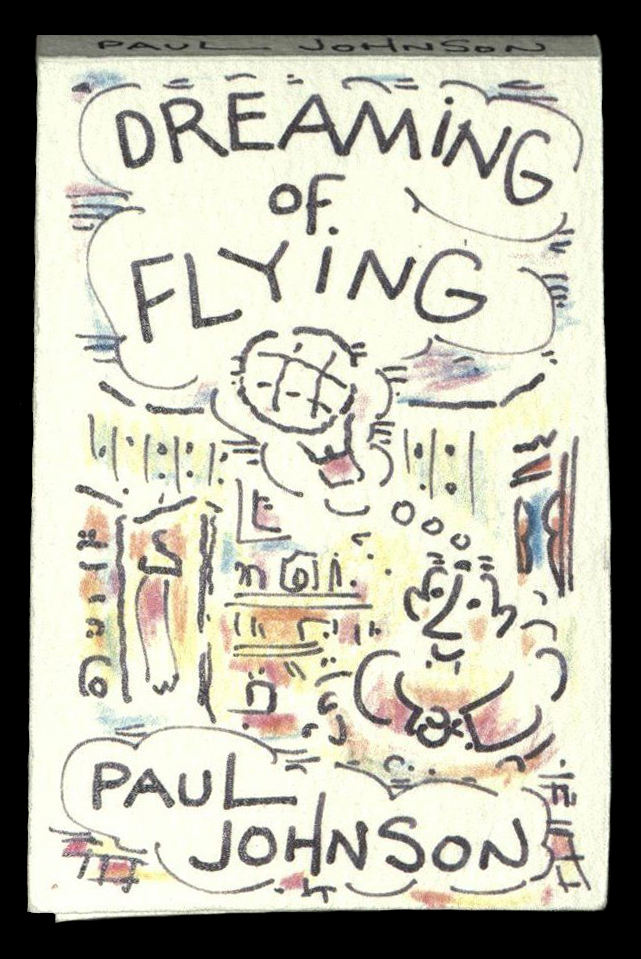 DREAMING OF FLYING 
Paul Johnson
Cheadle Hulme, England: Book Art Project, 2007
N7433.4 J664 D74 2007 
One leaf, folded. Book has a fan-fold structure in four sections within that structure. Each section is a small tunnel page with three-dimensional pop-ups and cut-outs. From the colophon: "Laser printed on mould-made Hahnemuhle Aquarell. Hand engineered. Issued in a blue slip case. 
Edition of fifty copies, numbered and signed by the author/artist. Rare Books copy is no. 15.
---
GOD CREATED THE SEA AND PAINTED IT BLUE ... 
Michelle Ray
Tallahassee, FL: The Small Craft Advisory Press, Florida State University, 2013
N7433.4 R395 G63 2013
Title is derived from a quote by Bernard Moitessier, a French yachtsman. Eleven unpaged booklets issued in a basswood box attached to linen hardcover with embossed title and printed endsheet. Inside the box are two compartments. One contains a tunnel of cut-out illustrations. The second compartment holds a cardboard box with title printed above tab enclosure and which contains the booklets. Images and text created with photopolymer plates, using Trajan and Optima typefaces on handmade cotton/abaca, French Construction, and Neenah Environment papers.