Fold, Flap, Peek, Pull, Pop
Checklist for "Fold, Flap, Peek, Pull, Pop"

Curated by Luise Poulton, 2012

Exhibition poster designed by David Wolske, 2012

Digital exhibition produced by Alison Elbrader, 2014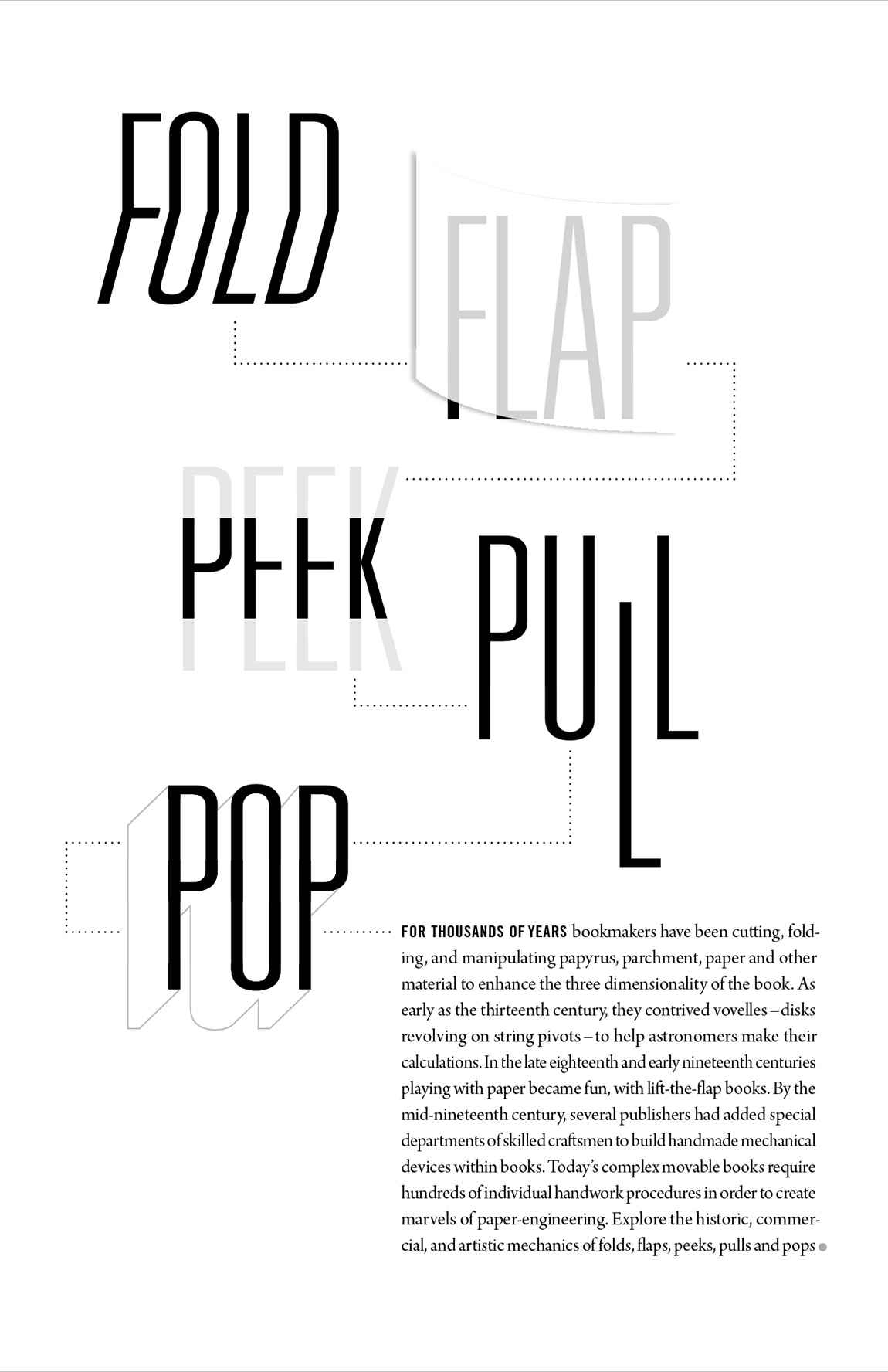 For at least a millennia, bookmakers have been cutting, folding, and manipulating papyrus, parchment, paper and other material to enhance the three-dimensionality of the book. At least as early as the thirteenth century, they contrived vovelles – disks revolving on string pivots – to help astronomers make their calculations. In the late eighteenth and early nineteenth centuries playing with paper became fun, with lift-the-flap and peep-show books. By the mid-nineteenth century, several publishers had added special departments of skilled craftsmen to build handmade mechanical devices within books. Today's complex movable books require hundreds of individual handwork procedures in order to create folds, flaps, peep-holes, pull-tabs, pop-ups and other marvels of paper-engineering.
HISTORIC MECHANICS
COMMERCIAL MECHANICS
The most original movable picture books of the nineteenth century were devised by Lothar Meggendorfer, a Munich-based illustrator. Meggendorfer had a sophisticated humor that was transmitted both through his art and his innovative mechanical devices. Meggendorfer often had five parts of the illustration move simultaneously and in different directions. He devised intricate levers, hidden between pages, which gave his characters complex possibilities for movement. He used tiny metal rivets – tight curls of thin copper wire – to attach the levers, so that a single pull-tab could activate all of them, often with several delayed actions as the tab was pulled further out. Some illustrations used more than a dozen rivets. Meggendorfer maintained nearly complete control of his book works. He created an initial model of a book, complete with colored drawings, paper engineering, and assembly instructions for the craftspeople that put together individual copies. Because of the elaborate production and high quality, the steep retail price made these books affordable only for the wealthy. However, between 1880 and 1900, Meggendorfer's books enjoyed brisk sales and many reprintings.
Tony Sarg was a well-known children's book illustrator and the man who single-handedly revived the marionette theater in the United States. Sarg published more than a dozen children's books. He specialized in devising animal characters meant to educate as well as entertain young readers. He used his mechanical ingenuity as a puppeteer to add movable parts to some of his children's books.
Julian Wehr was born Juilan Wehrfritz. During the mid-twentieth century, he created more than thirty movable books for several United States publishers. Wehr's illustrations were printed on light-weight paper. His designs were operated by tabs which moved parts of his illustrations. Rather than pulling the tabs for action, Wehr's tab system operated by moving back and forth along slits in the pages. He patented his inventions for animating children's books.
Beginning in the late 1950s, a series of innovative pop-up books was produced by ARTIA in Prague, Czechoslovakia, a state-run import/export agency. Voitech Kubasta was their premier artist and the creator of dozens of pop-up books. Bancroft & Co., a London publisher, marketed the Czechoslovakian books to Western Europe.
Robert Sabuda grew up in a small town in Michigan. He began his study of art with crayons as soon as he could hold them. When he was able to use scissors, he included those in his repertoire of tools. Next came glue, then paint. And, always, lots of paper. He began to make pop-up books before he was out of elementary school. After he received his BFA in communications from Pratt Institute in New York City, he began working as a children's book illustrator, soon writing his own stories, and engineering his illustrations into pop-ups.
ARTISTIC MECHANICS
As early as the 1950s artists began experimenting with the format of the book as art. By the early 1960s the book was taken on by artists eager to express themselves using a three-dimensional object that combined artistic and literary disciplines within a historic, traditional background. Artists experiment with all the basic elements of the book and then expand on those elements. Form, content, and material are often used in ways that stretch the definition of "book."
Lois Morrison was born in 1934 in Belgian Congo (now Zaire). She received a BA from Mary Baldwin College, Staunton, Virginia and an MA from Virginia Commonwealth University. Her books have been exhibited all over the world including Virginia, Connecticut, Chicago, England, and New Zealand. Morrison lives in the United States.
Carol Barton has taught at the Penland School of Crafts, the Virginia Museum of Fine Arts, the International Center of Photography and the Metropolitan Museum of Art. She is currently on the faculty at the University of the Arts in Philadelphia, where she teaches a book structures course. Her work can be found in numerous collections including the Library of Congress, the Museum of Modern Art, and the Victoria and Albert Museum in London.