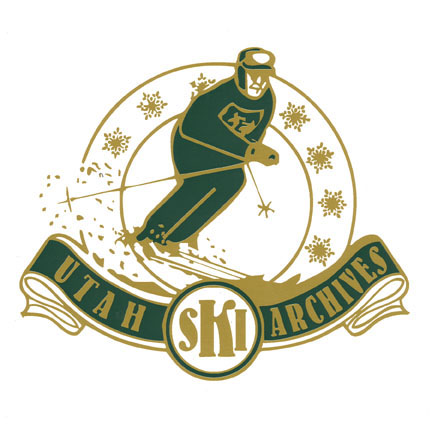 Frequently Asked Questions
The Utah Ski Archives is an eclectic collection of film footage, video footage, photographs, manuscript collections, oral history interviews, scrapbooks, posters, buttons, and insignia. At the conclusion of the Olympic Winter Games and Paralympic Games of 2002, the Archives was designated the repository for the Games' organizing committee' materials and memorabilia.
Purpose
Locate/solicit materials of historic significance pertaining to the development of the sport of skiing in the Intermountain West
Document, record, preserve, file, catalog the materials
Make materials available to the public
Location
J. Willard Marriott Library Special Collections, University of Utah
295 South 1500 East, Salt Lake City, Utah, 84115
Co-Founders
Dr. Gregory C. Thompson, Associate Dean, J. Willard Marriott Library
The late Sue Raemer
Collection Materials
Over 100 collections ranging from comprehensive files, photo collections and documents to individual scrapbooks and letters
52 oral histories
Over 400,000 images, over 20,000 digitized and available online
500 films, 2,500 videos, 100 audio recordings
Repository of records and materials of the Salt Lake Organizing Committee for the Olympic Winter Games and Paralympic Games of 2002
Using the Archives
The entire Utah Ski Archives can be accessed in person, in the Special Collections Reading room at the Library, during normal operating hours. Please call in advance to make sure the collection you are interested in is on-site and ready for you. 801-581-8863.
Online you can peruse a selection of highlights or search our digitized images and collection registers to find out more about the materials we have in the archives.  
Although the collection does not circulate, professional librarians, archivists, and skilled staffers are present to assist users in their work.
How and Why to Contribute Materials
How:
Please phone 801-581-8863 if you have materials you would like considered for inclusion in the Archives. Photographs, books, manuscripts, ski industry records, films, audio recordings, posters, and more are welcomed additions to the archives. 
Why:
The Utah Ski Archives offer a unique opportunity for historical and contemporary research into the Utah's $550 million/year ski industry. Its documents and other materials trace the evolution of the sport from near the turn of the 20th Century.
The Archives' oral history program includes nearly 200 hours of interviews with many of Utah's ski industry pioneers. This collection of first-person knowledge provides a valuable insight about the development of skiing in Utah and the West.
In addition to contributing to scholarly research and offering background to 2002 Olympic Winter Games news reporters, Archives materials are a valuable resource for skiing-related industries: lodging, transportation, recreation, food, resorts, gifts, equipment manufacturing, clothing manufacturing, fashion and movie-making. Enhancing the material in the Archives will fortify this world-class body of primary-source research materials for use now and in the future. If you do not wish to part with your items, the library will copy your material and return the originals.
Community Outreach
Yes!
An important element of the Ski Archives is its community outreach. Archives volunteers address groups, give video/slide presentations and make available for exhibit reproduction photographs for special occasions, including media and visitors to World Ski Cup competitions, national skiing championships, 2002 Olympic Winter Games and Paralympic Games test events, corporate functions, collegiate competitions, ski group reunions and functions hosted by local and state government officials.
If you have a student group, or are a student yourself, interested in learning about and using the archives please call. We love introducing new patrons to the collections.
The Utah Ski Archives provides a valuable service to the community through support of programs designed to educate the public about the history and importance of skiing in Utah and Intermountain Region.
Annual Ski Affair
The advisory board of the Ski Archives stages an annual Ski Affair to raise funds, honor individuals and organizations for their pioneering efforts in skiing and to highlight the efforts and progress of the Ski Archives.
Approximately 600 attend the reception, dinner and silent auction to reminisce, rekindle old friendships, enjoy camaraderie, and view photos and film clips from the files of the Ski Archives.
Honorees of this community outreach program include but are not limited to the following:
Medal winners from the 1998 Olympic and Paralympic Winter Games and World Cup circuit
The Deseret News Ski School for 50 years of service to the sport
10th Mountain Division of World War II winter warfare fame
Snow safety/ski patrol pioneers
Ski area developers/founders
Ski pioneers Alf and Sverre Engen
Early-day ski instructors Bill Lash, Junior Bounous, M. Earl Miller, K. Smith
Ski areas Alta, Beaver Mountain, Brighton, Magic Mountain, Snowbasin, Sun Valley, Snow King, Timp Haven
Competitors Suzy Harris Rytting, Dick Movitz, Corey Engen, Dev Jennings, Jack Reddish
Affiliations
Utah State Historical Society
Ski History Association of the United States
Salt Lake Organizing Committee for the Olympic Winter Games of 2002
Joe Quinney Winter Sports Center/Alf Engen Ski Museum, Utah Olympic Legacy Park
Utah Winter Sports Hall of Fame
Funding
Private foundations, individuals, annual Ski Affair dinner and auction; and seed funding by the S.J. and J.E. Quinney Foundation all contribute to the success of the Utah Ski Archives. 
Governance of the Utah Ski Archives: 40 member volunteer advisory board, including professional library staff 
Initial Funding: 1989, by lead financial contribution and historic document collection of Alta Ski Area that was observing its 50th anniversary as America's second ski area to offer lift-served skiing (behind Sun Valley, ID). 
Helping to Preserve the History of Skiing
The Marriott Library's Utah Ski Archives is a key project within the larger Recreation Archives, a program structured around Utah's outdoor recreation lifestyle. Other components include river running, mountain climbing, and the state and national park systems in Utah.
The self-funded Ski Archives seeks to document all aspects of the region's fascinating ski history. Private financial contributions are paramount to its continued success. All contributions are used entirely for Archives programs and projects and are tax deductible.
For information on making financial contributions to the Ski Archives or obtaining a physical brochure, please phone 801-581-8863. Or write to Ski Archives, Special Collections, J. Willard Marriott Library, University of Utah, Salt Lake City, Utah 84112.