Support the Library Today!
Contact Us
Jesse Whitchurch
Senior Director of Development
 801-581-7905
Email
Grace Drouin
Grants & Contracts Officer
 801-585-5869
Email
Mallory Seidlitz
Development Specialist
 801-213-7140
Email
Message from the Dean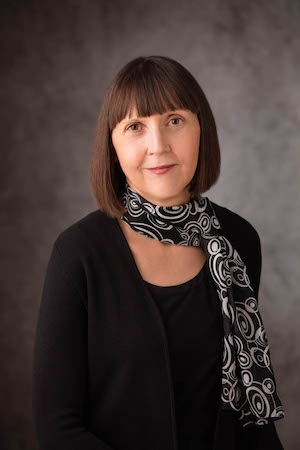 We have exciting news! The U has launched the Imagine New Heights fundraising. This $2 billion campaign will establish student scholarships and fellowships, support research and teaching, and provide other top priorities that will enable the U's students, faculty, staff, and researchers to engage in innovative learning and teaching and pioneering research opportunities.   
...Read more from the
Dean
Donor Spotlight
       WILLIAM R. GOULD
Native son William Gould, born "on the wrong side of University Avenue" in Provo, returned to his home state and his alma mater to bestow a valuable gift to one of the state's most important possessions - the University of Utah. With the inauguration of the William R. and Erlyn J. Gould Endowment in support of the Marriott Library's Utah Science, Engineering, and Medical Archives and the accompanying annual lecture series, the Gould's legacy of service to the public is being preserved and perpetuated well into the future. Read about this year's Gould Lecture here.
Ways to Give
Credit Card
You can donate ONLINE at any time of day, or by telephone during regular business hours.

Monday through Friday, 8:00 a.m. to 5:00 p.m. MST
(801) 581-3720
toll free (800) 716-0377
Give by Mail
Send a check or money order to:
University of Utah
J. Willard Marriott Library
P.O. Box 58006
Salt Lake City, UT 84158


Books or Physical Materials
Information on items accepted by the library. For questions, contact Dallas Alder 801-581-8439
Payroll Deduction
If you are a University of Utah employee and would like to donate through payroll deduction, please fill out the University of Utah employee payroll deduction form. 
Give through a Donor-Advised Fund
A Donor-Advised Fund (DAF) allows donors to make a gift that is immediately tax deductible but can be directed to qualified charitable organizations, such as the J. Willard Marriott Library, at a later date. If you have questions about recommending gifts via Donor-Advised Funds, please contact Kirsten Dorius at (801)585-0745 (toll free (800) 716-0377) or email.
Give Securities
Gifts of securities, including closely held stock and mutual funds, may be donated to the University directly from your brokerage account to the University of Utah's account, or by transferring stock power to the University. For more information about donating securities, please contact Kirsten Dorius at (801)585-0745 (toll free (800) 716-0377) or email.
Endowments
Endowed funds provide permanent, ongoing support for scholarships, chairs, professorships, lectures, research, academic programs, community outreach, the arts, museums, libraries, gardens, public broadcasting, and a variety of other programs and purposes. To make an endowed gift, please contact Jesse Whitchurch at 801.581.7905 or view more information about endowed gifts.
Planned Gift
Many people like to support the causes that mean the most to them with a gift through their estate, will, trust, or other type of planned arrangement. These gifts, known as planned gifts, are often, though not always, fulfilled after death. There are many ways to make a planned gift. Although most planned gifts come from wills or living trusts, other options include life insurance, retirement assets, annuities, real estate, and securities. View more information about making a planned gift.
Matching Gifts
With matching gifts, you may sometimes double or even triple your gift. Many employers sponsor matching gift programs and will match charitable contributions made by their employees. Please note that some companies also match gifts made by retirees and/or spouses. If you have any questions, please email.
Give in Memory or in Honor of a loved one
Honor a friend or loved one by making a contribution in their honor or memory. Honorees or their families will be notified of your donation to their favorite U program.


FAQ
Once we have processed your gift, you will be sent a receipt, which includes information which can be used for tax purposes. This normally takes 3-5 days after your donation is made. If your donation was made online, you will also receive a confirmation e-mail immediately, in addition to a letter in the mail.
Cash, check, money order, credit card, payroll deduction, securities, donor-advised funds, corporate matching gifts, corporate and foundation gifts, memorial and honor Gifts, among others. For more information, please contact Jesse Whitchurch at
801-581-7905 or by email.
An endowment is a gift that is invested. The interest generated from this gift supports the designated cause in perpetuity, or for a specified number of years. Only a portion of the interest earned is used to support the endowment's purpose. Excess income is reinvested in the endowment to grow the fund and protect it from inflationary pressures. Thus, endowments provide perpetual support that strengthens the vitality of the University of Utah far into the future.
Cash, check, money order, credit card, payroll deduction, securities, donor-advised funds, corporate matching gifts, corporate and foundation gifts, memorial and honor Gifts, among others. For more information, please contact Jesse Whitchurch at
801-581-7905 or by email.
Yes, you will be prompted to enter that information when using the online form, or simply indicate this over the phone or through your mailed-in donation.
We collect basic contact information and other details required to process the gift. These include name, phone number, email, address, and payment information.
Giving Priorities
Create an endowment to acquire rare collections: $1.5 million
The items housed within Special Collections are what distinguish the Marriott Library from others in the region. Spanning Utah, Mormons, and the West to extensive science, engineering, medical, and legal archives, among others, these collections are utilized by students, faculty, and researchers around the world.
Each year, special collections staff work with faculty and students across campus to identify the materials they need in their learning and research. Donors are critical in providing access to these rare collections through their gifts of finances and other materials.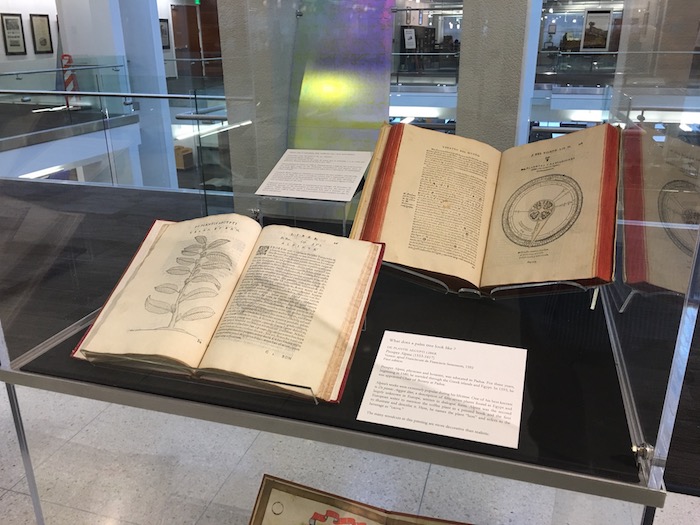 Create an endowment to provide equipment, facilities, updates, and other ongoing support for the library's greatest needs: $1.5 million
As the primary service hub and destination for students, the Marriott Library is integral to the teaching, research, and public life missions of the University of Utah. Providing more than 500,000 square feet for 1.6 million visitors each year, the library's teaching and learning spaces are in constant need of updates, maintenance, and repair. With more than 4,000 chairs in public spaces, most occupied up to 18 hours per day, private gifts support critical maintenance of the library and its resources.
Through the generosity of donors, and gifts of every size, the library will continue to meet the changing needs of students and faculty by acquiring new equipment, utilizing furniture that can adapt to a wide variety of uses, and providing access to the latest technologies and databases that users require.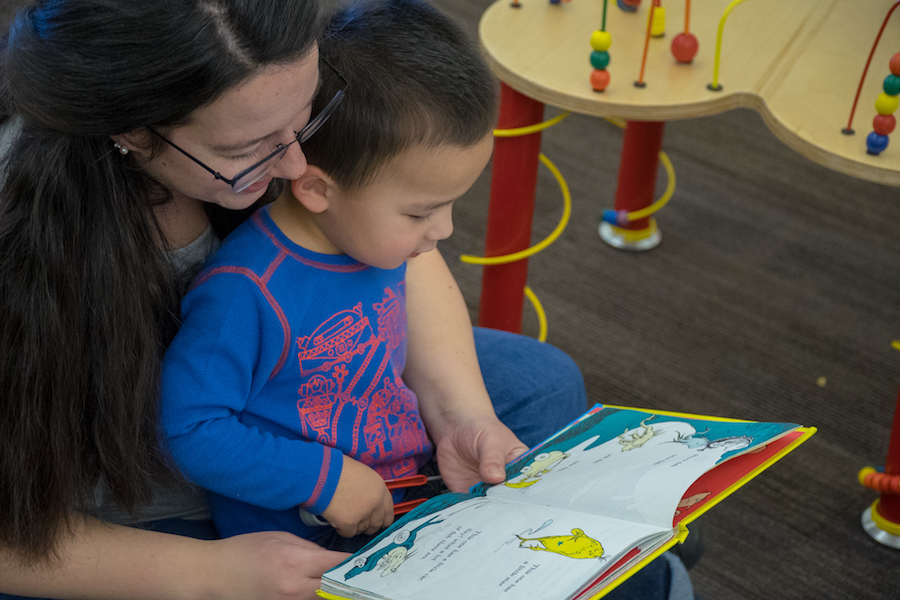 Enable ongoing programming support for Book Arts education and training
The Marriott Library's Book Arts Program creates enrichment opportunities for university students, k-12 schools and educators, and community members through various programs that utilize bookmaking as an educational tool. Its outreach efforts connect classrooms around the state with university students, faculty, and staff providing early exposure to higher education and art programming that complements academic curricula.
In addition to outreach programming, the program provides a minor and certificate in Book Arts and Master of Fine Art in Creative Writing and Book Arts. These academic designations are supported by classes exploring letterpress printing, bookbinding, artists' books, and typography.
Private support is critical to the program's ability to reach more than 12,000 students each year and allows Book Arts to host workshops and community drop-in sessions in paper-making, bookmaking, and printing.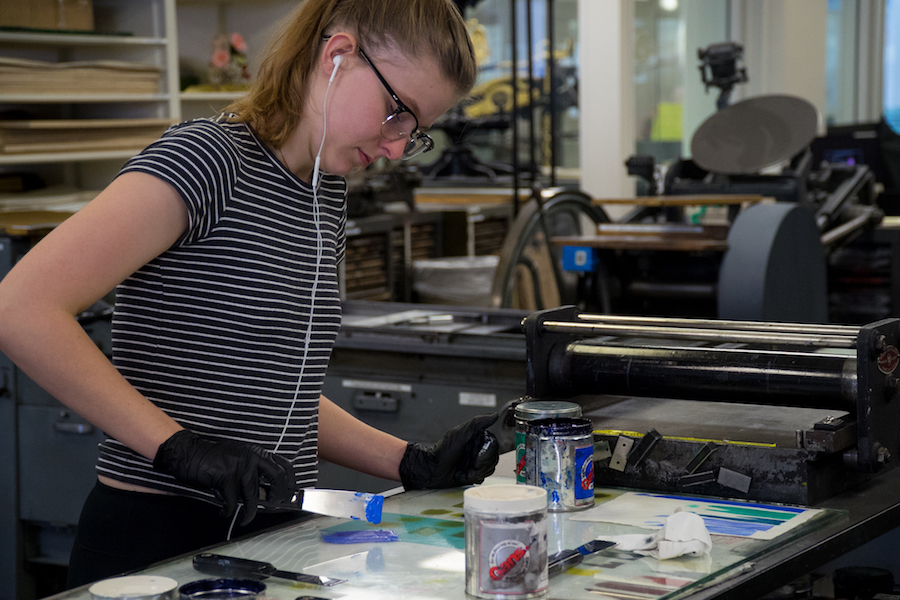 Launch a fund for visiting scholars to engage in research and scholarship in the Marriott Library's Special Collections
The Marriott Library's Special Collections are what make us truly unique. The Utah Ski Archives, Aileen H. Clyde 20th Century Women's Legacy Archive, Mitsugi M. Kasai Japanese American Archive, and Kristen Ries & Maggie Snyder HIV/AIDS Archive, among many others, provide researchers worldwide with access to materials and perspectives that only Utah can offer.
To increase access to, and utilization of, these remarkable collections, the library provides research fellowships that bring scholars to Utah to study these one-of-a-kind materials expanding the impact of these items and promoting the work of university students and faculty.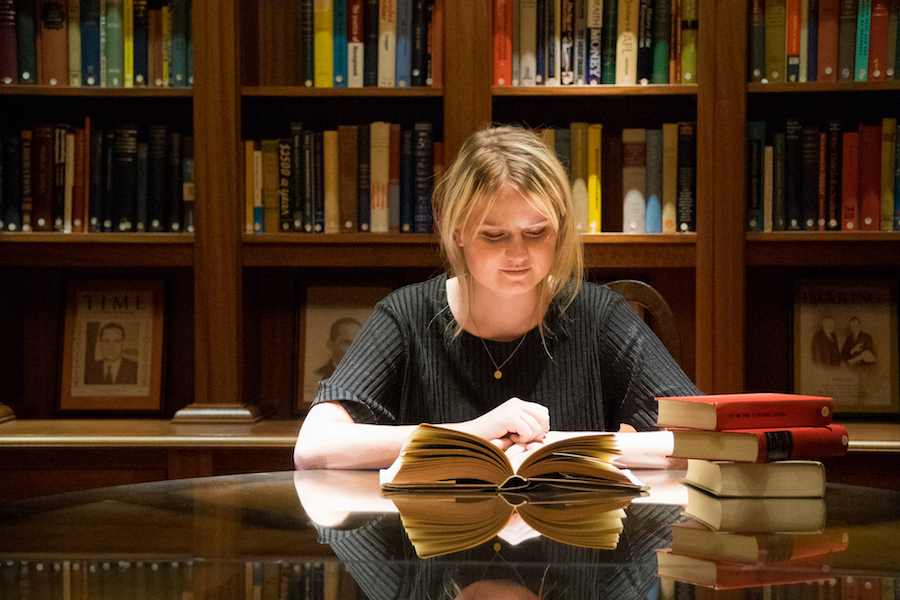 Establish student fellowships at the University Press
 For nearly 70 years, the University of Utah Press has been publishing in the areas of anthropology, archaeology, Mesoamerican studies, American Indian studies, linguistics, natural history, nature writing, Utah and Western history, Mormon studies, Utah and regional guidebooks, and other regional titles.
Through the work of only seven full-time staff, the University Press publishes 25-30 titles each year. Fellowships enable the press to hire graduate students who support marketing and editing while learning the publishing process and deepening their knowledge of the press' subject areas. These students expand the capacity of the press and enable staff to meet vital production deadlines.