1997 Wayne R. Gould
Energy Eighteen Wheelers – The Technological Revolution Within Utility Restructuring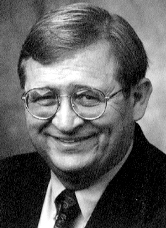 Wayne R. Gould, manager of Dispersed Energy Applications for the Research and Technology Applications Division of Southern California Edison Company, is an internationally recognized expert and consultant in the fields of alternative and renewable energy sources.
Mr. Gould joined Southern California Edison in 1978. His experience spans many technical aspects of electrical utility operation. More recently he has emphasized the commercial deployment of renewable and distributable generation systems; the development and application of synthetic fuels; and the development of strategic utility scenario planning. He developed and implemented Southern California Edison's commercial off-grid and on-grid photovoltaic programs. He recently completed a study into deploying renewable and distributable generation technologies worldwide.
Currently, Mr. Gould serves as director of the Solar Energy Industry Association and chairman of its Utility Council. He is also director of the Utility Photovoltaic Group, panelist of the National Renewable Energy Laboratory-sponsored Enterprise Growth Forum, and former director of the American Wind Energy Association. He currently serves as the Electric Power Research Institute's Technology Transfer manager.
Mr. Gould earned his Bachelor's and Master's degrees in Mechanical Engineering from Brigham Young University and is a registered professional engineer in the state of California, where he resides with his wife and four children.