2010 Dr. Yoky Matsuoka
Neurobiotics: Human-robot Interfaces Restoring the Quality of Life Through Engineering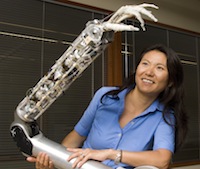 Fifty million people in the United States depend on long-term care, currently provided by humans. In the near future, robots will be used to rehabilitate and assist daily activities for people with disabilities. This change will substantially reduce both the medical cost and the burden on families. Dr. Yoky Matsuoka's talk describes how a neural-inspired approach to physical human-robot interaction can re-enable limb movement for people with disabilities. 
Yoky Matsuoka is the Torode Family Endowed Career Development Professor in Computer Science & Engineering at the University of Washington. She received her Ph.D. at MIT in Electrical Engineering and Computer Science (EECS) in the fields of Artificial Intelligence and Computational Neuroscience in 1998. She received an M.S. from MIT in 1995 and a B.S. from UC Berkeley in 1993, both in EECS. She was also a Postdoctoral Fellow in the Brain and Cognitive Sciences Department at MIT and in Mechanical Engineering at Harvard University.
Dr. Matsuoka's work has been recognized with a MacArthur "Genius" Fellowship, and she has been acclaimed as one of "The Brilliant Ten" in Popular Science Magazine and "Power 25" in Seattle Magazine. In addition, she was awarded a Presidential Early Career Award for Scientists and Engineers (PECASE), an Anna Loomis McCandless Chair from Carnegie Mellon University, and the IEEE Robotics and Automation Society Early Academic Career Award.