Enquiring Minds
Fourteen centuries of questions... Fourteen centuries of answers... Keep on asking!
Checklist for "Enquiring Minds"
Curated by Luise Poulton, 2017
Exhibition poster designed by Scott Beadles, 2017
Digital exhibition produced by Lyuba Basin, 2020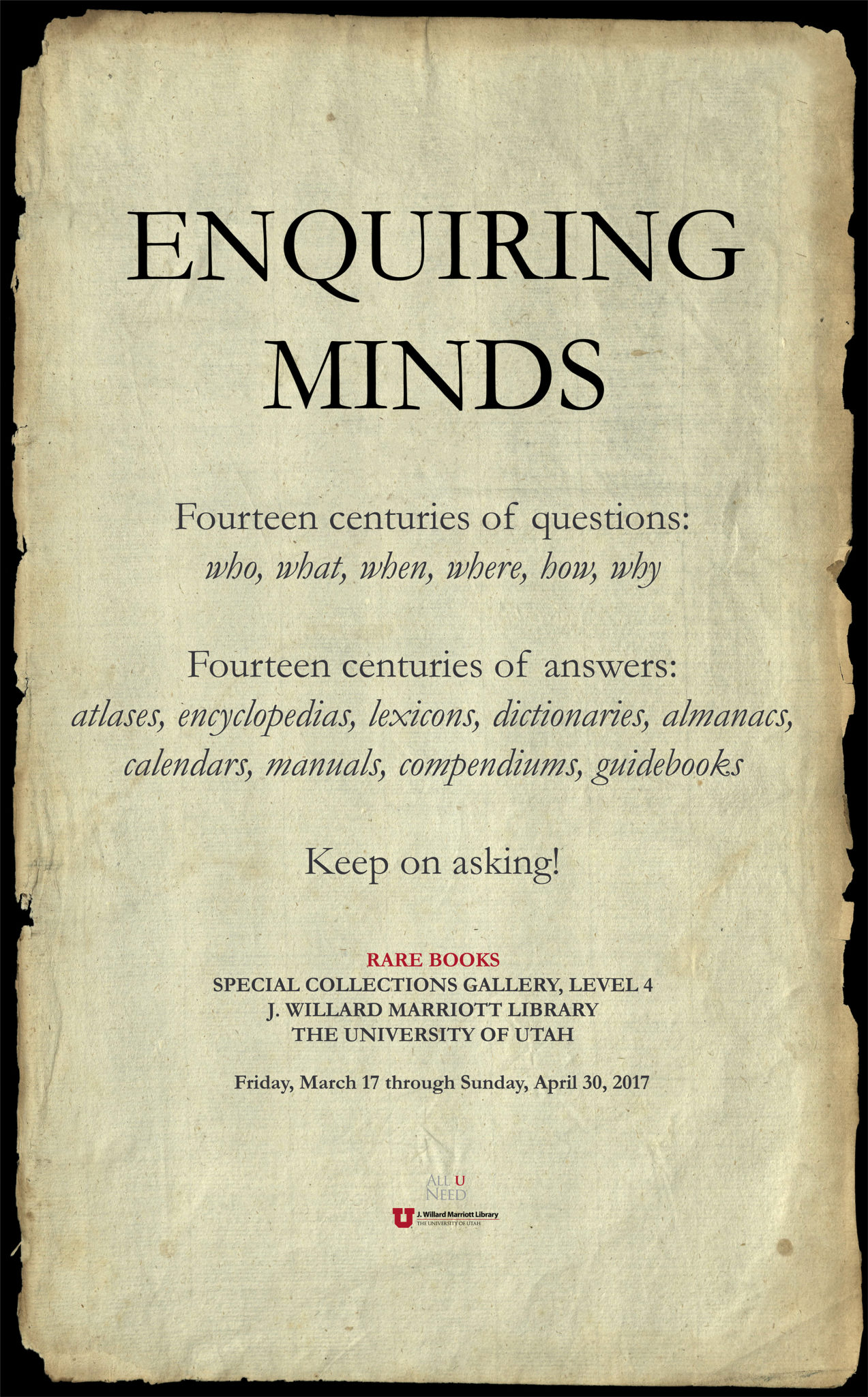 Enquiring Minds
Humans have been compiling information to answer an infinity of questions for thousands of years. From Ptolemy to Izaak Walton, the best minds have annotated, edited, translated, measured, arranged, and defined what it means to live a life of wonder.
From facsimiles of medieval encyclopedias, almanacs and atlases to first editions of fifteenth through twentieth century dictionaries, manuals, lexicons, compendiums, and directories, Rare Books celebrates questions and the attempts to answer them.
Keep on asking!
---
What are the medicinal benefits of opium?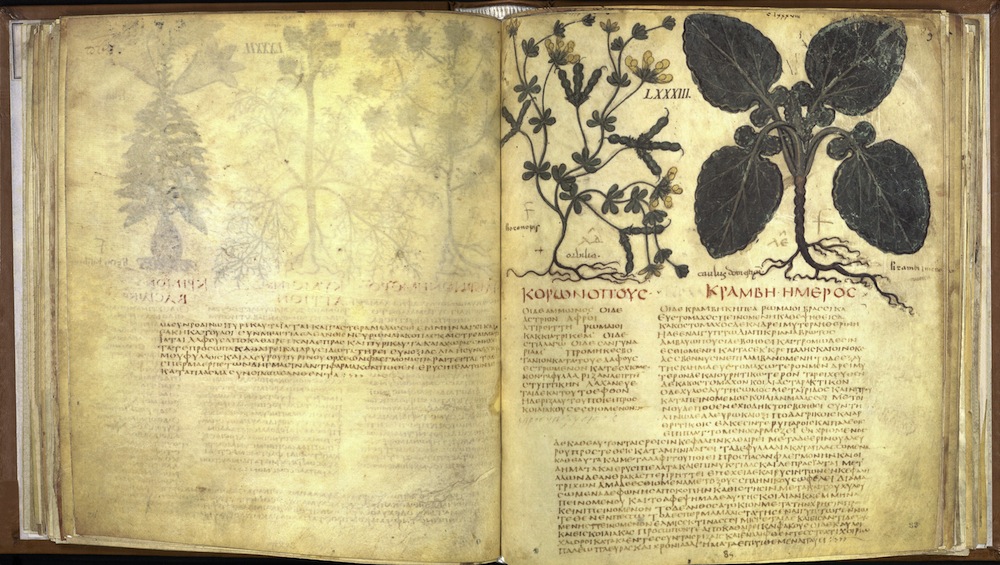 FACSIMILE DES PEDANIOS DIOSKURIDES
Graz, 1988
R126 D57 1988
This manuscript, possibly produced in Italy sometime in the seventh century, is one of the oldest in the tradition of Materia medica, a pharmacological treatise written by Greek physician Pedanius Dioscorides in the first century ad.
Dioscorides' work was used by the medieval world for centuries. In the sixth century it was translated into Latin. By the ninth century it had been translated into Arabic, Syrian and Hebrew. More than four hundred plants are described in this illustrated herbal manual, each illustration identified in red ink.
---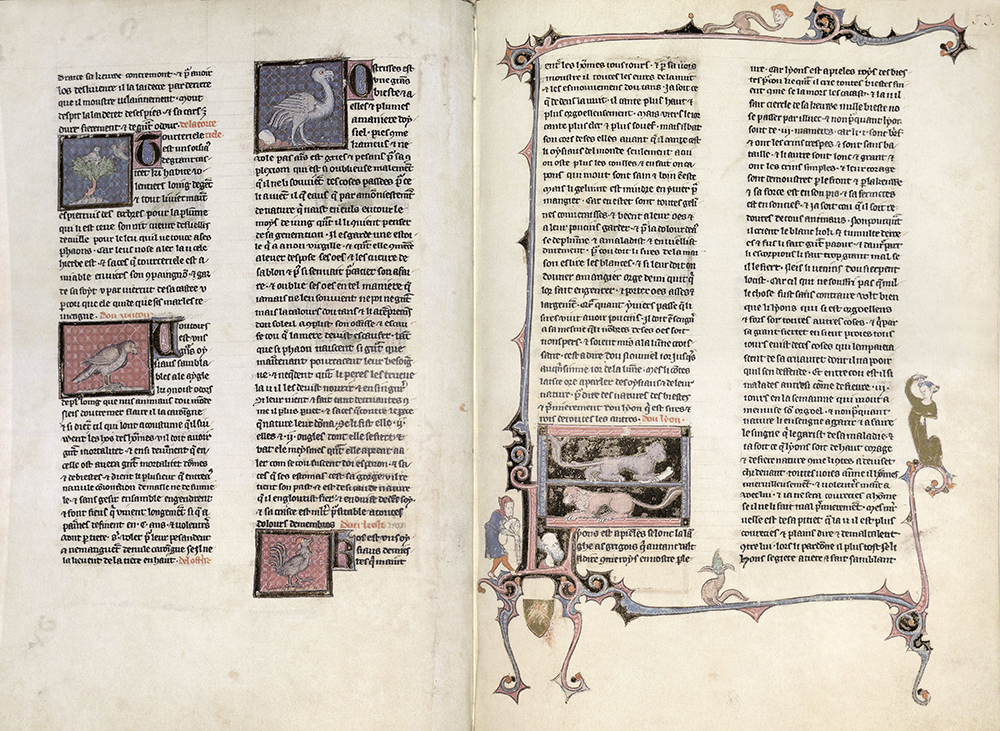 FACSIMILE LI LIVRES DOU TRESOR
Brunetto Latini
Barcelona: M. Moleiro, 2000
PQ1429 L24 L5 2000
Brunetto Latini was a true Italian Renaissance humanist. Florentine politician, poet, historian, philosopher, and teacher and friend to Dante, he wrote this encyclopedia while exiled in France between 1260 and 1267.
The codex consists of three books, each written in French. The first book begins with Biblical history, the history of Troy, and the history of the Middle Ages, followed by a natural history compiled from other astronomical and geographical sources. Animal and bird species are described in detail.
The second book discusses ethics, based upon classical and contemporary philosophers. The third book discusses what, to the author, was the noblest of all sciences, politics and the art of governing.
One hundred and fifteen illuminations of beasts, and characters such as acrobats and musicians, decorate the preface and each chapter. Gold and blue initials, arabesques, and other ornamentation are worked in throughout. The illumination was probably done in a layman's workshop in Paris. The paper used for this facsimile was handmade to match the thickness, tact, and smell of the original. Edition of nine hundred and eighty-seven copies.
---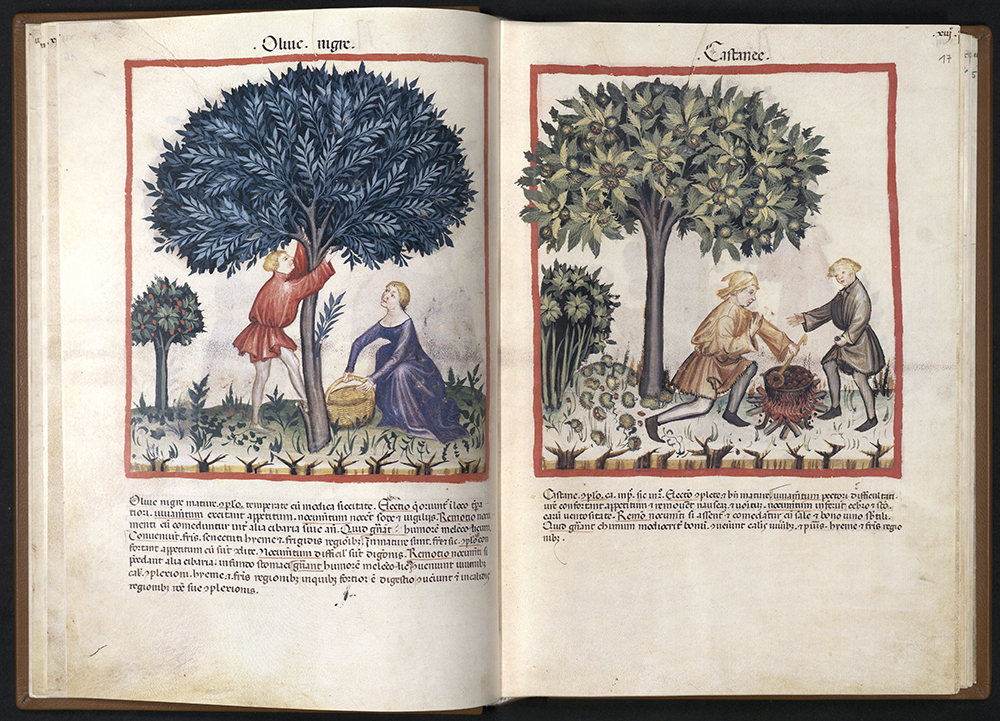 FACSIMILE TACUINUM SANITATUS IN MEDICINA
Graz, Austria: Akademische Druck-u. Verlagsanstalt, 1986
RS79 T335 1986
This illuminated medical handbook was produced in Northern Italy for a layperson – a woman of the upper aristocracy or of a rich patrician family able to read, and afford, a lavish book. A reference of sorts for the household management of health and healing, this type of book goes back to an Arab source written by the physician Ibn Butlan in the 11th century.
The Arab art and science of healing decisively influenced occidental medicine and enjoyed a long-lived and distinguished reputation. The Latin translation, which made the codex accessible to the educated of the medieval western world, was widely known. Many copies survive. Beginning in the 14th century, the text was placed below an individual image.
This particular copy contains more than two hundred full-page illuminations of all that was considered important with regard to human health and well-being. The illuminations portray the everyday life of late Medieval Italian culture. With a natural style and strong colors, two artists depict plants, animals, food, and drugs. All of the objects are within scenes centered upon a human. The text below each miniature describes both the benefits and shortfalls of the object depicted.
---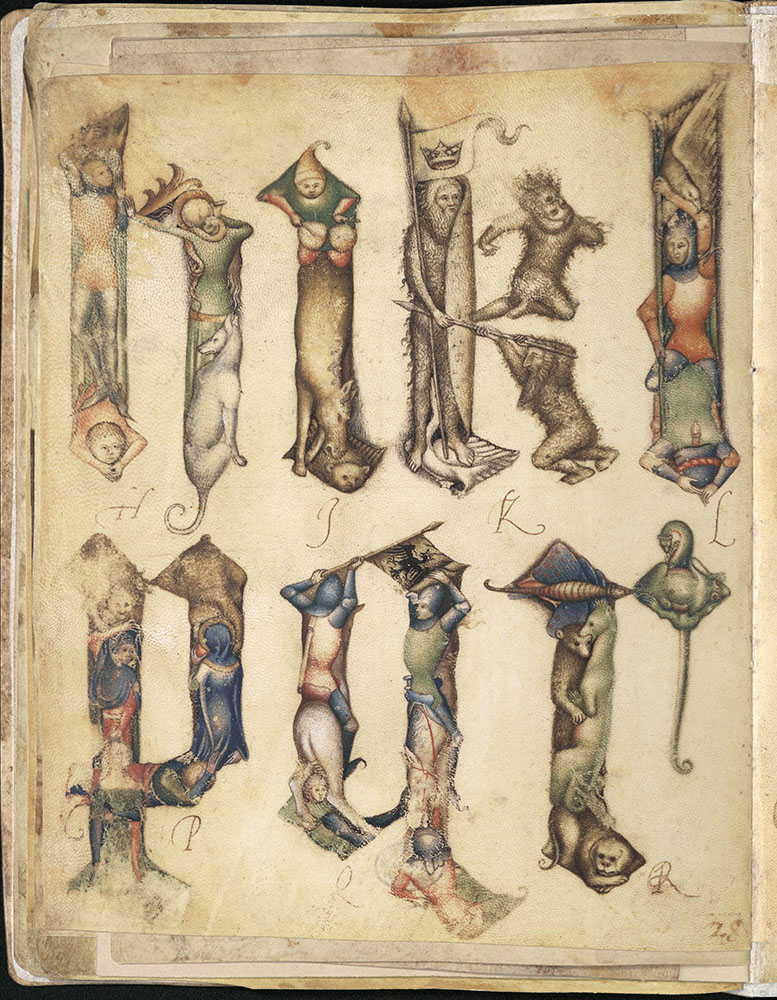 FACSIMILE DAS MUSTERBUCH DES GIOVANNINO DE GRASSI
Giovannino de' Grassi (ca. 1340-1398)
Luzern: Faksimile Verlag Luzern, 1998
NC257 G7315 1998
This late Italian Gothic model book was created by painter, sculptor, and architect Giovannino de Grassi. Model books were indispensable in the artist's workshop as guides to ornamental elements, calligraphic initials, exotic animals, and the human body in various poses and at specific activities.
Giovannino de Grassi became known as the artist who contributed to the construction and furnishing of the Milan Cathedral. He had contacts to the most famous architects of his time, including Heinrich Parler and Ulrich von Einsinge.
De Grassi's model book is known for his Gothic alphabet, consisting of human and animal figures. The famous alphabet at the end of the book demonstrates the wit and irony De Grassi used in creating his work.
The model book contains seventy-seven drawings which reflect the Bohemian art of the period. In its day, de Grassi's model book was well-known among artists and book illuminators all over Europe. All model books influenced the stylistic evolution of art. In the case of this model book, De Grassi strongly influenced Italian art at the beginning of the Renaissance.
---
Will I need sunglasses on this trip?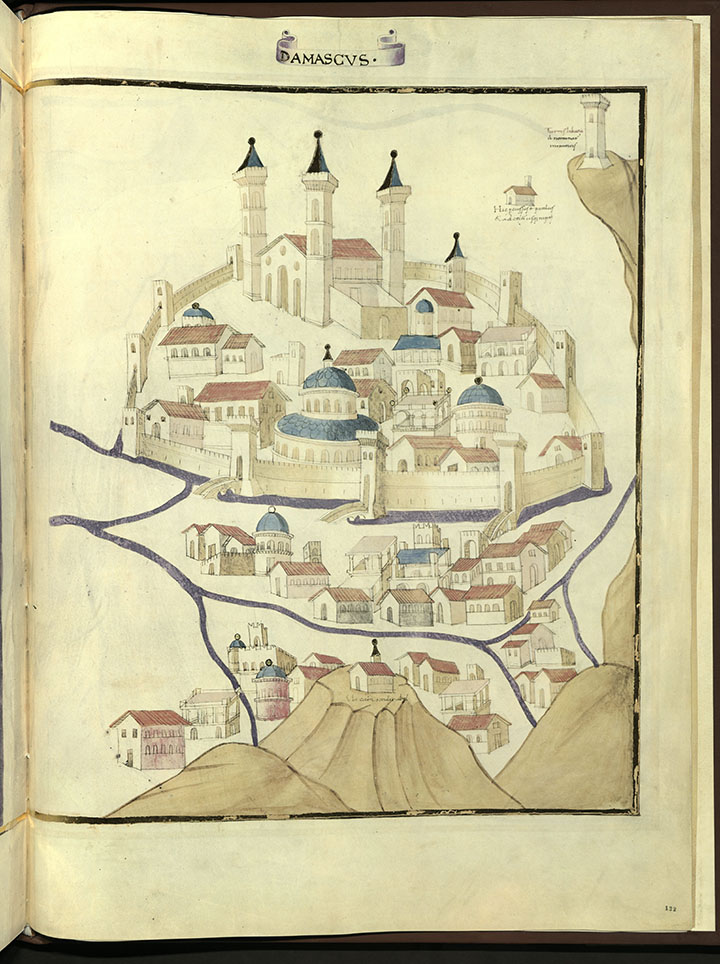 FACSIMILE DIE COSMOGRAPHIA DES CLAUDIUS PTOLEMAUS
Ptolemy (2nd century)
Zurich: Belser Verlag, 1983
G1005 1983
This manuscript was commissioned about 1472 by the Duke of Urbino. It consists of the eight books by Ptolemy explaining the theoretical concept of geography and mapmaking methods, as well as information on the names of cities, countries, regions; their coordinates; and peoples of the world. It includes an atlas with twenty-seven maps (ten of Europe, four of Africa, twelve of Asia), all ascribed to earlier copies by Ptolemy; and seven new maps and ten townscapes from later sources. More than eight thousand named locations are entered into a table of longitudes and latitudes. The translation from Ptolemy's original Greek text into Latin was done by Jacob Angelus around 1360-1410.
This copy was transcribed in Florence by Hugues Commineau de Mézières. Pietro del Massaio and Francesco Rosselli, illuminators, who specialized in the manufacture of maps, both with well-known workshops, helped in the production. The embellishment throughout is testament to the craft of these artists. The incipit of the Angelus' forward is decorated along the edges with gold and colored borders comprised of flowers, putti with candelabra, and medallions – all of which act as ornament for an illumination of the translator presenting the work to Pope Alexander V. The manuscript is a prime example of Renaissance synthesis of Hellenistic culture and emergent scientific methodologies for the representation of the earth.
Facsimile edition of five hundred and fifty copies, fifty hors de commerce. Rare Books copy is no. 402.
---
When is the next full moon?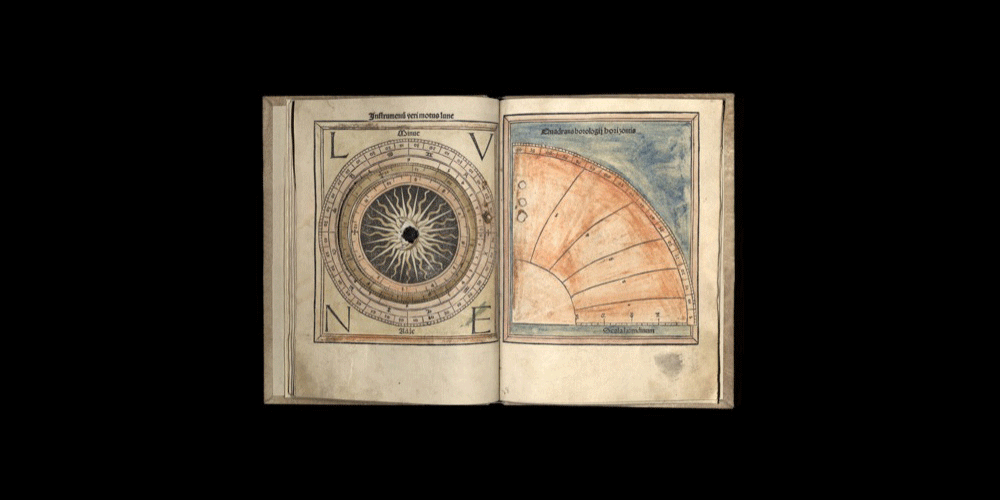 IN LAUDEM OPERIS KALENDARIJ .S. HUIUS JOHANNE DE MONTE...
Johannes Mueller, Regiomontanus (1435-1476)
Venice; Erhard Ratdolt, 1482
CE73 M8 1482
Regiomontanus' Calendarium was first printed at his own press in Nuremberg in 1474. In 1476, master printer Erhard Ratdolt published it in Venice, the capital of Italian printing, followed by this edition in 1482.
Regiomontanus is one of the great figures in the history of mathematics and astronomy. He was one of the first publishers of astronomical material. The Calendarium represents the first application of modern scientific methods of astronomical calculation and observation to the problems of the lunar calendar, such as Easter, and the accurate prediction of eclipses.
Regiomontanus' almanacs contained planetary positions for a particular year as calculated from astronomical tables, freeing astronomers from performing the laborious task themselves. The last two leaves are printed on four pages of thick paper pasted together to form astronomical instruments.
This edition also contains verses by J. Sentius in praise of the author, and by Santritter in praise of the printer. Santritter would later become a printer himself.
Breaking with printing tradition, Ratdolt included imprint details – that is, the information which tells us when and by whom the book was printed – at the end of the opening verses on the verso of the title-page, rather than at the end of the book in the colophon as was the usual practice.
---
What are the sines for this minute?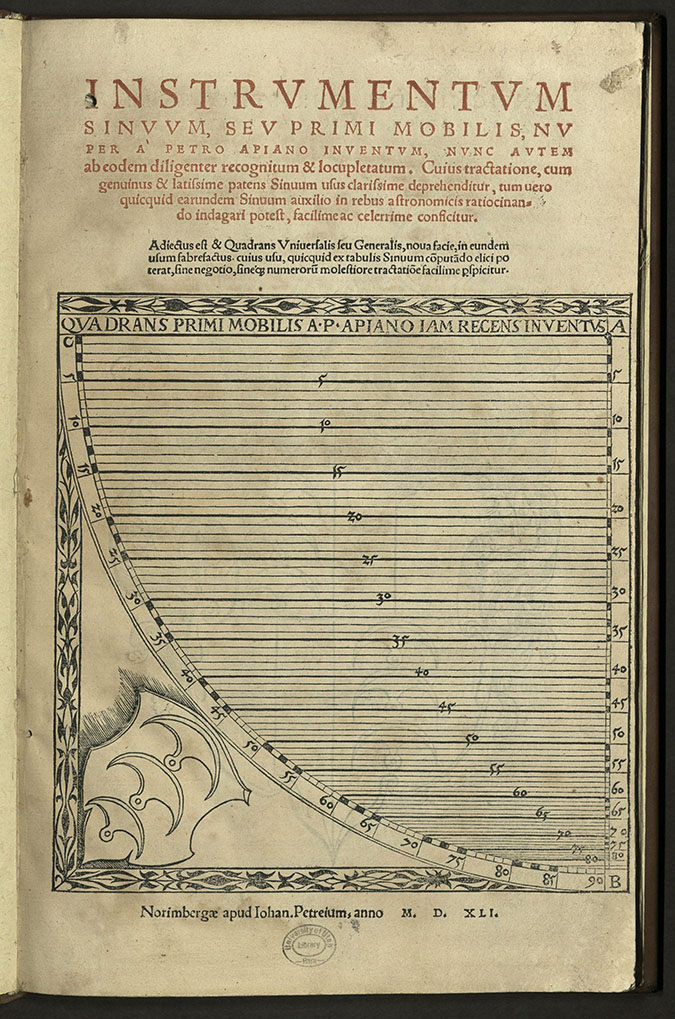 INSTRVMENTVM SINVM, SEV PRIMI MOBILIS... 
Peter Apian (1495-1552
Nuremberg: Petreius, 1541
QB85 A6 1541
Peter Apian (Peter Bienewitz) was a pioneer in astronomical and geographical instrumentation. He successfully popularized these subjects during the sixteenth century. Born to a shoemaker, his family was relatively well off. He studied mathematics and astronomy at Leipzig and Vienna.
Following the success of his first great work, the Cosmographia, in 1524, Apian was appointed professor of mathematics at Ingolstadt, where he also opened a small print shop which would eventually become known for its high-quality editions of geographic and cartographic books. Charles V admired his work so much that he granted Apian a printing monopoly in 1532 and 1534. The emperor later appointed Apian court mathematician.
In Cosmographia, Apian suggested that lunar distances be used for calculating longitude. He is best known for noting, in 1531, that comet tails point away from the sun. Apian published numerous mathematical and astronomical works and made significant contributions to the growing science of cartography.
The Instumentum Sinuum, first published in 1534, was of great scientific significance. In it, Apian calculated sines for every minute with the radius divided decimally. These were the first such tables ever printed. Instrumentum was Apian's most important contribution to mathematics itself. There is an index at the beginning of this edition, one of the earliest of these finding aids.
---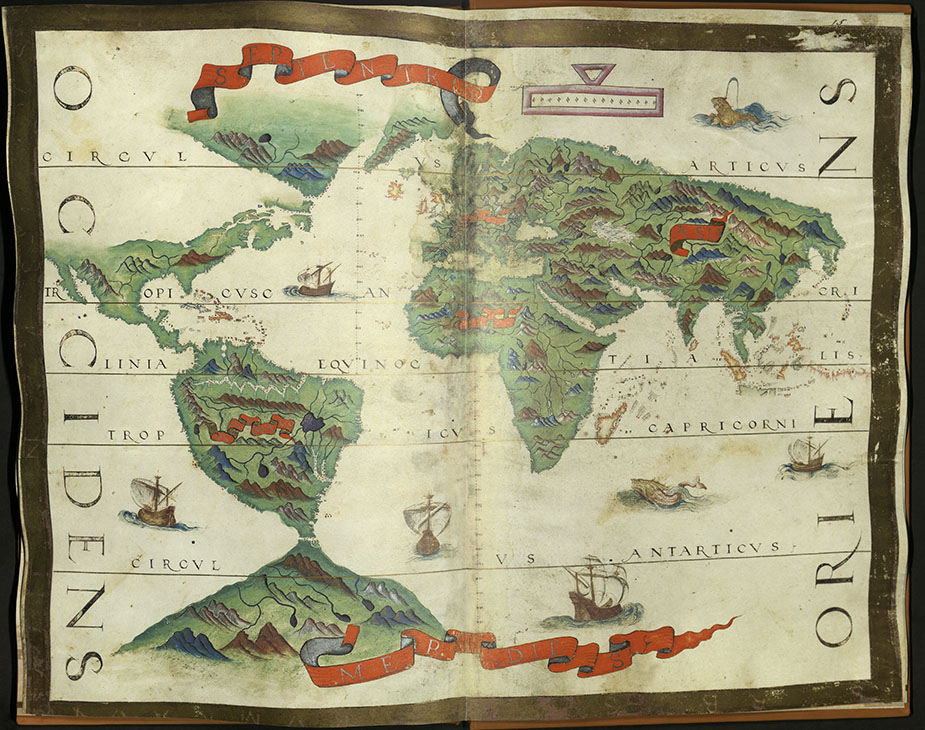 FACSIMILE ATLAS UNIVERSAL
Diogo Homem
Barcelona: M. Moleiro Editor, S.A., 2000
G1059 H6 2000
Diogo Homem, one of the most prolific and renowned sixteenth century Portuguese cartographers, drew the charts for this atlas of the Earth around 1565. He used the latest knowledge available. It is reflective of the nautical and cartographic knowledge, interests, and skill of the time.
The atlas has double leaf images of nineteen charts. It is decorated with miniatures of heraldry, and the flags of the nations, regions, counties and dukedoms mapped. It also contains illustrations of animals and indigenous peoples. It was used extensively by the experts of its time.
Edition of nine hundred and eighty-seven copies. Rare Books copy is no. 686.
---
Where do camels live?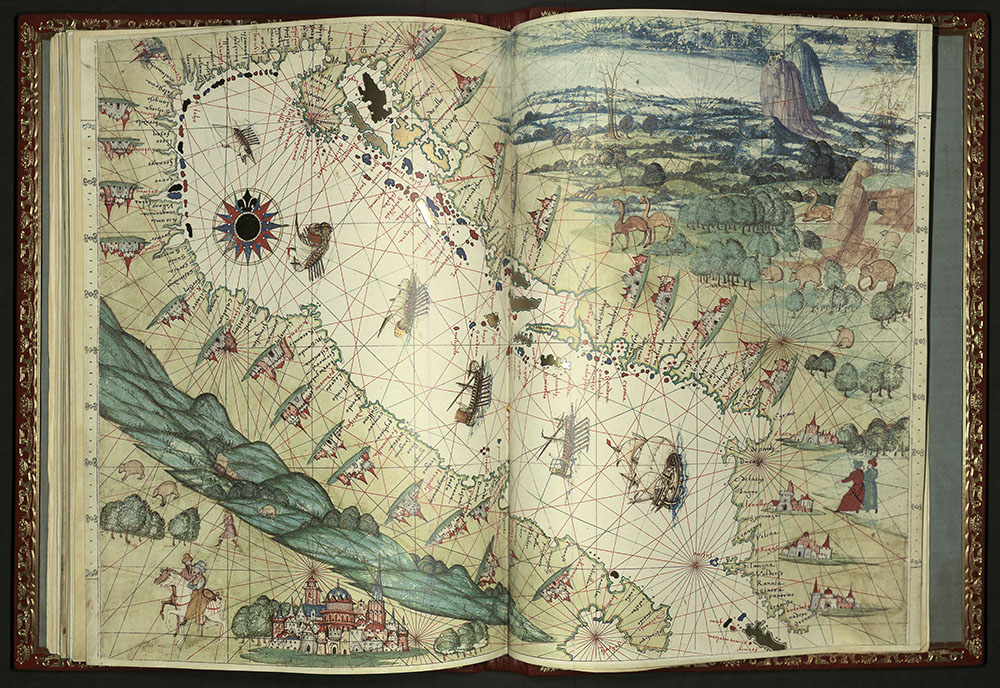 ATLAS VALLARD
Barcelona, Espana: M. Moleiro Editor, S.A., c2010
G1034 V35 2010
The Atlas Vallard was produced anonymously. It is unclear what model was used for its production. Whoever its creator, it is noteworthy for its depictions of European colonization in the 16th century and its illustrations of native populations.
The atlas opens with an essay on the activity of the sun, followed by a calendar. Almost all of the maps are oriented with North at the bottom of the page, a Muslim cartographic habit, rare in Christian Europe. Red and black ink and gold is used for nomenclature. Land masses are outlined in color with islands painted blue, red or gold.
Areas include "Terra Java" (east coast of Australia), "La Jave" (north coast of Australia), East Indies, "Terra Java" (west coast of Australia), Arabian Sea, Red Sea, and Persian Gulf, Southern Africa and southwest Indian Ocean, Atlantic Ocean with the coast of Africa and Brazil, Northwest Africa, Europe and northern Africa, North American and Canada (east coast), West Indies, Mexico, Central America, northern South America, northeastern South America, Southeastern South America, Straits of Magellan, Western Europe and northwestern Africa, Adriatic Sea, Aegean Sea.
On the title page, f. 1, under an armillary sphere is written "Nicolas Vallard de Dieppe, 1547."  Vallard was probably the first owner.
Facsimile edition of 987 copies. University of Utah copy is no. 256.
---
How do I draw a map of the world?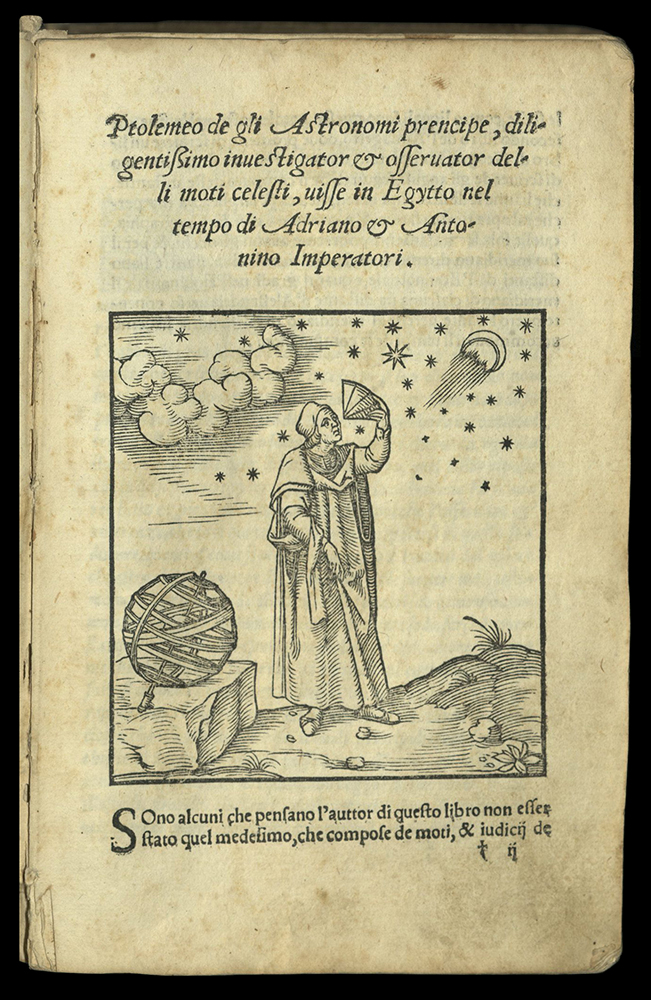 GEOGRAFIA
Claudius Ptolemy
Venice, Pedrezano, 1548
G87 P8 G46 1548
Geografia is the only geographical atlas to survive from antiquity.  Preserved by the Arab world, it finally reached Venice in 1477, translated from a Greek manuscript, with new maps showing what was then known of the world.  There were many mistakes in the book, but it encouraged people, including Columbus, to believe that discovery of the unknown was possible.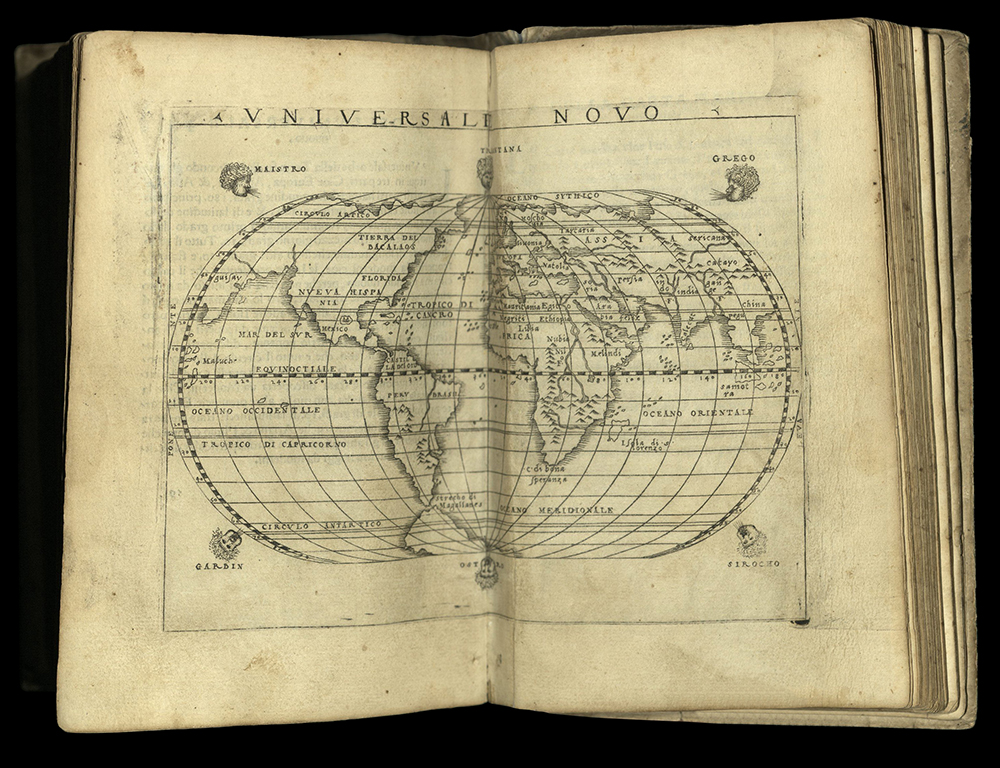 ---
What does the earth look like to God? 

COSMOGRAPHIA
Peter Apian (1495-1552
Paris: D. Martini, 1551
GA6 A48
Peter Apian, pioneer in the development of astronomical and geographical instruments, was born in Germany and taught at the university in Ingolstadt. A cartographer, astronomer, and mathematician, Apian first published Cosmographia, his greatest work, in 1524.
In this book Apian suggested that lunar distances could be used to measure longitude. Precise calculations for longitude would not be perfected until the eighteenth-century. Illustrations depict globes, spheres, astronomical constellations, instruments with their applications and include maps and diagrams.
---
Who said, "It is not every question that deserves an answer ?"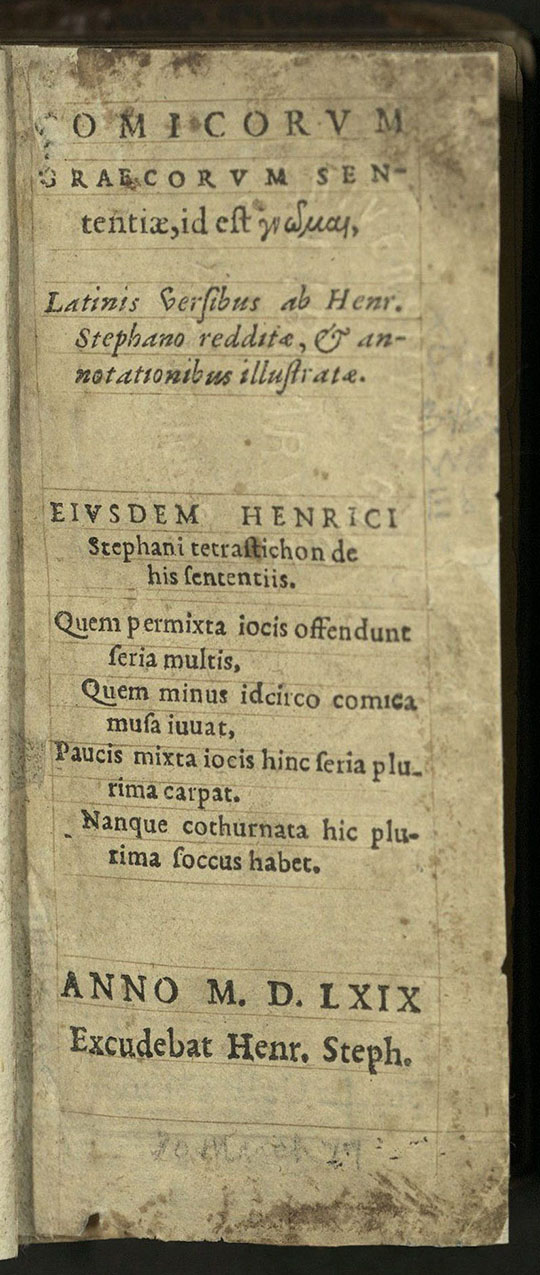 COMICORVM GRAECORVM SENTENTIAE...
Henri Estienne (1531-1598
Paris: excudebat Henr. Steph., 1569
PA3469 W8 E8
This collection of aphorisms and proverbs of the classical Greek authors of comedy was translated and annotated by Henri Estienne, who also wrote an essay on the method he used to choose the literary proverbs. Part 2 of the work contains proverbial expressions from the Latin authors of comedy, in particular those drawn from the Roman poet Publius Syrus. These Latin selections were annotated by Erasmus. Most of these aphorisms and proverbs appear in print here for the first time.
Henri Estienne was famous for the care he took in his close translations of the original text. He was noted for his production of original texts with contemporary commentary – inserting the comments following the original text with distinguishing typographical levels, thus clearly discriminating between comment and original text.
---
How do you say 'question' in Hebrew?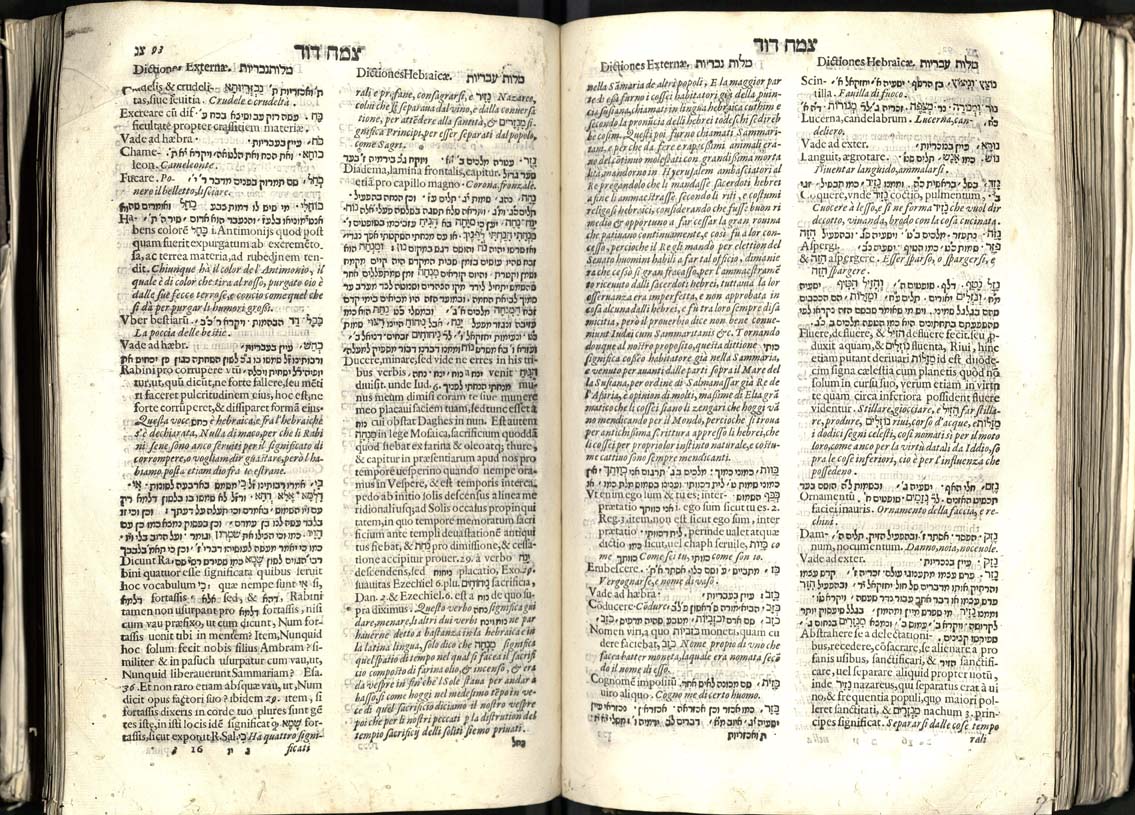 TSEMAH DAVID: DITTIONARIO NOVO HEBRAICA: LEXICON...
David ben Isaac de Pomis (1525 – ca. 1593
Venetys: Ioannem de Gara, 1587
PJ4835 L3 P6 1587
David de Pomis was a linguist, physician, philosopher and rabbi. He worked as a physician near Rome until Pope Paul IV's edict in 1555 forbidding Jewish physicians to treat Christians. He settled in Venice, where he published most of his works.
Pope Pius IV gave him permission to attend to Christians, a concession revoked by Pius V and then restored by Sixtus V. De Pomis dedicated this trilingual Hebrew, Latin, and Italian dictionary to Pope Sixtus V. The introduction includes the author's autobiography and a genealogy. At the back of the book is an index.
---
What does a palm tree look like ?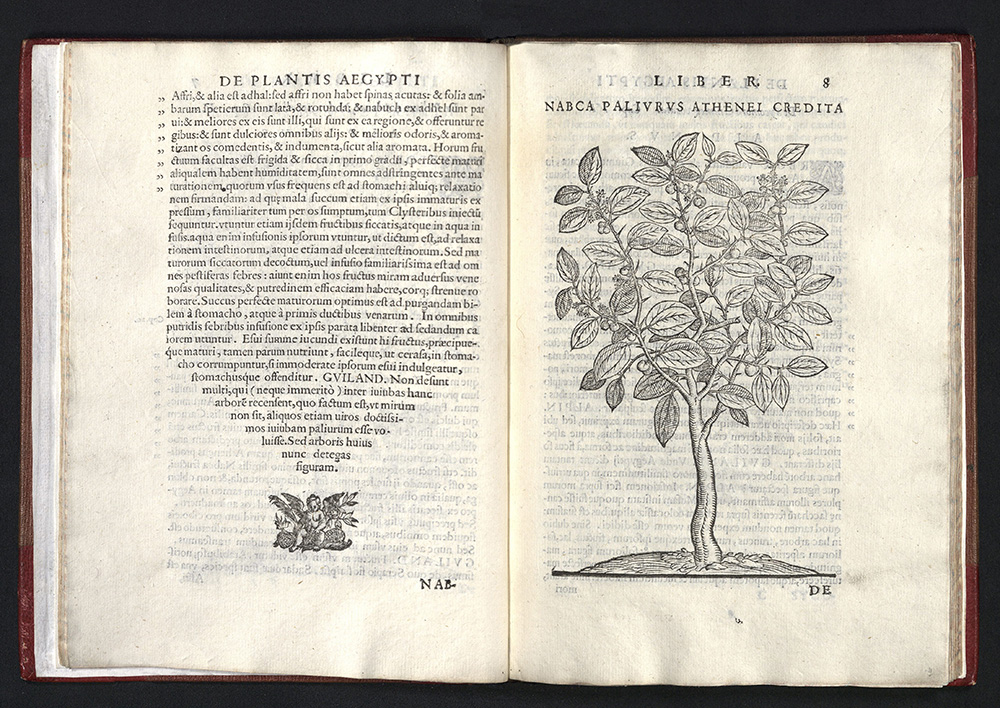 DE PLANTIS AEGYPTI LIBER
Prosper Alpini (1553-1617)
Venice: apud Franciscum de Franciscis Senensem, 1592
First edition
QK403 A4
Prosper Alpini, physician and botanist, was educated in Padua. For three years, beginning in 1580, he traveled through the Greek islands and Egypt. In 1593, he was appointed Chair of Botany at Padua.
Alpini's works were extremely popular during his lifetime. One of his best known is De plantis Aegypti liber, a description of fifty-seven plants found in Egypt and largely unknown in Europe, written in dialogue form. Alpini was the second European writer to mention the coffee plant in a printed book and the first to illustrate and describe it. Here, he names the plant "bon" and refers to the beverage as "caova."
The many woodcuts in this printing are more decorative than realistic.
---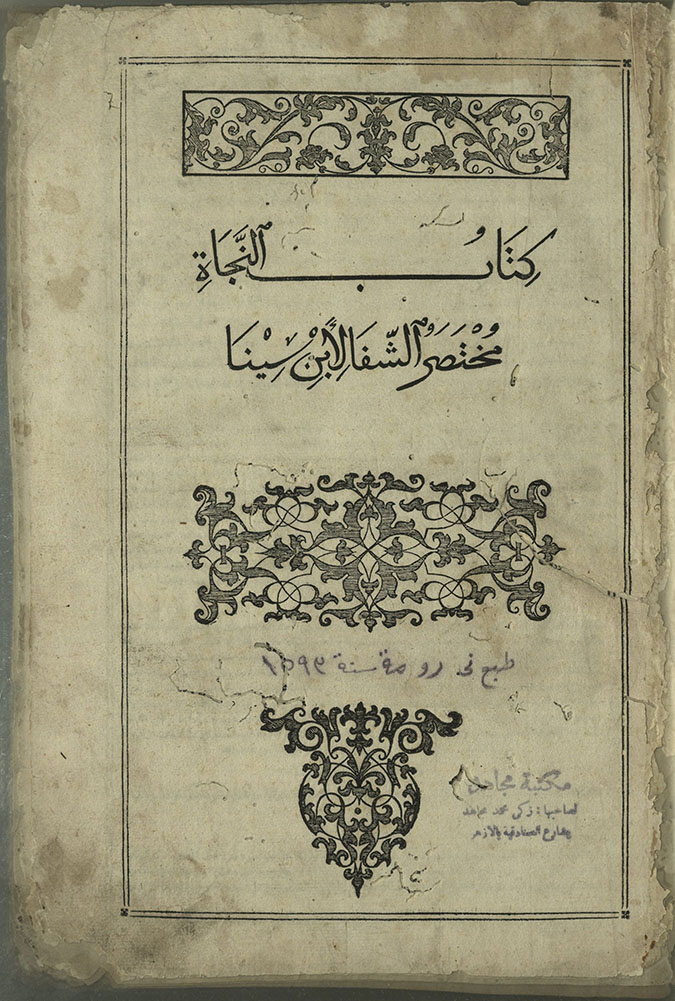 KITAB AL-NAJAH
Avicenna (980-1037
Rome: Medici Printing Press, 1593
B751 N3 1593
Avicenna (Ibn Sina) was an illustrious philosopher, scientist, and medical writer of medieval Islam. He introduced the works of Aristotle to the Arabs. His two most important books, Al-Shifa (Healing of the Soul) and the Canon of Medicine were extremely influential in the development of philosophy and medicine in the East, and, through Latin translation, in the West.
Al-Shifa is an encyclopedic work divided into four principal parts: logic, physics, mathematics, and metaphysics. The selections here were printed in Rome by the famous Medici Press, which used the first Arabic type in the world.
---
How can I calculate this without my own astrolabe?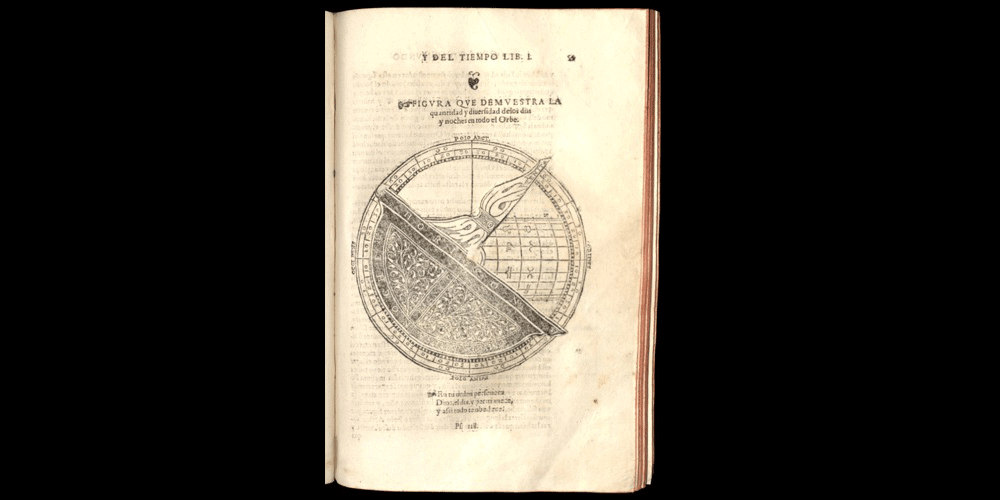 THEATRO DEL MUNDO Y DE EL TIEMPO
Giovanni Paolo Gallucci
Inpresso en Granada en las casas de autor, por su industria, y a su costa por Sebastian Munoz, impressor de libros ano 1606
QB41 G1818
First published in Venice in 1588 as Theatrum mundi, et temporis, this book presents the forty-eight maps of the Ptolemaic constellations and depicts them as mythologic figures. The star positions are taken from Copernicus' De revolutionibus orbum coelestium.
Giovanni Paolo Gallucci's Theatrum is considered the first modern celestial atlas because in its maps he used a coordinate system and a trapezoidal system of projection common among geographic cartographers of the time, allowing an exact determination of the star positions. The lively constellation figures overlay very accurate maps of the stars.
Gallucci's text is an encyclopedia of astronomical knowledge. He describes the Ptolemaic theories of the movement of the planets, the sun, the moon, and eclipses. Tables illustrate the earth, a Dantesque hell, and a forecast of the equinoxes from 1588 to 1800. This edition contains several complex volvelles to aid in calculations.
---
Where will Mars be a year from now when I look up at the sky?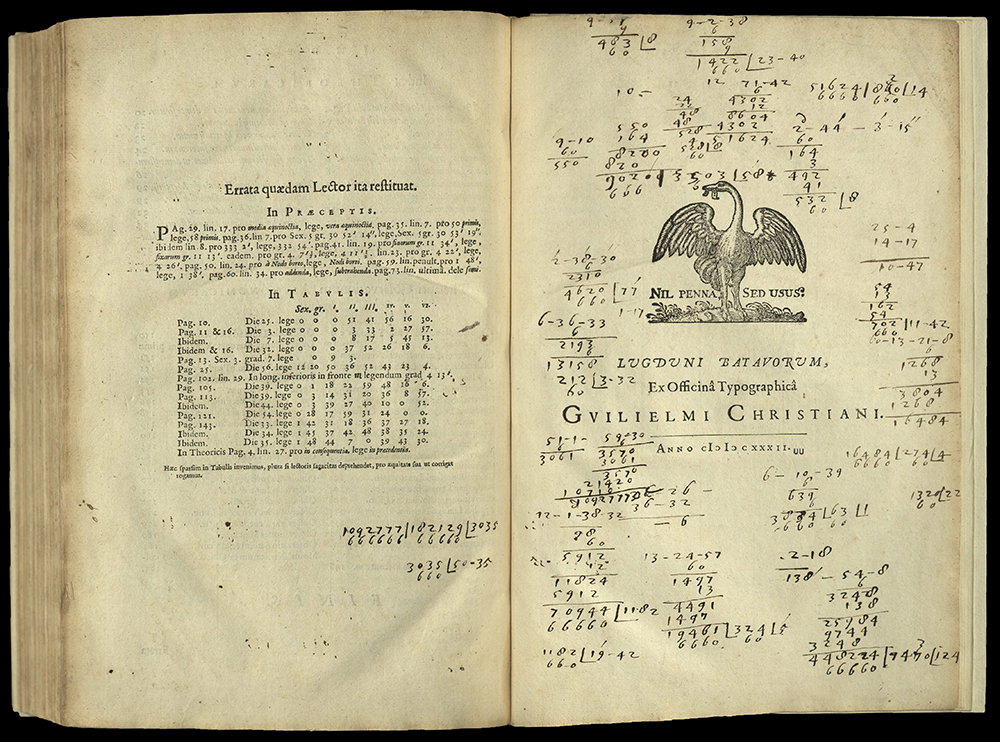 PHILIPPI LANSBERGI TABULAE MOTUUM COELESTIUM...
Philips van Lansbergen (1561-1632
Middelburgi Zelandiae : apud Zachariam Romanum, 1632 (Lugduni Batavorum, ex. officina typograpica Guillelmi Christiani Anno mdcxxxii
First edition
QB41 L36
Philips van Lansbergen was a Dutch astronomer and Calvinist clergyman. Van Lansbergen supported Copernicus' heliocentric theory of the earth revolving around the sun, although it was controversial in both Roman Catholic and Protestant circles. And van Lansbergen was not completely satisfied with Copernicus' evidence. He believed that only through accurate astronomical observations could a satisfactory theory of the universe be devised.
Both Kepler and Galileo followed the work of van Lansbergen and used his Tabulae, van Lansbergen's most famous work, which contains coordinates to predict the position of the planets. His « Tabulae perpetuae » were patiently compiled over forty-five years. These are not free from error: mostly because of van Lansbergen's struggle to accept Kepler's discovery of elliptical orbits.
Illustrated with an allegorical engraved title-page with portraits of Ptolemy, Aristarchus of Samos, Copernicus, and Brahe, and an engraved portrait of the author. Folding plate (Canon sexagenarium) at the end of part 2.
---
Why can't my baby speak Hebrew?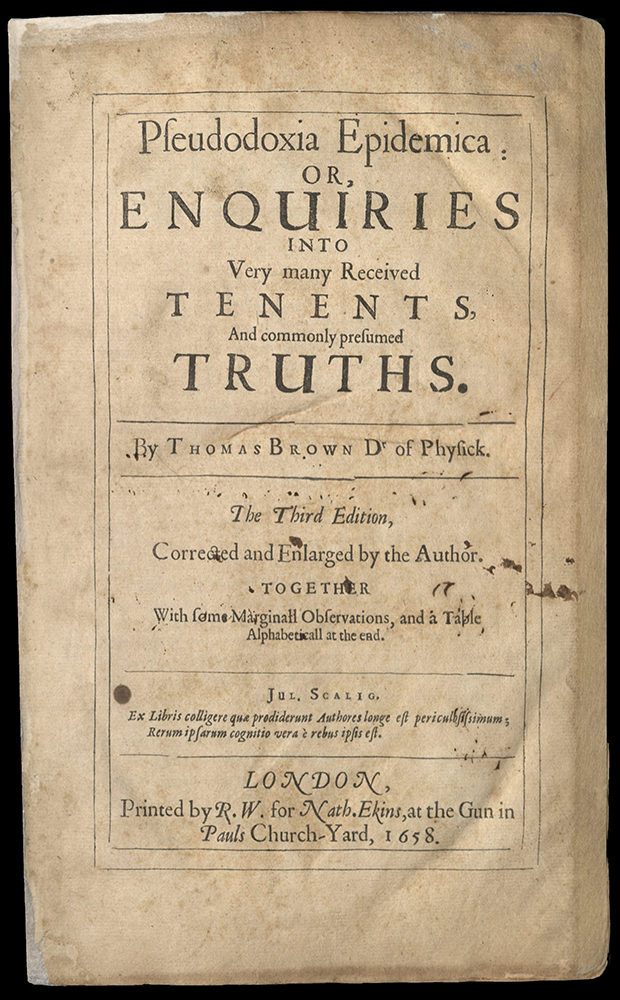 PSEUDODOXIA EPIDEMICA
Sir Thomas Browne (1605-1682)
London: Printed by R.W. for N. Ekins, at the Gun in Paul's church-yard, 1658
Third, corrected edition
PR3327 A72 1658
In this famous book, the writer and physician from Norwich demonstrated the absurdity of commonly presumed truths. Among the traditions which Browne deposes are the beliefs that "The Elephant hath no joynts, That an Horse hath no Gall, That the Chameleon lives only by Aire, That the Ostridge digesteth Iron; That the forbidden fruit was an Apple; That our Savior never laughed, That a man have one rib lesse than a woman, That there was no Rainbowe before the flood."
Browne coined 784 new words, most of them in Pseudodoxia Epidemica, including anomalous, antediluvian, ascetic, botanist, circumstantially, considerably, deductive, electricity, fallaciously, hallucination, horizontally and vertically, improbably, incontrovertible, insecurity, invariably, medical, prairie, precarious, presumably, and traditionally.
Rare Books copy gift of Brooke Hopkins.
---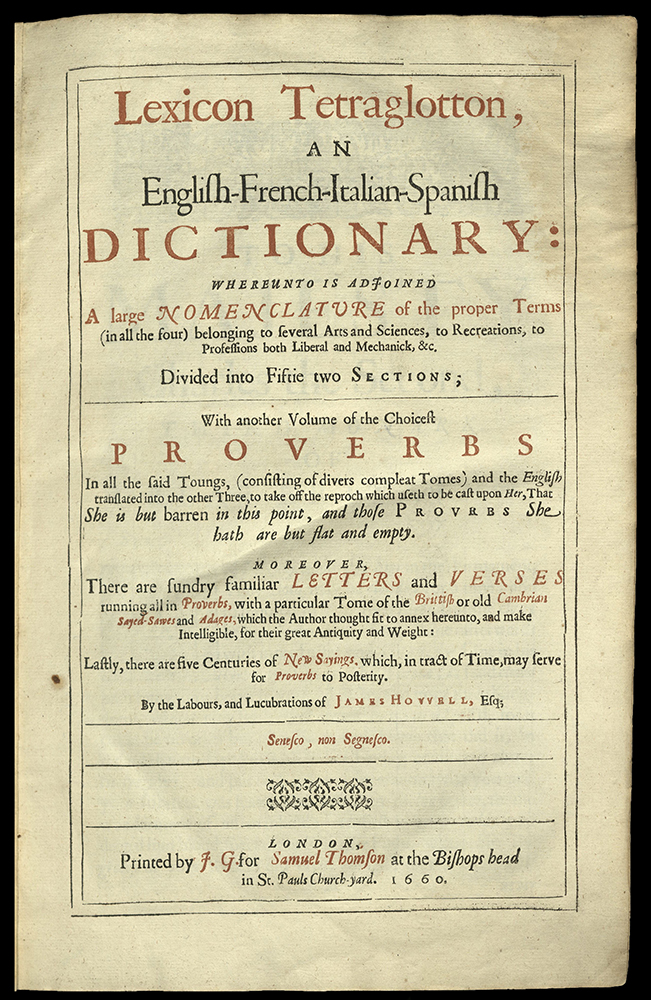 LEXICON TETRAGLOTTON, AND ENGLISH-ITALIAN-SPANISH... 
James Howell (1594? – 1666)
London: Printed by J.G. for Samuel Thompson, 1660
First and only edition
PE1635 A2 H68 1660
James Howell began his literary career in 1640 with the political allegory, Dendrologia: Dodona's Grove, or, The Vocall Forest, an account representing the history of England and Europe through the framework of a typology of trees. He wrote political tracts throughout the 1640s and 1650s, drawing material from Aristotle, Machiavelli, and others. Howell befriended many literary figures, including Ben Jonson.
He wrote Instructions for Forreine Travel in 1642, a book of useful information about safe travel in France, Spain, and Italy. Traveling in his own country proved to be hazardous, however. On a visit to London in 1643, he was arrested and imprisoned for eight years. He spent this time writing. Released from prison at the Restoration of Charles to the throne, he was made Historiographer Royal in 1661.
Howell possessed a mastery of modern romance languages. Lexicon is a dictionary but also contains epistles and poems on lexicography, characterizations of most letters of the alphabet, and vocabulary lists organized by topics such as anatomy, chemistry, alchemy, horsemanship, hunting, architecture, and libraries. Howell collected proverbs in English, Italian, Spanish and French. Lexicon is bound with Howell's Proverbs, or, Old Sayed Savves & Adages (1659). Benjamin Franklin used this book as a reference for his Poor Richard's Almanac.
In the frontispiece, engraved by William Faithorne (1616-1691), four female figures, emblematic of England, France, Spain and Italy, stand among trees with a helmeted figure to the right standing guard. This copy contains a later state of the engraving with initials identifying the countries represented. Rare Books copy gift of Anonymous, for whose generosity and friendship we are ever grateful.
---
Who put the horse before the cart?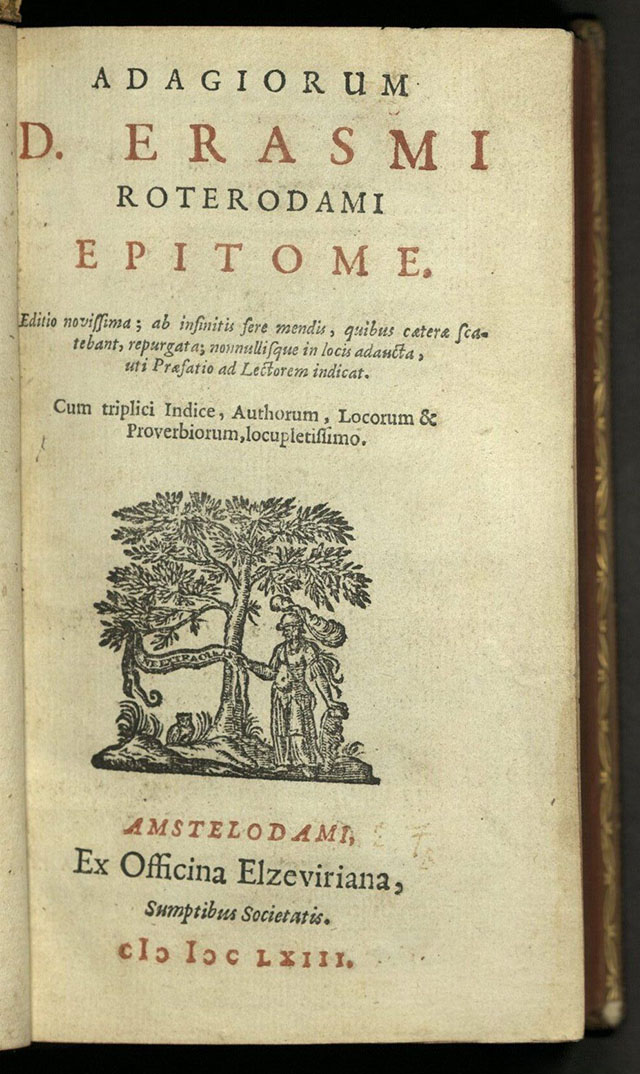 ADAGORIUM D. ERASMI ROTERODAMI EPITOME
Desiderius Erasmus (d. 1546)
Amsteldomi: Ex officina Elzeviriana, sumptibus societatis, mdclxiii (1663)
Editio novissima, ab infinitis fere mendis, quibus caeterae scatebant, repurgata; nonnullisque in locis adaucta, uti praefatio ad lectorem indicat, cum triplici indica, authorum, locorum & proverbiorum locopletissimo
PN6410 E84 1663
Erasmus's Adagia is a collection of Latin and Greek sayings arranged by topic, with the author's references in the margins.
Elzevir Press was known for its well-printed but inexpensive books, published especially for students. The title-page of this edition is printed in red and black with a woodcut device of a woman and an owl under a tree, probably a representation of Minerva.
Rare Books copy from the Kenneth Lieurance Ott Collection donated to the Okanogan County Museum, Washington.
---
How far apart should I plant my cherry trees?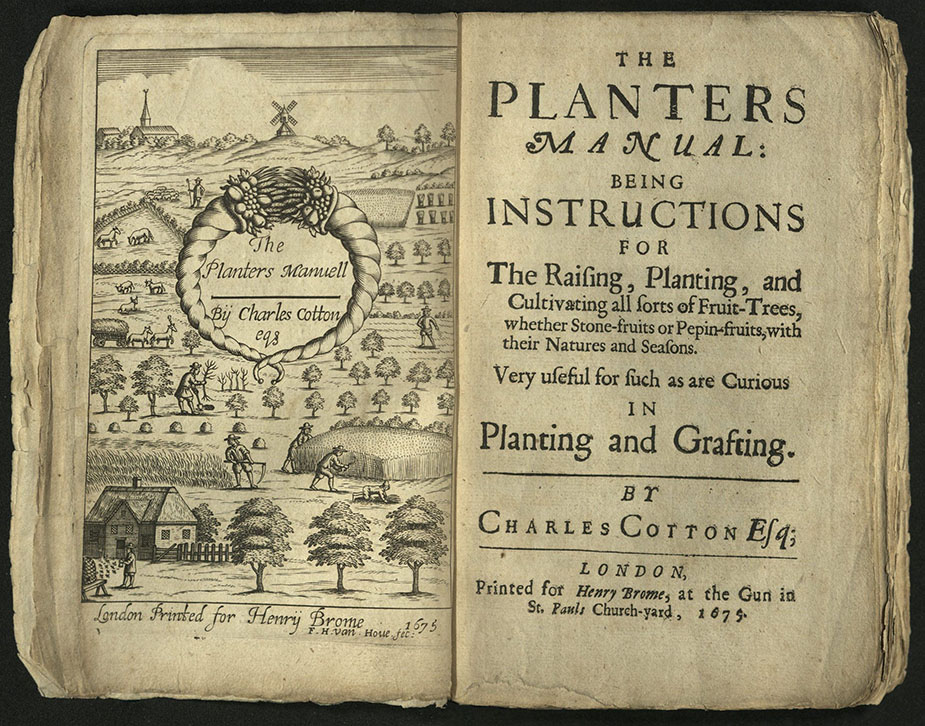 THE PLANTERS MANUAL; BEING INSTRUCTIONS FOR THE ... 
Charles Cotton (1630-1687)
London: Printed for Henry Brome, 1675
First edition of first English translation
SB356 C67
Robert Triquet's classic treatise on stone and pome fruits – with lists of varietals, their uses and how best to grow them – also included grafting and espaliering techniques.
Charles Cotton, an ardent outdoorsman and naturalist, was best known as a poet and for his friendship with Izaak Walton, to whose Compleat Angler he added a second part. Cotton was well-skilled in horticulture. The Planters Manual give practical information in a plain and easy writing style, for which Cotton takes much of the credit. 
Cotton, in his preface to his translation of The Planters Manual from the French, complains about French "effeminate manners, luxurious kickshaws, and fantastic fashions" and the transference of such abominations into England.
---
What does a hippopotamus really look like?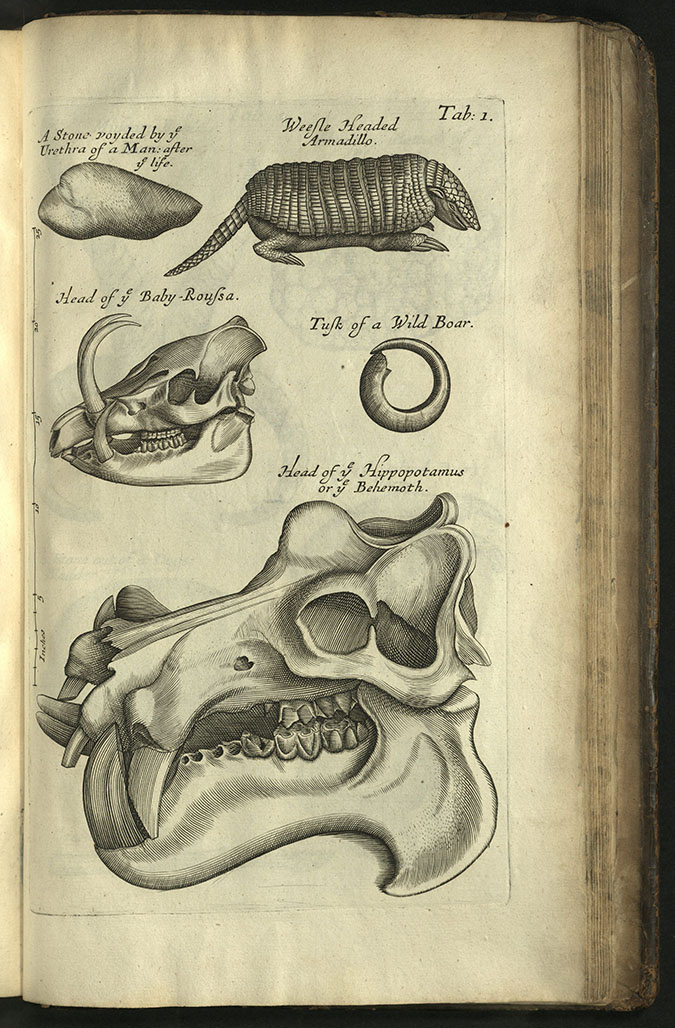 MUSEUM REGALIS SOCIETATIS
Nehemiah Grew (1641-1712)
London: Printed by W. Rawlins, for the author, 1681
First edition
Q41 L848 1681
Nehemiah Grew, best known for his studies in plant anatomy, is considered one of the most distinguished scientists of the 17th century. This work is a catalog of some of early collections of the Royal Society, which received its charter in 1662.
Grew focused upon the more exotic specimens donated by the Society's membership. Some of the oddities Grew included are an Egyptian mummy, a sloth, a calf with two heads, a crocodile, an air pump, a reflecting telescope, a canoe, a cider press, currency from Virginia, a hammock, gloves from Iceland, and a snowshoe from Greenland.
The catalog is illustrated with thirty-one full-page engraved plates of curiosities like a hippopotamus skull, tortoise shells, a skeleton of a crocodile, a sea unicorn, a coconut and more.
---
Was Georg Agricola a Lutheran?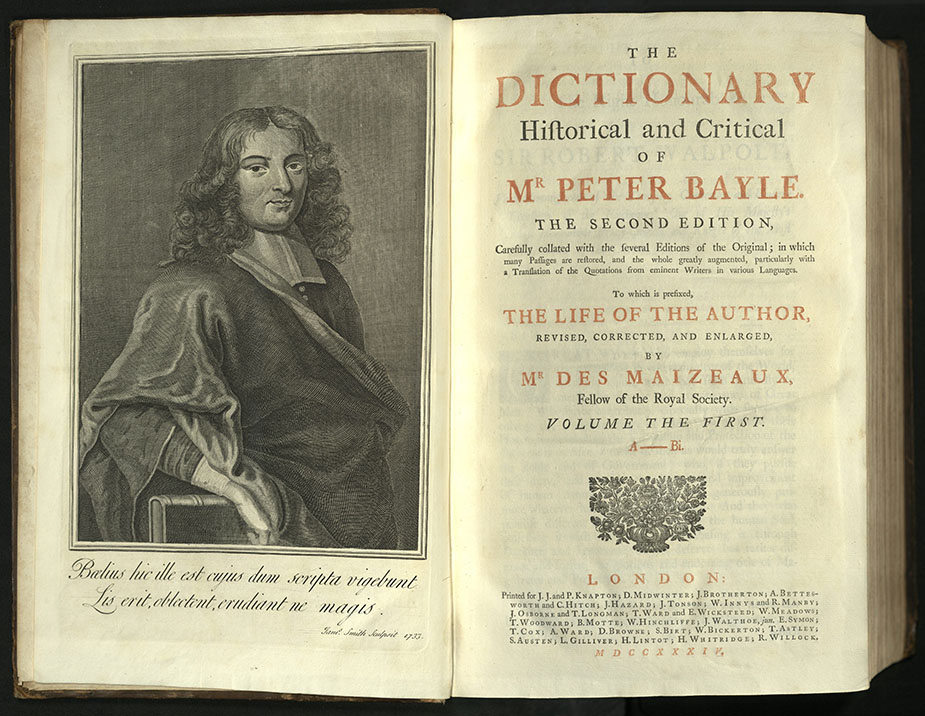 THE DICTIONARY HISTORICAL AND CRITICAL ...
Pierre Bayle (1647-1706)
London: Printed for J.J. and P. Knapton [etc.], 1734-1738
The Second Edition, carefully collated with the several Editions of the Original…To which is prefixed The Life of the Author, revised, corrected and enlarged, by Mr. Des Maiseaux
CT95 B28 1734 vols. 1-5
Pierre Bayle first published this work in two volumes in Rotterdam in 1697. It influenced rationalist European philosophy for the next one hundred years. Bayle went beyond his original intention, overwhelming his entries with annotations and illustrative quotations from other writers.
He applied a strict scientific method, challenging long-held assumptions and reverence for authority which had characterized similar projects in the past. He championed reason against belief, philosophy against religion, tolerance against superstition. He posed arguments and counter-arguments side-by-side, with supplements to each entry. His Dictionaire dominated and influenced European enlightenment thinking until the publication of Denis Diderot's Encyclopedie.
Bayle, a self-pronounced Protestant, advocated the separation between faith and reason on the grounds that God was incomprehensible to man. He was a strong advocate for the toleration of divergent belief systems. This second edition in English includes a portrait of Bayle and a four-page "Advertisement Concerning the Second Edition" with a detailed description of the additions and improvements.
---
Où puis-je acheter de l'ambre?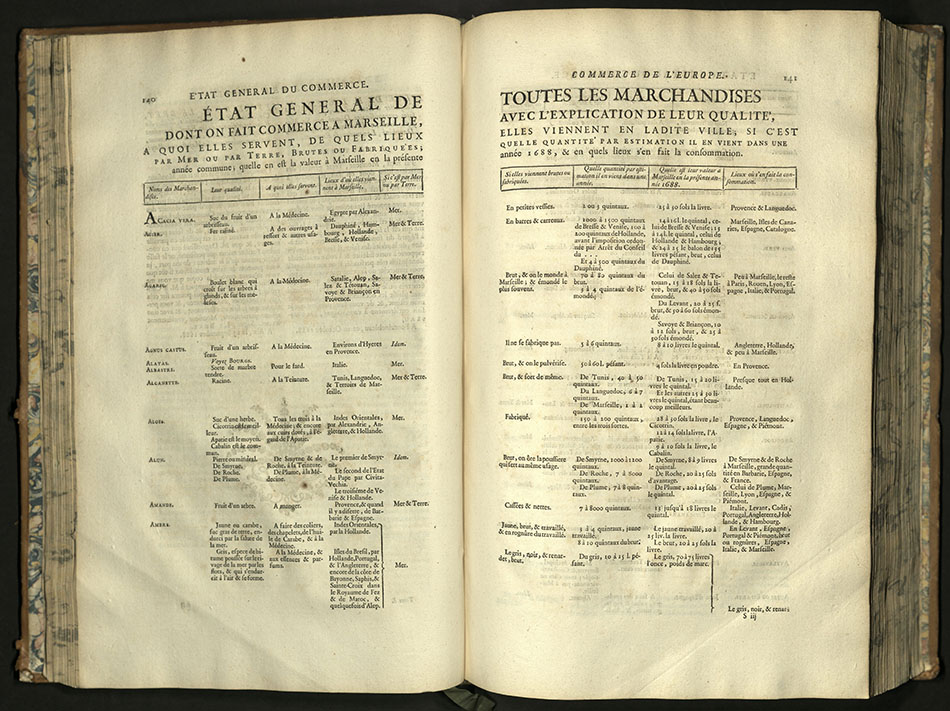 DICTIONNAIRE UNIVERSAL DE COMMERCE
Jacques Savary des Brûlons (1657-1716)
Paris: Chez le Veuve Estienne et fils, 1748
Nouvelle ed.
HF1001 S25 1748 vols. 1-3
Jacque Savary des Brûlons, the son of an economist, was the Inspector General of the Manufactures for the King at the Paris Customs. Also a lexicographer, he used this skill and his position to write the Dictionnaire universel de commerce.
For his personal use, he prepared an alphabetical list of all objects subject to duty and all the words relating to commerce and industry. To this he added the ordinances and rules regarding commerce in France and abroad. The compilation formed the foundation for Dictionnaire.
The work was prepared by Jacques' brother, Louis-Philémon Savary, and first published in 1723. New expanded editions were published in 1726, 1748, and 1759. It was the first work of its kind published in France and was used as the model for subsequent works in English (1751) and German (1752-1756) and translated into English in 1774.
---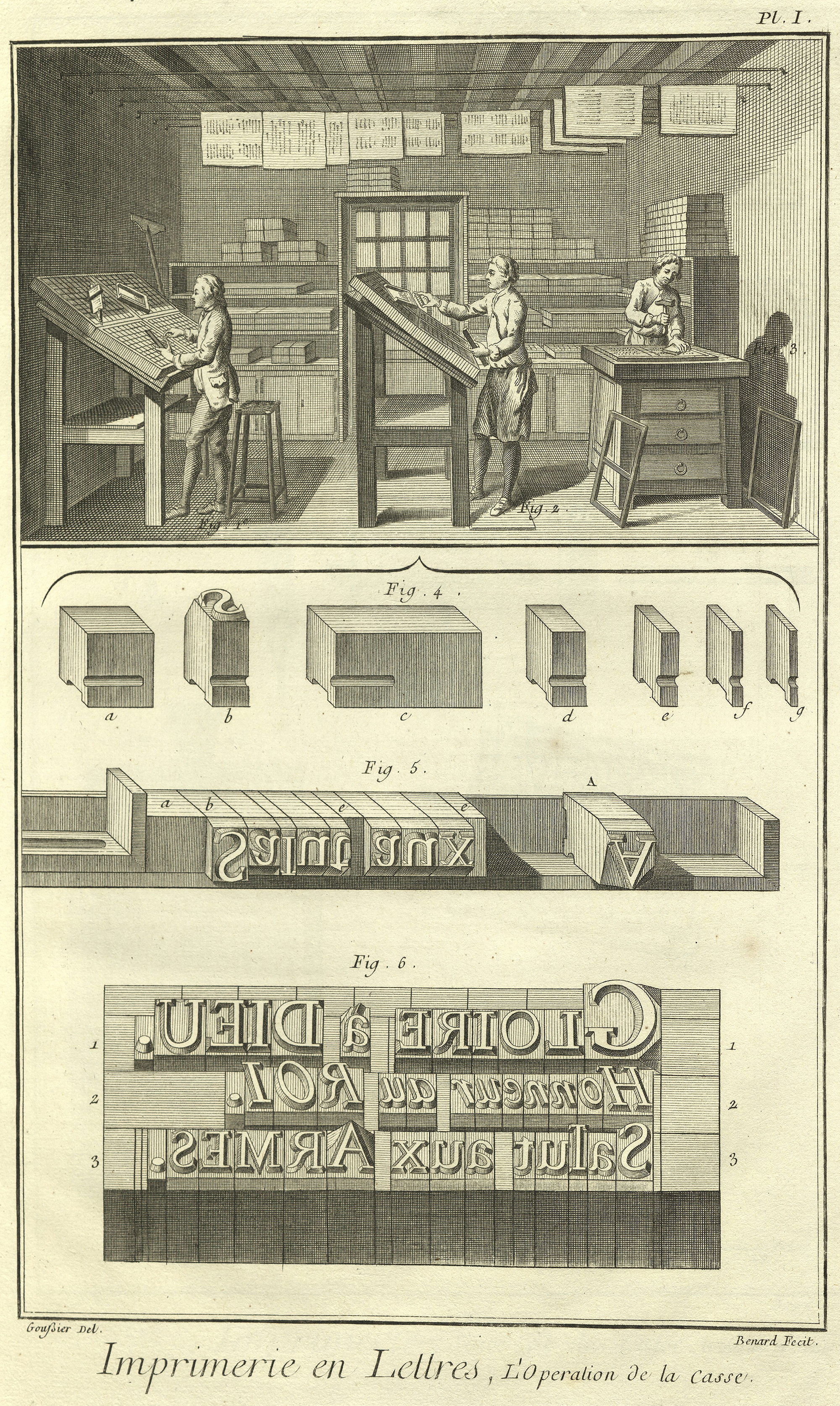 ENCYLOPEDIE ... 
Denis Diderot (1713-1784)
Paris: Braisson, 1751-65
AE25 E53 vols. 1-17
Denis Diderot said that the purpose of his Encyclopedie was "to change the common way of thinking." The finest thinkers of eighteenth-century France contributed to this monumental project, including such Voltaire, Montesquieu, Rousseau, and mathematician Jean d'Alembert.
Diderot, and the other Encyclopedists who contributed to the project, refused to accept the authority of political power or religion in questions of the intellect or of art. Far from being a neutral compendium of useful knowledge, Diderot's Encyclopedie was, tantamount to a political manifesto, an attempt on the part of radical French intellectuals to establish their own authority by virtue of their superior reason. They allowed nothing in the work that was not known through empirical study. Each volume became an immediate success.
The French court, judiciary, and church, however, were outraged by the project and what it stood for. In 1759, the seven volumes that had appeared to date were banned by the government and placed on the index by the Pope. For the next twenty years, Diderot carried on, writing countless small articles and many major ones, while dealing with the continuous attacks of critics.
It is hard to imagine such a substantial work as an "underground" publication, but that, indeed, is what this was. Catherine the Great, a voracious reader and bibliophile, would eventually buy Diderot's personal library for more than 50,000 pounds, a purchase that made Europe recognize Russia as a cultural center.
---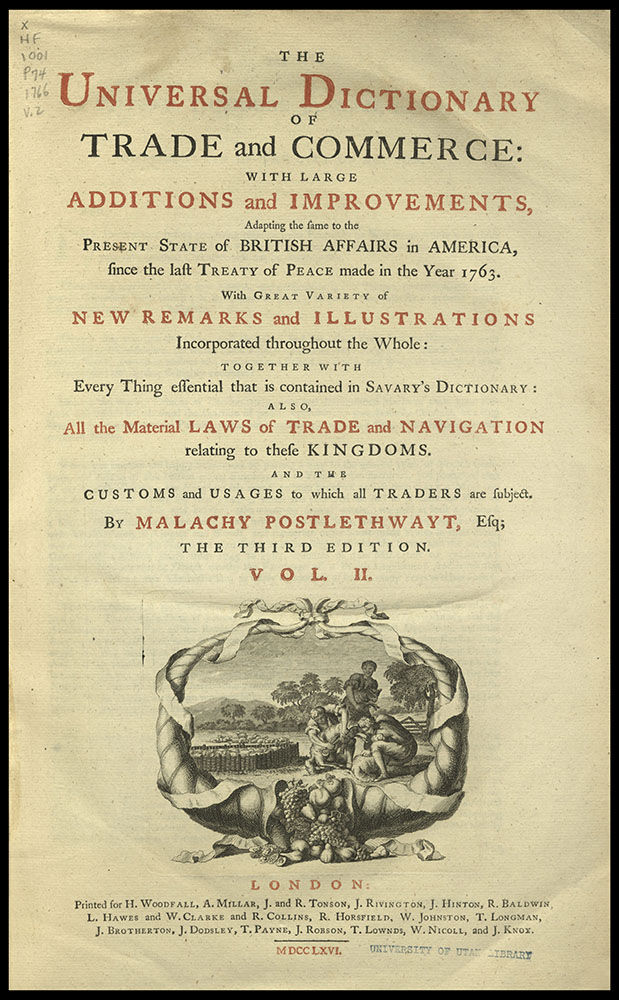 THE UNIVERSAL DICTIONARY OF TRADE AND ... 
Malachy Postlethwayt (1707? – 1767)
London: H. Woodfall, etc., 1766
Third edition
HF1001 P74 1766 vols. 1 & 2 oversize
The economist Malachy Postlethwayt spent twenty years compiling The Universal Dictionary, translating, improving upon, and adding to the work of Savary's dictionary. First published in 1751, the translation was well-known among British and American colonial merchants.
The Dictionary is a vast compendium of thought and detail regarding international commerce. It had far-reaching effects during its time on economic theory and commercial practice. Postlethwayt proposed formal training for businessmen due to the great importance of trade to the continued economic growth of the British Empire. These well-trained businessmen, Postlethwayt believed, should be the backbone of the nation. He strongly believed that a nation could prosper only to the degree it honored and respected its merchants. The training would be available to sons of merchants, wholesale dealers, and American planters.
Postlethwayt would, in later publications, argue that slavery was the best means to block independence of the American colonies. He wrote in 1745 that a slave labor plantation economy would be unable to develop the independent manufacturing base necessary for the colonies to free themselves from dependence on Great Britain.
---
Why does this piece of music make me feel sad?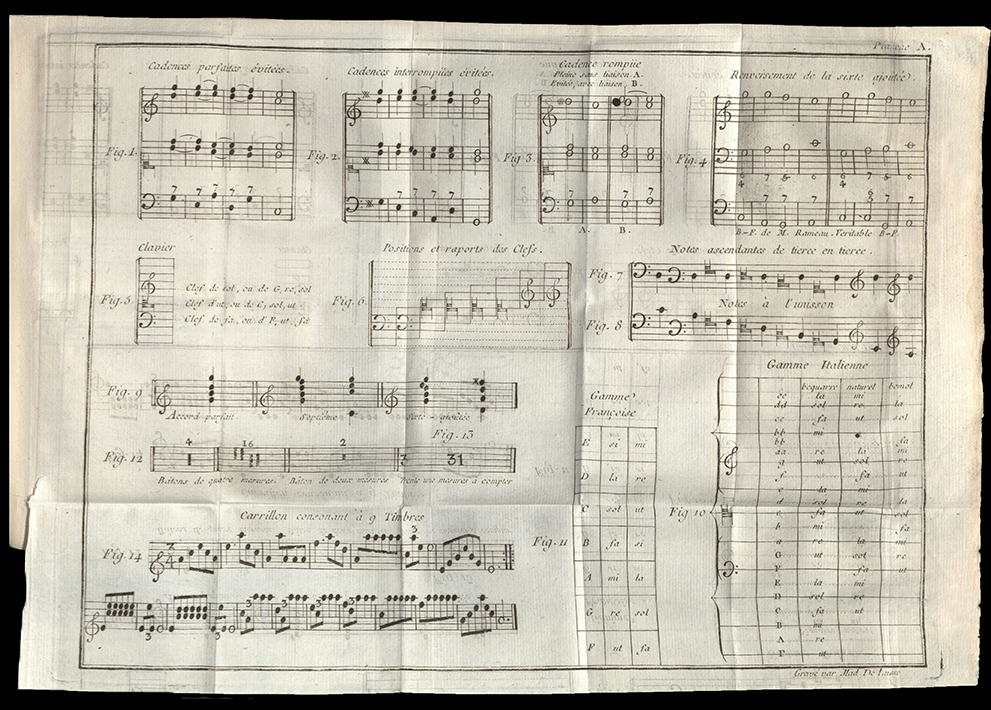 DICTIONNAIRE DE MUSIQUE ... 
Jean-Jacques Rousseau (1712-1778)
Paris: Chez la veuve Duchesne, 1768
First edition
ML108 A2 R7
Jean-Jacques Rousseau compiled this dictionary as an act of overt, radical departure from previous dissertations on music such as Jean Philippe Rameau's rigid principles of harmony. For instance, Rousseau stressed the need for spontaneity in the composition and performing of music.
For Rousseau, music was not to be an imitation of sound in nature, but a reflection of the composer's feelings in an attempt to touch the audience in a similar sentiment. He valued vocal over purely instrumental works. Rousseau emphasized the moral power of music. Dictionnaire was instantly popular and remained so well into the Romantic period.
---
What is the difference between Lutherans and Gnostics?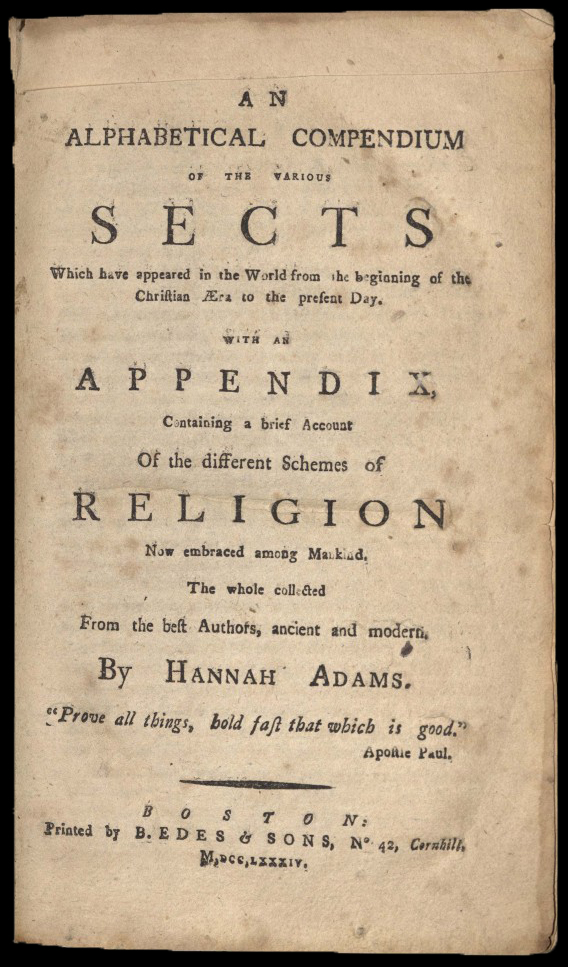 AN ALPHABETICAL COMPENDIUM OF VARIOUS SECTS ... 
Hannah Adams (1755-1831)
Boston: Printed by B. Edes & Sons, 1784
First edition
BL31 A3 1784
Hannah Adams was the first woman in the United States to make a living as writer. Born in Massachusetts, Adams was a distant cousin of President John Adams and the daughter of a lifelong bibliophile called "Book" Adams, who failed an attempt at bookselling.
Too frail to go to school, she was taught Latin, Greek, geography and logic by theological students who boarded with her family. One of the students introduced her to Broughton's Dictionary of Religions, which led to her interest in writing on religion.
At the age of seventeen, her father faced bankruptcy. Adams helped sustain the family by selling her lace and by teaching. The sale of her books added to her income.
Alphabetical Compendium was an important contribution to American religious literature. In her book, Adams (a Unitarian) represented denominations from the perspective of their adherents, without injecting her own opinions. It includes one of the earliest accounts of the Shakers and a description of contemporary Jewry. This work went through four editions in the United States, each under a different title, and was also published in England.
---
What is a 'xantippe?' 
A CLASSICAL DICTIONARY OF THE VULGAR TONGUE
Francis Grose (1731? – 1791)
London: Printed for S. Hooper…, 1785 First edition
PE3721 G76 1785 
Francis Grose, the author of two previous quirky books, collected slang terms during late-night visits to London's roughest neighborhoods and drinking establishments. Grose wrote that he also referenced earlier published works of the same. A lover of food, wine and wit, he published several more books before dying at the dinner table, reputedly by choking.
A Classical Dictionary includes terminology used by thieves, such as "bilk," "chubby," "hen-pecked," "topsy-turvy," "cripple," and countless words for prostitutes.
---
How do you dance the "Nymph of the Grot?"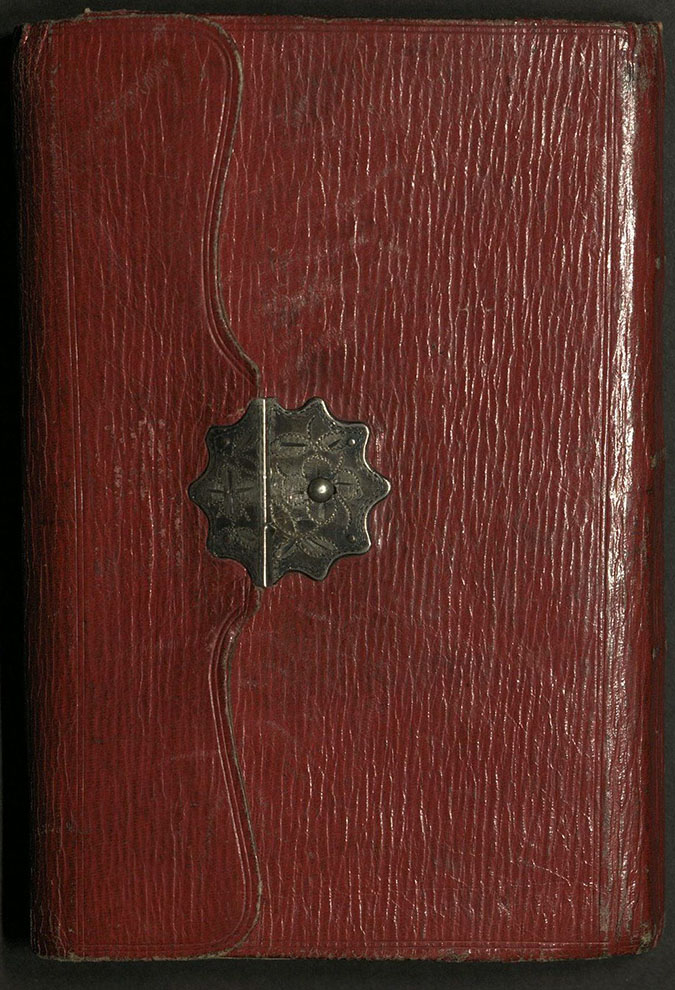 THE LADIES' POCKET JOURNAL ; OR, TOILET ASSISTANT ... 
London: printed for S. Bladon, 1796
HQ1121 L33
The rest of the title: "… Among a great variety of useful and entertaining articles, it contains, days and hours for transferring stock; holidays at the public offices…with essays on conversation, &c., on sleep and dreams; on self-knowledge; on expression in conversation; verses on visiting Vauxhall…the crystal tear; the fair thief; orders to a porter…excellent receipts; favourite songs and country dances for the year; new rates of watermen and coachmen ..." 
Illustrated with two engravings; one of the plates shows "Ladies in the dresses of the year 1796"; the other is a folding plate of "The gallant behavour of Capt. MacNamara off Fort Bregansons near Toulon June 9th; 1796." James McNamara served in the Royal British Navy during the American and French Revolutions. He took part in the occupation of Toulon. He was promoted to the rank of master and commander in 1793.
---
Does hops have any medicinal value?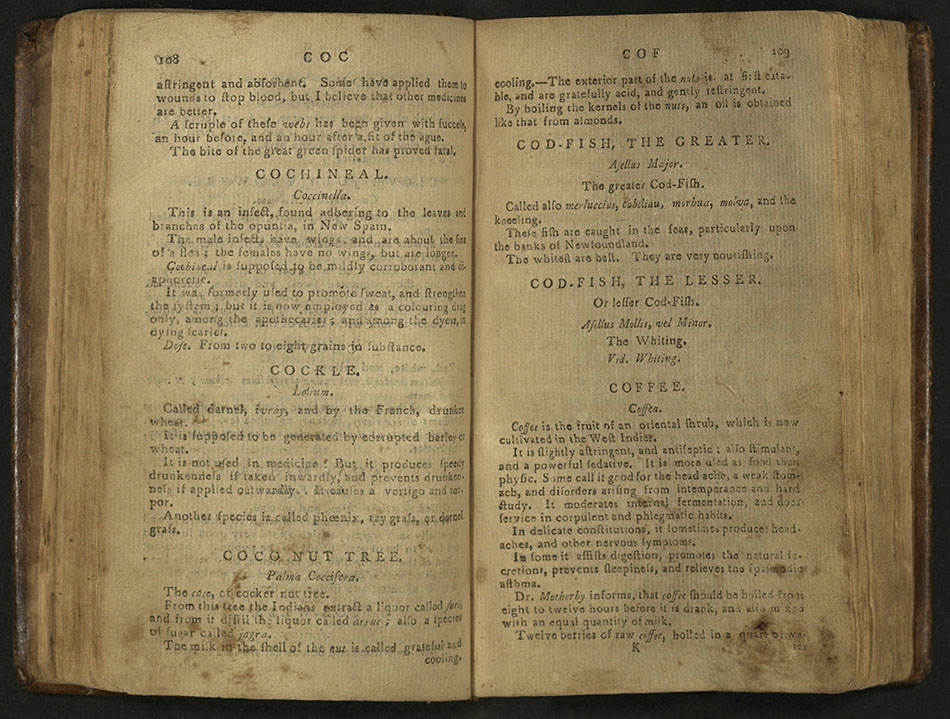 THE AMERICAN HERBAL, OR MATERIAL MEDICA
Samuel Stearns (1741-1810)
Walpole, NH: Printed by David Carlisle for Thomas & Thomas, and the Author, 1801
First edition
RS171 S8 1801
This is the first herbal produced and printed in the United States. Samuel Stearns was born in Boston and settled in Brattleboro, Vermont. He trained as a physician, but also studied herbal medicine and astronomy. He published almanacs: The North-American's Almanack, later, The Universal Calendar: and North American Almanack.
For his American Herbal Stearns traveled throughout America and Europe, although he specified in the preface that he "treats of our American productions only and gives no general account of those found in other parts of the world, unless some the same are produced here." The book was intended for family use, with his strong caveat that a physician be called if the worrying condition does not respond to the herbal's suggestions.
Stearns wrote about the poor state of medical knowledge in the United States. He posited that this was due to a lack of funds and resistance to new information on the part of both physician and patient. He suggested a federal lottery to finance the spread of new medical research by making available the newest and best medical books to physicians on a regular basis. 
---
How many grains in one pound avordup?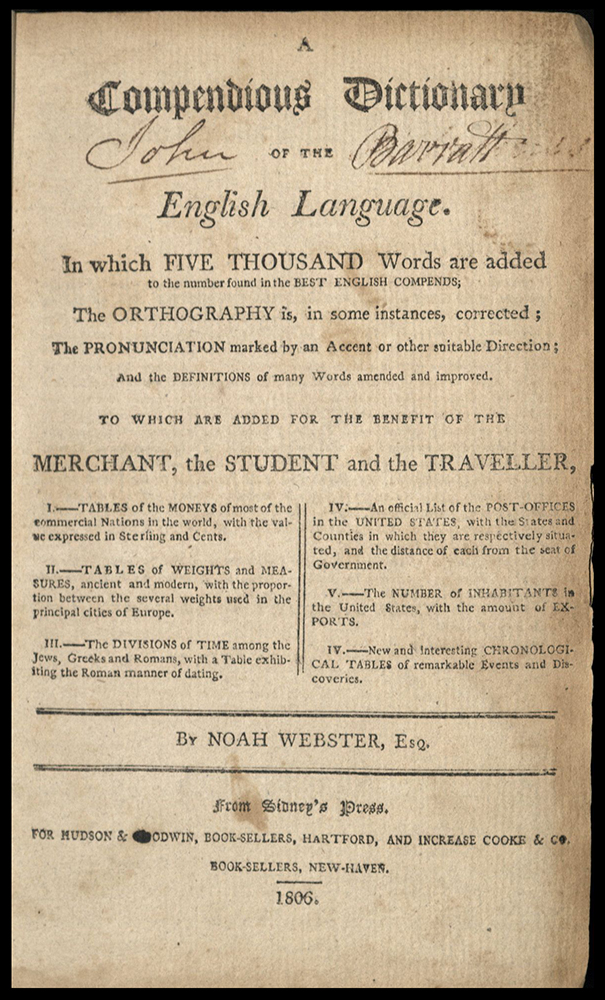 A COMPENDIOUS DICTIONARY OF THE ENGLISH LANGUAGE 
Noah Webster (1758-1843)
Hartford: From Sidney's Press, for Hudson & Goodwin, Book-sellers; New-Haven: Increase Cooke & Co., Book-sellers, 1806
First edition
PE1625 W3 1806 
Noah Webster's goal was to produce an "American" dictionary. He envisioned something bigger and better than the English pocket dictionaries that were the standard fare of the time in the new United States. Webster was an enthusiastic patriot. He wanted to use the dictionary to promote national unity and cultural independence from Britain. 
Influenced by his friend Benjamin Franklin, Webster looked toward "a reformed mode of spelling" but rejected the radical phonetic innovations proposed by Franklin. He did make enough changes, however, to produce a distinct American spelling for some words. This American spelling first appeared in the Compendious Dictionary. It was immediately adopted by American printers. Webster was struck by the inconsistencies of English spelling and the obstacles it presented to learners, young and old. His spelling reform was based upon a combined sense of logic and aesthetics. He changed the '-ce' in words like defence and offence to '–se;' abandoned the second silent "l" in verbs such as travel and cancel when forming the past tense; dropped the "u" from words such as humour and colour; and dropped the "k" from words such as publick.
Webster included thousands of words – chowder, hickory, skunk, subsidize, and caucus, for instance – which were in daily use in America but not listed in any lexicon. John Quincy Adams, a future president, was shocked by some of these "vulgarisms." Appended to the Dictionary, Webster included a list of the Post Offices in the United States, the number of its inhabitants, and the amount of its exports.
---
 What is the proportional dose for a three year old?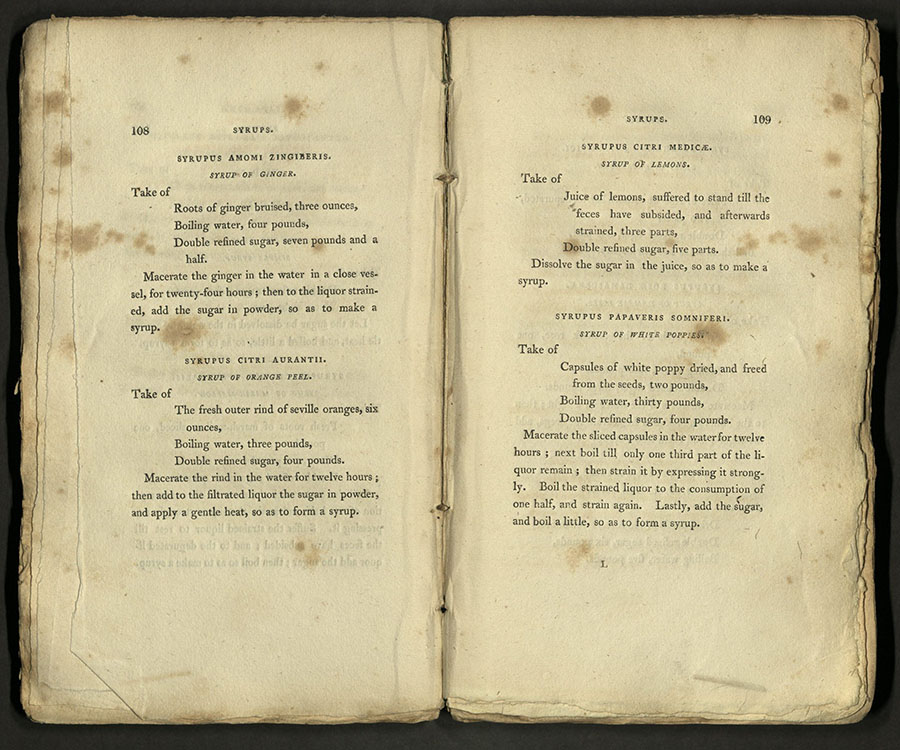 THE PHARMACOPOEIA OF THE MASSACHUSETTS MEDICAL ... 
Massachusetts Medical Society
Boston: Published by E. and J. Larkin, Greenough and Stebbins, printers, 1808
RS141.2 M3 
Based on the Edinburgh Pharmacopoeia, this is the first American pharmacopeia organized by an American medical group. It added some alterations and medication indigenous to America, listing 536 drugs and preparations.
Somewhat ahead of its time, the text was published in English with titles of the drugs in Latin and English, recognizing that not every American apothecary or physician could read or understand Latin. It gave both pharmacist and physician a uniform mode of compounding medicines to help protect the community against the danger of spurious concoctions.
It stressed the need to separate pharmacist from physician, the first such official stand by an organized medical group. Exception to this separation was made for rural areas. More than ninety percent of its articles were later incorporated into the Pharmacopoeia of the United States of America, which was issued in 1820.
---
What are the parliaments in France?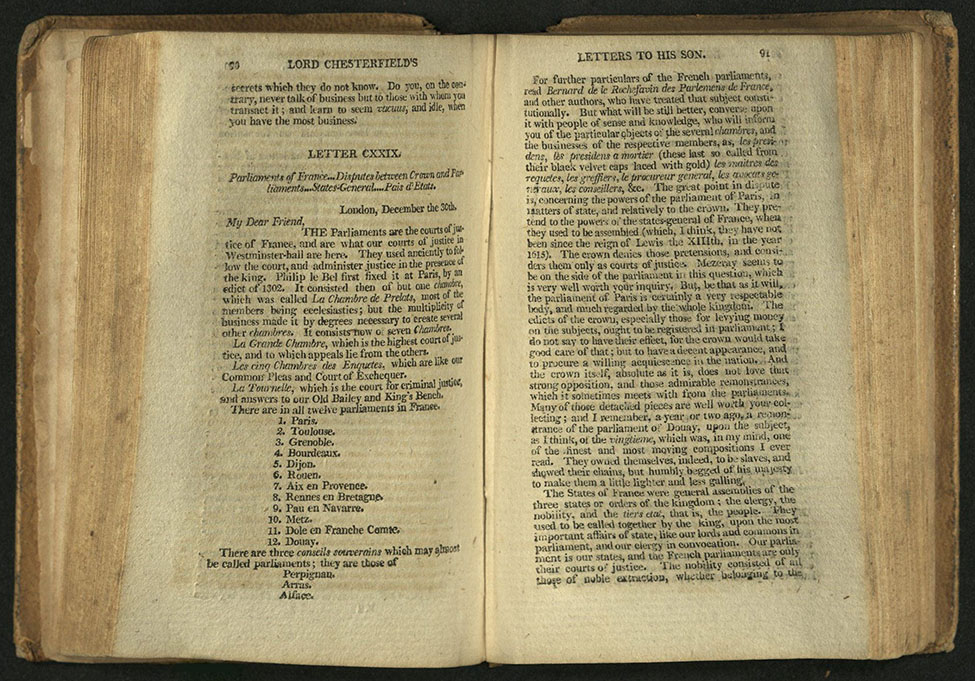 LETTERS WRITTEN BY THE LATE RIGHT HONOURABLE ... 
Philip Dormer Stanhope Chesterfield (1694-1773)
Baltimore: John Kingston, 1813
BJ1671 C53 1813
Lord Chesterfield was a great admirer of French manners, culture, and taste. First published in 1774, his Letters were edited by his widow. Chesterfield was well-known among his contemporaries as a witty, urbane man of the world. The letters in this collection are to his son, spanning 1738 to 1768, ending with the premature death of young Stanhope.
The letters, on the fine art of becoming a man of the world and a gentleman, attempted to inculcate manners, proper British breeding and social graces. His son failed rather miserably at these attainments, but the published letters were very popular, went through numerous editions, and are still in print. Chesterfield's name has become synonymous with courtly manners in England.
---
Are there any colleges in Tennessee?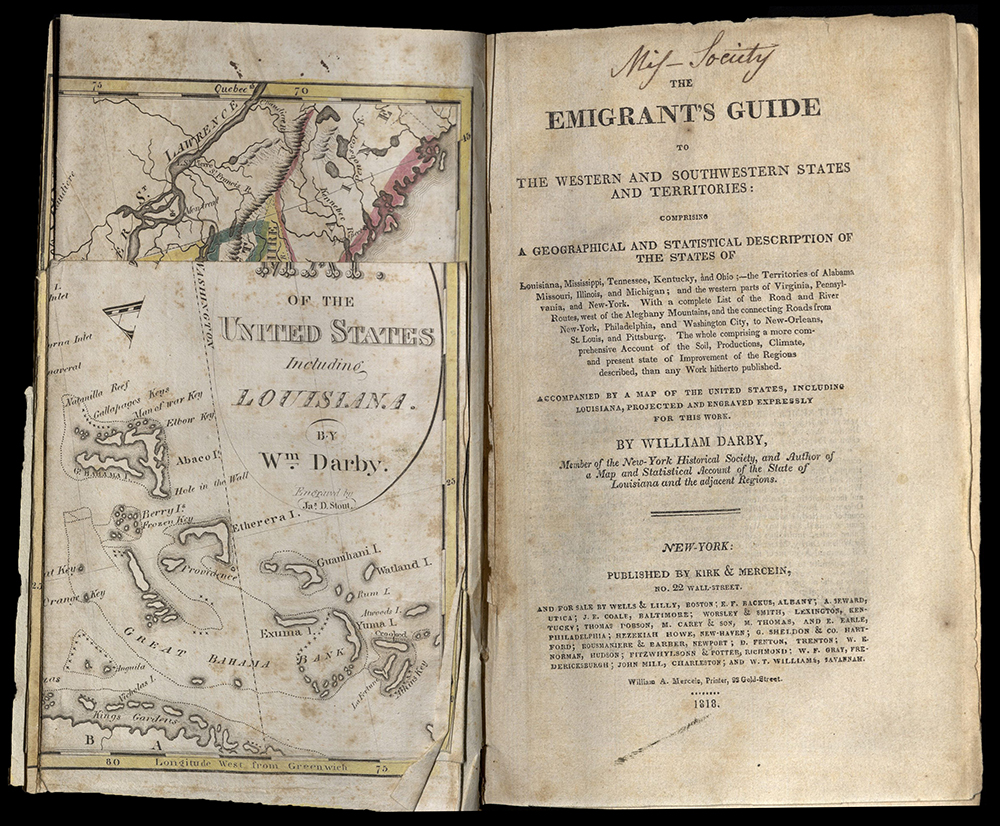 THE EMIGRANT'S GUIDE TO THE WESTERN ... 
William Darby (1775-1854)
New York: Kirk & Mercein, 1818
First edition
F353 D27 1818 
Although this emigrant guide emphasizes the more settled regions of the Ohio and Mississippi valleys, it contains information about the trans-Mississippi country, based, in part, on previous accounts.
William Darby served as an officer under General Jackson in Louisiana and acted as surveyor for that area. His interest and knowledge of geography came from personal explorations in Texas, Louisiana, and along the Canadian border. Because of these explanations, he was able to help in the delineation of both the northern and southern boundaries of the United States. This edition includes a large colored map of the United States with Louisiana and a smaller map depicting Mobile, Perdido, and Pensacola bays.
In the final chapter of this book, "Advice to Emigrants," Darby recommends "most earnestly…a sedulous attention to the study of the constitution of the United States…" and warns that "Most men on arriving in the United States, expect too much."
---
Why was the China Wall built?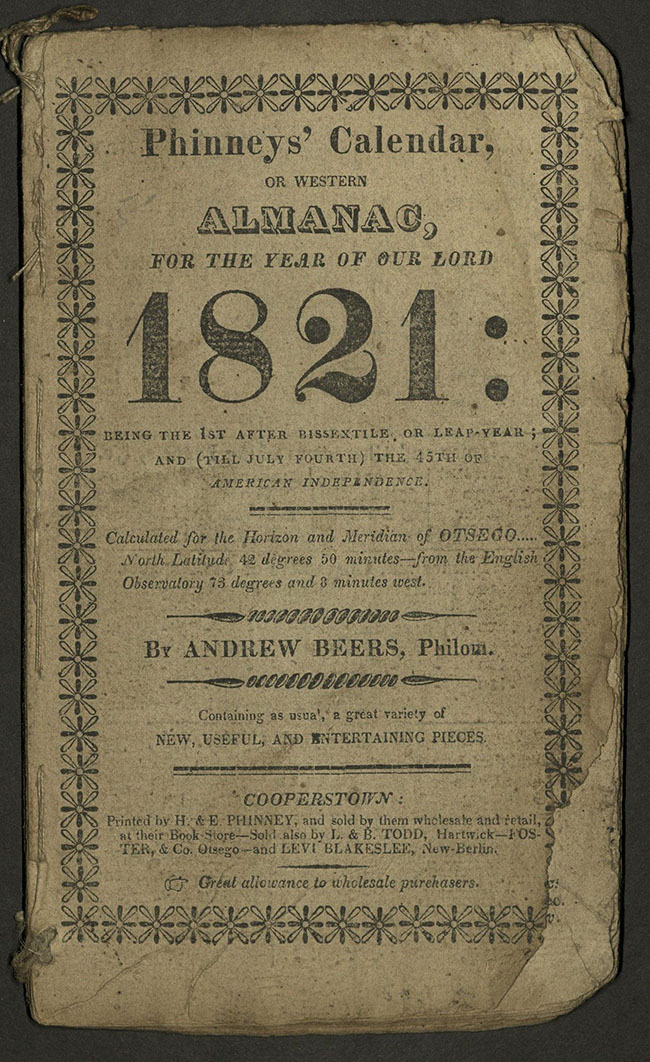 PHINNEYS' CALENDAR, OR WESTERN ALMANAC, FOR THE ... 
Oneonta, NY., etc.: H. Saunders etc., 1798-
AY256 O54 P556
The Phinneys of Cooperstown were active, influential publishers in New York. In 1829, Joseph Smith bought one of their large Bibles (published in 1828), which he used to translate his "Inspired Version. 
In the Phinney almanac are telling examples of a then-prominent regional theme which would soon appear in contemporary scripture. The Book of Mormon places emphasis on fine clothing as a symptom of pride in the churches and society of the Nephite/Lamanite world. In the 1821 Phinney almanac is an article entitled "A Cure for Hard Times," giving remarks offered by Judge Ross as part of his charge to a grand jury in Montgomery County, Pennsylvania.
Ross says, "Our daughters must be dressed off in their silks and crapes, instead of their linsey woolsey. Our young folks are too proud to be seen in a coarse dress, and their extravagance is bringing ruin on our families. When you can induce your sons to prefer young women for their worth...in preference to a girl who does nothing but dance about in her silks and her laces, then, gentlemen, you may expect to see a change for the better."
Joseph Smith would record ten years later, "And again, thou shalt not be proud in thy heart; let all thy garments be plain, and their beauty the beauty of the work of thine own hands..." -- D&C 42.40 (February 9, 1831)
---
Isn't there supposed to be a really big lake out there, somewhere?


A COMPLETE HISTORICAL, CHRONOLOGICAL, AND ... 
Henry Charles Carey (1793-1879)
Philadelphia, Pa: H.C. Carey & I. Lea, 1822
First edition
G1100 C37 1822
Immediately after President Thomas Jefferson's purchase of Louisiana from the French in 1803, Jefferson organized explorations of these new lands. The most famous, that of Lewis and Clark, provided sufficient new geographical knowledge to keep publishers busy for years to come.
In 1822, Henry Charles Carey and Isaac Lea published their American Atlas. This volume was based on Emmanuel Las Cases' Atlas Historique of 1803.
Carey's hand-colored maps and text illustrated an expanding region with ample promise for new opportunities, development, and growth. At the time of publication, this was the best and most detailed atlas to be produced in the United States.
---
What is the difference between anger and envy?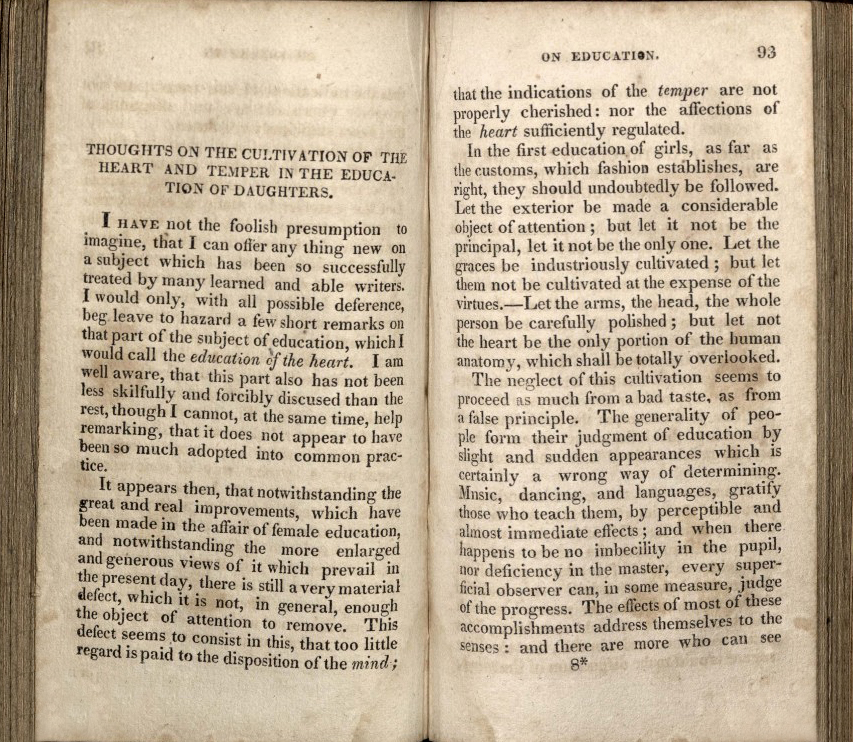 LADIES' COMPANION : CONTAINING FIRST, POLITENESS OF ...
Lyman Gale, compiler
Worcester: printed at the Spy Office, 1824
First edition
BJ1681 L15 1824 
Sections include lessons on manners, education, religion, marriage and "Fables for the Female Sex."
From the preface, "In offering this work to the public, the compiler was actuated by a desire to place before the female sex, some rules of conduct, and traits of character, which she deemed essential, in order to render their lives useful and pleasant, and make them amiable and agreeable, to those with whom they associate here; and to point out to them, the inestimable value of religion and virtue…"
And another warning against vanity, "…they would hold in contempt those artificial modes of twisting and curling the hair, and all the paraphernalia of a fashionable woman."
---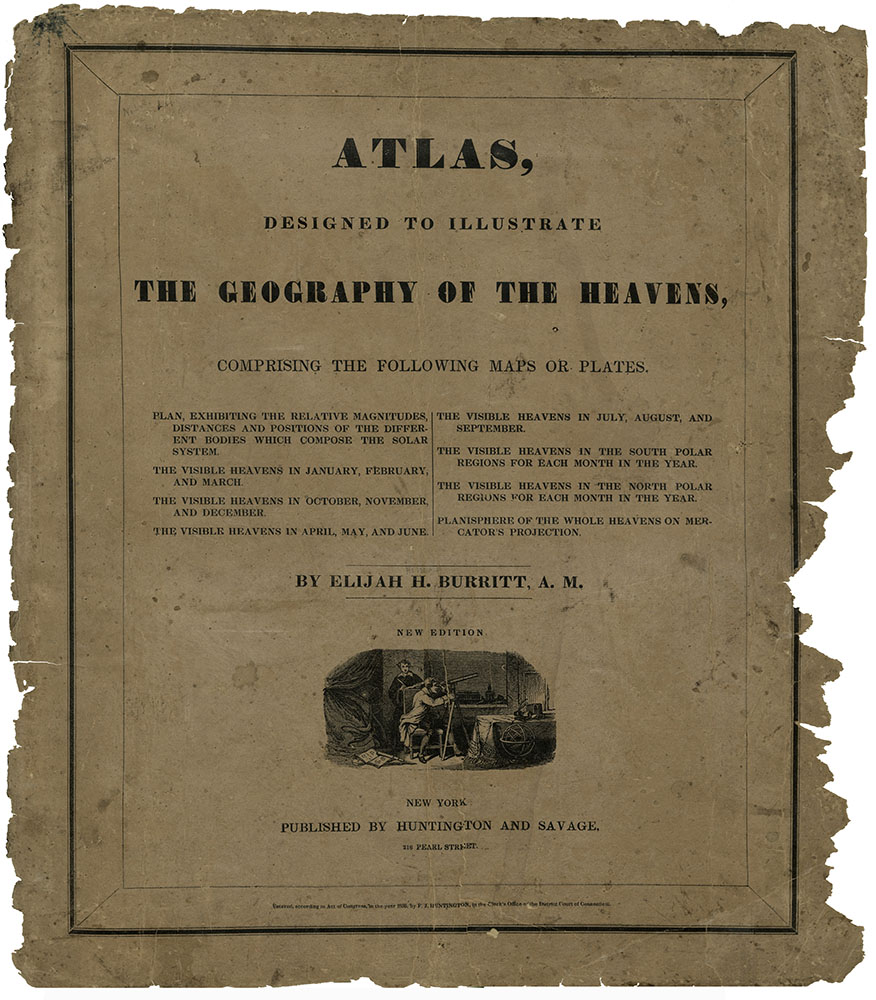 ATLAS, DESIGNED TO ILLUSTRATE THE GEOGRAPHY
Elijah Hinsdale Burritt (1793? – 1837)
New York: F.J. Huntington and co., c1835
QB65 B97 1835
By 1830, the genre of star atlases had begun to split into two subdivisions: the professional star atlas and the popular star atlas. Elijah Burritt Atlas exemplifies those used by the general public and, in fact, quickly became the most commonly used celestial atlas in American schools.
Only the brighter stars and nebulae were depicted on the charts.  The atlas included eight engraved plates and one black and white spread; six full page hand-colored charts and one hand-colored spread. The color plates depict the arrangement of the heavens during various seasons of the year, with astrological symbols and fully articulated figures such as lions, angels, and classical figures superimposed over the star arrangements, depicting the constellation figures derived from ancient Greek and Roman mythology. Each plate is printed on one side only of 100% rag paper. The final product was an affordable, reasonably attractive, and useful book for lay astronomers.
Rare Books copy is incomplete, with title-page and black and white spread only. Rare Books copy gift in memory of Bruce E. Millikin.
---
What are the principle rules of politeness?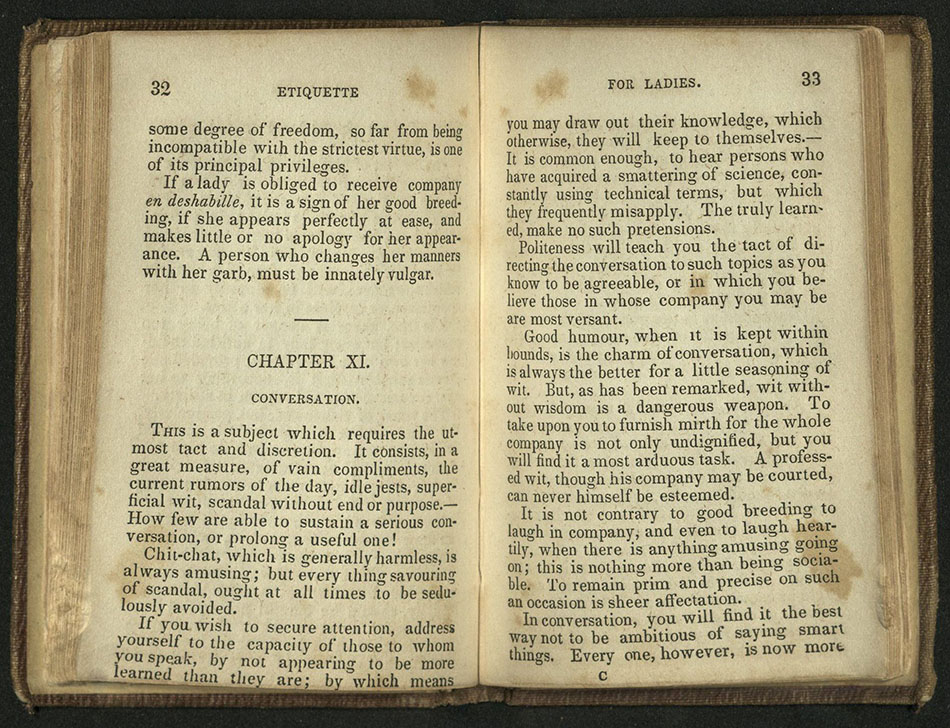 ETIQUETTE FOR LADIES : MANUAL OF THE MOST ... 
Philadelphia: J. & J.L. Gihon, 1843
First edition
BJ1856 E895 1843
This popular American etiquette book was reprinted in 1844, 1845, and 1850. It includes chapters on "true" politeness, introductions, notes and cards of invitations, dress, conversation, correspondence, punctuality, servants, and more.
The preface assures the reader, "The one great rule, which should govern all her actions, should be 'courtesy' to all…By that courtesy she will win affection and esteem, more rapidly, and more certainly, than by her talents, wit, or learning."
The tiny size enabled the book to be carried conveniently for discreet reference at a moment's notice.
---
What is wrong with exaggeration?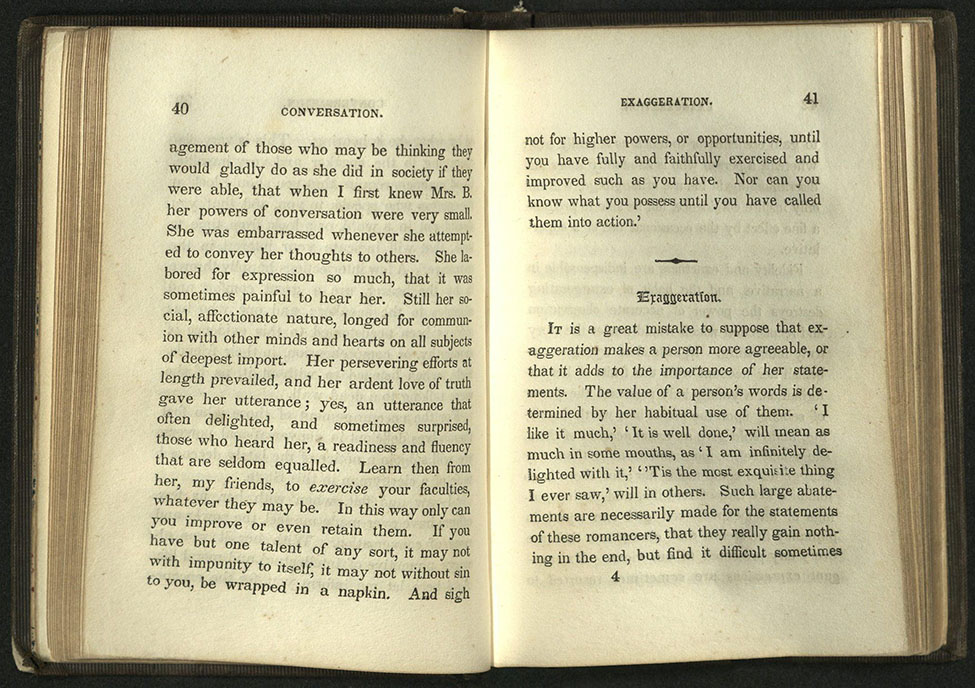 LADIES VASE : OR, POLITE MANUAL FOR YOUNG LADIES ... 
Lowell: Published by N.L. Dayton/Boston: Lewis & Sampson, 1843
First edition
HQ1229 L3 1843
This courtesy book for young women includes chapters on "True and False Politeness," "Importance of Good Manners," "Friendship," "Kindred Hearts," "Sisterly Virtues," "Personal Appearance," "Letter-Writing, "Female Influence," and much, much more. 
On "Novel Reading" the reader is warned, "The object of the novelist generally, is to produce the highest possible degree of excitement both of the mind and the passions. The object is very similar to that of intoxicating liquors on the body; hence the confirmed novel reader becomes a kind of literary inebriate…" 
Attractively stamped in gilt and blind, with gilt edges and delicate decorative endpapers, any young woman would find this little gem hard to resist.  
---
Do you know the way to San José?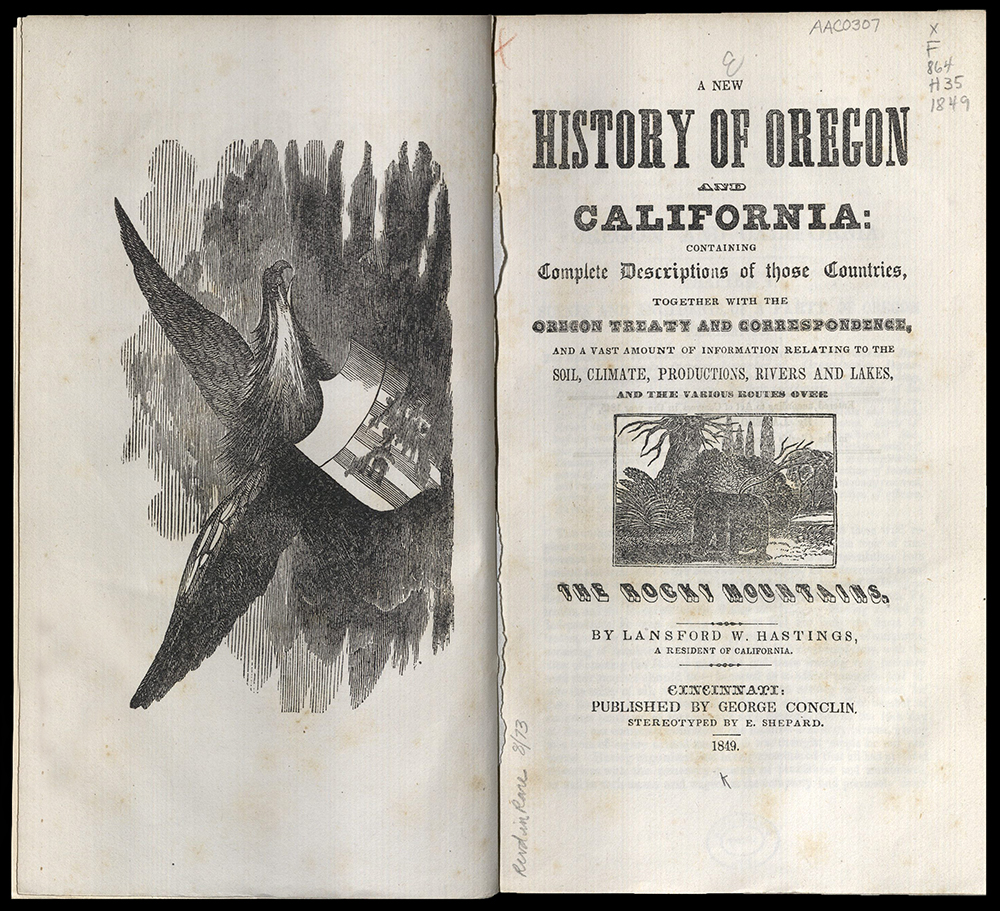 A NEW HISTORY OF OREGON AND CALIFORNIA ...  
Lansford Warren Hastings (1819-ca. 1870)
Cincinnati: G. Conclin, stereotyped by E. Shepard, 1849
F864 H35 1849
Originally published in 1845 as The Emigrant's Guide to Oregon and California…, this is one of the most controversial travel guides west to California. It is often blamed by historians as a major reason for one of the worst catastrophes to meet western-bound emigrants. One sentence suggests a shortcut across the Great Basin, potentially saving tired travelers hundreds of miles of tough trekking. The Donner-Reed party used it in 1846, with disastrous results.
The guide was reprinted five times in the late 1840s, under the title, A New History. Few updates improved the guidebook. The innocuous sentence blamed for the Donner-Reed Party debacle remained the same: "The most direct route, for the California emigrants, would be to leave the Oregon route, about two hundred miles east from Fort Hall; thence bearing west southwest, to the Salt lake; and then continuing down to the bay of St. Francisco, by the route just described."
The 1849 edition added R. B. Mason's report on the recently discovered gold fields and a description of a different route through Mexico.
Despite its drawbacks, many guidebook writers borrowed heavily from it when creating their own travel guides west. By 1857, it had gone through nine reprints.
---
How do I make my own ink?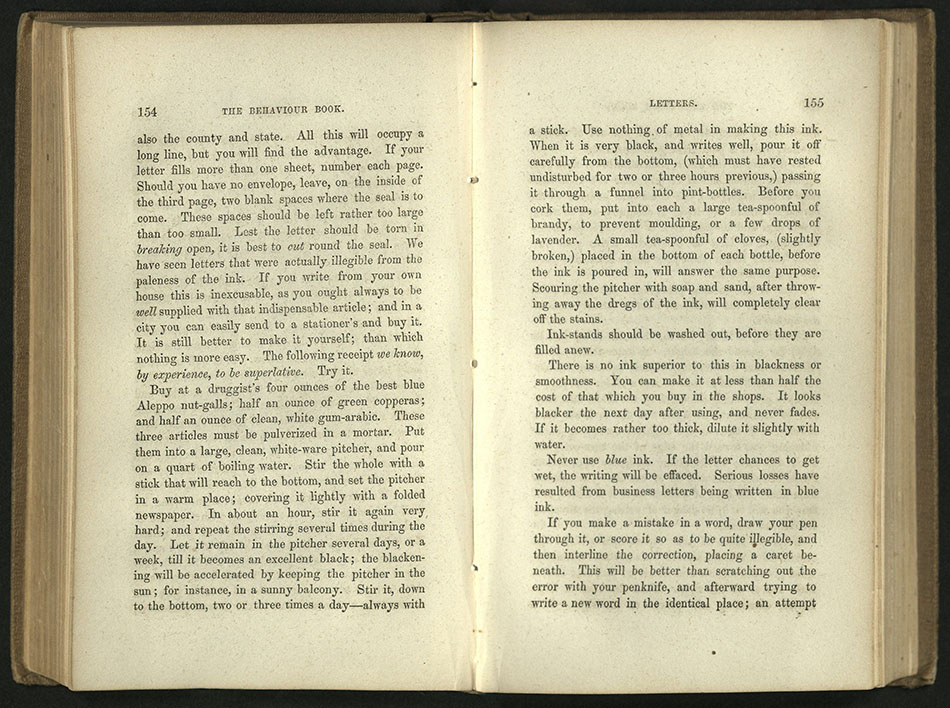 THE BEHAVIOR BOOK: A MANUAL FOR LADIES ... 
Eliza Leslie (1787-1858)
Philadelphia: Willis P. Hazard, 1853
First edition
BJ1856 L47 1853
Born in Philadelphia, Eliza Leslie was a popular author of cookbooks and women's etiquette. She was the editor of an annual gift book, The Gift, which included contributions from Henry Wadsworth Longfellow, Lydia Sigourney, and others. Her father was a friend to Benjamin Franklin and Thomas Jefferson. In 1793, the Eliza traveled with her parents to England where they spent six years.
Ten years after the publication of Ladies Vase, this rather more substantial volume became just as popular, if not helpful to the guidance of proper decorum. The Behaviour Book covers a wide range of daily life: the selection of umbrellas, instructions for making black ink, and bed-making. Leslie suggests keeping the bedroom window open, and discusses how to refer to black servants.
Two chapters are devoted to how to become a writer, a question she no doubt was asked many times. An entire chapter is devoted to "Conduct to Literary Women." Leslie wrote, "If she is a writer of fiction, and you presume to take the liberty of criticizing her works, (as you may at her own request, or if you are her intimate friend,") refrain from urging that certain incidents are improbable, and certain characters unnatural. Of this it is impossible for you to judge, unless you could have lived the very same life that she has; known exactly the same people; and inhabited with her the same places."
---
Was ist ein 'hattrick'?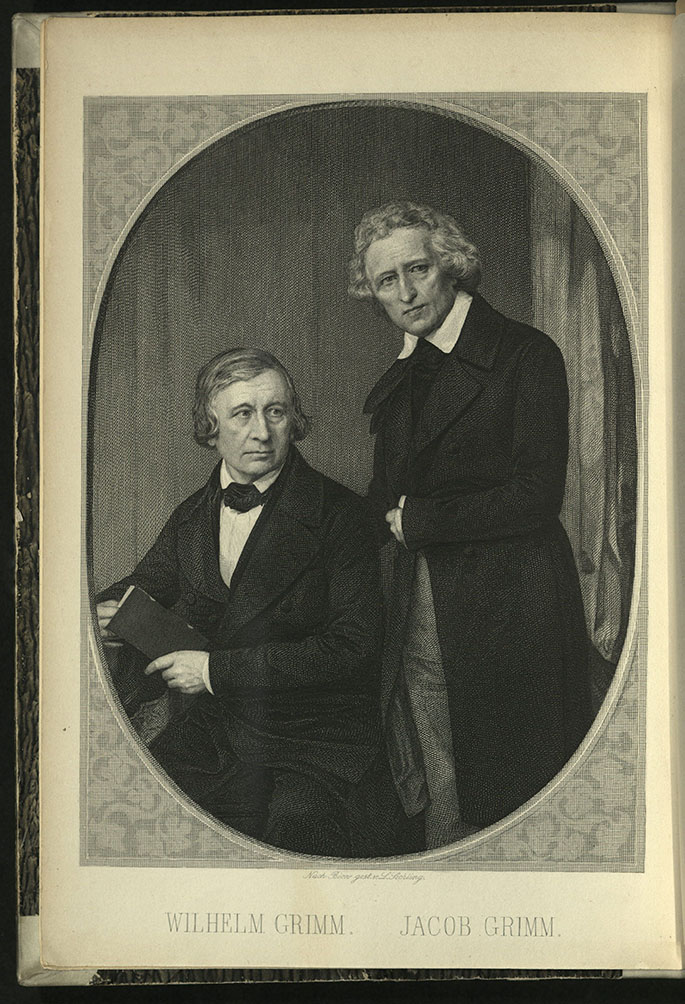 DEUTSCHES WÖRTERBUCH
Jacob Grimm (1785-1863) and Wilhelm Grimm (1786-1859)
Leipzig: S. Hirzel, 1854-1954
First edition
PF3625 G7 vols. 1-16
At the request, in 1830, of Weidmann's Publishing House in Leipzig, the "Brothers Grimm" began compiling the definitive German dictionary in 1838.
Weidmann's original proposal was to span German vocabulary from Martin Luther (1483-1546) to Johann Wolfgang von Goethe (1749-1832). The brothers expected the project to take ten years in a series of about seven volumes. Illness and revolution interrupted their work.
Eight volumes were finally published on 13 April 1854. The work was a huge success. The first edition sold ten thousand copies. This massive project, unfinished at the time of their deaths, was completed in 1961 by a succession of scholars. 
---
What is another word for 'ostentation?'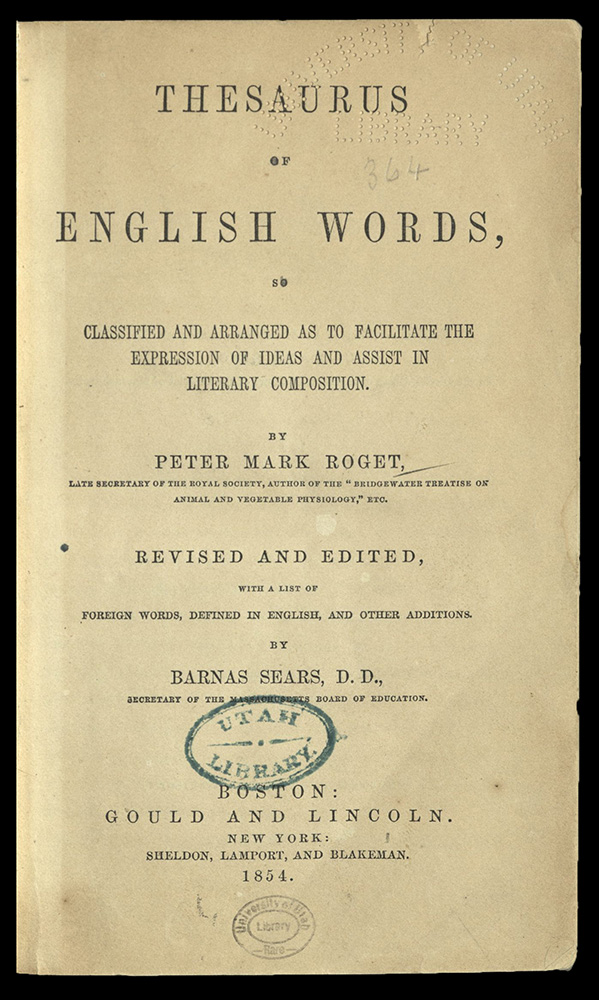 THESAURUS OF ENGLISH WORDS, SO CLASSIFIED ... 
Peter Mark Roget (1779-1869)
Boston: Gould and Lincoln, 1854
First American Edition
PE1591 R7 1854
The first thesaurus was created when British doctor and mathematician Peter Mark Roget began collecting synonyms to aid him in his writing projects. By 1840 he decided that this work would be of interest to others. He retired from medicine and devoted the remainder of that decade to preparing his indexed collection of synonyms for publication.
Roget's Thesaurus is composed of six primary classes. Each class is composed of multiple divisions and then sections. This may be conceptualized as a tree containing thousands of branches for individual and then semantically linked words. Although these words are not strictly synonyms, they might be viewed as colors or connotations of a meaning, a spectrum of a concept. One of the most general words is chosen to typify the spectrum as its headword, which labels the following cluster of words similar in meaning.
Roget's Thesaurus was published on 29 April, 1852. It contained 15,000 words. The second edition was published in 1853. The first American edition followed in 1854. Over the past century and a half, numerous editions have been released and Roget's Thesaurus has never been out of print. More than 32 million copies have been sold worldwide.
---
What is the best knot for tying covers on to bottles and jars?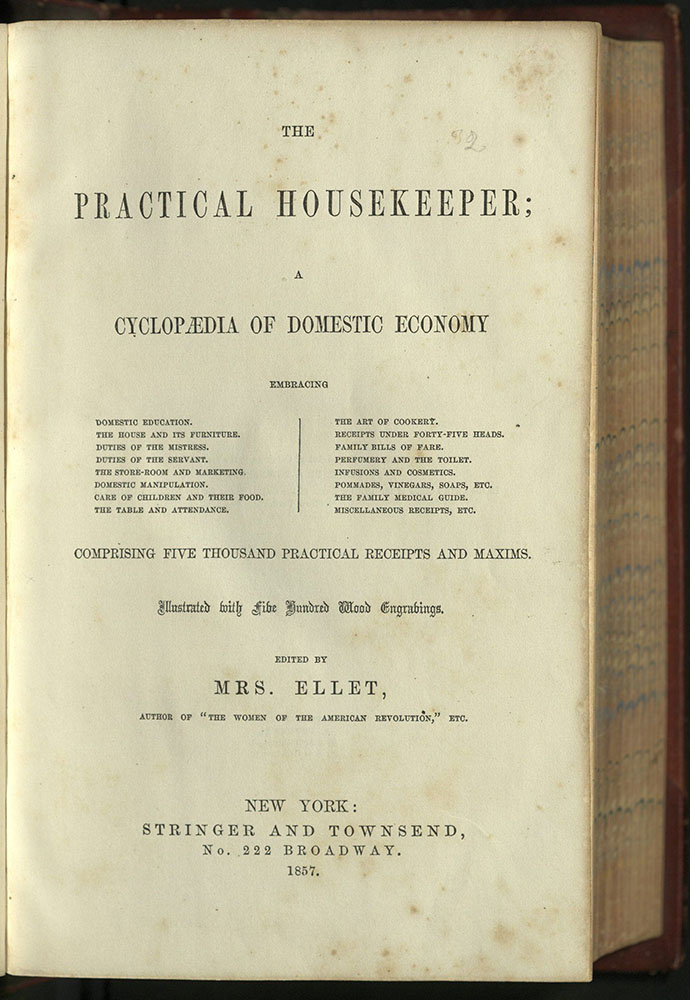 THE PRACTICAL HOUSEKEEPER; A CYCLOPAEDIA OF ... 
Elizabeth Fries Ellet (1818-1877)
New York: Stringer and Townsend, 1857
First edition
TX145 P72 1857
In this comprehensive guide to housekeeping, Ellet notes "No complete system of Domestic Economy, within the limits of a convenient manual, has been published in this country; yet in many matters besides cookery does the inexperienced housewife need instruction and guidance."
Elizabeth Fries Lummus Ellet was born in New York. She was a historian and a poet, known for her Women of the American Revolution (1848-50) – the first record of the lives of the women who contributed to the American Revolutionary War.
Practical Housekeeper targeted middle to upper class women and became a significant contribution to American domestic science, with help on cooking and pharmaceutical concerns as well as housekeeping. It contains thousands of recipes and advice, together with references to philosophers, scientists, and ancient history. Illustrated with wood engravings throughout.
---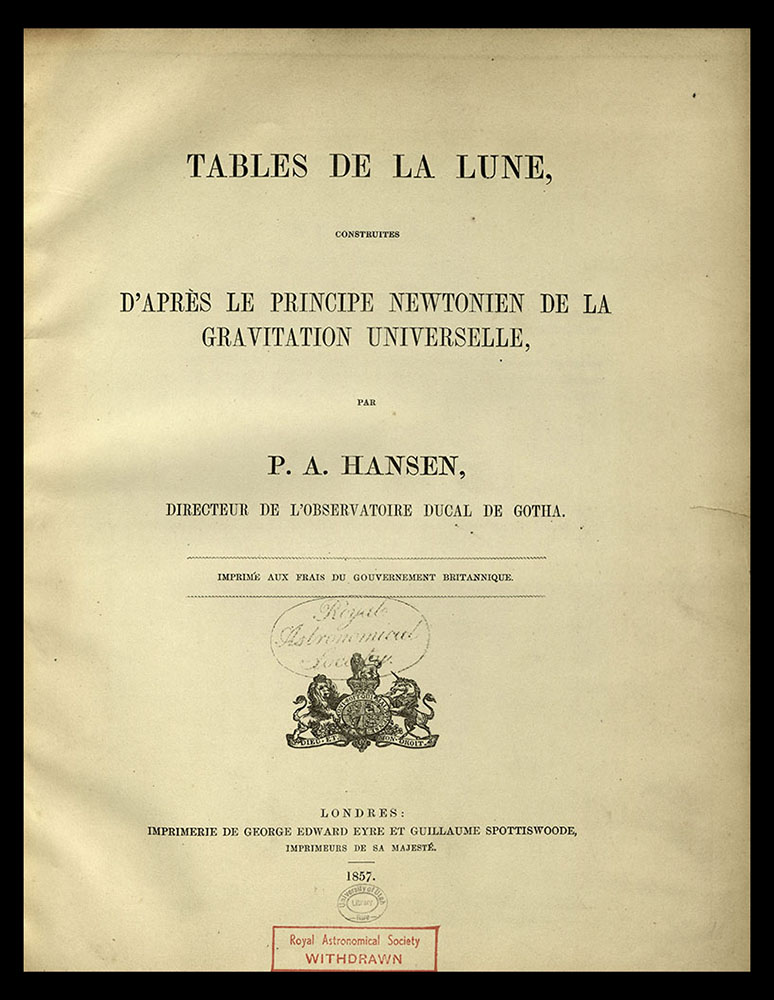 TABLES DE LA LUNE CONSTRUITES D'APRES LA ... 
Peter Andreas Hansen (1793-1874)
Londres: 1857
First edition
QB399 H2
Peter Andreas Hansen was a Danish astronomer and director of the Seebert Observatory at Gotha. This work is the first accurate tables of lunar motion. It was published at the expense of the British government, which also paid Hansen for his work. The tables were a direct result of his investigations of lunar theory published in his Fundamenta nova investigationis of 1838. The tables were quickly adopted by the "Nautical Almanac" and other ephemerides.
---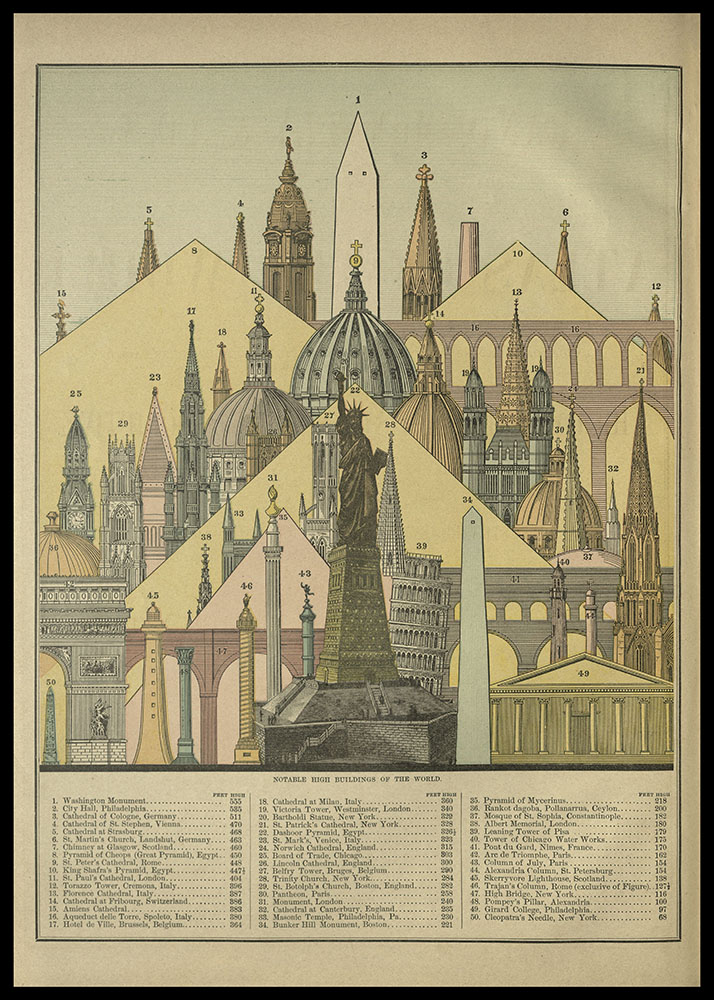 NEW INDEXED ATLAS OF THE WORLD CONTAINING ... 
Chicago: Rand, McNally & Co.; Continental Publishing Co., 1887
Second edition
G1019 R35 1887
The majority of the maps in this atlas are of the United States and the Americas. Rich in detail, each map identifies such things as sea routes, railroad lines, cities, towns, counties, rivers, and ranches.
The atlas contains transitional maps for some of the areas of the American West still developing at that time, including the tribal allotments of Indian Territory. Only two years after the publication of this atlas that area would change dramatically because of six land rushes authorized by the U.S. government between 1889 and 1895. American Indians once again lost land.
The text accompanying the Indian Territory map discusses earlier incursions: "Attempts were made in 1880 by bands of whites to enter the Indian Territory for the purpose of taking possession of the rich lands there, and a large force of United States troops had to be called out to prevent the execution of these designs."
Rand McNally began as a modest print shop in Chicago in 1856. Rand McNally adopted new printing technologies such as cereography, or wax engraving, which produced a hard, durable plate that could withstand the new steam-powered presses, yet be easily amended. The printing of this atlas included several printing techniques: lithography, cereography, and engraving.
---
WHAT IS SO GREAT ABOUT FISHING?
THE COMPLEAT ANGLER; OR, THE CONTEMPLATIVE ... 
Izaak Walton (1593-1683)
London: Sampson Low, Marston, Searle and Rivington, 1888
100th edition
SH433 A1888 vols. 1 & 2
First published in 1653, Izaak Walton's Compleat Angler is easily the best-known work in English on fishing, read both by fishermen and by people whose only encounter with fish is at the dining table. The 100th edition is called the "Lea and Dove Edition" for the author's favorite rivers, a reissue of the first two parts of the 5th edition of 1676. It is edited by Robert Bright Marston, long-time editor of Fishing Gazette, in its day the bible for British fly-fishermen.
Walton, a friend of John Donne, spent the last 40 years of his life in leisurely retirement, gathering technical information, quotations, figures of speech, songs, poems, anecdotes and folklore for what would become this book. Walton was completely dedicated to angling. In four consecutive editions Walton added to the text, extending the original thirteen chapters to twenty-one. With more than 300 editions, Compleat is the 3rd most published book in the English language.
This edition is illustrated with 54 photogravures and 103 wood-engravings depicting contemporary river banks of the author's original fishing holes. The photogravures are by George Bankart and P.H. Emerson. Cuban-born American photographer, P. H. Emerson was well-known as an early promoter of photography as an art form. Emerson argued with other early photographers about "false shots" (combinations of multiple photographs), insisting that photographs should be a true image of what the eye saw.
Edition of 500 copies, signed by the editor.
---
We're bored! What can we do at home?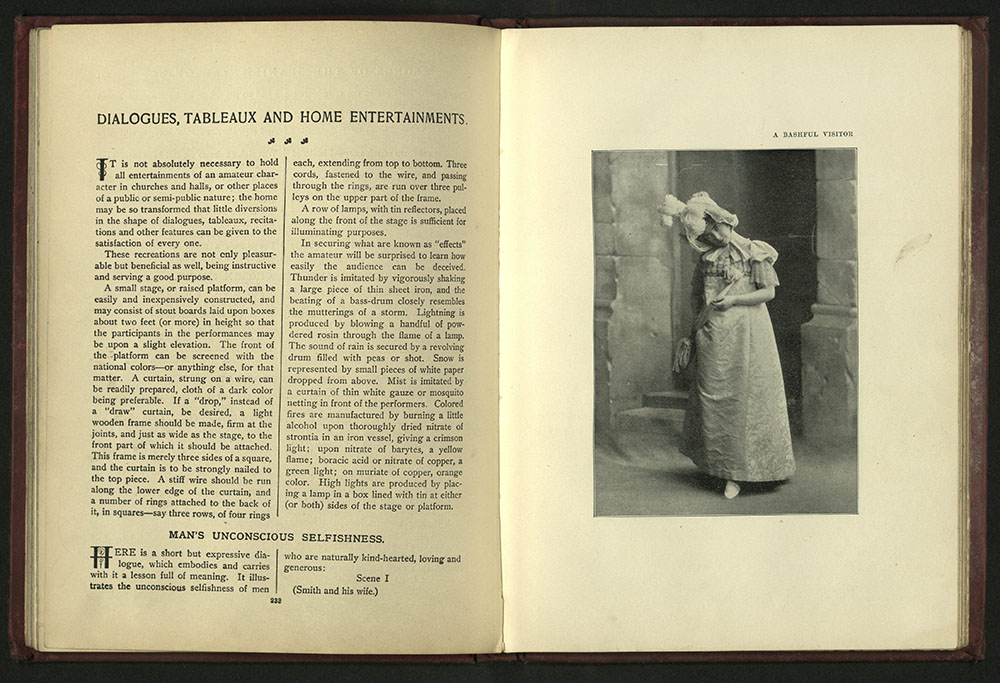 THE NEW CENTURY PERFECT SPEAKER ... 
Chicago: Columbia House, 1901?
PN4121 N48 1901a
From the preface: "The contents of this book are so admirably arranged that anything sought may be found without delay, and include everything that is of use to those who may have occasion to consult it. Heretofore it has been necessary to pore over a lengthy list of works dealing with Oratory, Elocution, Etiquette (social, official and public), Biography and Literature, Physical Culture, etc., together with ponderous tomes and Encyclopedias if one wished an intimate acquaintance with all the subjects treated in this book, which is a library in itself."
Done and done!
The sample opens with black and white photographs of perfectly groomed and dressed young women doing things such as "Going to an Evening Reception." Another section of photographs include gestures of "sentiment" (forgiveness, command, appeal, warning, anticipation, curiosity, expectation, independence, revenge, fear, merriment, and anger.) A middle section includes photographs and biographies of "Great Orators," including James Garfield, William McKinley, Theodore Roosevelt, William Jennings Bryan, Julia Ward Howe, Daniel Webster, Elizabeth Cady Stanton, Henry George, Abraham Lincoln, Henry Cabot Lodge, and others.
---
YES, BUT HOW DO YOU MAKE THE VCR WORK?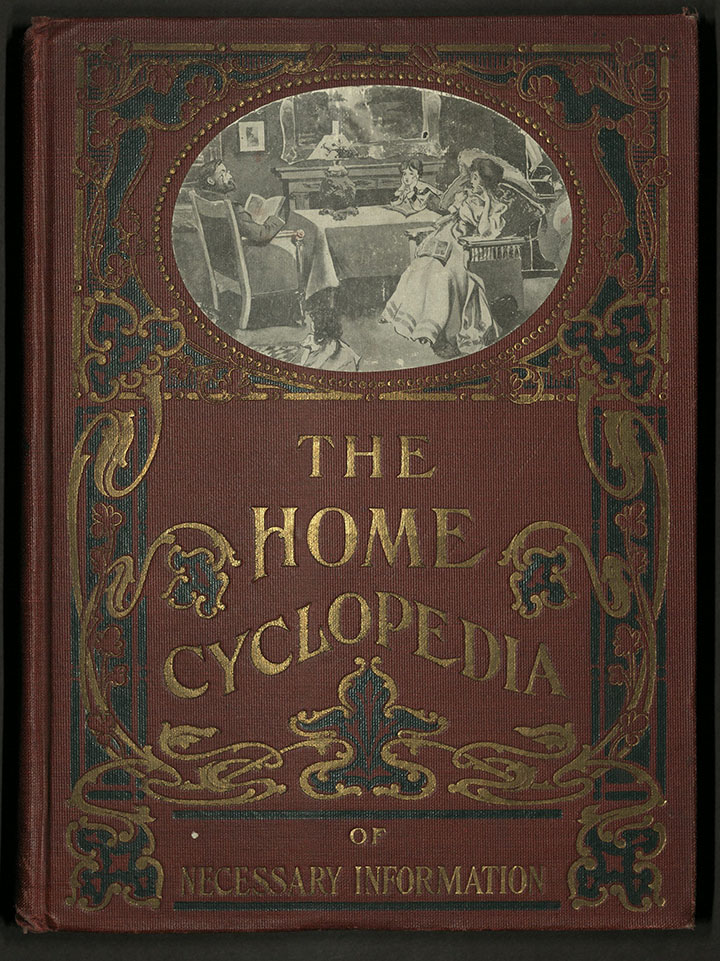 THE HOME CYCLOPEDIA OF NECESSARY KNOWLEDGE ... 
Minneapolis: American Publishing House, 1902
AG105 H66 1902
"Alphabetically arranged, telling just the things about everyday subjects in science, art, mechanics and about common objects everyone needs to know, giving derivations of foreign words, etc. An indispensable help for young and old, and especially for the writer of essays and articles. A ready reference on a thousand subjects."
---
When does the cattle round-up come?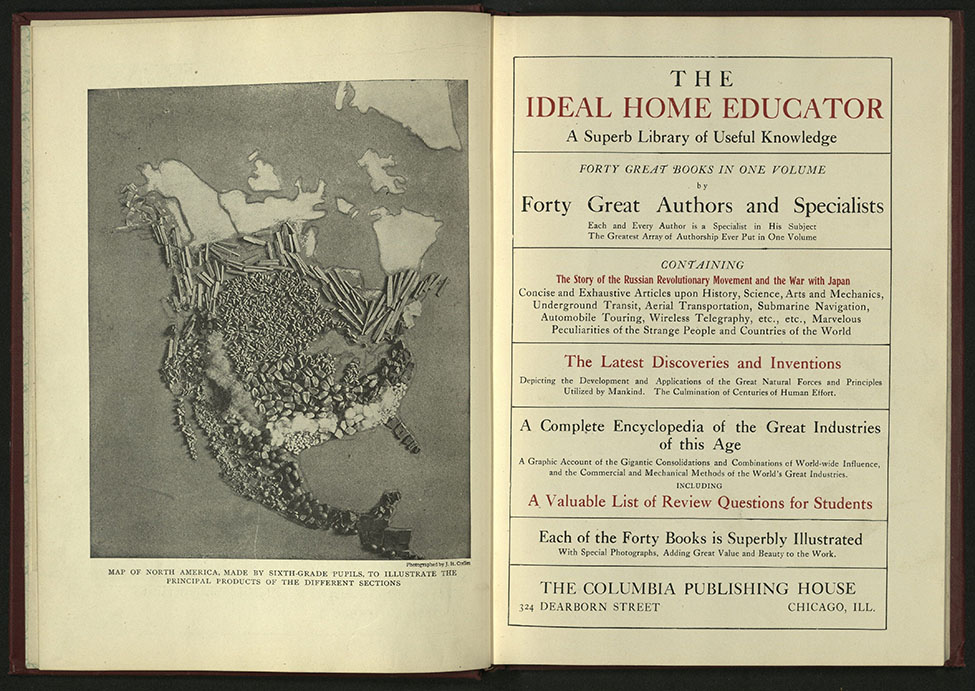 THE IDEAL HOME EDUCATOR: A SUPERB LIBRARY ... 
Chicago: Columbia Publishing House, 1905
AG105 I24 1905
"This volume contains over five hundred extra-large double column pages, equal to two thousand pages of the ordinary book. It contains over one thousand photo-engravings, adding great interest and value to the text… This one volume contains more valuable information than any forty ordinary books. It is the boiled down, concentrated knowledge of forty great specialists."
40! Count 'em! 40!
---
 Ou est la boulangerie française?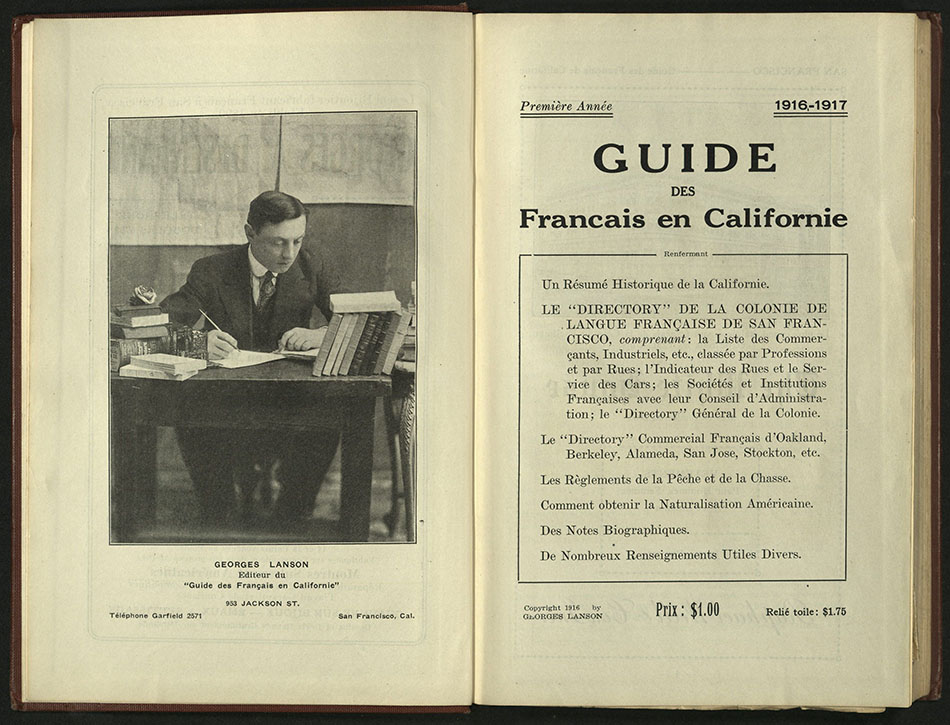 GUIDE DES FRANCAIS EN CALIFORNIE, 1916 - 1917
Georges Lanson
San Francisco: G. Lanson, 1916
F865 G85 1916
This work includes a short history of California by Dr. Georges Juilly; a directory of the French in San Francisco; a list of French societies and institutions in San Francisco; a commercial directory of French businesses in Oakland, Berkeley, Alameda, San Jose, Stockton, San Rafael, and other California towns; comments and test questions for American naturalization; biographical sketches of some of the key French civic leaders in California; and a large folding map.
---
 When can I get into the Brooklyn Museum for free?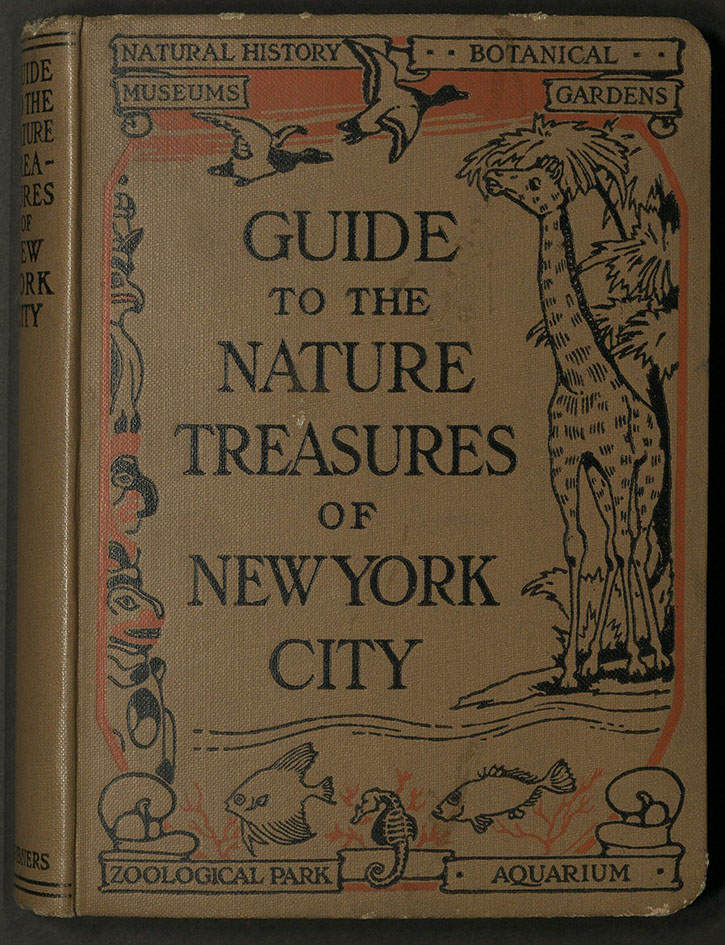 GUIDE TO THE NATURAL TREASURES OF NEW YORK CITY ... 
George N. Pindar
New York: Pub. For the American Museum of Natural History by C. Scribner's Sons, 1917 First edition
QH71 N49 P55 1917

New York! New York!
From the preface: "The purpose of this Guide…is to render accessible under one cover an account of the public scientific institutions…built and supported by public funds in cooperation with the benefaction and direction of individual citizens."
Hot spots in this guide include the American Museum of Natural History, the New York Aquarium, the New York Zoological Park, the New York Botanical Garden, the Brooklyn Museum, the Brooklyn Botanical Garden and the Children's Museum. The guide is illustrated throughout with black and white photographs.
The Rare Books copy belonged to B. H. Roberts and is signed by him and twenty-five other people, who, apparently, borrowed the book, we like to imagine, for their trip to New York.