Messenger Of Thought
Treasures from the Rare Middle East Collections
Checklist for "Messenger of Thought"
Curated by Luise Poulton, 2011
Exhibition poster designed by David Wolske, 2011
Digital exhibition produced by Alison Elbrader, 2012
Format updated by Lyuba Basin, 2020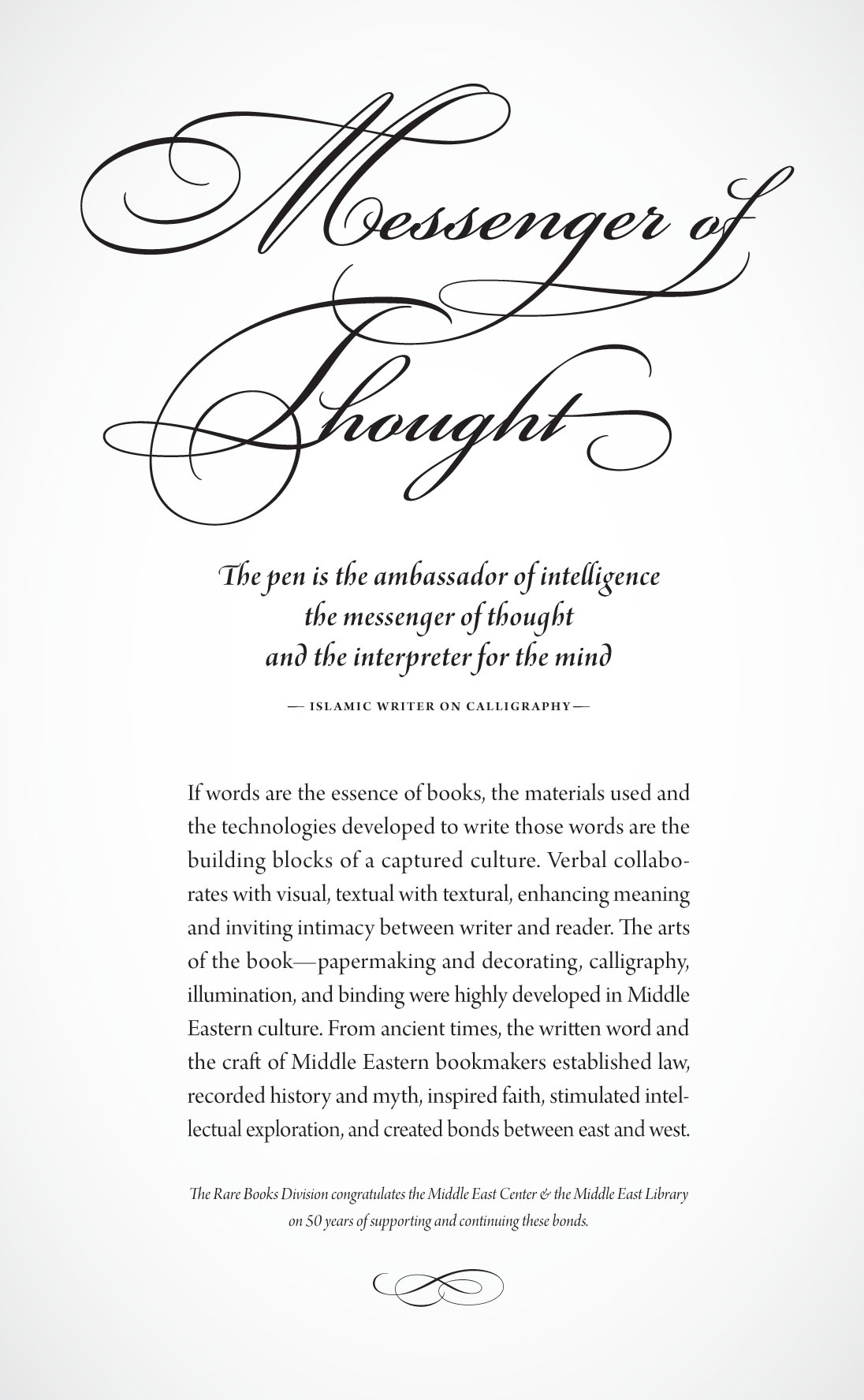 "The pen is the ambassador of intelligence, the messenger of thought, and the interpreter for the mind"
 –
Islamic writer on calligraphy
The written word records man's intellectual and spiritual journey. Words, whether written on clay, papyrus, parchment, or paper, are a lasting memorial of humankind. If words are the essence of books, the materials used and the technologies developed to write those words are the building blocks of a captured culture. In books, verbal collaborates with visual, textual with textural. This collaboration enhances meaning and invites intimacy between writer and reader. The arts of the book – papermaking and decorating, calligraphy, illumination, binding, were highly developed in Middle Eastern culture early in its history – in the ancient lands in which the written word was first developed, where papyrus and pen were first used and artwork was first added to elucidate the text. The elegant Arabic alphabet lent itself to numerous decorative forms and abstract patterns, entrancing the eye even when direct images could not. From ancient times to the present, the written word and the craft of Middle Eastern bookmakers has established law, recorded history and myth, inspired faith, stimulated intellectual exploration, and created bonds between cultures both east and west.

---
Writing began somewhere during the third and second millennia BCE in Sumer between the Tigris and Euphrates Rivers in what is now Iraq. Among many things, the Sumerians recorded history; business and legal documents; mathematics; and zoological, mineralogical, and botanical studies. Most of what survives today of their writings consists of lists – things like inventories and tax collections. Mesopotamian writings also included myths, epic tales, hymns, lamentations, proverbs, and fables. One of the world's first and greatest recorded epics, full of heroes, gods, love, and adventure – The Epic of Gilgamesh – was written down on clay tablets. Sumerians used the clay deposited onto the wide, flat riverbeds for writing material. They mixed the clay with straw and water. While it was soft, they formed it into shapes and then used a stylus, a pointed stick, to make marks, the earliest writing system, now called "cuneiform." The clay was baked hard in the sun and, later, in kilns.