Are We There Yet?
Westward Exploration and Travel in North America
Checklist for "Are We There Yet?"  

Curated by Luise Poulton, 2012
Exhibition poster designed by David Wolske, 2012
Digital exhibition produced by Alison Elbrader, 2013
Format updated by Lyuba Basin, 2020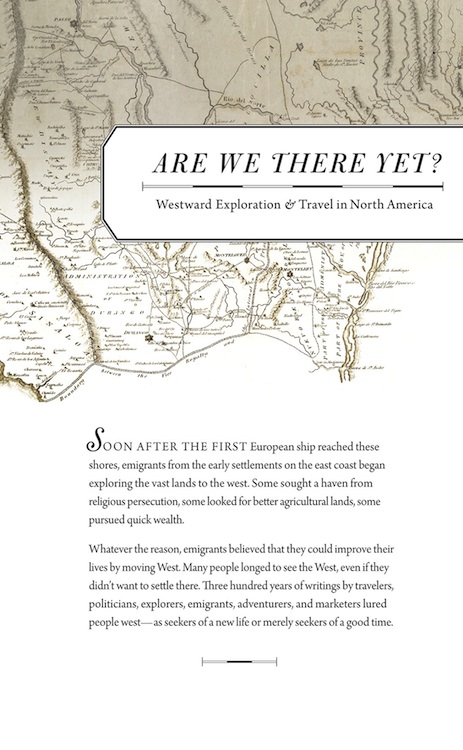 Soon after the first European ship reached North American shores, emigrants from the early settlements on the east coast began exploring the vast lands to the west. Some sought a haven from religious persecution, some looked for better agricultural lands, some pursued quick wealth. Whatever the reason, emigrants believed that they could improve their lives by moving West. Many people longed to see the West, even if they didn't want to settle there. Three hundred years of writings by travelers, politicians, explorers, emigrants, adventurers, and marketers lured people west – as seekers of a new life or merely seekers of a good time.
Travelers
London: T. Payne, 1775
First edition
E162 B96
"An idea, strange as it is visionary, has entered into the minds of the generality of mankind, that empire is travelling westward; and every one is looking forward with eager and impatient expectation to that destined moment, when America is to give law to the rest of the world. But if ever an idea was illusory and fallacious, I will venture to predict, that this will be so. America is formed for happiness, but not for empire."
Andrew Burnaby traveled the North American colonies at a critical time. He witnessed the French and Indian Wars which brought about the downfall of French power in North America. His reflections on the character of the people, their manners and customs, provide an excellent view of living conditions at this time. The preface presents a long review of affairs between Britain and the colonies, with remarks in favor of leniency towards the colonies. One object of the publication of this book was to give a kindly view of the colonists as a basis for reconciliation between them and their mother country. Thomas Jefferson had a copy of this book in his personal library.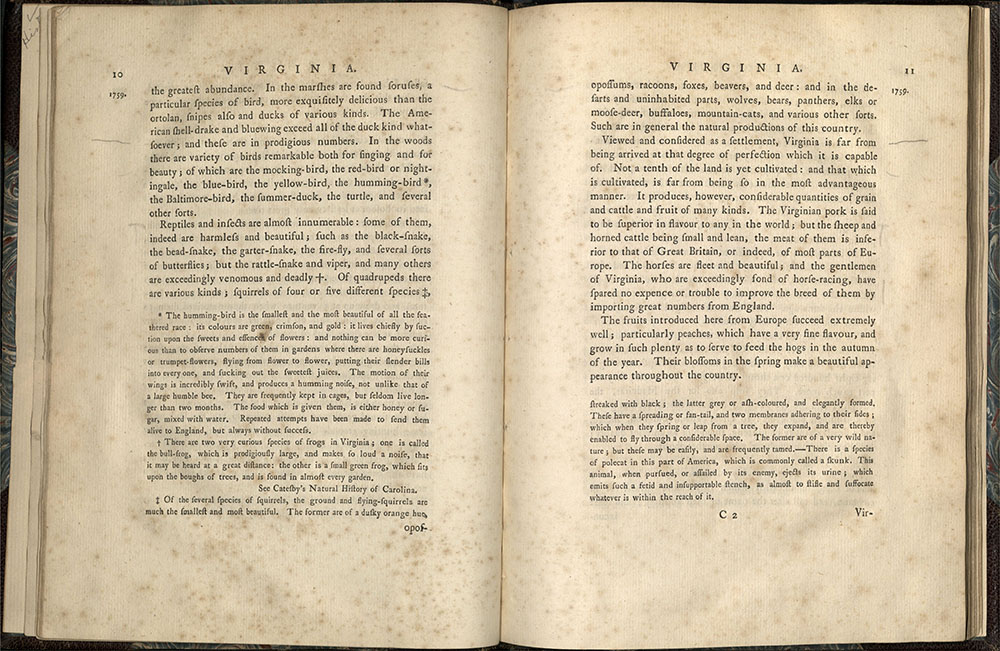 Between 1840 and 1860 nearly three hundred thousand people traveled westward on overland trails. The reasons for this migration varied – some sought quick wealth in the Gold Rush, some looked for better agricultural lands, some believed that the west would improve their health. The Mormons looked for a refuge from religious persecution. Whatever the reason, emigrants believed that they could improve their lives by moving West. Migrants depended upon reliable information to get them to their remote destinations. Tragic stories of lonely souls buried somewhere in the unforgiving wilderness were rampant. Trail guides outlined the best routes, listed what to bring, and forewarned of menace. Many of these guides were derived from personal accounts. Others were nationally published guides compiled from newspaper accounts and government surveys. Few original trail guides survive because of heavy use. Or perhaps they were thrown away in frustration.
After the Civil War, the transcontinental railroads eliminated the need for trail guides. The demand became one for practical information about the destinations themselves. In the late 1860s governmental agencies and railroad companies issued hundreds of sophisticated (and often exaggerated) pamphlets promoting the virtues of western lands.
Many Americans longed to see the West, even if they didn't want to settle there. After the fractious and devastating Civil War, the West became symbolic of a re-born nation's grandeur. It also became a premier destination for leisure-class travelers. The railroads spent large sums on advertising and promotional packages, promising sunshine and spectacular scenery to national and international armchair adventurers. Due, in part, to the astonishing hyperbole of these promotional materials, there began a near compulsion to see the West – a place that, in the space of less than one hundred years, had become mythic and hallowed, a restorer of the soul – full of meaning that, at least for a while, could be found nowhere else.