Dramatis Personae
Early Print Culture and European Performance Arts
Checklist for "Dramatis Personae"
Curated by Luise Poulton, 2010
Exhibition poster designed by David Wolske, 2010
Digital exhibition produced by Alison Elbrader, 2012
Faculty Collaboration:
Prof. Christine Jones
French 4900/7900, 2006
Dramatis Personae Archive
Format udpated by Lyuba Basin, 2020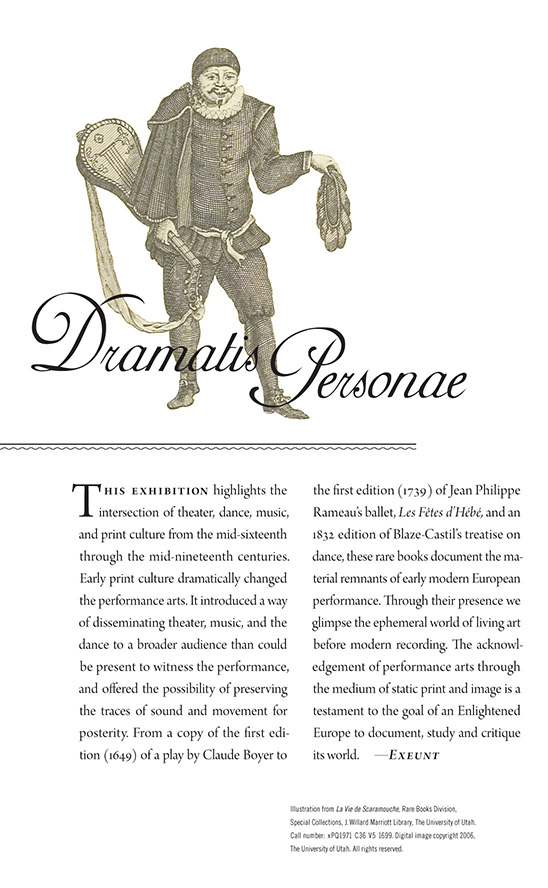 Dramatis Personae: Early Print Culture and European Performance Arts
This exhibition highlights the intersection of theater, dance, music, and print culture from the mid-sixteenth through the mid-nineteenth centuries. Early print culture dramatically changed the performance arts. It introduced a way of disseminating theater, music, and the dance to a broader audience than could be present to witness the performance, and offered the possibility of preserving the traces of sound and movement for posterity. From a copy of the first edition (1649) of a play by Claude Boyer to the first edition (1739) of Jean Philippe Rameau's ballet, Les Fêtes d'Hébé, and an 1832 edition of Blaze-Castil's treatise on dance, these rare books document the material remnants of early European performance. Through their presence we glimpse the ephemeral world of living art before modern recording. The acknowledgement of performance arts through the medium of static print and image is a testament to the goal of an Enlightened Europe to document, study and critique its world.