Fighting Words:
American Revolutionary War Pamphlets
Checklist for "Fighting Words"  


Curated by Alison Elbrader, 2012

Exhibition poster designed by David Wolske, 2012
Digital exhibition produced by Alison Elbrader, 2013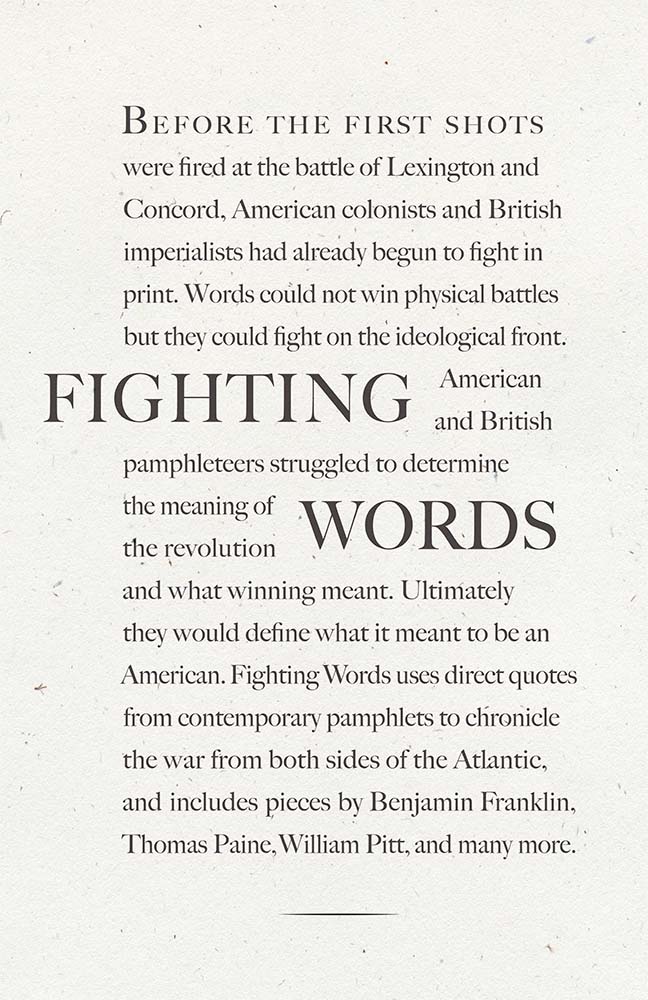 Before the first shots were fired at the battle of Lexington and Concord, American colonists and British imperialists had already begun to fight in print. Words could not win physical battles but they could fight on the ideological front. American and British pamphleteers struggled to determine the meaning of the revolution and what winning meant. Ultimately they would define what it meant to be an American. Fighting Words uses direct quotes from contemporary pamphlets to chronicle the war from both sides of the Atlantic, and includes pieces by Benjamin Franklin, Thomas Paine, William Pitt, and many more.
"It is with utmost Regret, that we attend this Committee in the Quality of Complaints; but the Matter of it too neatly affects us and the Liberties of this Country, to be buried in Silence. Had our personal Interest been solely concerned, we might have rested in a patient Expectation of a personal Remedy in some other Way: But when the Liberties of a Country are at Stake, and the Civil Enjoyments of a People sap'd at the very Foundation of them, it behoves every Man that loves his Country to cry out and give publick Warning of the Danger."
"They acknowledge Dependance upon their Mother Country; but that Dependance would be Slavery not Connection, if they bore no Part in the Government of the whole: they would then indeed be in a worse Situation than the Inhabitants of Britain, for these are all of them virtually, tho' few of them are actually represented in the House of Commons; if the Colonies were not, they could not expect that their Interest and their Privileges would be any otherwise considered there, than as subservient to those of Great Britain;…Happily for them, this is not their Condition. They are on the contrary a Part, and an important Part of the Commons of Great Britain: they are represented in Parliament, in the same Manner as those Inhabitants of Britain are, who have not Voiced in Elections; and they enjoy, with the Rest of the Fellow-subjects, the inestimable Privilege of not being bound by any Laws, or subject to any Taxes, to which the Majority of the Representatives of the Commons have not consented."
"The Colonies claim the Privilege, which is common to all British Subjects, of being taxed only with their own consent given by their Representatives, and all the Advocates for the Stamp Act admit this Claim. Whether, therefore, upon the whole Matter, the Imposition of the Stamp Duties is a proper Exercise of Constitutional Authority, or not, depends upon the single Question, Whether the Commons of Great Britain are virtually the Representatives of the Commons of America, or not." – August 1765
"Upon the Whole, I beg leave to tell the House what is my real Opinion: It is that the S--p A-- be repealed absolutely, totally and immediately. That the Reason of the Repeal be assigned, because it is founded upon erroneous Principles; at the same Time let the sovereign Authority of this Country over the Colonies be asserted in as strong Terms as can be advised – and be made to extend to every Point of Legislation whatsoever: That we may bind their Trade, confine their Manufactures, and exercise every Power whatsoever, except that of taking their Money out of their Pocket without their Consents." – 17 December 1765
"I now partake no less in your common joy, on account of the REPEAL of that act; whereby these colonies are emancipated from a slavish, inglorious bondage; are re-instated in the enjoyment of their ancient rights and privileges, and a foundation is laid for lasting harmony between Great-Britain and them, to their mutual advantage." – 23 May 1766
"When a Community, great or small, think their Rights and Privileges infringed, they will express their Uneasiness in a Variety of Ways: some of which may be highly improper, and criminal. So far as any of an atrocious Nature have taken Place, we would express our Abhorrence of them: and as we have always done hitherto, we shall continue to do, every Thing in our Power to discourage and suppress them. But it is in vain to hope that this can be done effectually so long as the Cause of the Uneasiness, which occasioned them, exists. – 25 January
"The inhabitants of our colonies in North America are supposed to consist of about two millions of persons; they occupy and possess a very extensive territory, much larger than Great Britain; …they have felled the forests; they have cleared and tilled the land, they have planted it, they have sown it, they have stocked it with cattle; they have built themselves houses; they have entered into exchange and commerce; they have spared and saved for a future day or for their families; they have by many and various means acquired many and various sorts of property; they are by nature entitled to welfare and happiness, and to seek and pursue those blessings,… they have for that end a right to freedom in their governments and to security in their persons and properties; none are warranted to deprive or dispossess them of these things; should on the contrary one man or a body of men advance any claim, which tended to enslave all the persons or to unsettle all the property of this great community, to divest them of every thing, which they possess and to leave them nothing, which they could call their own, of all that they have thus inherited earned or acquired; the very enormity, the evil and unnatural consequences of such a proposition would of themselves sufficiently shew its absurdity, weakness and unreasonableness."
"The preamble to this act sets forth that commotions and insurrections, subversive of his majesty's government, and destructive of the public peace, had been raised and fomented in Boston: that during the course of these insurrections, some valuable cargoes of tea belonging to the East India company had been destroyed: that while things continue in this situation, commerce cannot be safely carried on;…" – 1 March 1774 (regarding the Boston Port Bill)
"But why should we enumerate our Injuries in detail? By one Statute it is declared, that Parliament can "of Right make laws to bind us in all Cases whatsoever." What is to defend us against so enormous, so unlimited a Power? Not a single Man of those who assume it, is chosen by us, or is subject to our Controul or Influence: but, on the contrary, they are all of them exempt from the Operation of such Laws, and an American Revenue, if not diverted from the ostensible Purposes for which it is raised, would actually lighten their own burdens in proportion, as they increase ours. We saw the Misery to which such Despotism would reduce us. We for Ten Years incessantly and ineffectually besieged the Throne as Supplicants; we Reasoned, we Remonstrated with Parliament in the most mild and decent Language. But Administration, sensible that we should regard these oppressive Measures as Freemen ought to do, sent over Fleets and Armies to enforce them." – 6 July 1775
"People have been gulled, imposed on, and misled long enough; it is high time for them to look about them; the night is far spent, the day is at hand – the day of reckoning – the day, when the friends and foes, the liege subjects, and the rebels and traitors, to George the Third, must be distinguished: And however speciously the leaders may flatter their blind followers with hopes of success in their opposition, by publishing extracts of letters from England, they may assure themselves there is not the least reason to suppose that parliament will not support their authority, even to the ruin of the present generation, in this and all the other colonies, if it can't be established at a less expence: And it is as certain that submission is required only to save the honour of government; they never intend to tax us; they don't wish to enslave us; they ahbor the thought; they want us to be happy and free; but no we forsooth, must quarrel for a shadow, under a moral certainty of losing the substance in the contest."
"We have thus seen the probable issue of hostile measures towards America. If we succeed, we are ruined. If we do not succeed – if by those extraordinary exertions which have often proceeded from people contending for their liberties, or by any of those accidents which have frequently decided the fate of battles and of empires, taking the victory from the strong and the race from the swift, we should be repulsed, to what a state of humiliation shall we be reduced! Such is the insufferable absurdity of the measure, that whether victors or vanquished, we are sure of being sufferers."
"The anxious desire of preserving that harmony which had so long and so happily subsisted between the Parent State and her Colonies, occasioned the American to bear, with an almost blameable patience, the innovations which were continually made on their liberty, 'till the ministry, who imagined their moderation proceeded from ignorance and cowardice, by depriving them of almost every part of their rights which remained unviolated, have raised a spirit beyond the Atlantic, which may either recover the opportunities we have lost of restoring the breaches which for near a century have been making in our constitution, or of sinking us into the lowest abyss if national misery."
"The great Creator having design'd the human race for society, has made us dependent on one another for happiness; he has so constituted us, that it becomes both our duty and interest, to seek the public good. And that we may be more firmly engaged to promote each others welfare, the Deity has endowed us with tender and social affections, with generous and benevolent principles:…" – 29 May 1776
"If I had not lived long enough to be little surprized at any thing, I should have been in some degree astonished at the continued rage of several Gentlemen, who, not satisfied with carrying fire and sword into America, are animated nearly with the same fury against those neighbours of theirs, whose only crime it is, that they have charitably and humanely wished them to entertain more reasonable sentiments, and not always to sacrifice their interest to their passion. All this rage against unresisting dissent, convinces me, that at the bottom they are far from satisfied they are in the right. For what is it they would have? A war? They certainly have at this moment the blessing of something that is very like one; and if the war they enjoy at present be not sufficiently hot and extensive, they may shortly have it as warm and as spreading as their hearts can desire." – 3 April 1777
"THE portals of the temple we have raised to freedom, shall then be thrown wide, as an asylum to mankind. America shall receive to her bosom and comfort and cheer the oppressed, the miserable and the poor of every nation and of every clime. The enterprise of extending commerce shall wave her friendly flag over the billows of the remotest regions. Industry shall collect and bear to her shores all the various productions of the earth, and all by which human life and human manners are polished and adorned. In becoming acquainted with the religions, the customs and the laws, the wisdom, virtues and follies and prejudices of different countries, we shall be taught to cherish the principles of general benevolence. We shall learn to consider all men as our brethren, being equally children of the Universal Parent – that God of the heavens and of the earth, whose infinite majesty, for providential favor during the late revolution, almighty power in our preservation from impending ruin, and gracious mercy in our redemption from the iron shackles of despotism, we cannot cease with gratitude and with deep humility to praise, to reverence and adore."