Glimpse
2016 Book Arts Instructors
Curated by Allison Milham and Luise Poulton, 2016
Digital Exhibition produced by Lyuba Basin, 2020
Glimpse
The covers of a book enclose worlds constructed of text and image. To open a book is to expose the intimate details of story, experience and idea. The Book Arts Program, Special Collections, at the J. Willard Marriott Library champions wide-ranging explorations of the book. A fully equipped studio enables bookbinders, printers, and book artists to utilize type, letterpress, photo engravings and bookbinding equipment as they combine traditional techniques with modern aesthetics and technology.
The Book Arts Program promotes involvement with the art of the book through community programming for local and national participants. National and local guest artists as well as staff instructors offer drop-in sessions, one-day and two-day workshops, and multi-week courses. Topics include bookbinding, relief and intaglio printing, collage and image-making, paper decorating, papermaking, lettering and other techniques related to the artistic practice of bookmaking.
The creative work in this exhibition represents the range of techniques, methods, and conceptual interests of the Book Arts Program's 2016 instructors. Over the course of the calendar year, ten guest instructors and four staff instructors will teach various techniques such as encaustics, letterpress printing, traditional Japanese woodcut printmaking, leather bindings, and alternative printing and photography.
A grant from the National Endowment for the Arts supports the 2016 community workshops, some of which will be offered at no cost to participants.
Workshop guest instructors include Julianna Christie, Karen Hanmer, Allyn Hart, Michelle Macfarlane, Stacy Phillips, Louona Tanner, Keiji Shinohara, Pamela Smith, Claire Taylor, and Becky Williams Thomas. Courses taught by staff instructors Crane Giamo, Allison Milham, Marnie Powers-Torrey, and Emily Tipps.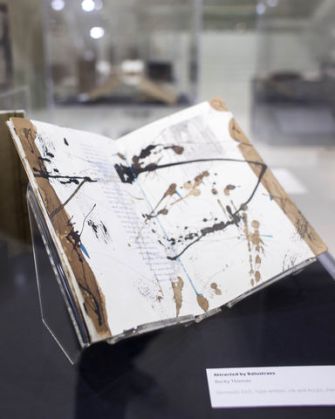 Rare Books is pleased to support the Book Arts Program with its historic, fine press, and artists' books collections.
---
Crane Giamo
Crane Giamo is the co-founder of Delete Press and By Voices. His books appear under the imprint Pocalypstic Editions. He is Assistant Librarian (Lecturer), Book Arts Program Studio Manager and lead printer for the Red Butte Press. He holds an MFA in Book Arts from the University of Alabama, an MFA in Creative Writing from Colorado State University, and an MA in Poetics from the University at Buffalo.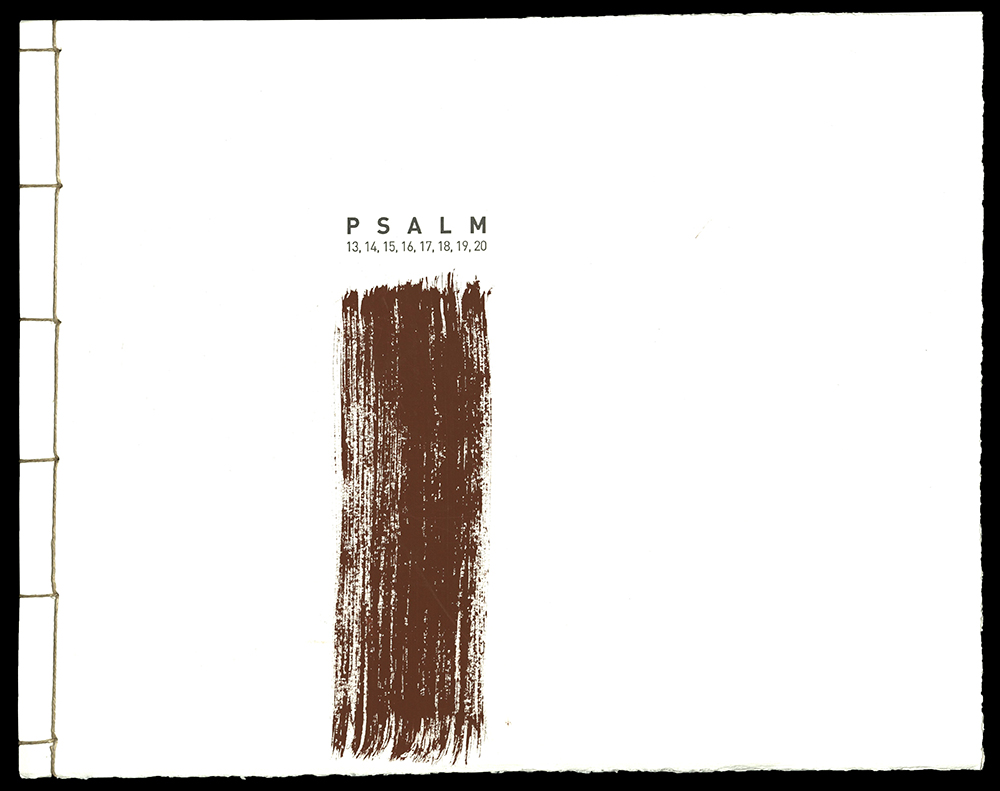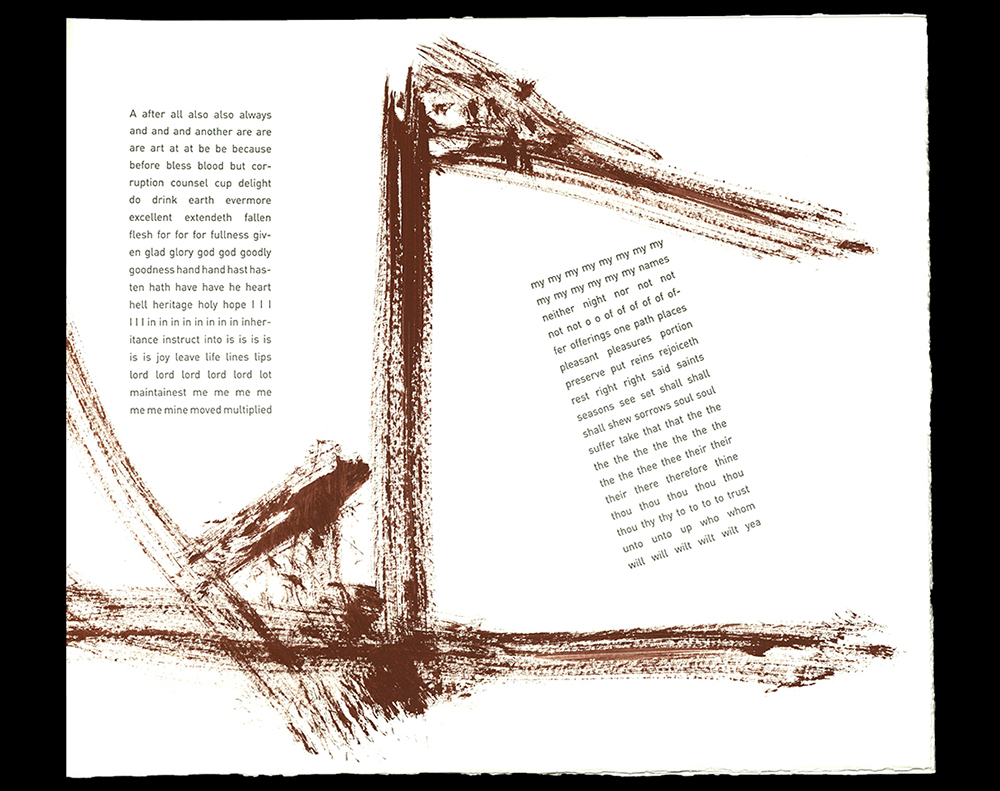 PSALM 21 : ANTHROPOCENE 
Crane Giamo
Tuscaloosa, AL : Pocalypstic Editions, 2014
N7433.4 G474 P73 2014 
From the publisher's website: "The images are printed off a variety of ice surfaces (icicles on a roof, blocks of ice extracted from plastic buckets, water frozen in a bird bath, ice on the sidewalk, ice in ice-trays)… printed from photopolymer plates on a Vandercook #4 letterpress and the red paint slashing across the book is hand-painted using iron oxide pigment mixed with acrylic medium… handbound with a Japanese stab-stitch structure… The slip-sleeve housing is built from handmade paper and uses milkweed, raw cotton, abaca and cattail fibers." 
Edition of twenty-five copies. Rare Books copy is no. 8, signed by the author.
---
Karen Hanmer
Karen Hanmer's sculptural books fragment and layer text and image to reflect the experience of personal and cultural memory. Her books are meant to be handled – the intimate scale, choice of materials, and posture and gesture required to view each piece evoke the experience of looking through a photo album or diary. Her works often take playful forms, many with tongue-in-cheek text. She holds a degree in Economics from Northwestern University. She severs on the editorial board of The Bonefolder, a peer-reviewed online book arts journal and is officer of the Guild of Book Workers and Chicago Hand Bookbinders.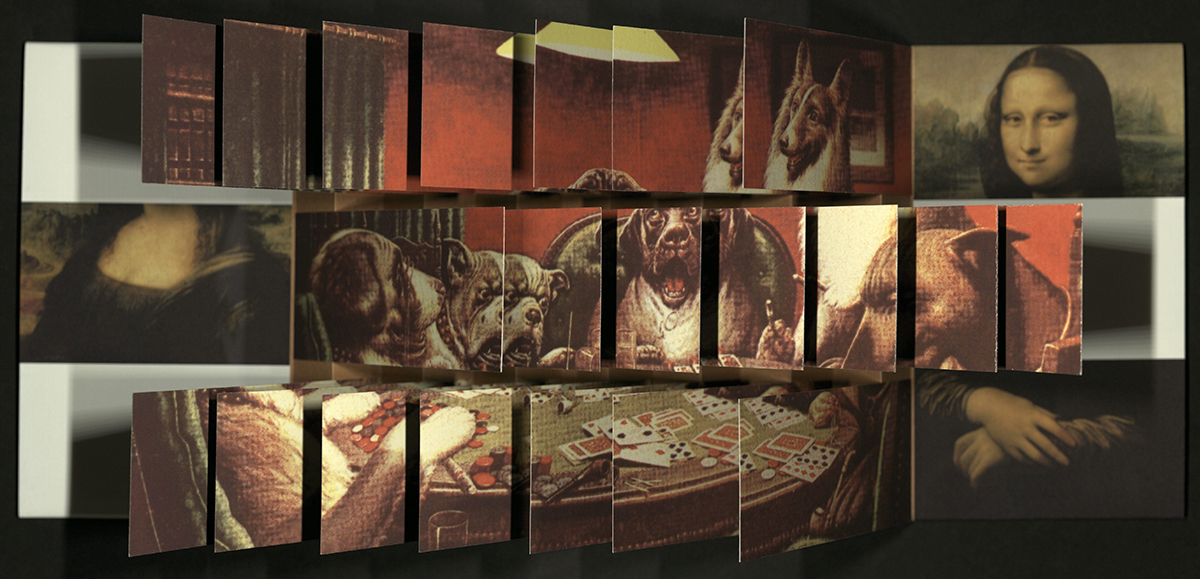 DEAL ME IN, MONA 
Karen Hanmer
Glenview, IL: Karen Hanmer, 1999
N7433.4 H357 D4 1999
Content is portions of Leonardo's "Mona Lisa" and Cassius Marcellus Coolidge's "Waterloo," one in his series of works of dogs playing poker. Each page is three separate segments. Accordion-style spine. Housed in cardboard portfolio.
---

AAAAAZZZZZ
Karen Hanmer
Glenville, IL: Karen Hammer, 2002
N7433.4 H357 A6 2002 
Housed in box. Title on box shows the letter "A" turning into the letter "Z."
Edition of eight copies. Rare Books copy is no. 6, signed by the author.
---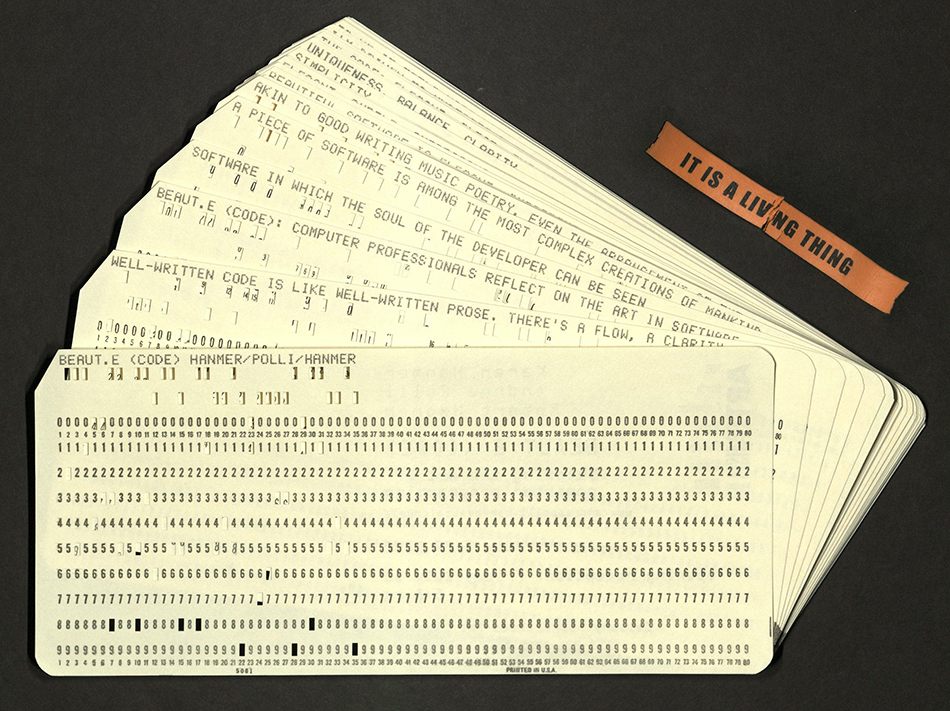 BEAUT.E (CODE) : COMPUTER PROFESSIONALS REFLECT ON THE ART ... 
Karen Hanmer
Glenview, IL: Karen Hanmer, 2002
N7433.4 H357 B4 2002
Computer punch cards, including title card and thirty-four additional cards, each of which contain one line of text on the recto (a thought about art in software) printed across the top. The un-punched colophon card is printed on verso with this note, "Text is drawn from group interviews and written questionnaire conducted in 2001-2002," followed by an alphabetical list of names of the forty-eight computer professionals who participated, and concluding with acknowledgements. The cards are held together with a wide orange rubber band with a quote from one of the text cards printed on it in black, "It is a living thing." Issued in a phase wrapper made of heavy green map folder stock, fastened with Velcro.
---

DESTINATION MOON 
Karen Hanmer
Glenview, IL: Hanmer, c2003
TL789.8 U6 A5282 2003
Archival photographs and documents pertaining to the Apollo Manned Space Program contrast John F. Kennedy's "Man on the Moon by the end of the decade" speech with Roy Alfred and Marvin Fisher's whimsical song "Destination Moon," about a couple's romantic trip to the moon. Photographs courtesy of NASA. John F. Kennedy speech courtesy of the National Archives. Prints with inkjet pigment. Accordion flag-book structure originated by Hedi Kyle. Issued in board box with closures.
Edition of twenty copies. Rare Books copy is no. 3.
---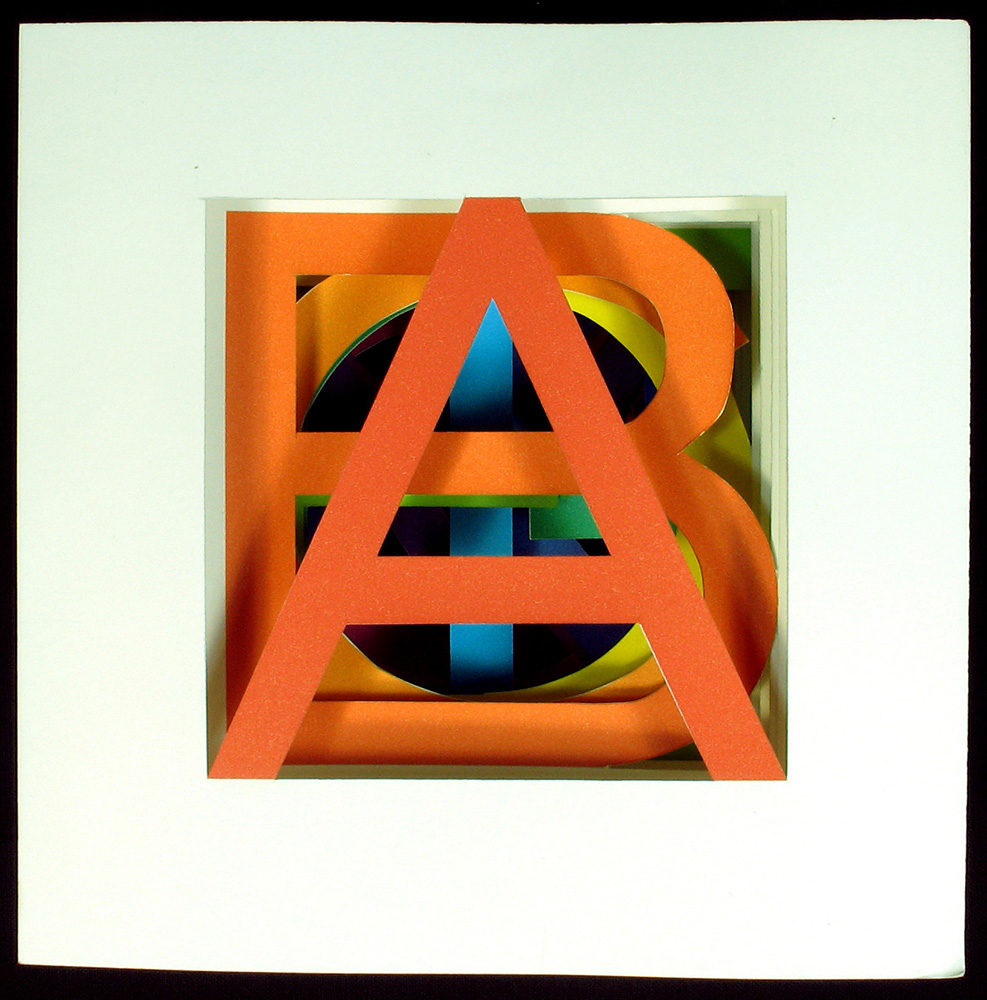 SPECTRUM A TO Z 
Karen Hanmer
Berkeley, CA: never mind the press, 2005
N7433.4 H357 S6 2003
Handset Caslon on Lenox, Frankfurt, and Nideggan papers, pasted, painted, and stenciled. Slipcase inspired by Hedi Kyle. This is the eighty-fourth book published by never mind the press. 
Edition of fifteen copies. Rare Books copy is no. 34.
---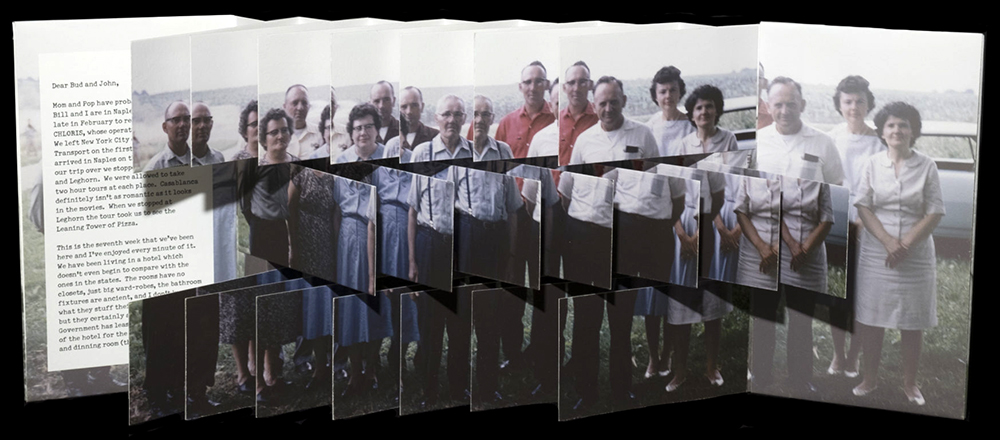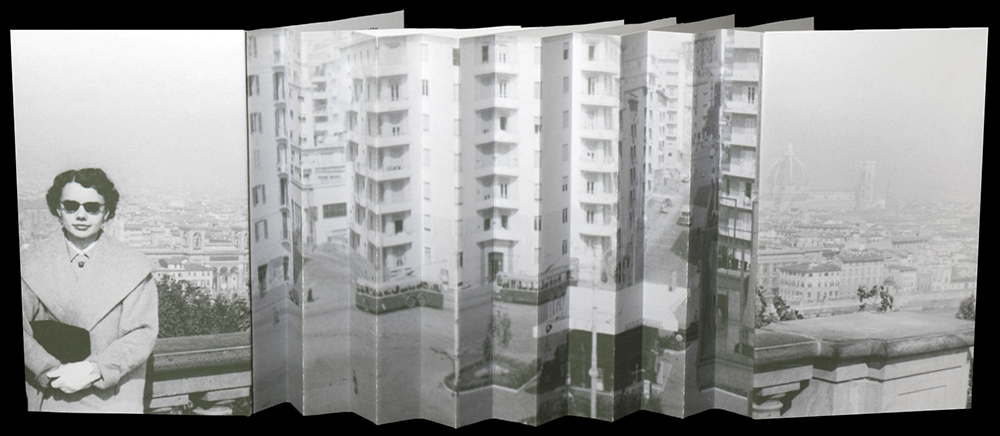 LETTER HOME 
Karen Hanmer
Glenview, IL: K. Hanmer, 2004
N7433.4 H357 L48 2004
Using a Hedi Kyle flag book binding, one side of each flag has text, the other side of each flag has a color image which is part of a family photograph. The family photograph becomes whole when the accordion folds are stretched and the pages fall open. The text is from a letter written from Italy in 1954 by a military wife to her relatives. The upper and lower boards are covered in a reproduction of a photograph of an American woman (the artist's mother) on a balcony overlooking Florence, Italy. Issued in an artist-made phase box of green map folder stock with fabric hook-and-loop fasteners.
Edition of twenty copies. Rare Books copy is no. 12.
---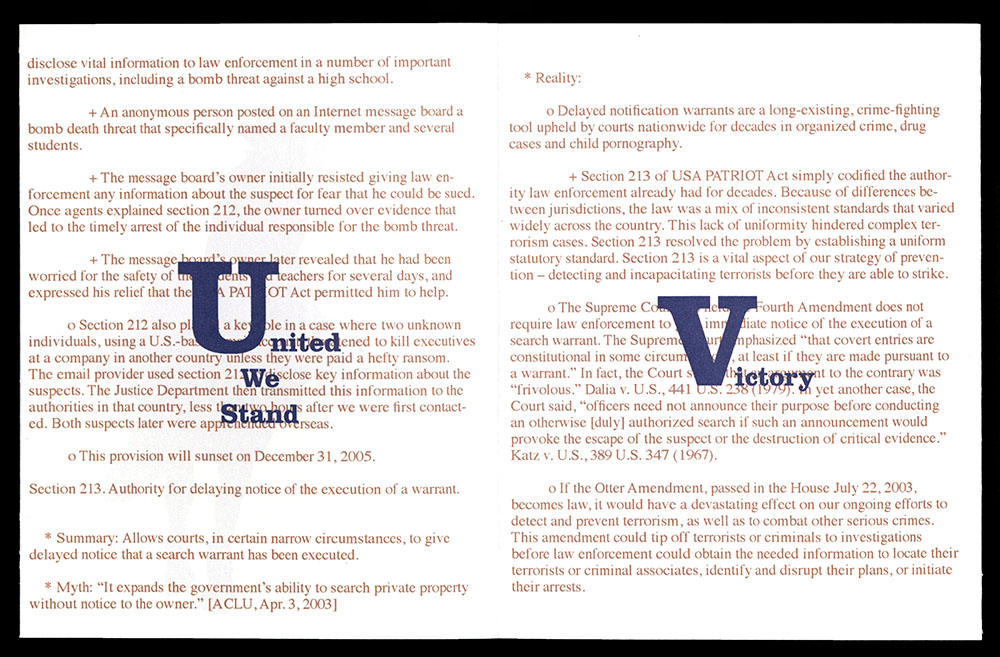 PATRIOT ALPHABET 
Karen Hanmer
Glenview, Ill: K. Hanmer, 2004
N7433.4 H357 P37 2004
Accordion-folded pages glued onto boards covered with paper with color pigment inkjet prints of the American flag behind the head of a crying American bald eagle. Leaves of cream paper contain text from a government website interpreting the Patriot Act, overlaid with alphabetically-arranged words or phrases taken from the vocabulary of terrorism, homeland security, and the Iraq war. Some leaves contain a faint image in light blue of a cowboy riding a bucking bronco. Issued in phase wrapper made of heavy, green map folder stock, fastened with Velcro and stamped with author's name and address.
Edition of twenty copies. Rare Books copy is no. 20, signed by the author.
---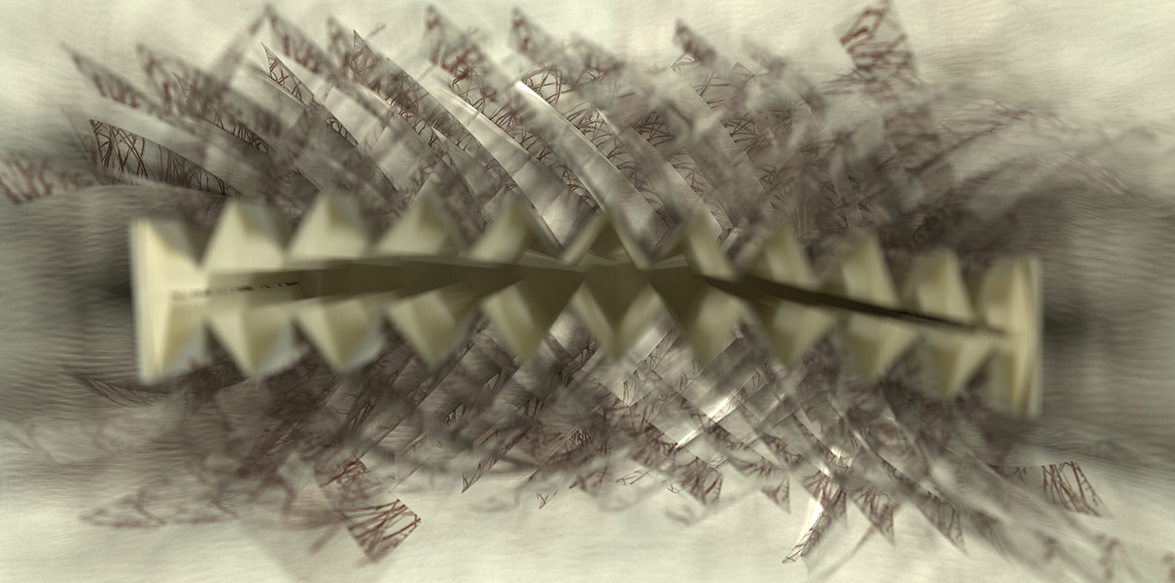 BLUESTEM
Karen Hanmer
Glenview, IL: Karen Hanmer, c2006
N7433.4 H357 B58 2006
Illustrated in collaboration with Henry Maron. Consists of two heavy stock leaves covered in paper illustrated with drawings of wild grasses. Attached between these leaves are two strips of accordion-folded paper with similar illustration. Affixed to each fold is a set of four transparent plastic leaves with similar illustration. The illustration is printed on acetate. The two paper accordions that form the structure of the book are based on the flag binding created by Hedi Kyle. A quotation from Willa Cather's My Antonia appears on the final leaf, along with the colophon.
Edition of twenty-five copies. University of Utah copy is no. 6, signed by the author.
---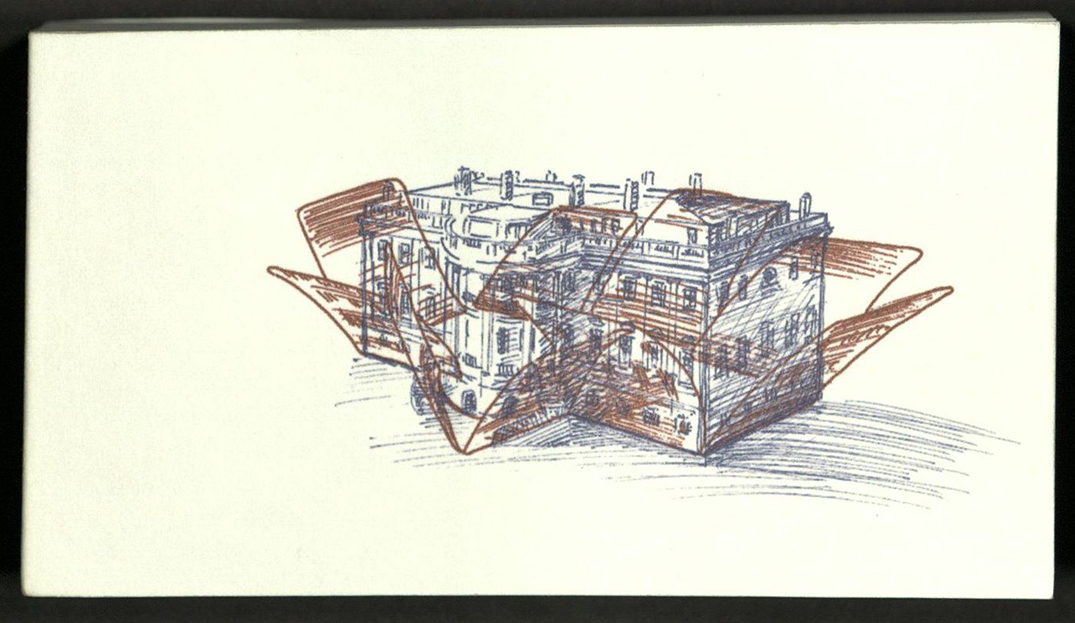 THE HOUSE THAT GEORGE BUILT 
Karen Hanmer
Glenview, IL: Karen Hanmer, 2007
N7433.4 H357 H68 2007 
Illustrated in collaboration with Henry Maron. From the colophon – Flip book with pigment inkjet prints. An image of the White House deconstructs to represent blunders and evil-doings since the 2001 inauguration.
Edition of one hundred copies, signed and numbered. Rare Books copy is no. 11.
---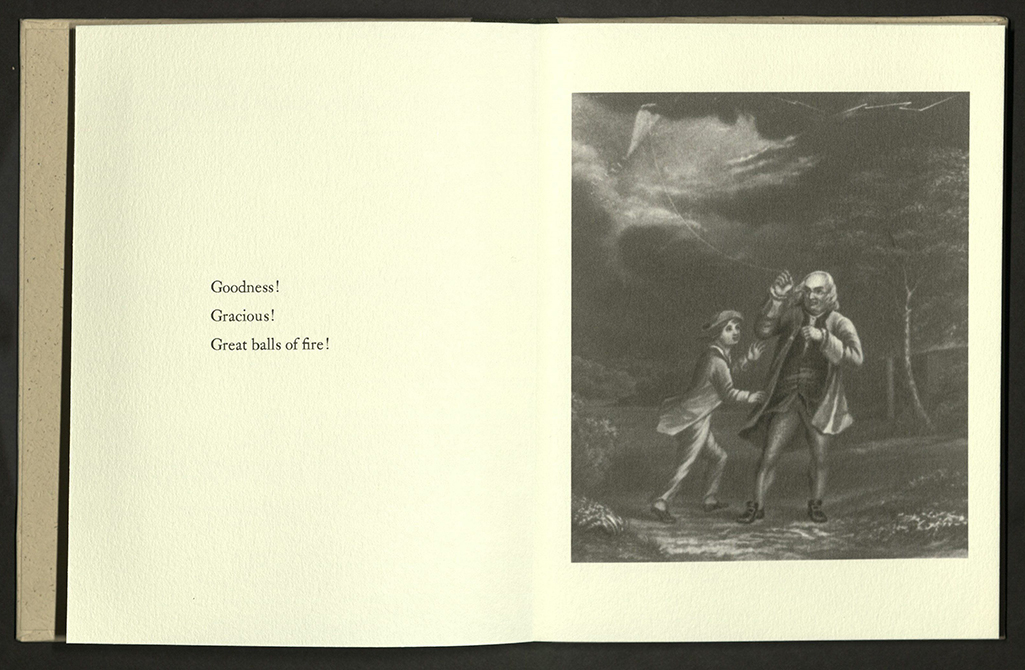 FRANKLIN FATIGUE : REFLECTIONS ON LIFE, LIBERTY ... 
Karen Hanmer
Glenview, IL: Karen Hanmer, 2009
N7433.4 H357 F7 2009
Accordion-fold structure.
Edition of one hundred copies, signed by the author. Rare Books copy is no. 18.
---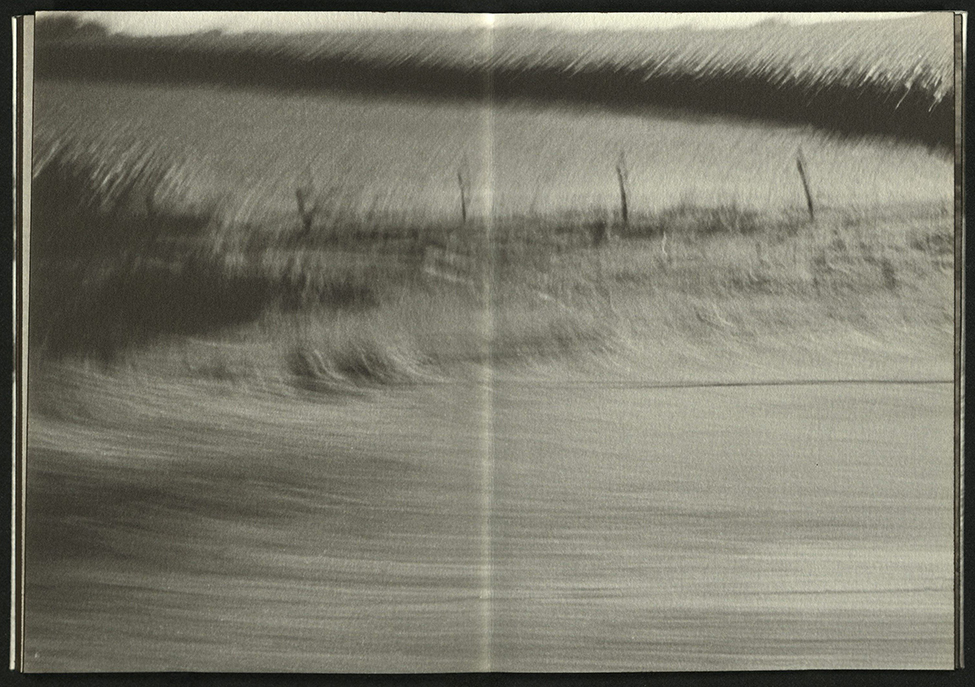 MIRAGE
Karen Hanmer
Chicago, IL: Karen Hanmer, 2009
N7433.4 H357 M572 2009 
From the artist's website: "Pigment, inkjet prints, drum leaf binding, title stamped on spine…Series of 100, each unique.
---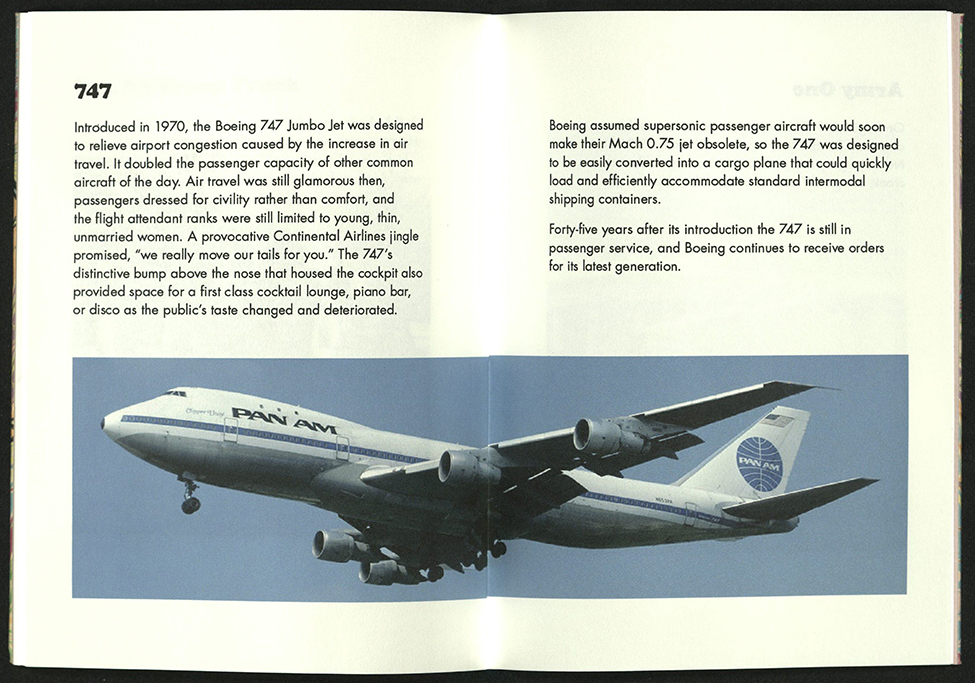 TO SERVE AND PROTECT : CONTAINERS, CONVEYANCES ... 
Karen Hanmer
Glenview, IL: Karen Hanmer, 2014
N7433.4 H357 T6 2014
Inspired by a call for entries with the theme "Vessel." Text is 60% memory, 40% casually researched, mostly on Wikipedia. Pamphlet in flower power paper wrapper is inkjet-printed. Edition numbered 41 – 100. Rare Books copy is no. 5, signed by the artist.
---
Marnie Powers-Torrey
Marnie Powers-Torrey is the Managing Director of the Book Arts Program and Red Butte Press, and Associate Librarian. She teaches letterpress printing and other courses for the Book Arts Program. She is a founding member of the College Book Art Association. She holds an MFA in photography from The University of Utah.
A CASUAL COMMENTARY : FRONT SEAT, U.S.A. 
Marnie Powers-Torrey
Salt Lake City, UT: M. Powers-Torrey, c1999
N7433.4 P69 C37 1999 
Typeface is Twentieth Century Medium Italic. Handset and printed on an Asbern letterpress. Photographs are gum bichromate prints, photolithographs, and intaglio prints from photopolymer plates.
Edition of 15 copies, signed and numbered. Rare Books copy is no. 4.
---


EVIDENCE 
Marnie Powers-Torrey
Salt Lake City, UT: M. Powers-Torrey, 2000
N7433.4 P69 E8 2000
Handset in Goudy Open. Printed on an Asbern proof press. Photopolymer plates were handprinted letterpress and intaglio. Produced in full by the author.
Edition of ten copies. Rare Books copy is no. 4, signed by the author.
---
Keiji Shinohara
Keiji Shinohara was born and raised in Osaka, Japan. After ten years as an apprentice to Keiichiro Uesugi in Kyoto, he moved to the United States. Shinohara employs ancient methods in creating his woodblock prints but diverges from tradition by experimenting with ink application and different materials. He teaches at Wesleyan University.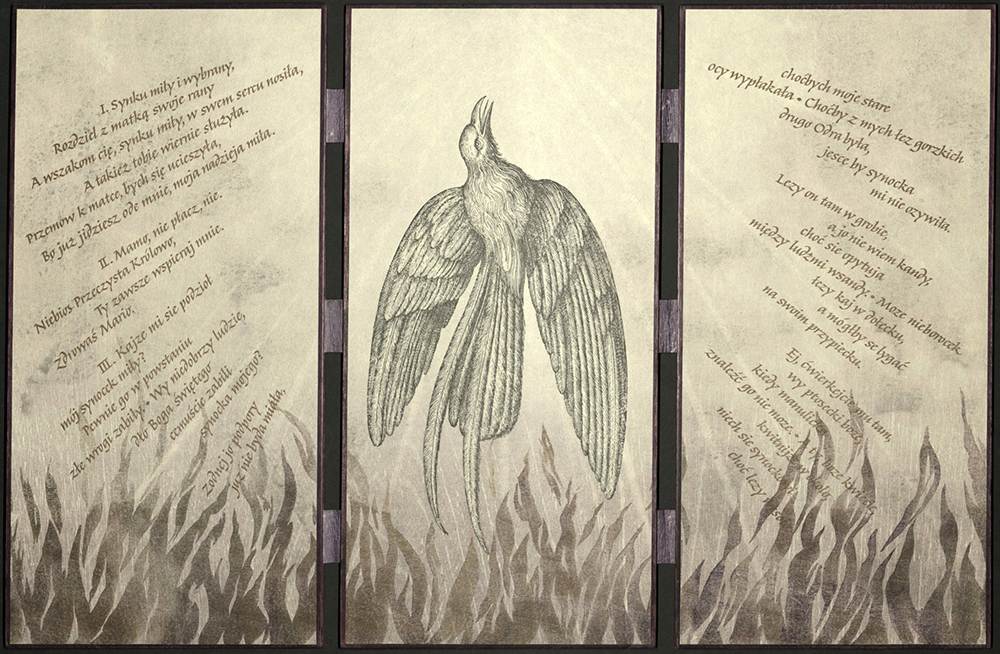 ALTAR BOOK FOR GORECKI
Middletown, CT: Robin Price, 1996
N7433.98 A48 1996
Inspired by 1992 recording of Henryk Gorecki's Symphony No. 3, "Symphony of Sorrowful Songs." Lyrics for the first movement are from a fifteenth-century lamentation of the Holy Cross monastery in Poland.  The second movement is a prayer inscribed on the wall of a cell in the Gestapo headquarters in Zakopane.  The third movement is a Polish folk song. Letterpress in four colors from handset Guild Samson uncial and Perpetua. Bird illustrations from seventeenth-century copperplate engravings by Francis Wullughby. Photographed by John Wareham. Illustrations digitally adapted, made into polymer plates by Gerald Lange. Woodcut designed, carved by Keiji Shinohara. Calligraphy of Polish lyrics provided by Paul Shaw. Daniel Kelm provided consultation on triptych structure. Archival cherry box design and construction with dyed vellum by Franklin Nichols Woodworking. English translation of Polish lyrics by Krystyna Carter. Issued in slide-top cherry wooden case. Designed, printed, and bound by Robin Price.
Edition of 60 copies, numbered and signed by the bookmaker.
---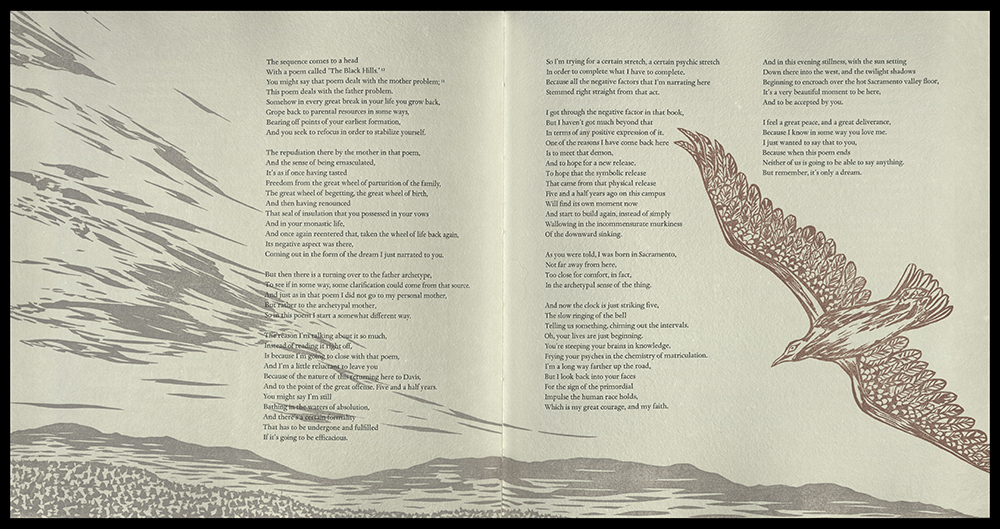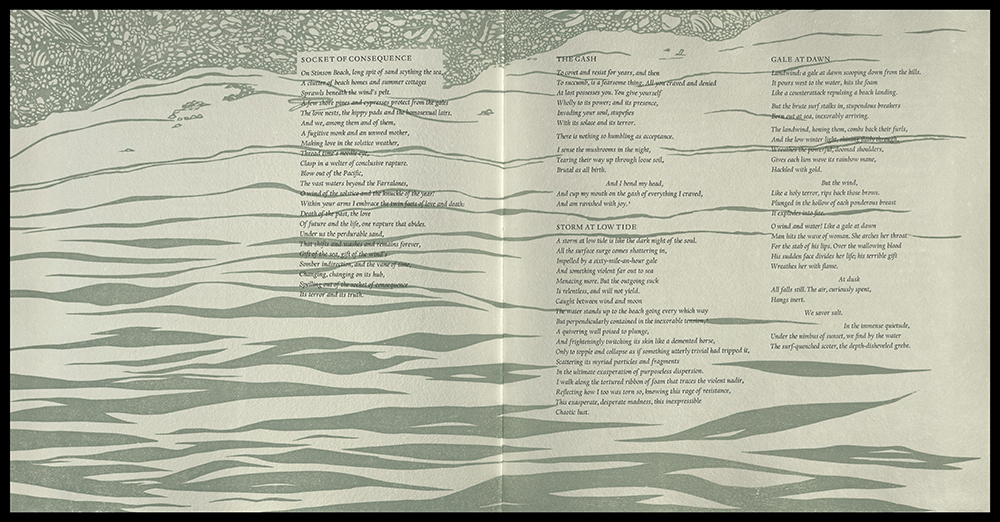 RAVAGED WITH JOY 
William Everson (1912-1994)
Middletown, CT: R. Price, 1998
PS3509 V65 R38 1998
Fine press printer Robin Price divides this book into two components, poems and extemporaneous commentary by the author. Printed in 13pt Dante, the poems appear in italic and the commentary in roman type. This typographic union provides a visual parallel between crafted word and inspired speech. Of this production Price said, "I wanted to pay tribute to Everson's abilities on the platform – his powerful, dramatic readings, punctuated with soul-searching extemporaneous speech that often veered into pure poetry – and thus dedicated to present the entire text in verse form, including the ad-lib…Typographically, I needed to easily distinguish the two, so that the reader knew which was poem, which was ad-lib…I needed a typeface in which the accompanying italic felt strong, and I was also limited to type available for monotype casting – the method that seemed most suitable for the length of this manuscript. The italic Dante – one of the great twentieth-century book typefaces – flows beautifully in an understated kind of way."  Illustrated with woodcuts by Keiji Shinohara of birds which appear in a stylized rendering and in shifting points of view.
---

LANGUAGE OF HER BODY 
Amy Bloom (b. 1953)
Middletown, CT: Robin Price, 2003
N7433.4 B565 L36 2003
Text is from Amy Bloom's novel, Love Invents Us. Sumi-e decorations by Keiji Shinohara. A series of black and white nude photographs by Derek Dudek of his wife, printed on three-foot-wide page spreads. The photographs are portions of his wife's body – a neck, hair, lips, outstretched arms. Over and around these photographs are Shinohara's decorations – black ink images of blossoms, butterflies, and grapes. Textual fragments run across every other page. "The female nude figure, fragments of deeply sensual text by a woman author – the type had to be italic," says bookmaker Robin Price. "It had to be large enough to read from a viewing distance, when looking at the thirty-six-inch page spread as a whole. It had to be small enough to be quiet and not conflict with the imagery. I settled on Arrighi, because it made me swoon – those particular words, with that particular imagery." Designed and letterpress printed by Robin Price on Tosa Hanga paper. Bound by Claudia Cohen and Mark Tomlinson as printed sheets joined accordion-style and glued at the front to a chemise of illustrated paper over boards. Issued in a portfolio cover of red cloth over boards with a Japanese-style clasp.
Edition of sixty copies. Rare Books copy is no. 26, signed by the author and artists.
---
Pamela Smith
Pamela Smith is a printer and paper-marbler in Abiquiu, New Mexico. She produces papers under her imprint, "MarbleSmith."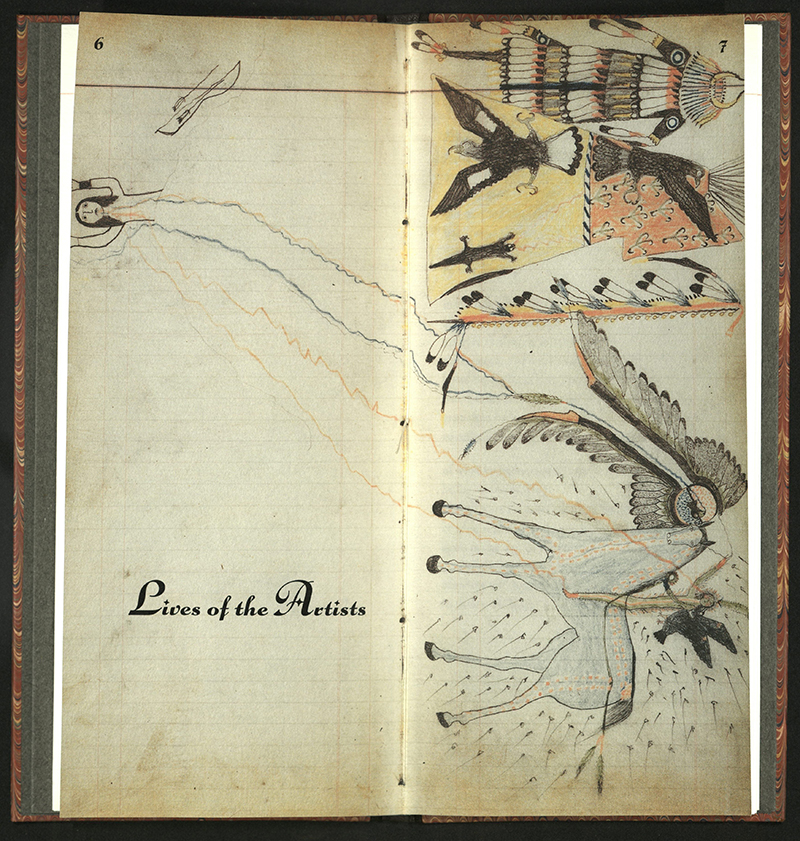 LIVES OF THE ARTISTS
W. S. Merwin (1927-2019)
Sherman Oaks, CA: Ninja Press, 2013
PS3563 E75 L58 2013
From the publisher's description: "Inspired by actual events in the lives of two young men living on the Great Plains of North America during the Plains Indian Wars of 1861-1890; one, an orphaned Arapaho boy named Frank Henderson and the other, a Northern Cheyenne warrior names Little Finger Nail. Both of them recorded their past and present histories by drawing in 'ledger books.' Twelve multicolored drawings…come from a 1988 facsimile edition of Frank Henderson's drawing book." 
From the colophon: "The type is hand set Van Dijck with Gloria for the display printed letterpress on mouldmade Frankfurt paper. The drawings are printed digitally by Karen Skove Chu using Epson UltraChrome K3 inks. The boards are covered in Hahnemuhle Ingres that has been hand marbled especially for this edition by Pamela Smith in Abiquiu, New Mexico. A second inner cover of pure Belgian flax is handmade at Cave Paper in Minneapolis, Minnesota. Design, presswork, and binding are by Carolee Campbell at Ninja Press…"
Edition of seventy-two copies, numbered and signed plus seven hors commerce.
---
Emily Tipps
Emily Tipps is Binding Instructor, Program Manager, and Associate Librarian (Lecturer) at the Book Arts Program. She is the proprietor of High5 Press, publishing innovative writing in the form of handmade artists' books. She holds an MA in Creative Writing from the University of Colorado and an MFA in Book Arts from the University of Alabama.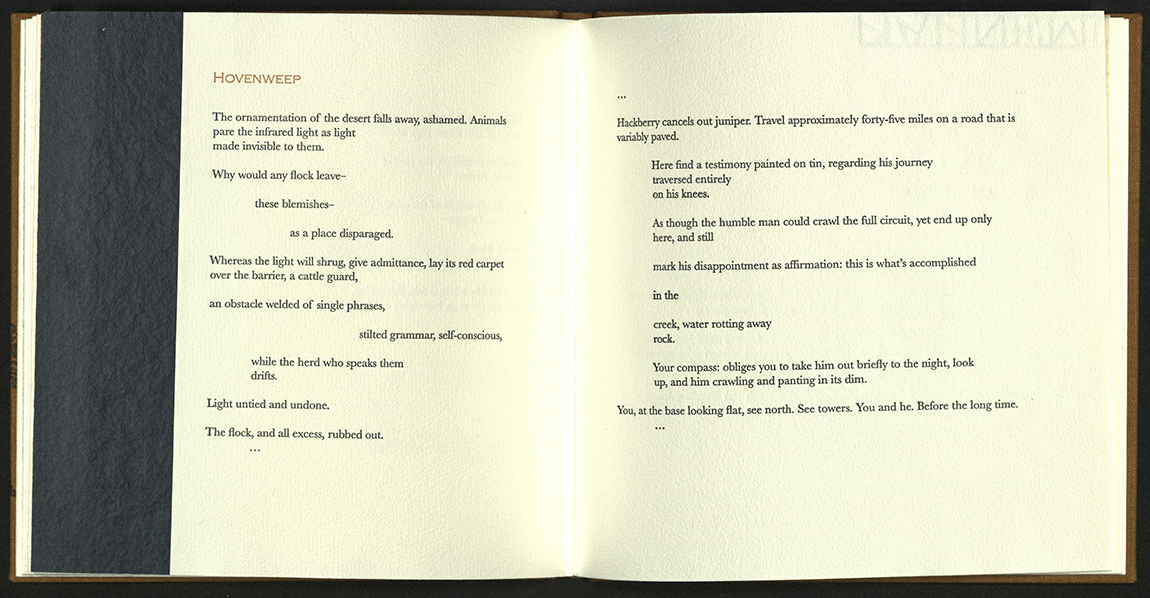 THIRST OR SURFEIT
Elizabeth Robinson
Tuscaloosa, AL: High5 Press, 2007
PS3568 O2884 T4 2007 
Letterpress-printed by Emily Tipps with Baskerville text from photopolymer plates. Titles are Copperplate Gothic Light. Handmade paper from banana palm fibers, linen dresses and flax pulled at the Lost Arch Papermill. Text paper is Hahnemuhle Biblio. Cover image is a linoleum print. 
Edition of fifty copies. Rare Books copy is no. 46.
---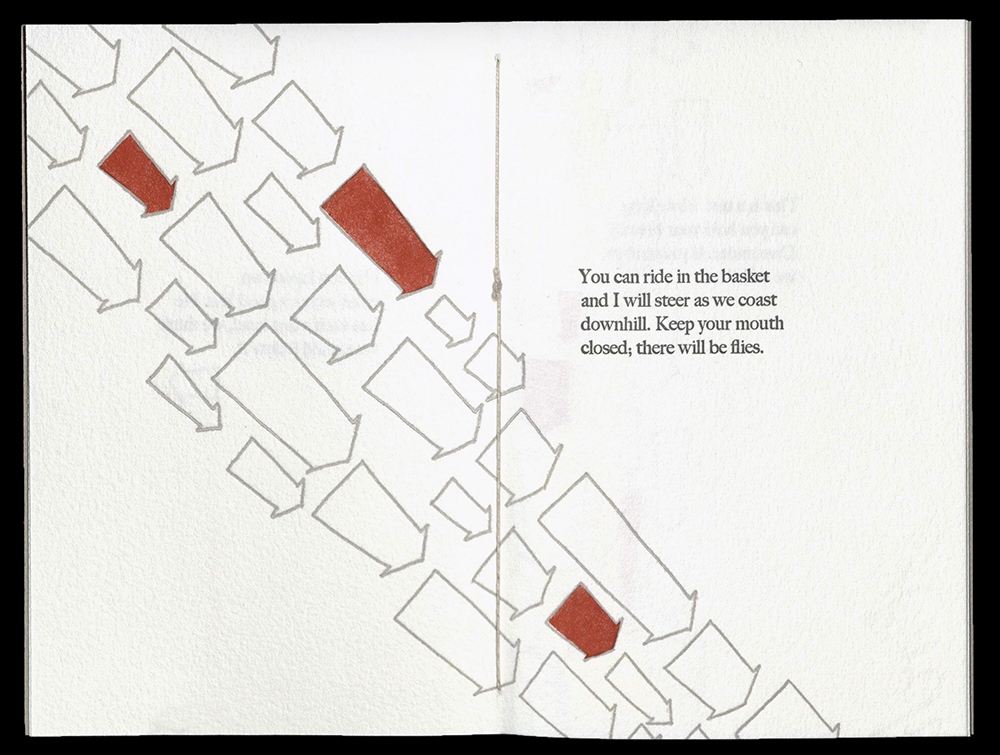 ORDERS 
Emily Tipps
Tuscaloosa, AL: High5 Press, 2007
N7433.4 T574 O73 2007 
A book of poems addressing reaction to the political atmosphere during the post-911 Bush administration and lies told by all governments everywhere. Pamphlet construction. Letterpress printed from photopolymer plates on a Vandercook sp-15. Papers are Arches Text Wove and Stonehenge. Typeface is Big Caslon. Illustrations are pochoir. Endsheets are gray Bugra paper. Handsewn binding in black Stone Henge paper covers. Blind embossed with the title, author's name, and illustrations. 
Edition of sixty copies.
---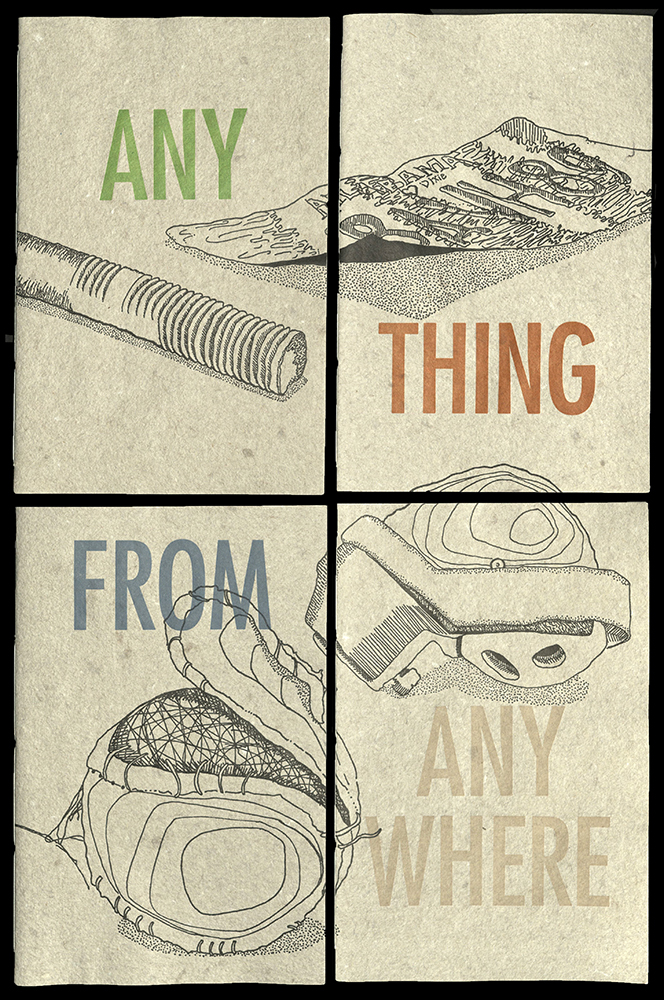 ANYTHING FROM ANYWHERE 
Emily Tipps
Tuscaloosa, AL: High5 Press, 2009
N7433.3 A58 2009
Four parts bound in printed and illustrated paper wrappers, printed with the word "Any," "Thing," "From," "Anywhere," on the cover of parts 1-4 respectively. The four booklets are housed in a cloth-covered clamshell box. Explanation of the project, notes on the authors, and production information is printed on the lining papers of the box. Letterpress printed on paper made by hand at the Lost Arch Papermill. Text and illustrations printed from photopolymer plates, with the exception of the end sheets.