The Feminine Touch
Women and the Work of the Book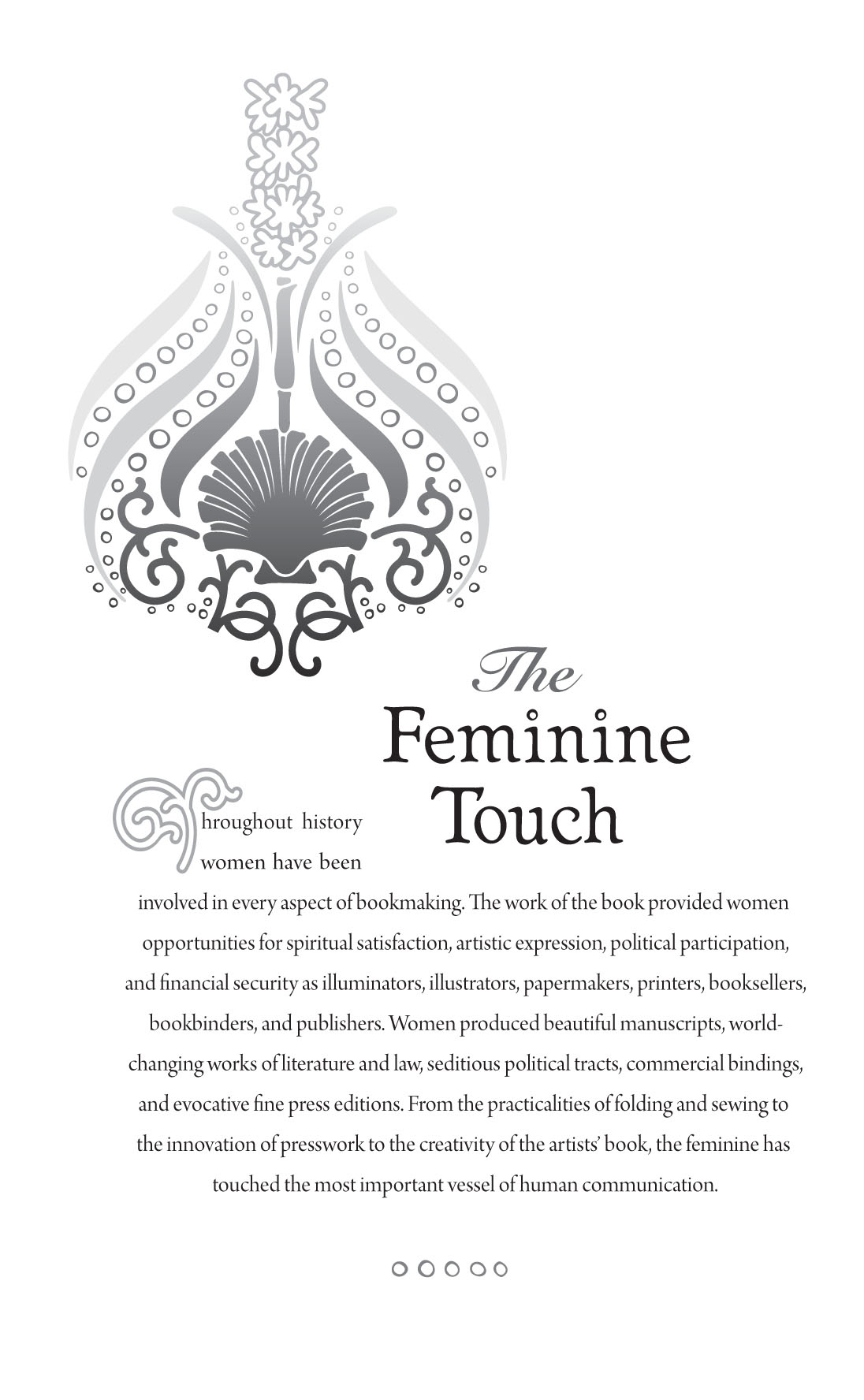 Throughout history women have been involved in every aspect of bookmaking. The work of the book provided women opportunities for spiritual fulfillment, artistic expression, political participation, and financial security as illuminators, illustrators, papermakers, printers, booksellers, bookbinders, and publishers. Women produced beautiful manuscripts, world-changing works of literature and law, seditious political tracts, commercial bindings, and evocative fine press editions. From the practicalities of folding and sewing to the innovation of presswork to the creativity of the artists' book, the feminine has touched the most important vessel of human communication.
Women played an early role in medieval manuscript production as scribes, bookbinders, and illuminators. Several are known to us: Claricia, a twelfth-century illuminator in Augsburg, Germany, most likely a lay person; Diemud (1057-1130), a nun of the Cloister in Wessobrun in Bavaria; Guda, a twelfth-century nun; Herrad of Landsberg (1125-1195), Abbess of Hohenburg; Bourgot, a fourteenth-century professional French illuminator. Hildegard von Bingen (1098-1179), a Benedictine nun and abbess is believed to have illustrated at least one work. By the thirteenth century, most manuscripts were produced in commercial workshops, where women worked as artists and scribes. Illumination continued throughout the transition from manuscript to printing. The art was re-emphasized during the Arts and Crafts movement of the early twentieth century.
Elbert Hubbard founded the Roycroft Press as part of his socialist-slanted approach to manufacturing. Hubbard produced moderately priced books of simple and elegant design, using mostly mechanized processes with a hand-crafted touch. Hubbard's philosophy embraced the concept of equality between genders. Many women worked as book makers for the Roycroft press. Hubbard actively promoted opportunities for women within his attempted utopian setting. What might be considered idealism on his behalf, however, must be tempered with the knowledge that women, who had few professional options, were a source of cheap labor. Hubbard's press did provide women artisans with work as printers; book designers, decorators and binders; and calligraphers.
Founded by Luther A. Brewer (1858-1933) in 1907, Torch Press is perhaps best known for its series of Christmas books. Brewer began the tradition in 1912 when he published a small volume of seventy copies which were distributed to his friends, those of the press, and those of his beloved wife, Elinore, who added illuminated letters for many of the publications. With the exception of two years, 1918 and 1934, the series continued until 1959.
Founded in 1939 as the Press of Lewis and Dorothy Allen, its pressmark depicted a male and female figure, framed within the name of the press. The Allens changed the name of their press to The Allen Press and dropped the early pressmark, but their work together continued, establishing one of the premier American fine presses. Although the Allens became known for their use of multiple, richly colored inks, Dorothy Allen hand-colored many of the decorations and illustrations in their books.
Claire Van Vliet created Janus Press in 1955, publishing a book with her own wood-engravings. She apprenticed in Europe as a hand typesetter while teaching herself etching. In 1966, she created a permanent home for Janus Press in Vermont, where she designed, illustrated, type-set, printed and bound most of the presses publications. Many of the nearly one hundred books from Janus Press were produced on paper handmade by Van Vliet. She led the way in the use of colored paper pulps for book illustration and invented innovative non-adhesive book structures. She is the recipient of a John D. and Catherine T. MacArthur Foundation Prize Fellowship and an Ingram Merrill Foundation award. She was awarded an honorary Doctor of Fine Arts from the University of the Arts in Philadelphia.
Thielman Kerver began operating a printing press and bookshop in Paris, arriving there from Coblenz in 1471. He quickly became known for producing books of superior quality in woodcuts and presswork, most notably in his various editions of Books of Hours, many of which contained hand-painted miniatures and initials. Kerver's widow, Iolande Bonhomme, took over the press when he died in 1522. Bonhomme was the daughter of the French printer Pasquier Bonhomme, who produced the first printed book in France in 1477. She continued to produce liturgical books until 1556, specializing in reprinting Thielman's earlier publications which remained in demand after his death. By this time, the press used metal as well as wood cuts for its ornamentations.
Printer Jean Knobloch from Zofingen in Switzerland, arrived in Strasbourg in 1501. He began working in the print shop of Martin Flach and eventually married Flach's widow, Catherine Dammers. From Martin and Catharine's small print shop, they built what would eventually become the largest printshop in Strasbourg at the time. They published nearly three hundred titles between 1503 and 1519.
Thomas Warren's wife, Alice, ran his printing business after he died in 1659 until 1664 when her eldest son, Francis, was freed from his apprenticeship. Between 1660 and 1664 her name appeared in nine imprints and she entered four works in the Stationers' Register (one of them calls her "Master" Alice Warren).
Sarah Griffin (fl. 1653-1673) came from a family of printers which founded its business in 1590. Sarah's husband, Edward II, had printed in partnership with his mother, who had taken the reigns of the family press after the death of his father. Sarah took over the press at the death of her husband. Sarah's son did not follow the family trade, but became a bookseller and publisher.
London printer Anne Maxwell (fl. 1665-75) was the widow of David Maxwell (fl. 1659-65). She produced one hundred books between 1660 and 1684. Listed as a master printer in a 1668 survey of London printing presses, she inherited and managed two presses, employed three typesetters and three pressmen. Between 1668 and 1690 she supervised and trained twelve apprentices.
Elizabeth Holt spent her married years by her husband Ralph Holt's side, learning all aspects of the printing trade. She carried on her husband's business after his death, running it for fifteen years before her daughter Sarah took over, who, in turn, maintained the family print shop for another twenty-five years.
Although most 18th century businesses in England were officially operated only by men, women took a full share in the work, particularly if they were members of a printer's family. Jane Sowle worked side by side with her husband, Andrew, who apprenticed for seven years, beginning in 1646, with printer Ruth Raworth, who was a member of a family of printers. Jane and Andrew's daughter, Tace, learned the printing business from her mother and father, whose onset of blindness prevented him from printing. Tace became a good compositor, skilled in setting type. Jane and Tace ran the press for more than fifty years, into the 1740s. They published many works by women. Tace married a non-stationer, Thomas Raylton, who soon became a printer. Tace and Thomas worked under the name of Tace's mother, "Assigns of J. Sowle." Tace's sister, Elizabeth, married her father's apprentice, William Bradford, and traveled with him to America, where they set up a print shop in Pennsylvania and later in New York. Tace and Thomas had no children. Tace's nephew apprenticed with her, eventually inheriting the family business.
Lydia Bailey (1779-1869) married the son of printer Francis Bailey. She took over her husband Robert's printing business after his death in 1808. Supporting herself and her four children, she ran the business, learned to set type and, as she wrote, instructed "forty-two young men, including some of the city's future master printers, in the typographic arts." She was commissioned "City Printer of Philadelphia," and served in that capacity for nearly fifty years.
Bookseller Thomas Simmons, publisher of works by George Fox, was the husband of the Quaker minister Martha Simmons, author of several published tracts and famous for her involvement in the Quaker leader James Nayler's entry into Bristol in the guise of Christ entering Jerusalem. Martha's works were published by her brother Giles Calvert, a leading radical publisher. Calvert's shop was run, after his death, by his widow Elizabeth Calvert, who continued as publisher of radical and republican works after the Restoration, despite continued harassment by the authorities. Hannah Allen, a stationer's widow who married her apprentice Livewell Chapman, and Martha Simmons were two of several women who were instrumental in keeping alive the opposition press in mid-seventeenth-century England after male confederate stationers' were silenced by execution, imprisonment or illness.
Ann Baldwin (fl. 1698-1711) was active in all aspects of her husband Richard's printing business, from accounting to editorial decisions. In 1698, after her husband's death, she took over the business. The Baldwin's were politically active, often in trouble for printing "anti-Stuart, anti-French, anti-Papal" tracts. The trouble did not stop Ann from continuing to publish the same sorts of material upon the death of her husband. She published two hundred and thirty-seven pieces after his death. Ann expanded the business's scope, publishing tracts concerning social welfare.
Mary Cooper was an eighteenth-century London bookseller who often commissioned the printing of books to be sold in her own shop.
The late 19th and early 20th century saw a renewed interest in quality commercial publishing book design, particularly in binding board design, jacket covers and illustration. Many women participated in this energized recognition of book design as part of the marketing of books. Now referred to as the "golden age" of commercial cover design, women provided covers that were pictorial, figurative and decorative. The cover designs are smart but delicate; bold but simple; evocative in their representation of the text within. Many of the designs contain the initials of the artists.
In 1911, Bremer Presse began book production in the country home of author Thomas Mann (1875-1955), moving to Tolz in 1918, and finally to Munich in 1939 where it continued production until 1944 when its presses and library were destroyed by Allied bombs. The model for Bremer Presse was Doves Press in England, following it's typographical and design standards. Bremer Presse was run under the literary direction of Ludwig Wolde. Its master printer was Willy Wiegand, who had the help of Rudolf Alexander Schroder, Hugo von Hofmannsthal, and Rudolf Borchardt. Anna Simons created initial and title-page designs, Josef Lehnachker created woodcuts, and Frieda Thiersch worked as book binder.
Hogarth Press was founded in 1917 by Leonard and Virginia Woolf as a distraction from the pressures of writing. They began printing in the dining room of their home in Surrey, England, using a small handpress. Hogarth Press soon became a small but successful commercial publishing house, although Leonard and Virginia selected what they printed strictly for themselves, their friends and acquaintances. Central figures in the Bloomsbury group, the Woolfs published new and experimental works by many relative unknowns at the time – Katherine Mansfield, T. S. Eliot, Robert Graves, E. M. Forster, John Maynard Keynes, Vita Sackville-West, and, of course, themselves. They also published first English translations of contemporary foreign works. Their press provided artistic avenues for photographers, illustrators, and designers. The Woolfs published thirty-four titles before 1932, all in letterpressed editions. In 1938, Virginia gave up her interest as a business partner.
Hours Press was founded in 1927 by Nancy Cunard, an ex-patriot from the English upper-class. Cunard, who began writing poetry in the 1910's, settled in Paris after World War I. There she became involved in the Dada, Surrealist, and Modernist movements. Cunard began printing in an old farmhouse in La Chapelle-Reanville, Normandy. She specialized in publishing writers who were having a difficult time being recognized elsewhere. Hours Press closed after four years. Nancy Cunard became involved in the civil rights movement in the United States, collecting writings by and about African-Americans, which she then edited and published in the anthology Negro in 1934. From 1936-1939 she lived with Pablo Neruda in Madrid. Cunard died in Paris in 1965.
Trovillion Private Press was founded in 1908 by Hal and Violet Trovillion in Herrin, Illinois. The couple focused on reprinting somewhat obscure texts from the fifteenth and sixteenth centuries. They printed fifty titles between 1908 and 1958. Inspired by the work of publisher and printer Thomas Bird Mosher, who was recognized by his contemporaries for his use of fine paper, beautiful design, and modest pricing, the Trovillion's began publishing under the name "At the Sign of the Horse." They maintained a lively friendship and extensive correspondence with other American publishers and many writers, including Daphne du Maurier and John Cowper Powys. The Trovillion's printer's device consists of a combination of three pieces: the bowpiece recognizes the Venetian gondolas Hal Trovillion admired while on a trip to Italy; a swimming horse; and the fleur-de-lys, first connected with printing as a watermark on Italian paper made in 1314 and a compliment to Violet's French descent.
Kate Roberts was a Welsh-language author of the twentieth century. She was married to printer Morris T. Williams. They bought the Gwasg Gee printing house. When Morris died in 1946, Kate worked the press for another ten years. Grief over the death of her brother in the First World War led Roberts to writing. Most of her work is set in north Wales, where she grew up. She wrote mainly about humble people struggling with poverty but overcoming, nonetheless, difficulties and disillusionment. She used themes such as the role of women in society. She belonged to the Welch nationalist party. The progressive ideas from that movement are major themes in her work.
Helen Marguerite O'Kane and her husband, printer and illustrator Clarke Conwell, began Elston Press in the last decade of the nineteenth century. Inspired by William Morris, they emphasized quality in design and printing. Their overall production of their books was somewhat controversial. Early critics called their style ostentatious. Others argued that the books carried well the use of bold, striking type and heavy, ornate illustration.
Gwen Raverat illustrated Frances Cornford's Spring Morning (1915), Laurence Stern's A Sentimental Journey (1932), and Charlotte M. Yonge's Countess Kate (1948). She is perhaps best known for Period Piece, her memoir of her childhood. Raverat was the granddaughter of Charles Darwin.
Bad changes