2001 Mark Fuller
Fountains: Using Technology to Create Happiness, Joy and Pleasure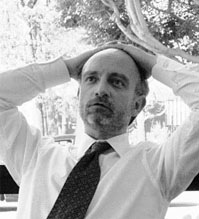 Mark Fuller, Chairman and Chief Executive Officer of WET Design, Universal City, California, is a Utah native and University of Utah Graduate. He is the motivating force of WET (water entertainment technologies) Design, the world leader in water feature design and technology. His creative vision is responsible for a new form of performance art, of which The Fountains of Bellagio is the pinnacle of the company's achievement.
Fuller's firm has created a new reference for the modern water fountain by changing the nature of water as a vital component in the urban landscape. Each of their projects is heavily invested with technology, but the technology is subordinated to a result that is fundamentally about making pleasurable the life experience of those who encounter the work.
While earning his Honors Bachelor of Science degree in Civil Engineering, his five and a half years at the University of Utah also included extensive study in liberal arts, theater design and physics. Fuller's career can trace its roots to his University of Utah honors undergraduate thesis on axisymmetric laminar fluid flow and its application in creating architectural scale water features. His honors thesis entitled, "An Application of Axisymmetrical Laminar Flow to Fountain Design," merited an award from the American Institute of Architects (AIA).
After graduating from Stanford University with a Master's Degree in engineering and project design, he worked in the special effects department for the Walt Disney Company for six years, supervising the creation of more than 500 special effects and water projects for the Disney parks.
Perhaps the fountain for which he is most regarded is the Epcot Leapfrog, a first in that the fountain ignores its boundaries as the water leaps out of its confines and into the people spaces. This was the first in a series of public water feature innovations that sprang from Fuller's constant questioning of the "why" behind the time-honored approaches, and the search to resolve each challenge with the essential, minimalist solution.
Leaving Disney in 1984, Fuller co-founded WET Design. His firm's work is international in presence, widely published, and the winner of numerous awards. The firm has realized over 200 completed installations. The result has been over forty patents on water interaction, illumination, control systems, and fluid control devices. WET Design was chosen to design the cauldron for the Olympic Games to be held in Salt Lake City in February 2002.
In presenting the 2001 Gould lecture, "Fountains: Using Technology to Create Happiness, Joy and Pleasure," Mark Fuller will, through photographs of completed projects and glimpses behind-the-scenes, show and discuss the advancement of fountains over the last two decades. His firm has led the evolution from traditional water displays to engaging, often interactive and always intriguing water experiences. The technologies employed by Mr. Fuller's firm, WET Design, include submersible robotics, fiber optics, laminar flow, controlled displays of fire, and unconventional means of propelling and illuminating water expressions.