Library History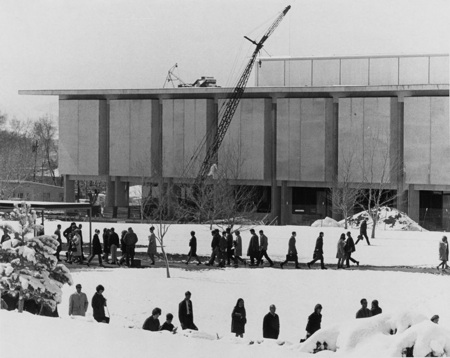 The University of Utah Library was constructed and opened in 1968. At that time, the library housed over one million volumes and provided seating for three thousand students. The building was dedicated on May 18, 1968 with an address by Wallace Stegner, a distinguished alumnus and former professor of the University of Utah, who was awarded the Pulitzer Prize for Fiction in 1972. The library holds Stegner's personal papers.
In 1969, the University Library was named in honor of J. Willard Marriott, Sr., who contributed $1 million for library collections. J. Willard and his wife, Alice Sheets Marriott, were both alumni of the University. Mr. Marriott delivered a brief speech to rededicate the building on August 16, 1969.
In 1996, the Marriott Library was expanded from 278,000 square feet to 488,000 square feet. The new space contained over thirty-two miles of shelving and a large multimedia center. The building was again rededicated on October 2, 1996 by keynote speaker, Dr. Karen R. Lawrence, who was then a professor of English at the University, and who became president of Sarah Lawrence College in 2007.
In 2000, the Marriott Library commenced the multimillion dollar Renovation-Innovation Capital Campaign to fund major building-wide renovations. Renovation began June 1, 2005 and concluded June 30, 2009. The building remained open to patrons throughout the entire project. The 2009 renovation increased interior space within the library to 516,000 net square feet.
A rededication ceremony for the renovated Marriott Library was held October 26, 2009. The program included a keynote address by Former First Lady Laura W. Bush and comments by J. Willard Marriott, Jr., Chairman and CEO of Marriott International.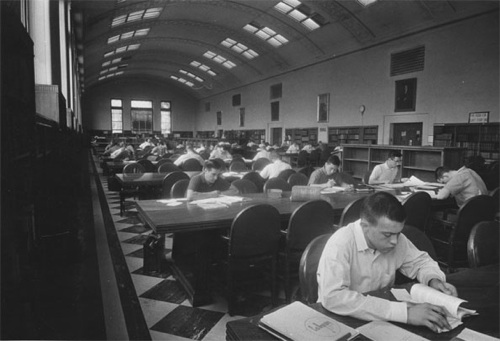 Early History of Libraries at the University of Utah
1850—Three years after pioneers reached the Salt Lake valley, the University of Deseret appointed the first University librarian, William I. Appleby. The first recorded donations to the University were in the form of books.
1874—University President John R. Park opened the library and reading room stocked with his personal collection of books on loan to the University. The reading room provided seating for 50 students.
1900—The library was located in what is now the LeRoy Cowles Building on Presidents Circle. It housed 12,950 volumes and provided seating for 100 students out of a student body of 765.
1906—The first professionally trained librarian, Esther H. Nelson, was hired by the University.
1935—The library moved to the George Thomas Library Building, which served as the Utah Museum of Natural History, and later the Crocker Science Center. The Utah Museum of Natural History moved to Research Park in 2011.
Contact
Knowledge Commons
801-581-6273
Administration
801-585-9521
---
Heidi Brett
Marketing and Public Relations Director
801-585-7758
Email