Knowledge Commons
Located on Marriott Library Level 2
Main service desk for research and technology assistance
Equipment and devices available for checkout
Printing, scanning, and software support
Laptop and mobile device configuration
Group study rooms and classroom support
Computer Labs
Mac and Windows computers are available in three open labs across campus.
Software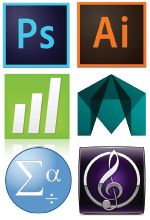 Our computers have over 250 software titles available for web and graphic design, media editing, statistical analysis, 3D modeling, and more.
You can access many of these applications remotely on your mobile device or home computer.
Students can get a personal copy of Adobe Creative Cloud, Microsoft Office or Windows, or Office 365 (compatible with phones and tablets). Assistance is available at the Knowledge Commons desk.
Printing & Scanning
Standard black & white and color printing is available in all labs or from personal laptops. The Knowledge Commons also has 11"x17" printing and poster printing up to 42" wide on matte or semigloss paper. 
Flatbed scanners are available in all labs. In the Marriott Library you can find scanners for stacks of pages, books, film, microfilm, and large format items up to 36" wide.
Student Checkout Equipment

Students can check out a variety of equipment from the Knowledge Commons desk on Level 2 of the Marriott Library, including:
Audio and video cables
Calculators
Device chargers
DSLR and video cameras
Graphics tablets
Laptops and tablets
Technology Assistance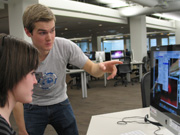 Student workers in our computer labs can assist with a variety of issues, including setting up mobile devices for UConnect and UMail, using the software in our labs, printing and scanning, and other technology questions.
Classrooms & Study Rooms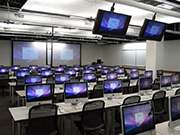 We support the computers and media equipment in the library's classrooms and study rooms. Many of the study rooms have an LCD monitor for connecting a laptop. Most are available on a first-come, first-served basis, with priority given to groups, while a few can be scheduled in advance.
Contact
Knowledge Commons
801-581-6273
Mac Feedback

801-581-6273
Live Chat -

chat loading...
Related Links
Academic Advising
Fine Arts & Architecture Library
Reference Resources
Writing Center
Technology Links
Box Cloud Storage
Campus Computer Labs
CSBS Computing Guides
CSBS Virtual Lab
Fine Arts Server Information
Research Computing Support
Software Licensing
VPN Installation