Student Checkout Equipment
Technology and audiovisual equipment is available for checkout at the Knowledge Commons desk on Level 2, with select items available at the Security & Information desks on Levels 1 and 3. Most equipment checks out for 24 hours. If we are closed when an item would normally be due, the due date rolls over to closing time the following day.
Renewals: 24 hour items can be renewed in person at the Knowledge Commons or Information & Security desks. 3 day items cannot be renewed. When you return a 3 day item, you must wait until the following day to check one out again.
* Item checks out for 3 days
** Item must be used in the Marriott Library
Audio & video cables
HDMI cable

DVI to HDMI
Lightning adapter
Micro HDMI adapter
Mini HDMI to HDMI
SlimPort (Micro USB) adapter
Thunderbolt/Mini DisplayPort adapter
USB-C multiport adapter (Apple)
VGA to HDMI converter

VGA cable

30-pin adapter (iPhone 4)
Extension cable
HDMI to VGA converter
Lightning adapter
Thunderbolt/Mini DisplayPort adapter
USB-C multiport adapter

Auxiliary (audio) cable

Auxiliary splitter
Auxiliary to RCA
Extension cable
Calculators
Also available at the Security & Information entrance desks

Financial calculator
Graphing calculator
Scientific calculator
Cameras
Canon EOS Rebel T6 DSLR with 18-55mm lens
Canon Vixia HF R300 & R700 video cameras
GoPro HERO5 Session
Microsoft LifeCam Studio webcam
Samsung Gear 360 video camera
Tripod
Tripod phone adapter
Wireless microphone for video cameras
Classroom & study room equipment
40" television cart**
Short throw projector
Presentation clicker with laser pointer
Wireless microphones (lapel, handheld, and headset microphones)
Device chargers & data cables
Bold items also available at the Security & Information entrance desks

Battery pack for USB charging
FireWire 800 (9-pin) cable

FireWire 4-pin (DV) to 800
FireWire 6-pin (400) to 800
Thunderbolt adapter

MacBook power adapter
Surface 65W power adapter (Surface Pro 3/4, Surface Book)
USB cable (including iPhone and Android charging)


30-pin to USB
Lightning

Micro USB 2.0

Micro USB 3.0
Mini USB
USB Type B
USB-C

Wall adapter for USB charging
External media & disc drives
3.5" floppy disk drive
Blu-ray burner
DVD burner (Mac and PC)
Flash drive
Hard drive enclosure
Memory card reader
Zip drive
Graphics tablets
Laptops & tablets
13" MacBook Pro
Lenovo Thinkpad (T450s/460s/480s, P40 Yoga, and P51)
ACER Chromebook C810-T9CA and CB3-431*
Instructor cart (24 13" MacBook Pros; must be scheduled in advance)**
iPad
iPad Pro with Apple Pencil and keyboard
Microsoft Surface Book
Microsoft Surface Pro 4
Media players, recorders, converters
Analog to digital video converter (RCA or S-Video to FireWire)
Audio cassette player & recorder
Digital voice recorder
Foreign standard VCR & DVD player cart**
MiniDV and VHS conversion cart**
Turntable cart**
VictorReader Stream media player & recorder
Miscellaneous
Bluetooth speakers
Computer keyboard
Computer mouse
External GPU (eGPU): Radeon RX 5700 XT & Radeon Pro WX 9100
Film scanning trays
Headphones
Headset with microphone
Lapel microphone
MIDI music keyboard**
Mobile hotspot*

Thunderbolt to ethernet adapter
Video game consoles & controllers
Controllers work with the video game consoles and virtual reality stations in the Level 2 ProtoSpace. Laptops that work with the checkout VR kits are also available.
HTC Vive & controllers*
Nintendo 3DS*
Nintendo Switch*
Oculus Rift & controllers*
PlayStation 3 controller
PlayStation 4 controller
PlayStation Move*
PlayStation Vita*
PlayStation VR Aim*
PlayStation VR Headset*
Wii U Gamepad, Nunchuk, Pro Controller, and Wiimote
Xbox One controller
Xbox 360 controller

* Item checks out for 3 days
** Item must be used in the Marriott Library
Contact
Knowledge Commons
801-581-6273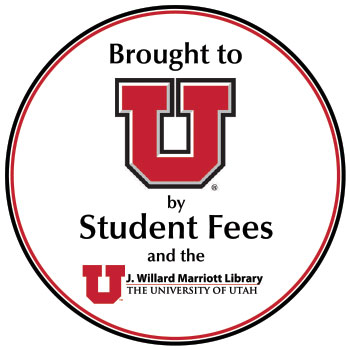 Related Links