1994 Alan C. Ashton
"A 'Perfect' Journey" WordPerfect Helping the World Communicate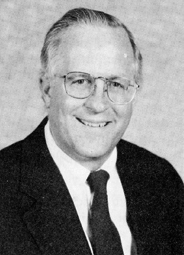 Alan C. Ashton, co-founder of WordPerfect Corporation, was born and raised in Salt Lake City, Utah. In 1966, Dr. Ashton graduated magna Cum Laude from the University of Utah with a bachelor's degree in mathematics. He immediately began pursuing a Ph.D. in the newly formed Computer Science Department, which at the time was part of the College of Engineering. This department was believed to be one of the finest in the world; professors included notable computer scientists Dr. David Evans, Dr. Ivan Sutherland, and Dr. Elliot Organick.
After receiving his Ph.D. in computer science in 1970, Dr. Ashton taught computer science and conducted research as an Associate Professor at the University. In 1972, Dr. Ashton joined the Computer Science Department of Brigham Young University as an Assistant Professor. He taught computer science at BYU for 14 years and, in 1986, was elected "Outstanding Professor of the Year" by the graduating computer science class.
WordPerfect's word processing software evolved from an idea that Dr. Ashton conceived as a graduate student in 1969. He submitted two options for computer research projects to his professors, one involving music and the other involving word processing. His professors opted for the music project and it was not until nine years later, in 1978, that Dr. Ashton revived his other idea and started working with Bruce Bastian on what would become the world's all-time best-selling word processing software.
Dr. Ashton and Mr. Bastian founded Satellite Software International (SSI) in 1978 and changed the company's name to WordPerfect Corporation in 1982. In 1987, the same year that he left BYU to serve full time as president and CEO of WordPerfect Corporation, Dr. Ashton was honored by the Small Business Association of Utah as the Entrpreneur of the Year.
In 1993, WordPerfect Corporation employed more than 5,000 people worldwide and realized revenues of more than $700 million. In 1994, the company was acquired by Novell, Inc.; the combined company is the third largest PC software concern in the world.
Dr. Ashton currently serves on the board of directors of both Novell and Utah Valley State College.
Dr. Ashton now enjoys spending more time with his wife, Karen, and their 12 children. A man of commitment to God, family and humanity, Dr. Ashton also enjoys church service, music and competitive tennis.