3D Printing
Do you have access to resources that can support the production of medical resources?
Please conact us here.
The Marriott Library offers 3D printing services to University of Utah students, staff, and faculty per the 3D Printing policy.  We have twenty-eight 3D printers and provide detailed 3D printing instruction and support. 
3D Printers at the Marriott Library
Lulzbot TAZ 6 (14 printers):
Build volume / Printable Area: 280 x 280 x 250 mm (11 x 11 x 9.8 in)
Filament: 3mm (2.85mm) PLA or PLA+
Lulzbot Workhorse (4 printers):
Build volume / Printable Area: 280 x 280 x 285 mm (11 x 11 x 11.2 in)
Filament: 3mm (2.85mm) PLA or PLA+
Prusa i3 MK3S+ (6 printers):
Build volume / Printable Area: 250 x 210 x 210mm (9.8 x 8.3 x 8.3 in)
Filament: 1.75mm PLA or PLA+
Gigabot 3+ (2 printers):
Build volume / Printable Area: 590 x 600 x 600 mm (23.2 x 23.6 x 23.6 in)
Filament: 3mm (2.85mm) PLA or PLA+
If you need to start a Gigabot print, please fill out the following form and we will get back to you. Click here to fill out the form.
Ready to get started? We're here to help! Schedule a consultation or ask a question on our email list. 
Starting a 3D Print
Which 3D printer should you use?
The Prusa i3 MK3S offers amazing detail, and is great for tight tolerance parts and miniatures. The Lulzbot TAZ 6 is a robust printer with good quality and a go-to for larger prints. The Lulzbot Workhorse is the most recent iteration of the TAZ printers and performs very similarly to the TAZ 6. Lastly the Gigabot is our large format printer, if you have a project that won't fit anywhere else, please contact us at our email list below
mlib-3dprinting@lists.utah.edu
First claim your printer by grabbing the SD card from the machine:

 Then walk over and log into the 3D printing Mac computer using your uNID and CIS password. Insert the SD card we grabbed earlier into the reader to the left of the Mac.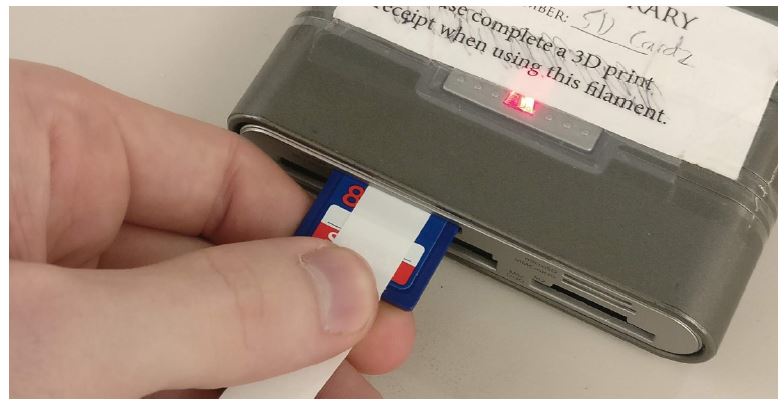 Once you've logged in, open PrusaSlicer to start preparing your print file.

Did your file import in the correct orientation? If not, follow these steps to fix it. 1. Click on the part. 2. Click 'Place on Face' or push F. 3. Click on desired bottom face.

Make sure you have the right settings selected. Choose Prusa i3 MK3S, TAZ 6, or TAZ Workhorse. You can also decide between Standard, High Speed, or High Detail from the Print Settings dropdown menu.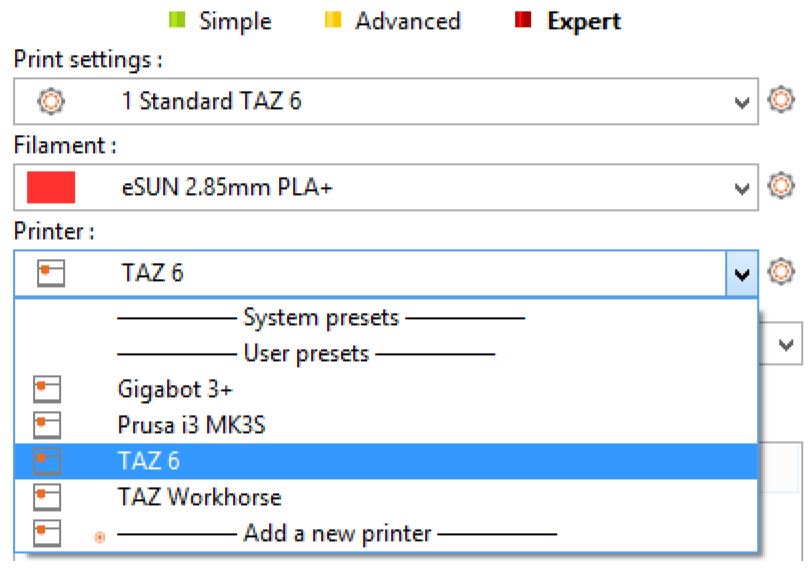 Click "Slice now" in the bottom right to generate the preview of your print. Please note that support is on by default! If you are unsure if your print requires support please ask.

Support material is not needed for this particular model, so change Supports from 'Everywhere' to 'None'

Look over the preview of your print, using the orange layer selection slider. Take note that you can see an estimated weight, cost, and time for your print in the bottom right corner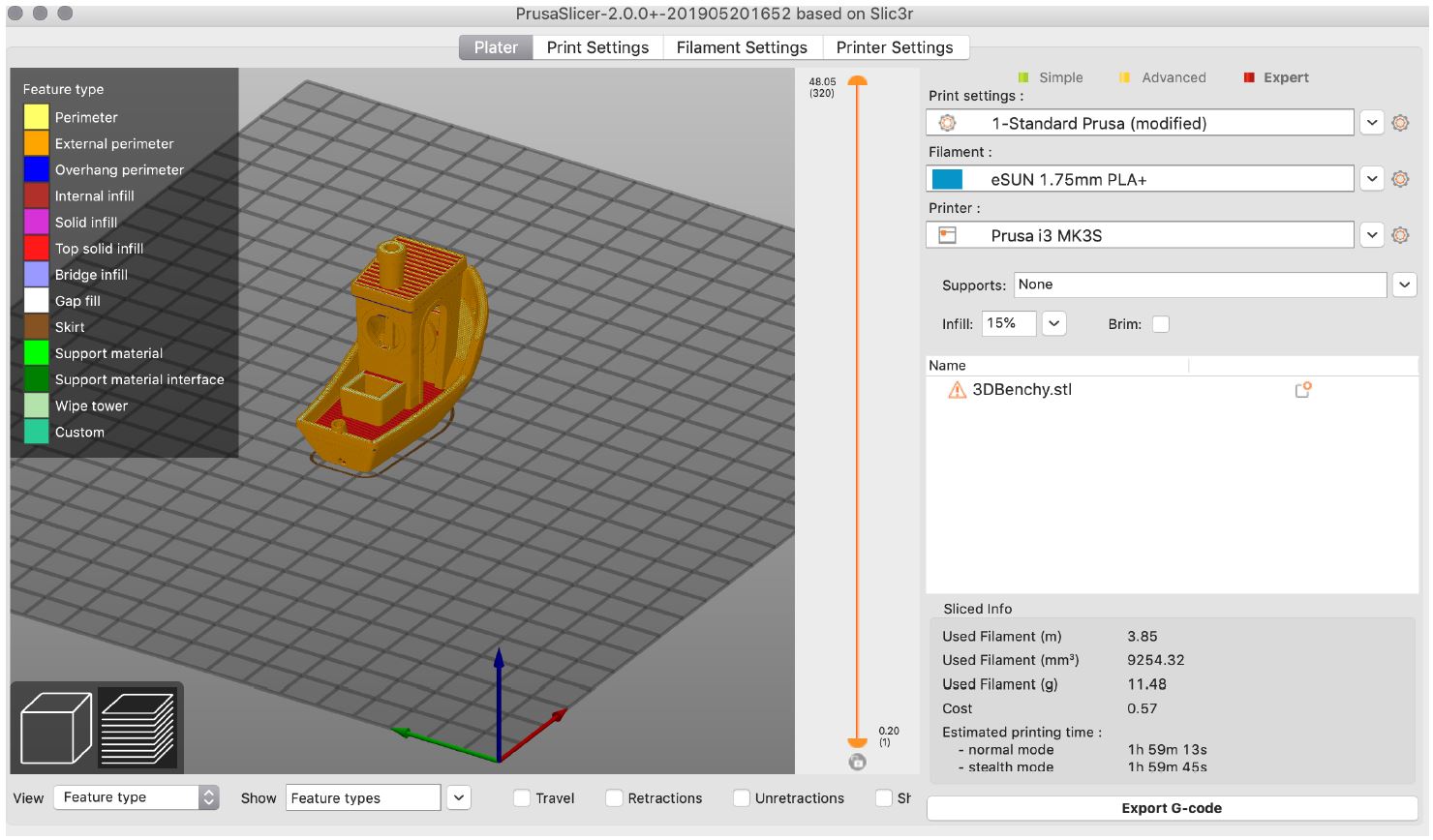 Now click 'Export G-code' and save the file to the SD card. Make sure one last time you have the right settings selected! Remember, Prusa is Orange, TAZ 6 is Green, Lulzbot Workhorse is White.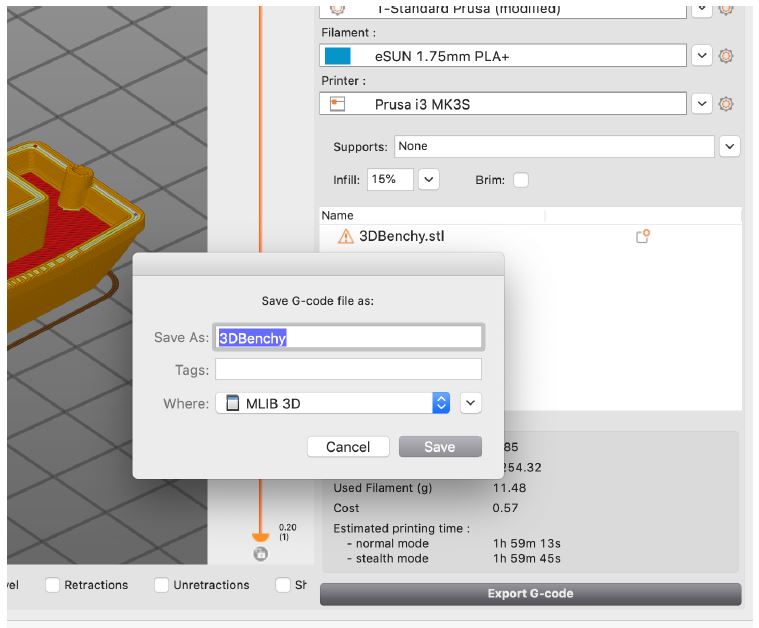 You've got your file ready to go! Now grab a 3D Print form to the left of the Mac and fill it out, leave the weight blank, you'll weigh your print after it's finished
To start the print, get the SD card and take it over to the appropriate printer. Please note the SD card always goes in backwards, with the metal contacts and the words 'MLIB 3D printers' facing the front.

Once you insert your SD card, the Prusa printers will detect it and bring up the 'Print from SD' menu automatically, from there you will turn the knob to highlight your file and select it by pressing on the knob.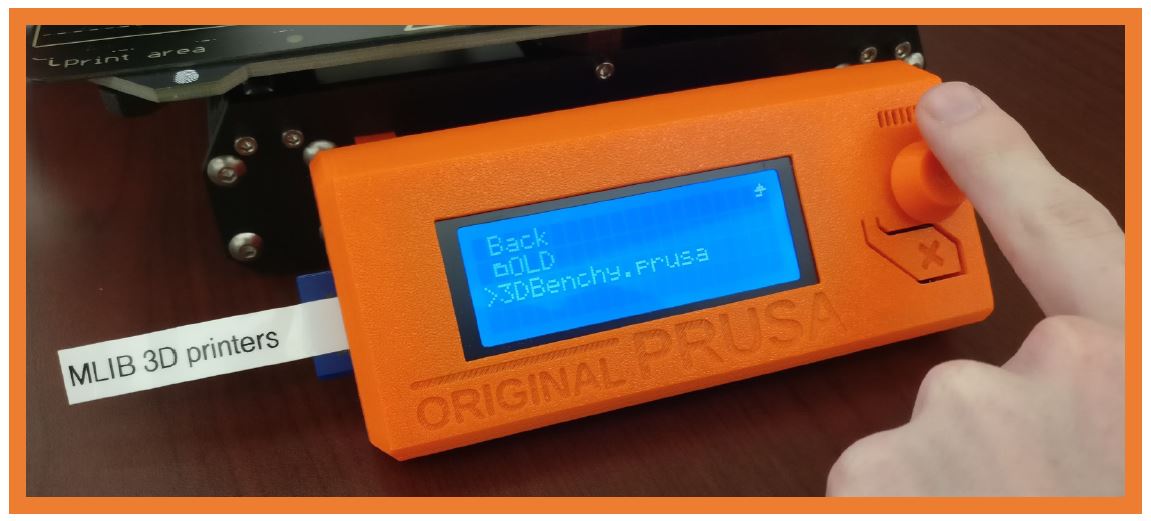 For the TAZ 6 and Workhorse, with the SD card inserted, push in the knob to open the main menu, then scroll down to 'Print from SD' and select your file.

Now before you go, make sure to watch the first layer of your print! The plastic should be sticking to the bed, and coming together in consistent, connected lines. If the top surface of your first layer is rough or has gaps you might have a problem, and should consider restarting or asking 3D printing staff for help.

If you have any questions this guide did not answer, please email us at mlib-3dprinting@lists.utah.edu
Frequently Asked Questions
How do I load filament? Set a temperature of ~200 C using the LCD control panel on the printer. Loosen the idler screws on the extruder toolhead, open the filament clamp assembly, remove old filament, insert new filament, close the filament clamp assembly, and tighten the idler screws. Watch a video demonstration here: https://www.youtube.com/watch?v=18fRGUa81Aw
The LCD on the printer says "Err: Reslice for PLA" What does it mean? This error occurs when the wrong material is selected in Cura. Step 5 in the instructions above details the correct material selection. Note: this error does not clear automatically. Turn the printer off, then on again, to make the error go away.
Why can't I print with ABS, Ninjaflex, or other high-temp plastics?
Because our printers are not externally ventilated, we only print with low-UFP emitting materials.
Where can I find 3D models? Thingiverse, NIH 3D Print Exchange, ShapeWays, YouMagine, and Yeggi all have 3D models available for download, though some of them do have associated costs.
Why can't I print with ABS or flexible filaments? ABS and other high-temp filaments produce toxic fumes which cannot be vented safely.
What filament should I buy? Recommended Filament: Amazon.com eSUN 3mm PLA PRO (PLA+) 3D Printer Filament 1KG Spool. Other colors are available, just be sure the type (PLA+) and diameter (3mm/2.85mm) are correct.


Copyright
You agree to abide by copyright guidelines as outlined on the Copyright Overview & Resources page.
Contact
Email 
801-585-5921
Related Links