Video Projects
Student Success Advocates
Project Examples
Toward a Pedagogical Practice
Working with faculty in the Musical Theatre Program we helped develop a longterm project where video analysis is used to better understand the artistic growth of resident 
As in any performance oriented activity, it is essential that a student can see where an instructor is encouraging attention and change. These video archives have provided that opportunity to our students. They have facilitated the teaching process as well as provided an archive of the student's work. What started off as a lark for one class has become an essential tool for both the teaching and the record.
The students have truly benefited from watching their progress over the semesters and have spoken about the positive effect this observation has had on the way they are able to target and effect change in their performance outcomes. By the time they reach their advanced level, they are, also, actually thrilled to be able to begin to assemble a video portfolio of work they would be proud to submit for positive casting opportunities. Denny Berry, Director, Musical Theatre Program
THIS VIDEO IS USED FOR EDUCATIONAL PURPOSES ONLY. ALL RIGHTS ARE THOSE OF THE COPYRIGHT OWNER OF THE MUSIC, LYRICS, AND PERFORMANCE.
Digital Storytelling in the Humanities
Faculty from Writing for Social Justice and Environmental Writing in the humanities have taken workshops that we have offered on incorporating digital/visual storytelling into their existing pedagogy.
We were embedded throughout the semester to help visualize new mediums for writing. Working with faculty and students we built a pedagogical model for students to create, deliver, and reflect on writing through the use of digital storytelling via Wordpress. Making the transition from text base to visual was an exciting process.
Humanities in Focus
This engaging community project created leaders and gave rise to new voices. The program has been around for almost a decade and has trained 100's of SLC residents to tell stories through the documentary film genre. The video studio provided a place for students and faculty to workshop technical details and eventually provide a studio space for project production and editing.
Artist in Residence (Nebo Schools Title VII Program)
Engaging our students of tomorrow through outreach at a distance was challenging. I was a Utah Arts Council Artist-in-Residence where I traveled to Spanish Fork, Utah for a week and then hosted the students in the J Willard Marriott Library for a further 2 weeks. During the project we not only worked with young adults in the Indian Summer Education programs but we also built meaningful contacts with the teachers. Providing total logistical support from producing & filming, to final editing was not without a challenge but to see the faces of the families during a celebratory Pow Wow made me understand why we need to engage with our future students.
Nebo Title 7 Princess from Anthony Sams on Vimeo.
Engaging In service teachers
 Green screen and visual literacy
Working with pre & in-service teachers alike we built up a program to introduce visual literacy to elementary students. We provided hands on support and training with the equipment and technology needed for the project. Much time was devoted to building skills to a prerequisite level for autonomous project creations. 
Podcasting
The Video Studio has an isolated post-production room available with a suite of updated software for recording, capturing, and producing content for your classes. We offer workshops throughout the semester along with drop in support (See Schedule Consultation Time) for help with recording content for courses, workshops, and conferences. 
We have the following popular software available to use (and much more):
Adobe CC 2015 (complete)
Avid Media Composer
Camtasia 2
HandBrake
ScreenFlick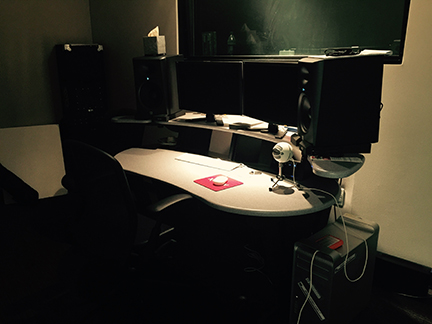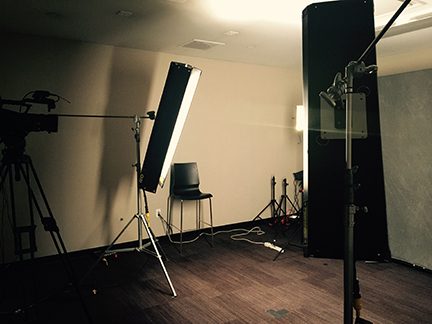 Flipping Your Classroom
If you need help with developing course content for Flipping your class (traditional or hybrid) we are available. Over the last 9 years we have worked with faculty around campus to developing short online learning objects that were intended to augment traditional leaning to allow for more meaningful classroom engagement. Apple Computers started Podcast Producer years ago that was embraced by the Marriott Library (with support from Richard Glaser-Mac Systems) that brought the flipped classroom from concept to reality. Over the years the technology has changed but we continue to provide augmentation capabilities to support the merger of technology, content, and pedagogy.
PSTEM (STEAM) Supported Program for Graduate School Preparation
Working with the Assistant Dean of Diversity we provided support to record and produce a series of videos that documented a special program that was established to build a path toward graduate school for underrepresented students from around the country. We helped plan and conduct a series of timely interviews to capture the student experience while on campus to document the success of the program. 
Nontraditional students are enrolling in colleges and universities in record numbers. These students have unique lifestyles - with tenacity and grit, they work toward accomplishing their educational goals.
Nontraditional students, including first-generation students, older adults and ethnically diverse students, are the new majority on college campuses. U. S. adult learners total 6.8 million and account for as much as 70 percent of college enrollment. - Lumina Foundation - Jan 2011
This project was made possible by the University of Utah's University College and The MUSE Project.
Giving Voice to Nontraditional Students from Amy Jensen on Vimeo.
The U & You is a longitudinal storytelling project designed and conceived to track the academic and social growth of our number one asset. You! The project aims to interview as many students as possible once per semester for a 10-15 minute interview. The project has multiple uses for the university for recruitment, retention, marketing, and adjusting policy to accommodate the ever changing needs of our student body.
The U & You Digital Storytelling Project from Amy Jensen on Vimeo.
Building learning objects to support a published work.
Chris Duval in the ATP program developed a book on stage combat and we worked with him to create a series of videos that supported his academic and professional development. Over a few months we planned, filmed, edited, and produced a workshop of videos that will support his forthcoming textbook.