Wallace Stegner Exhibit
Contact: Photograph Archives
801-585-3073
Wallace Stegner Exhibit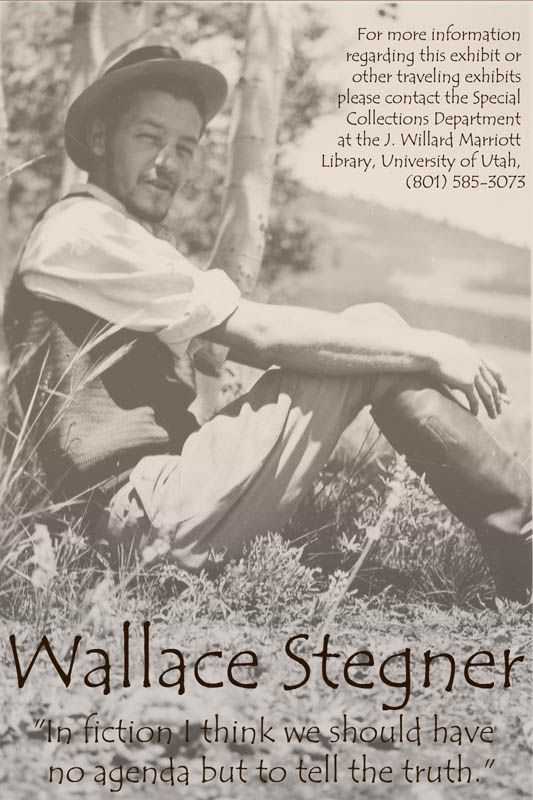 Wallace Stegner
1909 - 1993
The following images and quotes were part of an exhibit created for the 2009 Stegner Center Symposium celebrating the 100th anniversary of Wallace Stegner's birth.  All images and quotes come from the Wallace Stegner collections of photographs, manuscripts, books, and articles in the Special Collections Department, J. Willard Marriott Library, University of Utah.  For more information on these collections, please contact the Special Collections Department at (801) 581-8863.  The finding aids for the Wallace Stegner Papers (MS676) and the Wallace Stegner Photograph Collection (P0561) are available online.  The J. Willard Marriott Library hold copies of all of Stegner's published works, which can be found in the library's Online Catalog.  Finally, in commemoration of Wallace Stegner's anniversary, and in conjunction with the Wallace Stegner Center at the University of Utah's College of Law, the J. Willard Marriott library created a website, WallaceStegner.org, where further information can be found.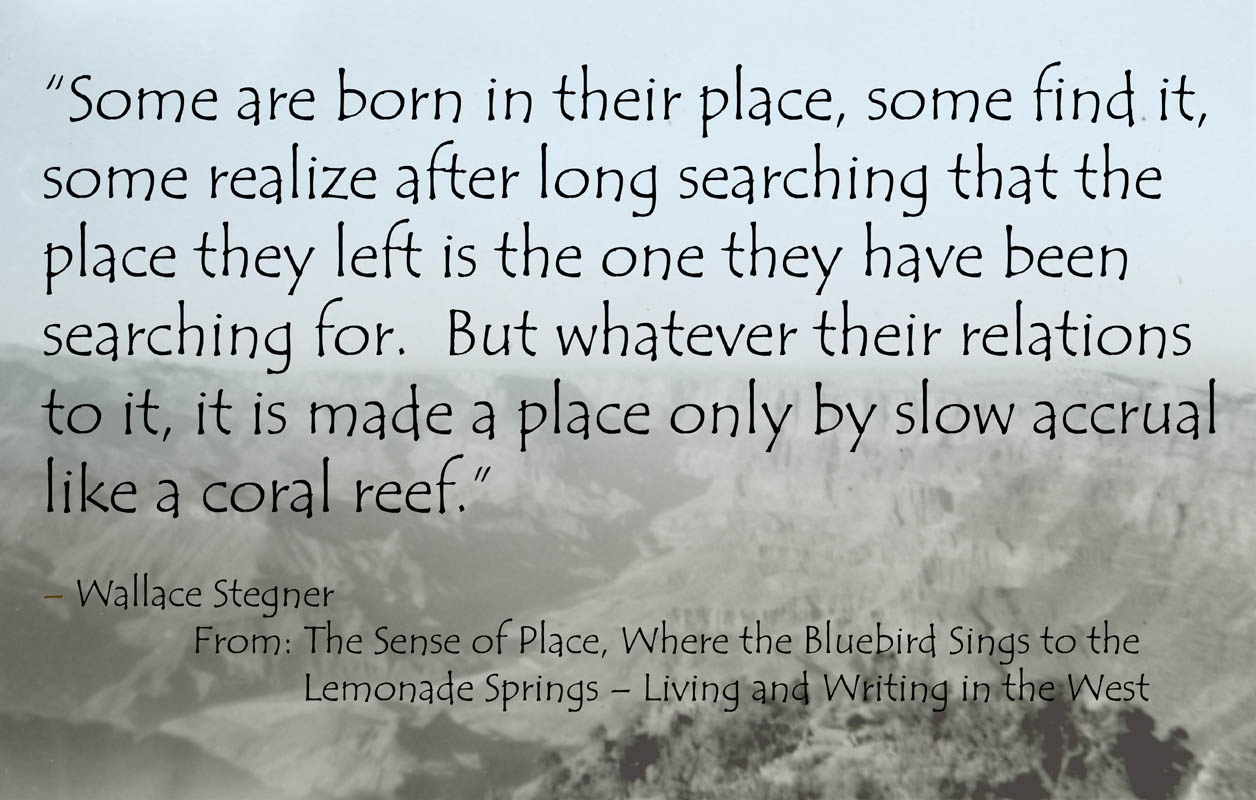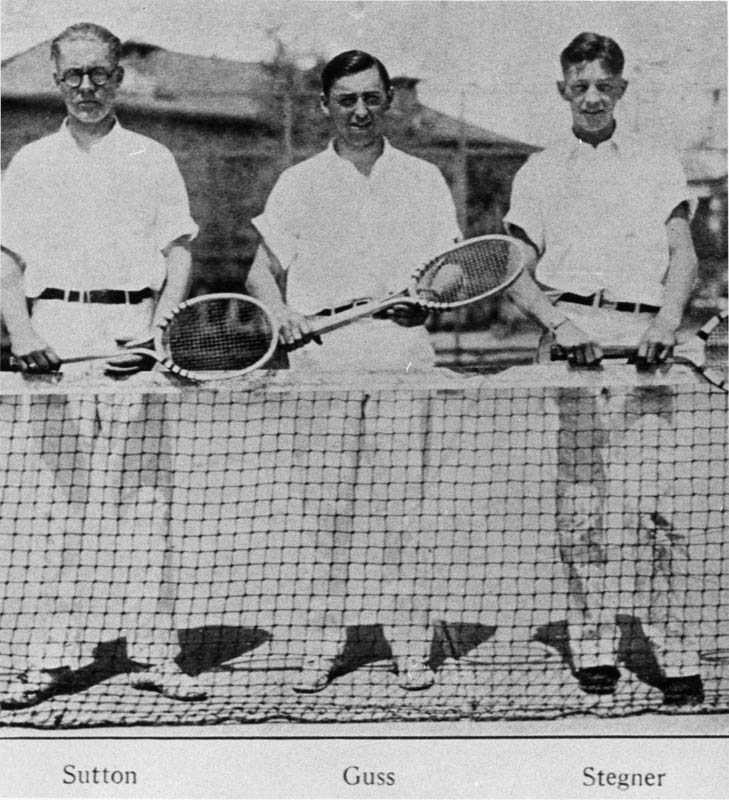 Wallace Stegner with members of the University of Utah tennis team, 1929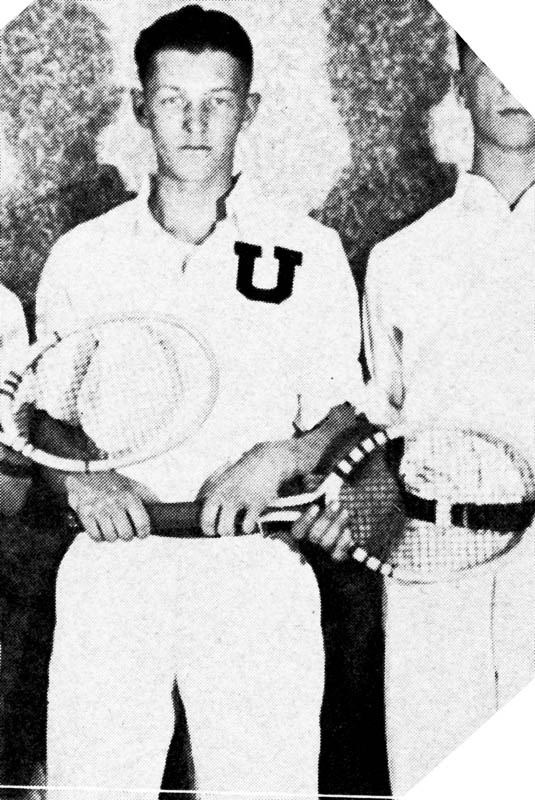 Wallace Stegner featured in the UTONIAN, the Univeristy of Utah's yearbook, as a member of the tennis team in 1930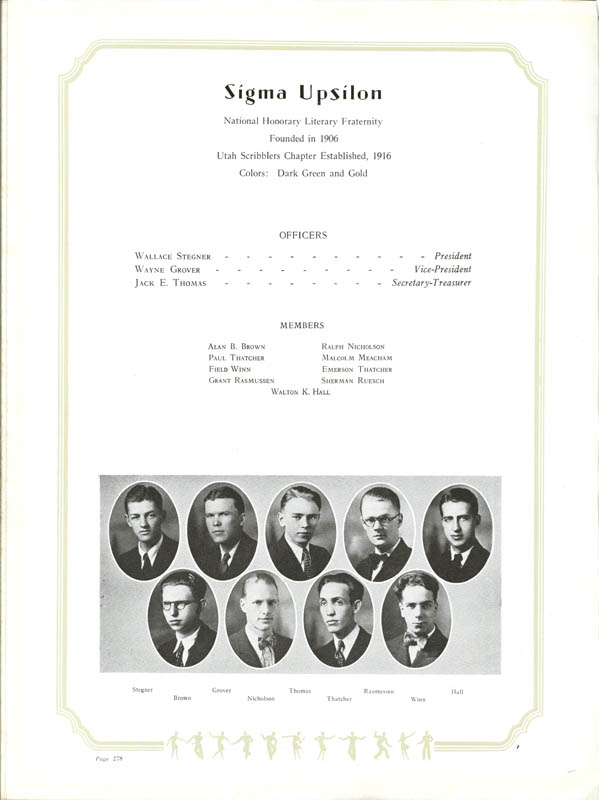 In a foreshadowing of his later success as a writer, Stegner served as president of Sigma Upsilon, the literary fraternity, in 1929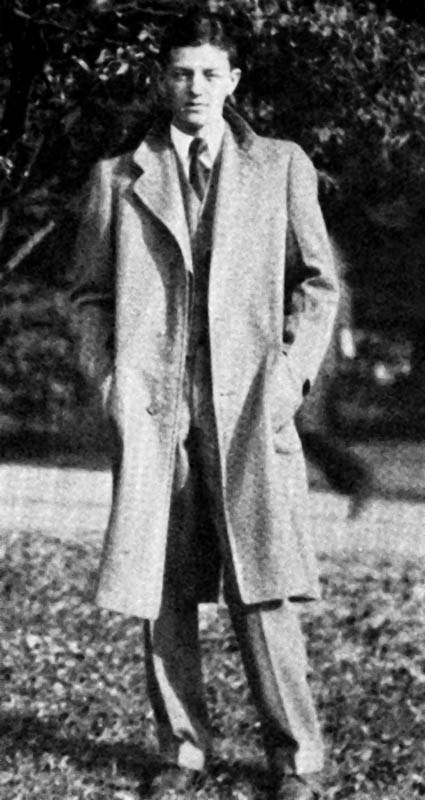 And within two years, he had been named as editor of The Pen, the literary magazine published by Associated Students of the University of Utah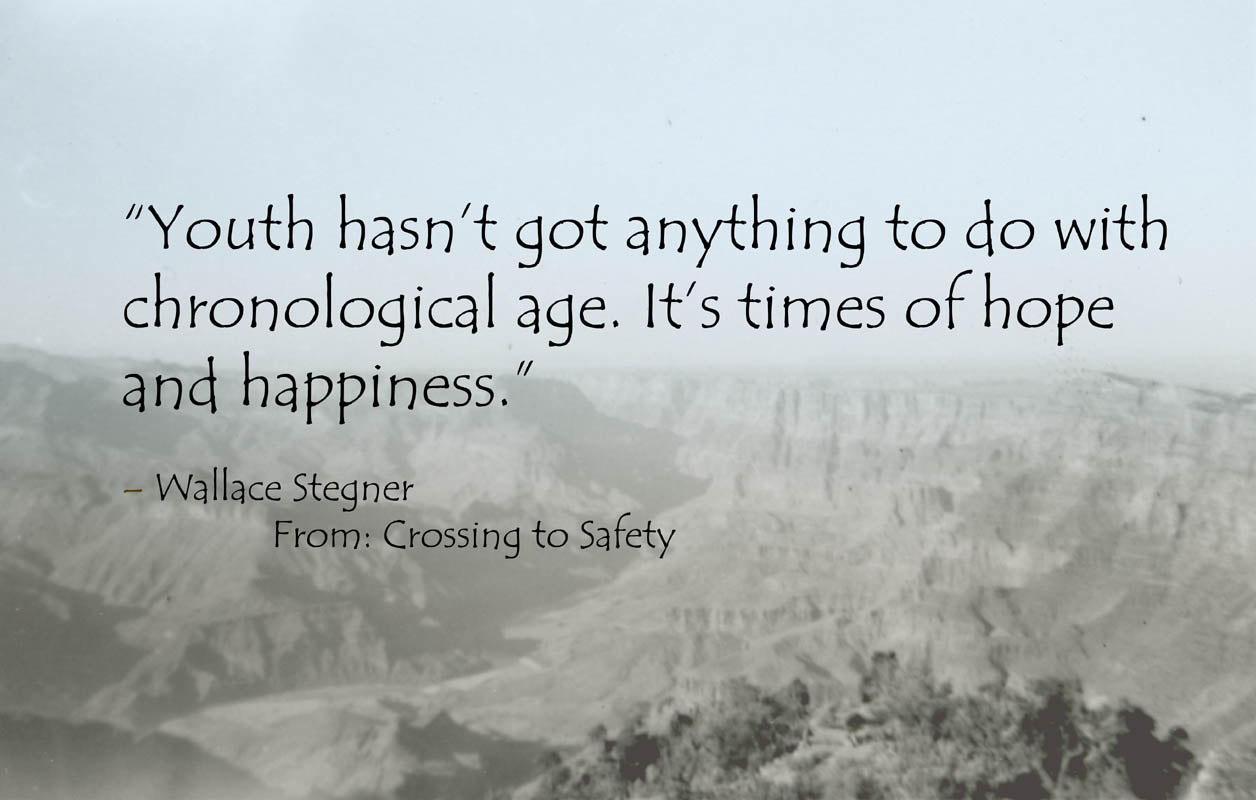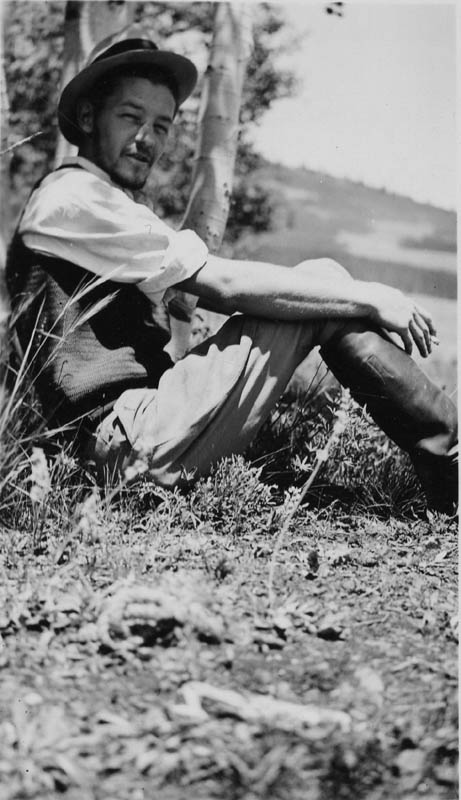 Stegner, born in Lake Mills, Iowa, moved frequently in his youth.  On the back cover of his 1992 book, Where the Bluebird sings to the Lemonade Springs: living and writing in the West, he describes his childhood as having "lived in twenty places in eight states and Canada."  The concepts of Place and Home would later be key themes in many of his writings.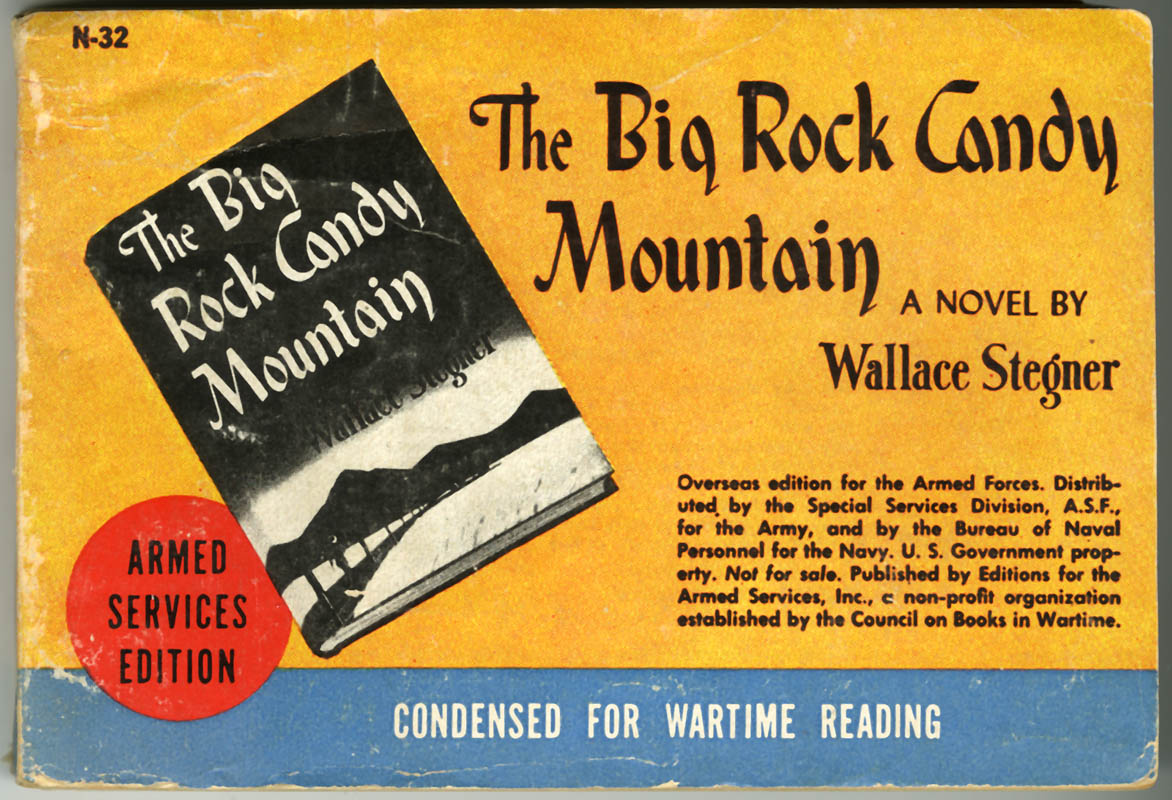 Stegner began gaining critical acclaim early in his career. His first novel, Remembering Laughter appeared in Redbook magazine and was the winner of a Novelette Contest sponsored by the publisher Little, Brown, and Company.It was released by them in 1937. His next novel, The Big Rock Candy Mountain was published in 1943. Though fictional, it was based on his personal experiences and inspired novelist Sinclair Lewis to describe Stegner in The Saturday Review of Literature as one of the most promising young writers in America.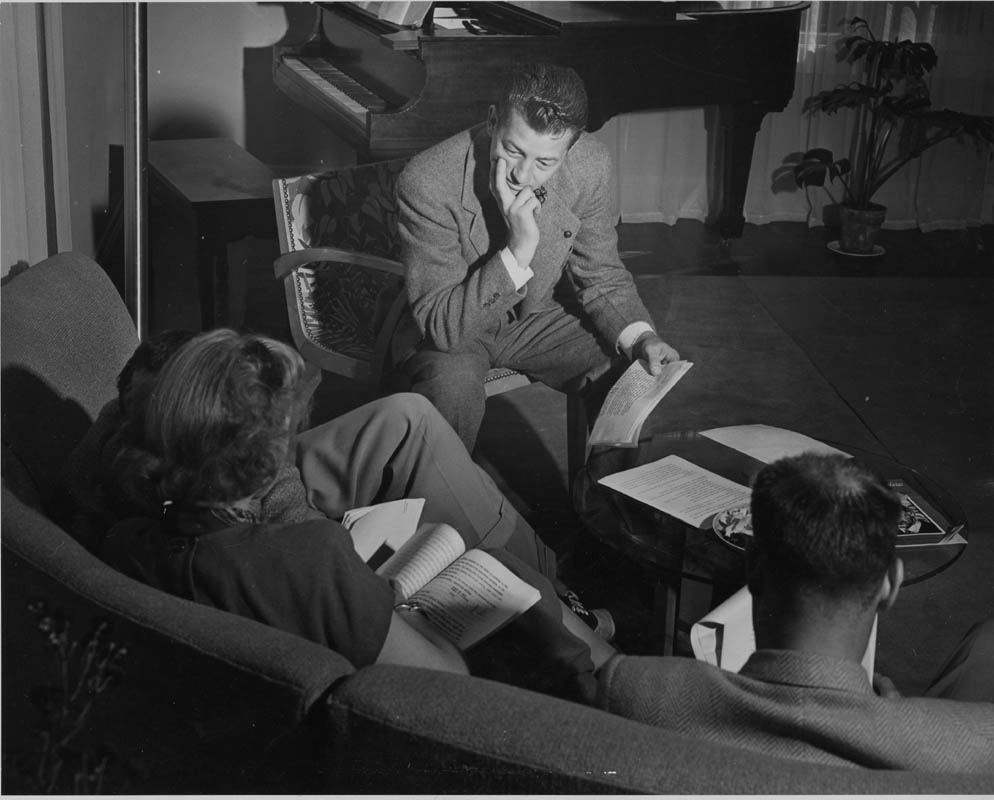 Stegner, affectionately known as "Wally," sitting with his writing students in the Campus House at Harvard University, where he taught from 1939-1945.  Many of his writing students would go on to have prolific careers themselves, including Edward Abbey, Robert Haas, Sandra Day O'Conner, and Scott Turow.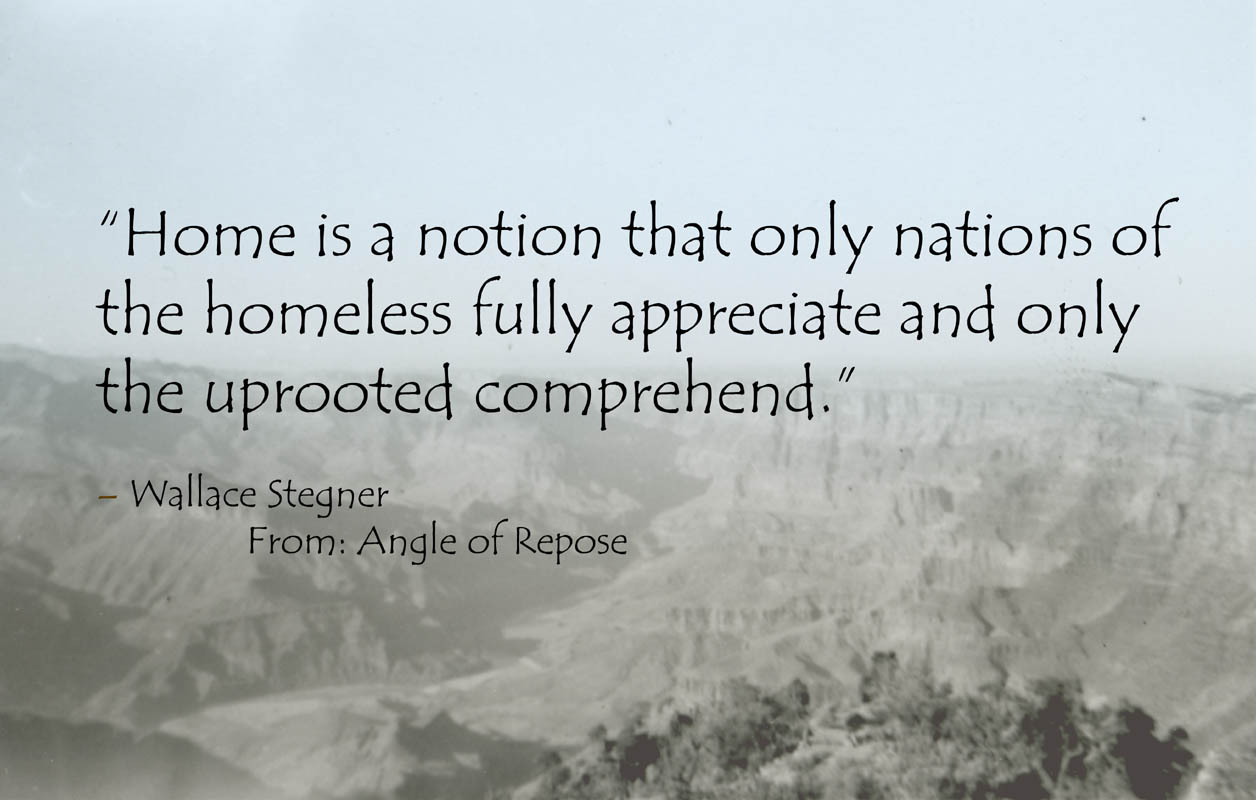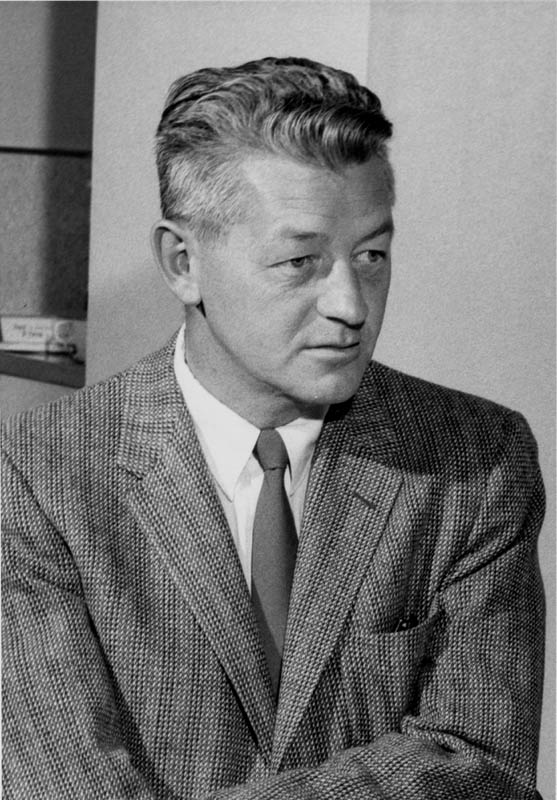 During the 1940s Stegner produced two non-fiction books, Mormon Country in 1942 and One Nation in 1945.  Two years later he wrote Second Growth, a collection of short stories set in a fictional New England village.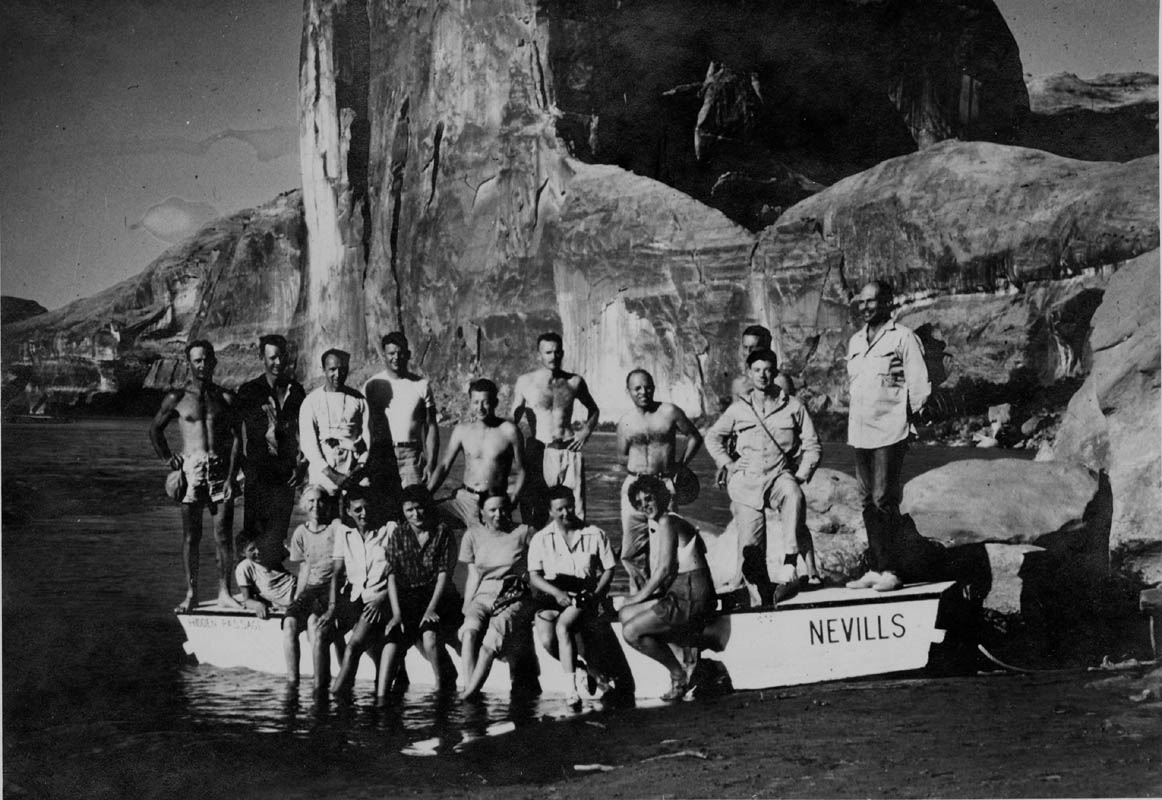 Wallace Stegner in Glen Canyon, 1947 (5th from left, back row)
The 1950s and 1960s were also rich with his writings, including The Preacher and the Slave, a biographical novel based on the life of Joe Hill, a legendary musician and union organizer who was later executed in Utah in 1915. This was soon followed by Beyond the Hundredth Meridian: John Wesley Powell and the Second Opening of the West, a piece considered by many to be Stegner's greatest work of non-fiction. Stegner, also released two collections of short stories, The Women on the Wall (1950) and The City of the Living: And Other Stories (1957). In 1962, he published Wolf Willow: A History, a Story, and a Memory of the Last Plains Frontier, an autobiographical account of his early years.  Stegner's nonfiction books The Gathering of Zion: The Story of the Mormon Trail (1964), Teaching the Short Story (1966), and The Sound of Mountain Water (1969), along with his two fictional pieces A Shooting Star (1961) and All the Little Live Things (1967) rounded out what had been a productive period for Stegner.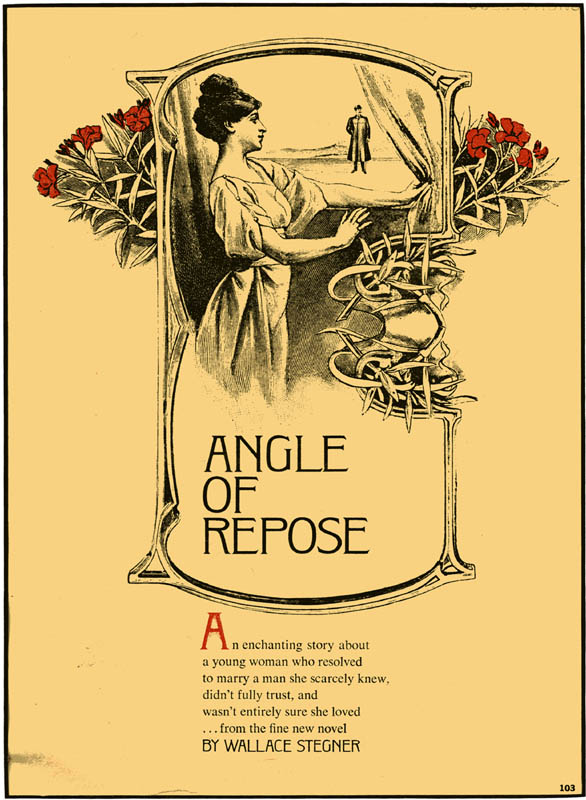 It was with the publication of Stegner's masterful and sweeping novel of the American West, Angle of Repose, that he reached the pinnacle of literary achievement.  In 1972, the book was awarded the Pulitzer Prize for Literature, and Stegner took his place among the greatest of American writers.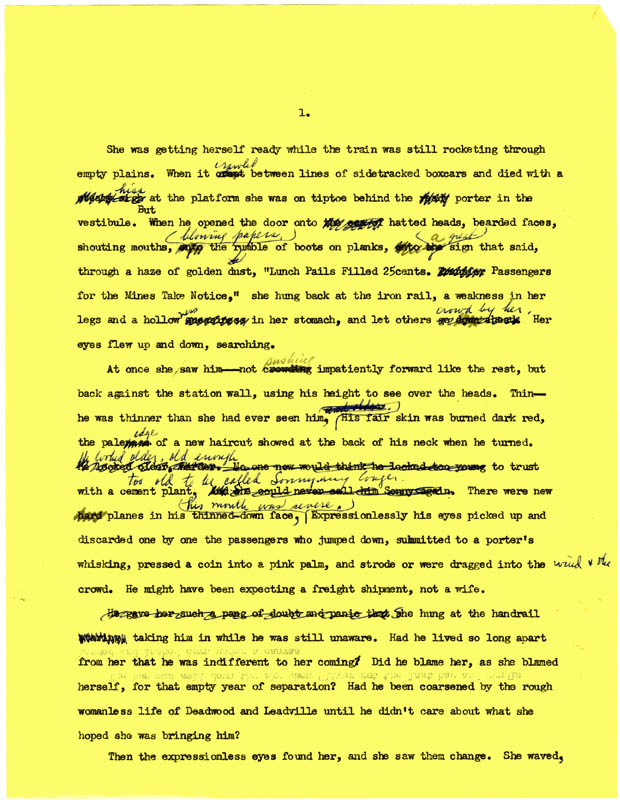 Manuscript pages found in the Stegner collection demonstrate his intense passion for molding and crafting his work, as is shown by this page from an early draft of Angle of Repose.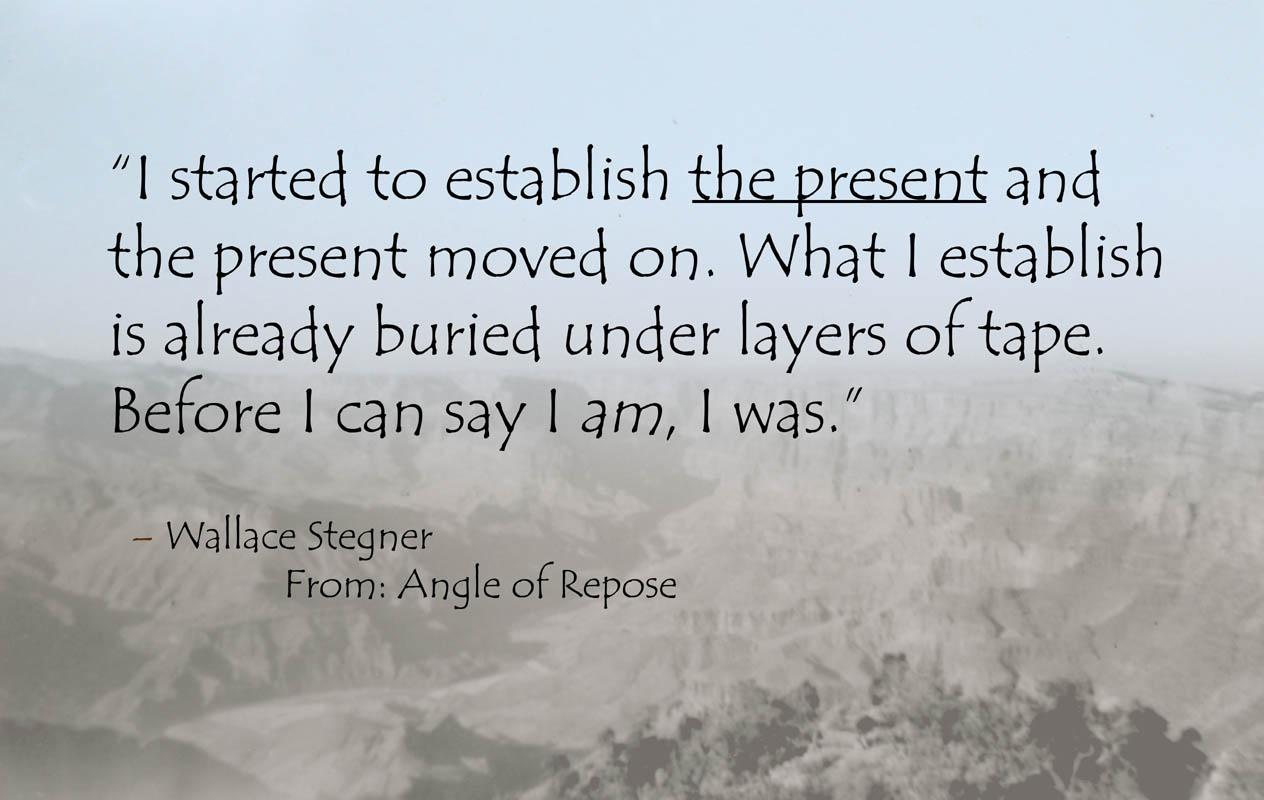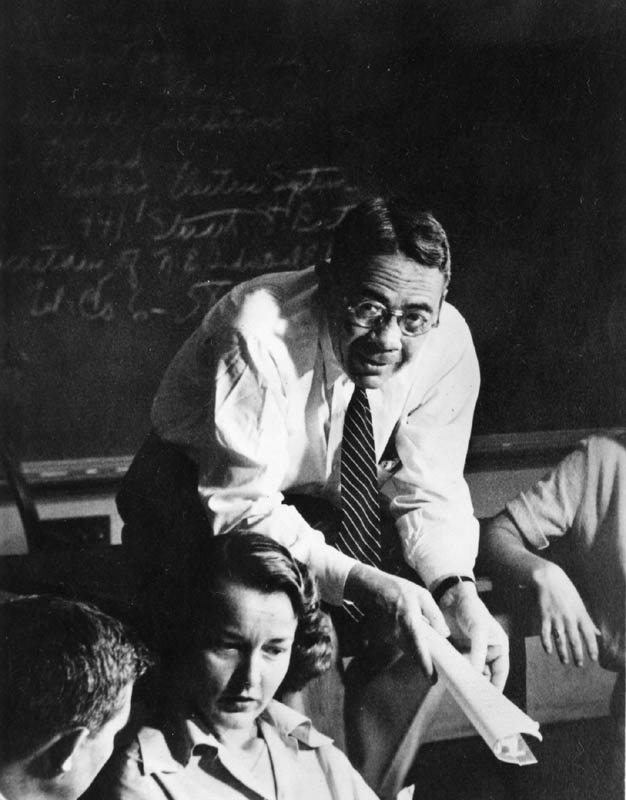 Following soon after Angle of Repose, Stegner took on a project so personal that he almost decided against it.   The Uneasy Chair: A Biography of Bernard DeVoto, published in 1974, took Stegner back to DeVoto's death in 1955.  The loss had so affected Stegner that he described the book as "complicated by the fact that I had known Benny DeVoto very well.  It's always more difficult to write about someone you know well.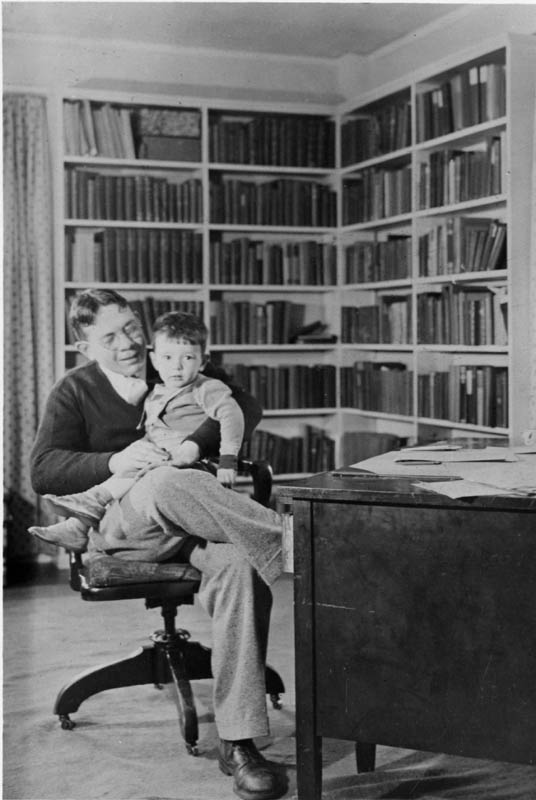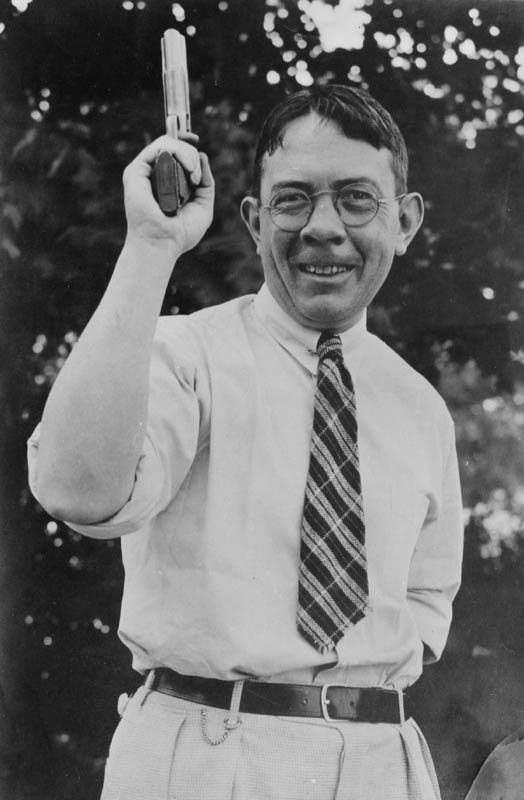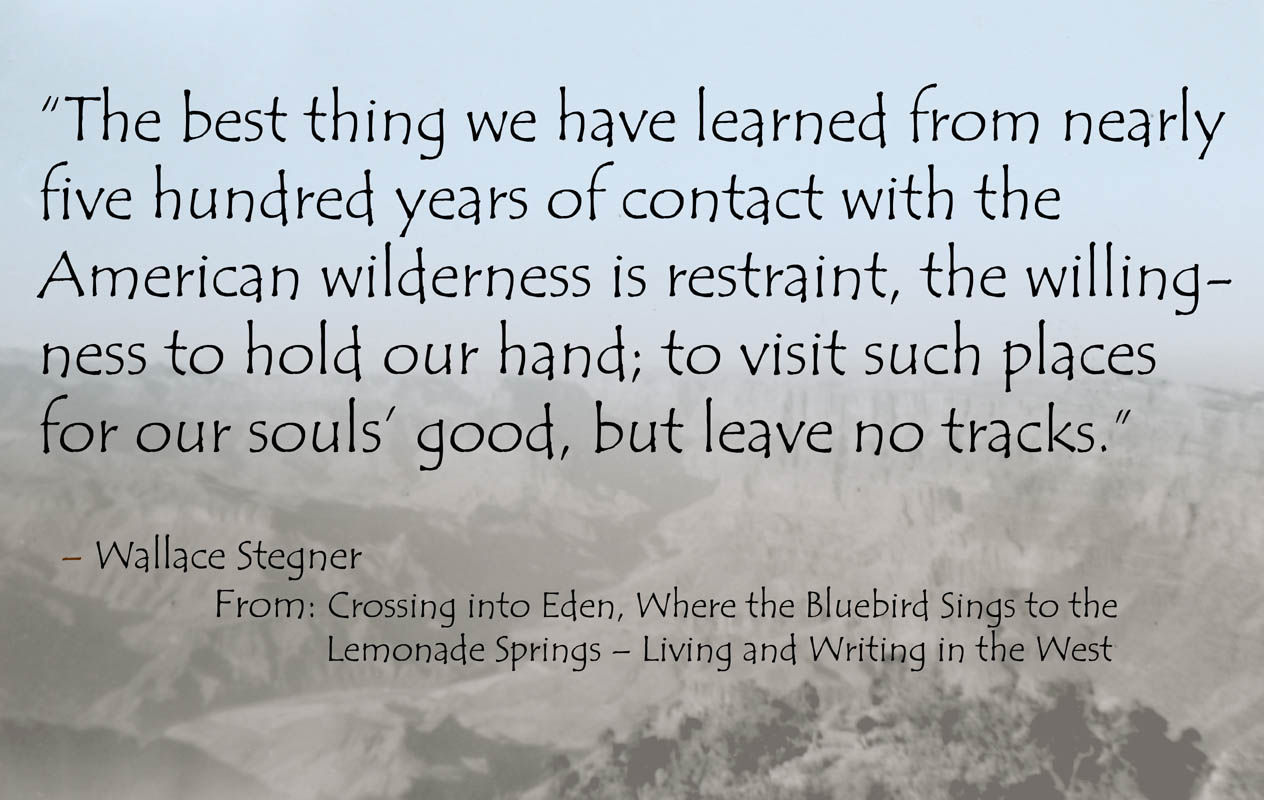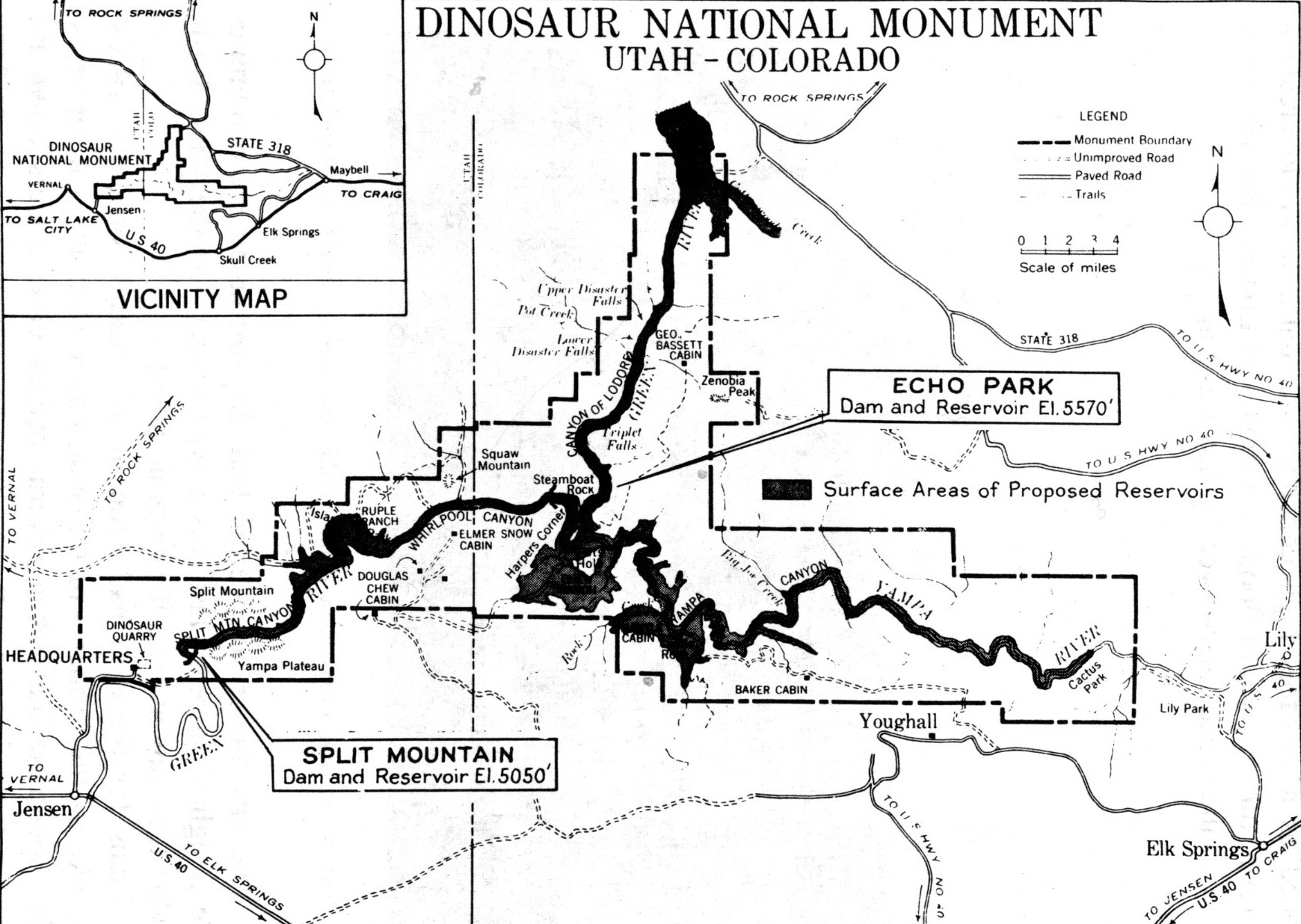 Map of the proposed Echo Park and Split Mountain Dams in Dinosaur National Monument
Besides his recognition as one of America's best writers, Stegner also used his skills and name in support of environmental causes, such as the battle over the Echo Park Dam.  Joining his friend Bernard DeVoto, he edited the book This is Dinosaur: Echo Park Country and its Magic Rivers, which is often credited with helping to defeat the proposed dams.  
Stegner's "Wilderness Letter," written in 1960 [excerpt above], continues to have a tremendous impact on individuals and policies regarding natural lands.  Today it is still used as an inspirational catalyst for calling attention to environmental issues.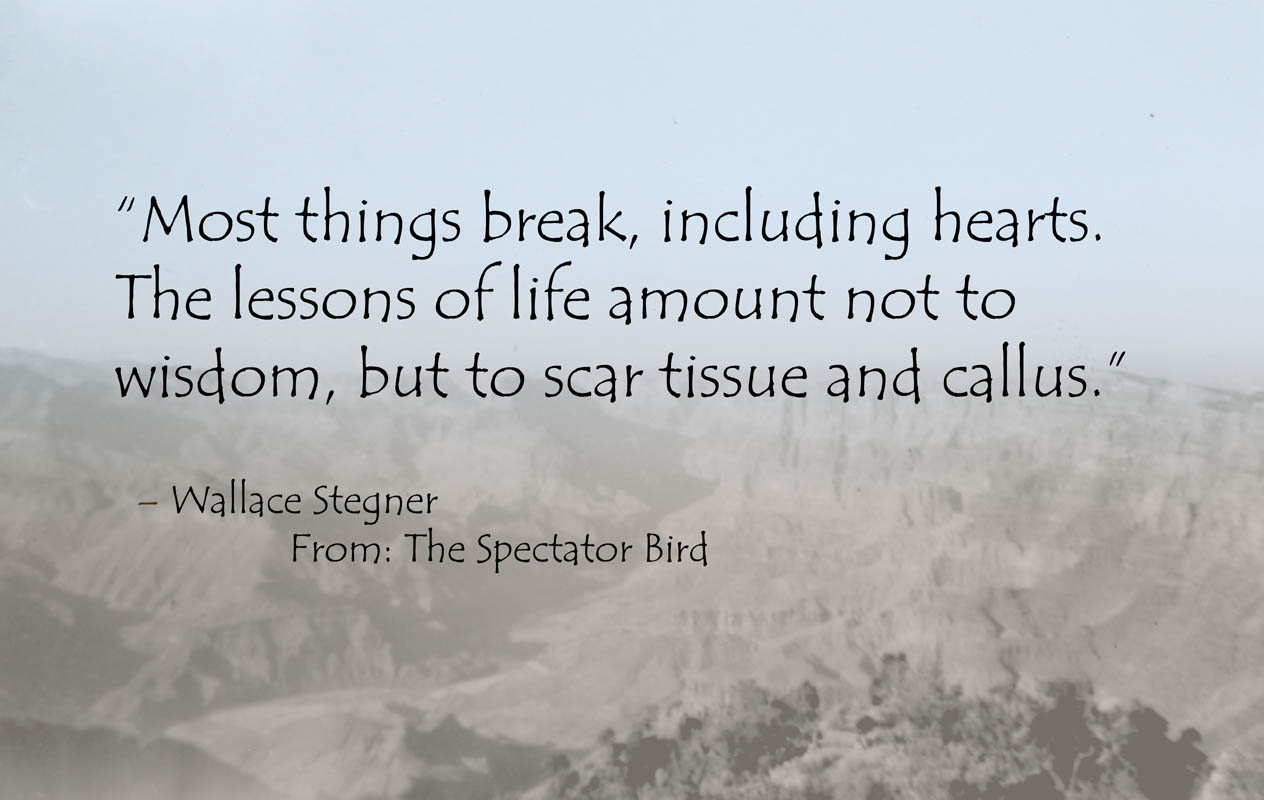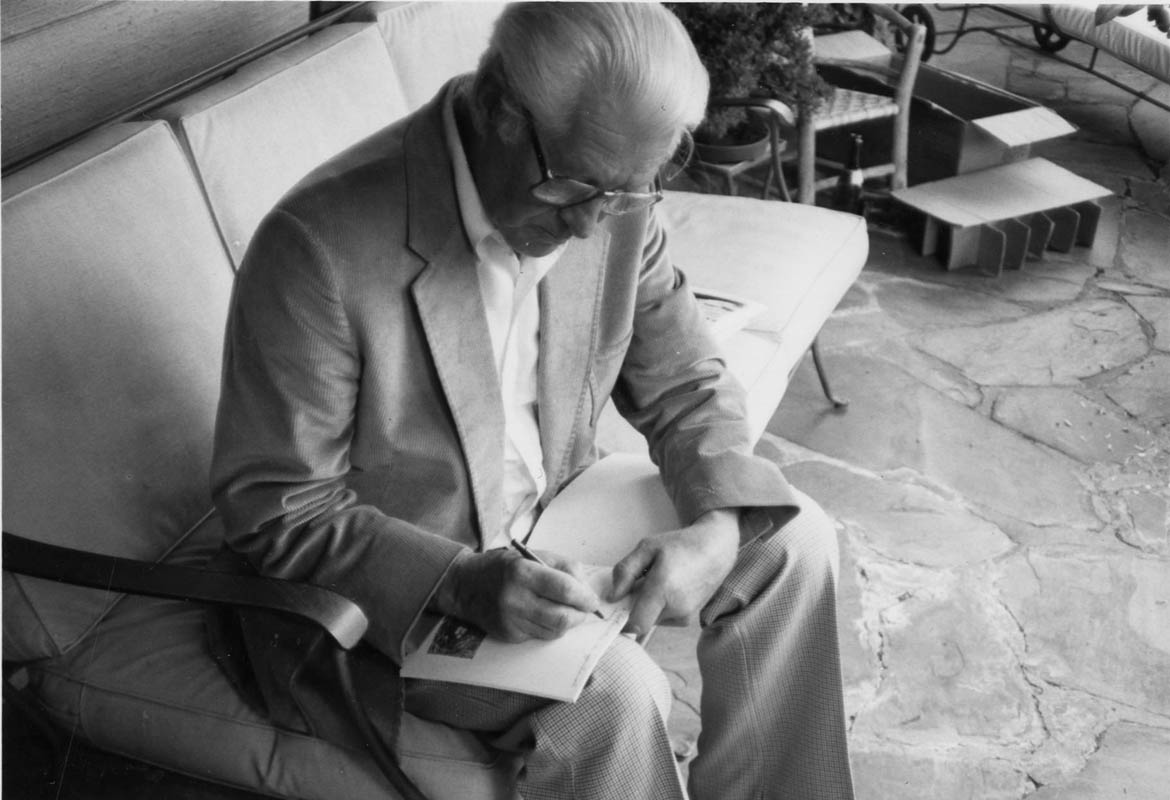 Stegner would continue to make a profound mark on the literary world as well.  During the 1980s Stegner's work included Conversations with Wallace Stegner on Western History and Literature (1983) and American Places (1985), co-written with his son Page.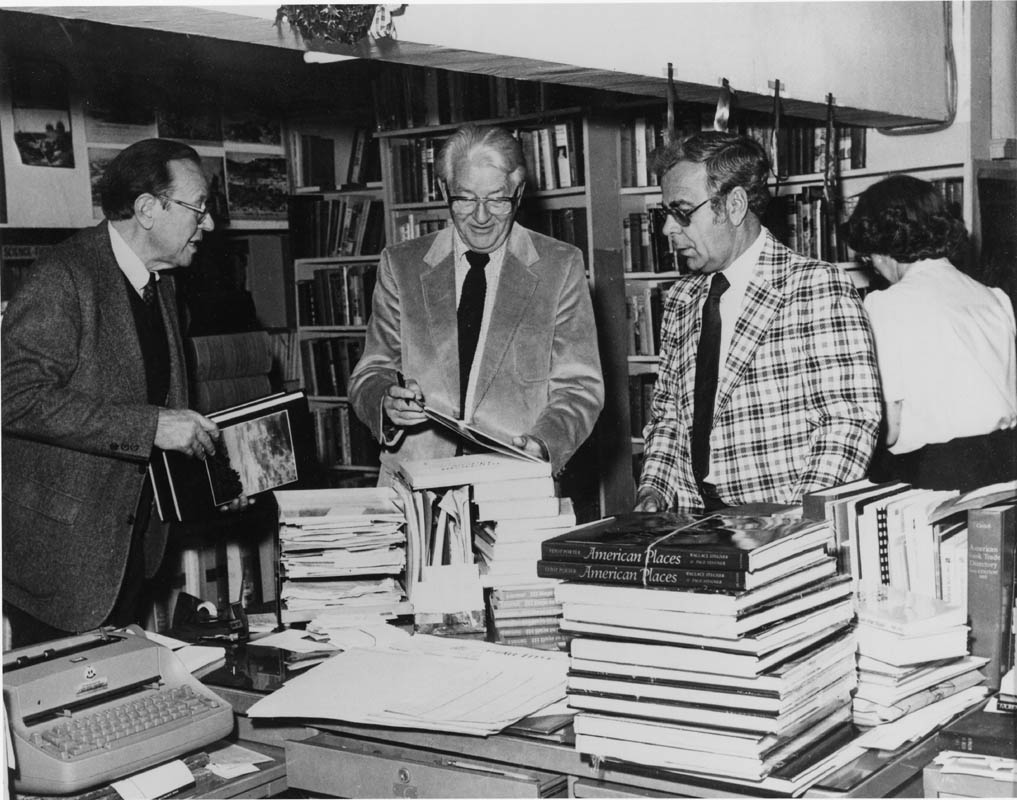 Wallace Stegner (center) at a book signing at Sam Weller's Zions Book Store in Salt Lake City with Dr. Everett L. Cooley, head of Special Collections, and Roger Hanson, director of the J. Willard Marriott Library, late 1980s.
Wallace Stegner passed away in 1993 at the age of 84, following an auto accident in Santa Fe, New Mexico.  His influence around him as a professor, author, and environmentalist has solidified his place in history and letters as truly being the "Dean of Western Writers."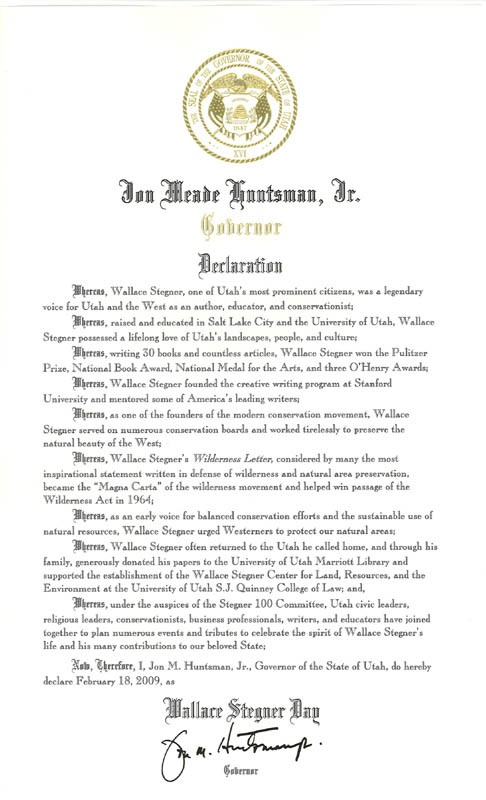 Exhibit design and scanning by Krissy Giacoletto
Web exhibit by Roy Webb, C.A.