2021 Workshops
Due to the current need for physical distancing, we are moving to online instruction on a temporary basis. Please check back as we will be continually updating this page with additional offerings for virtual workshops.
View past Book Arts Program workshops

Relicensure points for educators are available from the Utah State Board of Education for all workshops. For more information: Email or call 801-585-6019.   
Your Place, Your Pace:
Bookmaking Sessions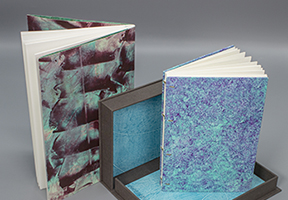 Join us for Your Place, Your Pace, a selection of pre-recorded workshops designed with your convenience in mind. Enjoy bookmaking from the comfort and privacy of your own home. Each session focuses on a different bookmaking technique and can be completed in one sitting or at your own pace. Take one, or take them all! Participants receive recording links and a materials kit, and are invited to ask questions via email. Availability is limited—don't miss out!
All workshops are pre-recorded, virtual workshops. Participants receive recording links and materials kit. (An additional $25 will be billed for international shipping.)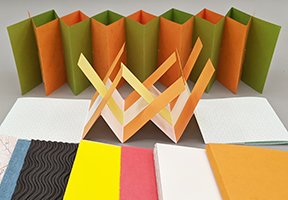 Accordion Variations, session 1
Marnie Powers-Torrey
$35, materials kit & shipping included
register
The first session begins with two basic accordions, introduces a hinged-panel accordion composed of pairs of boards, and then concludes with Hedi Kyle's beloved flag book. This video sequence covers basic tips to building well-aligned accordions, which can be trickier than the simple-looking form suggests. List of required tools.
Accordion Variations, session 2
Marnie Powers-Torrey
$35, materials kit & shipping included
register
The accordion is a basic book form that can be adapted in many creative ways. The second session explores some options: a concertina with pockets, the retreating accordion, a three-tiered accordion, and a paper slipcase to house the set of books. The slipcase is flexible and can accommodate books from both sessions, if desired. List of required tools.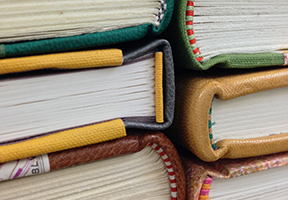 Endbands: Recipes and Techniques
Emily Tipps 
$40 materials kit & shipping included
register
Do you want your books to be a little more gourmet? Endbands contribute to the structure and visual presentation of a book. In this workshop, participants learn to make a variety of these sewn (and stuck-on) beauties. The BAP provides the ingredients and recipes; participants just need a taste for the details and the desire to sample something new! This session covers six endband styles, which participants sew onto instructional "recipe cards" for easy future reference. List of required tools.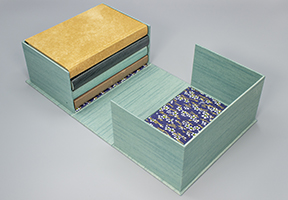 The Clamshell Box: A Safe Place for Books
Emily Tipps 
$65, materials kit & shipping included
register

When not being read, a book really just wants to be left alone in a safe place. The clamshell box is an ideal enclosure to keep books protected from dust, water, and light damage, as well as the general wear and tear of life on the shelf. Each participant in this workshop constructs a model clamshell box of a set size. Instruction includes basic strategies for measuring objects and cutting materials for future custom boxes. List of required tools.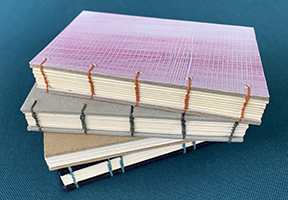 Coptic Binding
Amy Thompson
$45, materials kit & shipping included
register
In ancient Egypt, the Copts used this binding technique for hundreds of years. Notable for the chain links across the spine and sewn-on boards, the binding is very flexible and can open to 360º for display. List of required tools.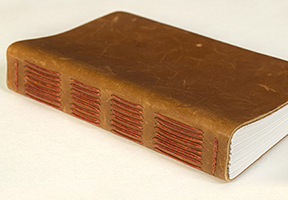 Long-Stitch with Leather
Amy Thompson
$50, materials kit & shipping included
register
The elegant long-stitch has been used for inventive artists' books and beautiful journals, but don't be fooled by the apparent complexity of this exposed-sewing binding. Participants receive one set of materials, and the instructor shares examples with an assortment of thread, buttons, covers, and closures to ensure that the long-stitch never gets old. List of required tools.
Live Sessions
All sessions are held synchronously via Zoom. Participants receive workshop links.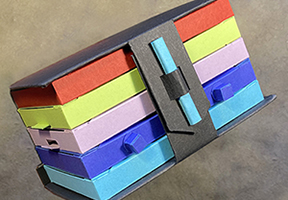 Cabinet of Paper Curiosities
Shawn Sheehy
October 8–10, 15–17
10 am–12 pm, MDT
$275, materials kit & shipping included
(an additional $25 will be billed for international shipping)
SOLD OUT!
Online instruction via Zoom. Participants receive link and materials kit prior to the workshop. In order to ensure time for shipping of materials kits, participants should register a minimum of two weeks prior to the series/session.
Consider five small, shallow boxes, each folded from a single sheet of heavy stock. Imagine binding these drawer-like boxes into something reminiscent of a book block, complete with its own cabinet-like case. Inside each of these boxes, construct something mechanical from paper that can be used in many ways. It's a Cabinet of Paper Mechanical Curiosities—a 4D Whitman's sampler of movable delicacies, made entirely with paper!
This workshop removes the restraint of FLAT from the codex page. The first box explores movable paper engineering fundamentals. By adding a sculptural component, the second amplifies a model from the first box. The third is a tiny automata. The fourth contains a classic crankie. The fifth box employs a shutter structure to mysteriously bring an object into view. This movable mechanical magic is constructed out of little more than card stock, glue, and simple hand tools. Both paper engineering beginners and advanced practitioners will be accommodated and challenged by this material. List of required tools.
----- 
Shawn Sheehy has been teaching book arts courses and workshops on the national level for 20 years, including stops at MCBA, Center for Book Arts, Penland, Arrowmont, FOBA, Pyramid Atlantic, San Francisco Center for the Book, and PBI. His broadsides and artist book editions have been collected by Stanford, Carnegie Mellon, University of Chicago, Library of Congress, UCLA, and Harvard. He has created two trade pop-up books: Welcome to the Neighborhood (2015) and Beyond the Sixth Extinction (2018). Both were published by Candlewick Press and won numerous awards. He holds a Book Arts MFA from Columbia College Chicago. 
Fall 2021 Studio Hours

August 24–December 17
Monday: 10am–3pm; 6pm–9pm
Tuesday: 10am–9pm
Wednesday: 10am–9pm
Thursday: 10am–9pm
Friday: 2pm–6pm
Saturday: 10am–6pm
Sunday: CLOSED
Click here for complete hours including studio closures and holidays.
Related Links