2019 Workshops
View past Book Arts Program workshops

Relicensure points for educators are available from the Utah State Board of Education for all workshops. For more information: Email or call 801-585-6019.   
 September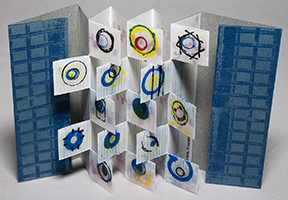 Risograph Training
Crane Giamo
September 7
Saturday
$15
Session One: 10:00 am – 12:00 pm
This Section is full. To be placed on a waitlist, please email us!
Session Two: Saturday, 12:00 pm – 2:00 pm
Register here
What is a RISO duplicator, and why is it suddenly all the rage? The RISO is a Japanese stencil duplicator that blends the functionality of photocopying with the artistry of screenprinting. In this training, participants learn the requisite skills and best practices for risograph printing by printing a previously designed project. After completing the training, participants are invited to apply for independent studio use here, and for a fee of $5/half hour, approved applicants are eligible to use the RISO for their own projects.
October

Making the Rounds, Daredevil Style
Jessica Spring
October 4 & 5
Friday & Saturday, 10:00 am – 5:00 pm
$190
Register here
Join type aficionado and daredevil printer Jessica Spring for two fantastical days of play at the press! With death-defying skill and precision, Jessica walks the tightrope of letterpress lock-up mastery. With the aid of circular and angle quads, tools from art supply and hardware stores, and daredevil furniture (laser-cut furniture designed to compose type in circles, curves, and angles), the class becomes part of balancing act. Participants design thaumatropes and volvelles that tease the eye and tickle every fancy. Accept the challenge to move beyond straight lines and right angles, reach extraordinary new heights on the press, and leave with a set of circular paper toys to delight people of all ages!
News

JOIN US for
Making the Rounds, Daredevil Style
with visiting instructor Jessica Spring
October 4 & 5, 10:00 am – 5:00 pm
Open Studio Hours
Fall 2019 Semester
August 20 – December 12 
Monday:
10:00 am – 9:00 pm
Tuesday: 
12:00 pm – 9:00 pm
Wednesday:
1:00 pm – 9:00 pm
Thursday:
12:00 pm – 9:00 pm 
Friday: 
10:00 am – 6:00 pm
Saturday:
10:00 am – 6:00 pm
Sunday: CLOSED
Click here for complete hours including studio closures and holidays.
Related Links