2021 Workshops
Due to the current need for physical distancing, we are moving to online instruction on a temporary basis. Please check back as we will be continually updating this page with additional offerings for virtual workshops.
View past Book Arts Program workshops

Relicensure points for educators are available from the Utah State Board of Education for all workshops. For more information: Email or call 801-585-6019.   
Your Place, Your Pace:
Bookmaking Sessions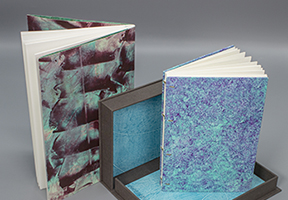 Join us for Your Place, Your Pace, a selection of pre-recorded workshops designed with your convenience in mind. Enjoy bookmaking from the comfort and privacy of your own home. Each session focuses on a different bookmaking technique and can be completed in one sitting or at your own pace. Take one, or take them all! Participants receive recording links and a materials kit, and are invited to ask questions via email. Availability is limited—don't miss out!
All workshops are pre-recorded, virtual workshops. Participants receive recording links and materials kit. (An additional $25 will be billed for international shipping.)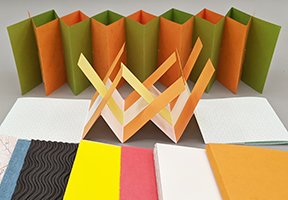 Accordion Variations, session 1
Marnie Powers-Torrey
$35, materials kit & shipping included
register
The first session begins with two basic accordions, introduces a hinged-panel accordion composed of pairs of boards, and then concludes with Hedi Kyle's beloved flag book. This video sequence covers basic tips to building well-aligned accordions, which can be trickier than the simple-looking form suggests. List of required tools.
Accordion Variations, session 2
Marnie Powers-Torrey
$35, materials kit & shipping included
register
The accordion is a basic book form that can be adapted in many creative ways. The second session explores some options: a concertina with pockets, the retreating accordion, a three-tiered accordion, and a paper slipcase to house the set of books. The slipcase is flexible and can accommodate books from both sessions, if desired. List of required tools.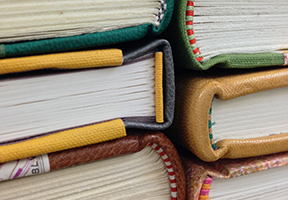 Endbands: Recipes and Techniques
Emily Tipps 
$40 materials kit & shipping included
register
Do you want your books to be a little more gourmet? Endbands contribute to the structure and visual presentation of a book. In this workshop, participants learn to make a variety of these sewn (and stuck-on) beauties. The BAP provides the ingredients and recipes; participants just need a taste for the details and the desire to sample something new! This session covers six endband styles, which participants sew onto instructional "recipe cards" for easy future reference. List of required tools.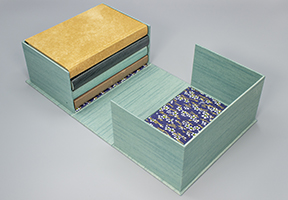 The Clamshell Box: A Safe Place for Books
Emily Tipps 
$65, materials kit & shipping included
register

When not being read, a book really just wants to be left alone in a safe place. The clamshell box is an ideal enclosure to keep books protected from dust, water, and light damage, as well as the general wear and tear of life on the shelf. Each participant in this workshop constructs a model clamshell box of a set size. Instruction includes basic strategies for measuring objects and cutting materials for future custom boxes. List of required tools.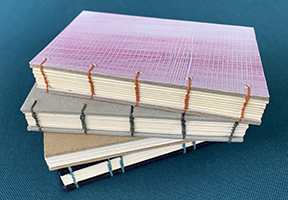 Coptic Binding
Amy Thompson
$45, materials kit & shipping included
register
In ancient Egypt, the Copts used this binding technique for hundreds of years. Notable for the chain links across the spine and sewn-on boards, the binding is very flexible and can open to 360º for display. List of required tools.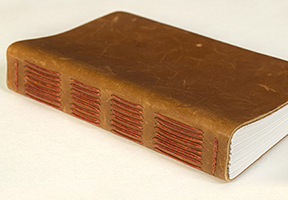 Long-Stitch with Leather
Amy Thompson
$50, materials kit & shipping included
register
The elegant long-stitch has been used for inventive artists' books and beautiful journals, but don't be fooled by the apparent complexity of this exposed-sewing binding. Participants receive one set of materials, and the instructor shares examples with an assortment of thread, buttons, covers, and closures to ensure that the long-stitch never gets old. List of required tools.
Live Sessions
All sessions are held synchronously via Zoom. Participants receive workshop links.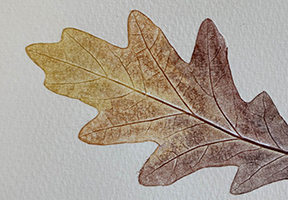 Print at Home: Craft-Press Printmaking
Rebecca Chamlee
July 10
Saturday, 10 am–1 pm, MDT
$60
SOLD OUT
 
Online demonstration via Zoom. Participants receive a set of example prints after the session.
 
This live, online class features discussion and demonstrations of printmaking techniques using a craft die-cutting machine. Adventurous printmakers have discovered that these craft presses—roller presses originally designed for craft embossing and die-cutting—offer a small, inexpensive and portable alternative to expensive etching and printing presses. Common brands include We R Memory Keepers Evolution Adjustable Die-Cutting and Embossing Machine, Bira Adjustable Cutting and Embossing Machine, Sizzix Big Shot and Big Shot Pro, QuicKutz Epic Six Tabletop Die Cutting & Embossing Machine, Fiskars Fuse Creativity Die Cut Machine and more. This workshop covers an overview of machines, types of inks, tools, paper, inking and impression, registration, relief surface options, low-relief collagraphs, monotypes, and intaglio. Prior to the class, each student receives a detailed handout with resources, and, following the workshop, sample prints of the demonstrated techniques. 
-----
Rebecca Chamlee is a self-taught naturalist and book artist who has published letterpress printed, limited-edition fine press and artist's books under the imprint of Pie In The Sky Press since 1986. Her award-winning work is in prominent special and private collections throughout the U.S. and has been exhibited widely. Rebecca is an associate professor at Otis College of Art and Design in Los Angeles where she teaches bookbinding, letterpress printing, and artists' book classes and heads the Book Arts Minor program. She holds workshops at her studio and book arts centers throughout the country.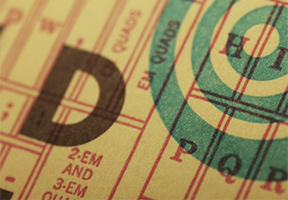 Tight Registration on a Platen Press
Kseniya Thomas
July 22
Thursday, 2–4 pm, MDT
$35
 
Online demonstration via Zoom. Participants receive a sample print after the session.
 
It's not as difficult as it looks! It takes a little planning and forethought, but tight registration (that is, alignment) of multiple ink colors on a hand-fed platen press is a breeze. Join us in raising the standards of what good printing looks like in this informative demonstration.
-----
Kseniya Thomas is the owner of Thomas Printers, a commercial letterpress print and design shop, where she has produced letterpress social stationery and fine art for nearly 15 years. She's the co-founder of Ladies of Letterpress, an organization founded in 2008 and dedicated to the promotion and continuance of the art and craft of letterpress printing. Trained at the print shop of the Gutenberg Museum in Mainz, Germany, Kseniya got her start setting type by hand and enjoys teaching others and encouraging others to share their skills. Her work has been featured in numerous letterpress books, design periodicals, trade journals, and blogs. Kseniya lives and works in Ogden, Utah.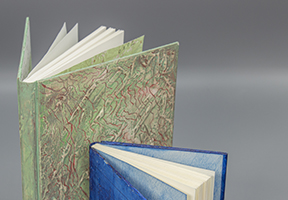 The Naked Book
Chris McAfee
August 3 & 5
Tuesday & Thursday, 4–6:30 pm, MDT
$100, materials kit & shipping included
(an additional $25 will be billed for international shipping)
 
Online instruction via Zoom. Participants receive link and materials kit prior to the workshop. In order to ensure time for shipping of materials kits, participants should register a minimum of two weeks prior to the series/session.
 
Turn a hardbound book into an artist's canvas! Make a cover for a pre-sewn text block and finish it – not with cloth, paper, or leather – but with acrylic modeling paste. Then texture, scribe, and wax the covers to create a personal design. While spinning traditional techniques into innovative processes, investigate how bookbinding materials react to moisture and how to counteract related problems. List of required tools.
-----
Christopher McAfee received a BFA in printmaking in 1993 from Brigham Young University where he began learning to bind books. In 1995, he went on to receive an MFA in bookbinding from the University of Alabama where he began learning book conservation. He has since worked for both Brigham Young University and the LDS Church History Department conserving and preserving books, documents, photos, etc. Christopher is currently the Head Conservator at Brigham Young University. As a conservator, Chris is concerned with books as artifacts, though many people think of books as mere containers for information. As a book artist, Chris makes books for which the container is part of the information ensuring their artifactual value.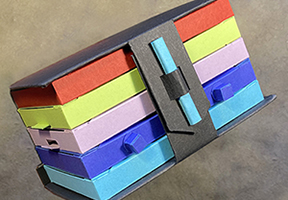 Cabinet of Paper Curiosities
Shawn Sheehy
 
October 8–10, 15–17
10 am–12 pm, MDT
$275, materials kit & shipping included
(an additional $25 will be billed for international shipping)
register
 
Online instruction via Zoom. Participants receive link and materials kit prior to the workshop. In order to ensure time for shipping of materials kits, participants should register a minimum of two weeks prior to the series/session.
 
Consider five small, shallow boxes, each folded from a single sheet of heavy stock. Imagine binding these drawer-like boxes into something reminiscent of a book block, complete with its own cabinet-like case. Inside each of these boxes, construct something mechanical from paper that can be used in many ways. It's a Cabinet of Paper Mechanical Curiosities—a 4D Whitman's sampler of movable delicacies, made entirely with paper!
This workshop removes the restraint of FLAT from the codex page. The first box explores movable paper engineering fundamentals. By adding a sculptural component, the second amplifies a model from the first box. The third is a tiny automata. The fourth contains a classic crankie. The fifth box employs a shutter structure to mysteriously bring an object into view. This movable mechanical magic is constructed out of little more than card stock, glue, and simple hand tools. Both paper engineering beginners and advanced practitioners will be accommodated and challenged by this material. List of required tools.
----- 
Shawn Sheehy has been teaching book arts courses and workshops on the national level for 20 years, including stops at MCBA, Center for Book Arts, Penland, Arrowmont, FOBA, Pyramid Atlantic, San Francisco Center for the Book, and PBI. His broadsides and artist book editions have been collected by Stanford, Carnegie Mellon, University of Chicago, Library of Congress, UCLA, and Harvard. He has created two trade pop-up books: Welcome to the Neighborhood (2015) and Beyond the Sixth Extinction (2018). Both were published by Candlewick Press and won numerous awards. He holds a Book Arts MFA from Columbia College Chicago. 
2021 ANNUAL EDUCATORS' INTENSIVE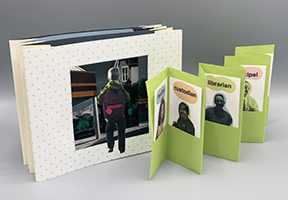 Building Community Through Bookmaking, Beginning in Kindergarten
Annie Boyer & Jazmin Gallegos
July 12th–15th 
10 am–12 pm, MDT 
register
 
In this year's online educators' intensive series, participants learn multiple book forms and discuss ideas for integrating them into the classroom. Choose between four different workshops or take them all. Not able to make it for the live sessions? Limited registration is available for session recordings and materials kits only. List of required tools.
 
Online instruction via Zoom. Participants will receive a link and a materials kit prior to the workshop/session. In order to ensure time to receive materials kits, participants should register a minimum of two weeks prior to the series/session. 
 
Participation is free to Utah K-12 educators. Due to grant-funding, educators outside of Utah may inquire about participating for a small fee. Please send inquiries to: k12bookarts@utah.edu

Building a Healthy Community
July 12 
Monday, 10 am–12 pm, MDT
Want to get involved in the community but aren't quite sure where to start? In this session, facilitators introduce book forms and lead discussion about ways to use handmade books as guides. Participants discover how the eight-panel pocket accordion can be used to identify certain figures in a community, understand the roles they play, and discuss how all community members can work together to create an intentional and inclusive community. The flag book can be used in many contexts to build community through collaborative efforts. Join us in celebrating our community!

Mindfulness Through Book Arts
July 13 
Tuesday, 10 am–12 pm, MDT
  
After a year of online learning, many are feeling fatigued and some may even be feeling isolated. Most have witnessed students, colleagues, friends, and family go through a time of heightened stress, anxiety, trauma, and loneliness. In this workshop, participants practice mindfulness by making books together and discussing how to promote mental health awareness in the classroom. There's no better way to start, pause, or end the day or class than with a moment of mindfulness and reflection. The book forms taught in this session support future practices of journaling, sketching, and other forms of self-expression.
 

The Environment and Community
July 14 
Wednesday, 10 am–12 pm, MDT
How does nature guide humans to live well together? In this session, discussions cover the protection of the environment in order to best serve the entire community. Humans live symbiotically with their surroundings, and without a healthy environment, neither humans nor nature can thrive. Nature helps humans, humans help nature, nature helps nature, and humans help humans. The one-sheet book forms or zines taught during this session are great for use as guides to be citizens of conservation and to help heal and nurture environments. 
 

Becoming Storytellers and Changemakers 
July 15 
Thursday, 10 am–12 pm, MDT
This session offers more bookmaking and ideas to get students excited about being bookmakers, storytellers, and changemakers. Youth have the power to make changes for good in our communities and broader society. Everyone has different skills and personality types, and each member of society has the opportunity to act as a leader in unique ways. Whether it's starting a green initiative at school or joining a service project at a shelter, there are endless ways for each individual to contribute. Small steps lead to big changes—let's build narratives of change together!
 
Fall 2021 Studio Hours

August 24–December 17
Monday: 10am–3pm; 6pm–9pm
Tuesday: 10am–9pm
Wednesday: 10am–9pm
Thursday: 10am–9pm
Friday: 2pm–6pm
Saturday: 10am–6pm
Sunday: CLOSED
Click here for complete hours including studio closures and holidays.
Related Links