2022 Workshops
Due to the fluctuating nature of pandemic response, we are currently offering both online and in-person instruction. Please check back for updates to this page, including additional workshop offerings and any necessary cancellations.
View past Book Arts Program workshops

Relicensure points for educators are available from the Utah State Board of Education for all workshops. For more information: Email or call 801-585-6019.   
In-Person Workshops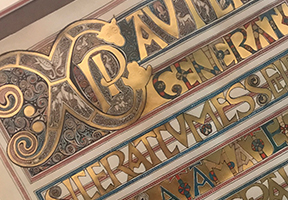 Illuminated Pages: Gold Leaf Techniques
Louona Tanner
September 13–29
Tuesdays & Thursdays, 5–7 pm
$260
REGISTER through Lifelong Learning
Want to add some bling to bookwork or works on paper? Join us for a five-week survey of historic and contemporary gold leaf techniques. Through five small projects, participants gain experience with different illumination methods and are exposed to a variety of approaches, products, and papers. The course includes an introduction to the lettering arts, in-depth demonstrations, and plenty of hands-on practice with gold application. Leave the course with lots of sparkle and ideas to add more to future work! List of required tools.
-----
Louona Tanner is a Utah calligrapher and book artist. She graduated from Weber State University in Art, and was nominated for both woman of the year and talent of the year. She served twice as president of the Utah Calligraphic Artists' Association (UCA) and has exhibited her work throughout Utah and at national calligraphy conventions. She has taught calligraphy, gold leaf, and book arts classes for UCA, Utah Museum of Fine Arts, Utah Humanities Council, Great Salt Lake Book Festival, YouthCity Artways, The Leonardo, Salt Lake Community College, and the Book Arts Program.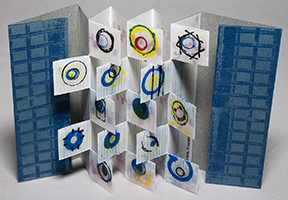 Risograph Training
October 22nd
Session 1: Saturday, 10-11:30 am
Session 2: Saturday, 12-1:30 pm
$15
REGISTER FOR SESSION 1
REGISTER FOR SESSION 2
What is a risograph duplicator, and why is it suddenly all the rage? The Riso is a Japanese stencil duplicator that blends the functionality of photocopying with the artistry of screenprinting. In this training, participants learn the requisite skills and best practices for risograph printing by printing a previously designed project. After completing the workshop, participants are invited to apply for independent studio use, and for a fee of $5/half hour, approved applicants are eligible to use the Riso for their own projects.
Educators' Intensive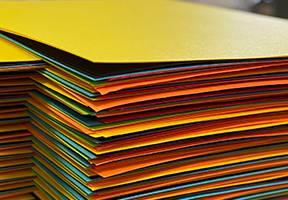 Bookmaking for the Classroom 101
Jazmin Gallegos & Emily Tipps
July 27
Wednesday, 9am–12pm
REGISTER
Join Book Arts Program instructors and fellow educators to brainstorm roles of the book in today's classroom. While considering how core concepts might be taught through various simple structures, participants fold, cut, and sew with prepared materials to guide creative thinking. This in-person workshop is an opportunity to gather and make with teachers across disciplines and grade levels, and could be a good refresher for seasoned bookmakers as well as a great introduction for those who are seeking new ways to introduce hands-on learning in the classroom. Each participant creates a custom-built paper box containing five simple books and leaves with collectively developed ideas for how to apply bookmaking in the classroom.
Your Place, Your Pace:
Bookmaking Sessions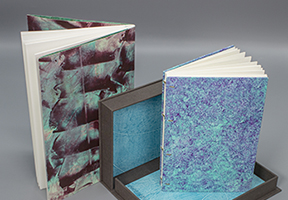 Join us for Your Place, Your Pace, a selection of pre-recorded workshops designed with your convenience in mind. Enjoy bookmaking from the comfort and privacy of your own home. Each session focuses on a different bookmaking technique and can be completed in one sitting or at your own pace. Take one, or take them all! Participants receive recording links and a materials kit, and are invited to ask questions via email. Availability is limited—don't miss out!
All workshops are pre-recorded, virtual workshops. Participants receive recording links and materials kit. (An additional $25 will be billed for international shipping.)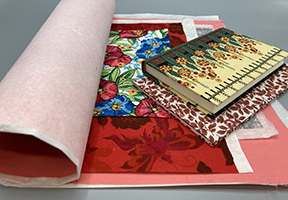 Customized Bookcloth: Backing Fabric
Emily Tipps
$55
REGISTER
Fabric offers an attractive and durable solution for covering boxes and book covers, but ready-made bookcloth presents a limited palette of mostly solid colors and humdrum textures. Don't get hemmed in by run-of-the-mill choices! Instead, back textiles with Japanese paper for use as bookcloth. Want to cover an artist's book with calico from grandma's apron? Think art-deco-printed percale would make a swell cover for a blank journal? Would sleek silk be an elegant solution for that photo album? In this workshop, participants expand their ability to tailor bookwork by learning to back natural-fiber fabric with simple materials and easy-to-access tools. List of required tools.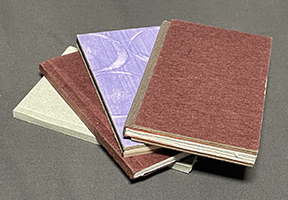 The Perfect Binding
Amy Thompson
$45
REGISTER
Looking for a simple way to bind single sheets or folios? This workshop presents the perfect solution: the perfect binding! Using a modified approach based on machine binding processes for commercial paperbacks, the instructor guides participants through the construction of a perfect-bound book. A materials kit is provided for a single book and participants are advised on tools to gather or purchase. Leave with a perfect book and the ability to continue the practice. List of required tools.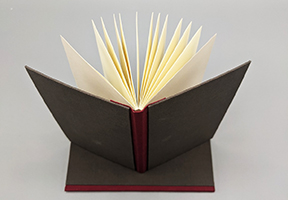 Content Round-Up: The Drum-Leaf Binding
Marnie Powers-Torrey
$45
REGISTER
Developed and perfected by Timothy C. Ely, the drum-leaf binding offers an elegant solution for joining single folios. This simple, ingenious book form allows the artist to work freely with single sheets, unencumbered by imposition concerns until the pages are bound. Because the book opens completely flat, content won't get hung up in the gutter. Leave with a book bound in quarter cloth and paper covered boards. List of required tools.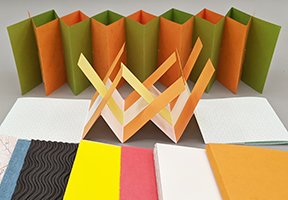 Accordion Variations, session 1
Marnie Powers-Torrey
$35, materials kit & shipping included
REGISTER
The first session begins with two basic accordions, introduces a hinged-panel accordion composed of pairs of boards, and then concludes with Hedi Kyle's beloved flag book. This video sequence covers basic tips to building well-aligned accordions, which can be trickier than the simple-looking form suggests. List of required tools.

Accordion Variations, session 2
Marnie Powers-Torrey
$35, materials kit & shipping included
REGISTER
The accordion is a basic book form that can be adapted in many creative ways. The second session explores some options: a concertina with pockets, the retreating accordion, a three-tiered accordion, and a paper slipcase to house the set of books. The slipcase is flexible and can accommodate books from both sessions, if desired. List of required tools.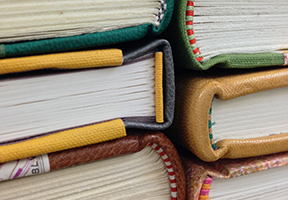 Endbands: Recipes and Techniques
Emily Tipps 
$40 materials kit & shipping included
REGISTER
Do you want your books to be a little more gourmet? Endbands contribute to the structure and visual presentation of a book. In this workshop, participants learn to make a variety of these sewn (and stuck-on) beauties. The BAP provides the ingredients and recipes; participants just need a taste for the details and the desire to sample something new! This session covers six endband styles, which participants sew onto instructional "recipe cards" for easy future reference. List of required tools.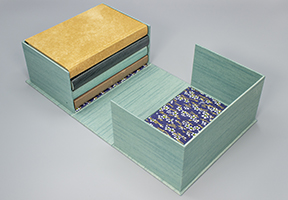 The Clamshell Box: A Safe Place for Books
Emily Tipps 
$65, materials kit & shipping included
REGISTER

When not being read, a book really just wants to be left alone in a safe place. The clamshell box is an ideal enclosure to keep books protected from dust, water, and light damage, as well as the general wear and tear of life on the shelf. Each participant in this workshop constructs a model clamshell box of a set size. Instruction includes basic strategies for measuring objects and cutting materials for future custom boxes. List of required tools.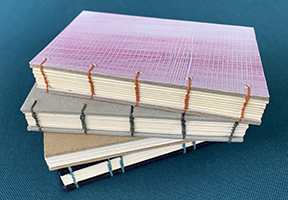 Coptic Binding
Amy Thompson
$45, materials kit & shipping included
REGISTER
In ancient Egypt, the Copts used this binding technique for hundreds of years. Notable for the chain links across the spine and sewn-on boards, the binding is very flexible and can open to 360º for display. List of required tools.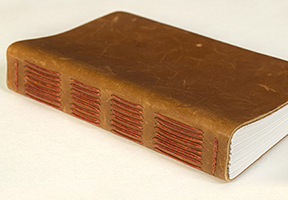 Long-Stitch with Leather
Amy Thompson
$50, materials kit & shipping included
REGISTER
The elegant long-stitch has been used for inventive artists' books and beautiful journals, but don't be fooled by the apparent complexity of this exposed-sewing binding. Participants receive one set of materials, and the instructor shares examples with an assortment of thread, buttons, covers, and closures to ensure that the long-stitch never gets old. List of required tools.