2023 Workshops
Due to the fluctuating nature of pandemic response, we are currently offering both online and in-person instruction. Please check back for updates to this page, including additional workshop offerings and any necessary cancellations.
View past Book Arts Program workshops

Relicensure points for educators are available from the Utah State Board of Education for all workshops. For more information: Email or call 801-585-6019.   
In-Person Workshops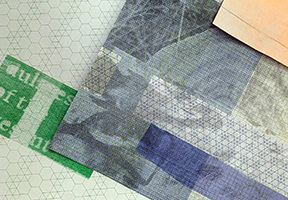 Interpretive Anecdotes on the Risograph 
Tricia Treacy
June 16 & 17
Friday & Saturday, 10 am–5 pm
$200
In this workshop, participants experience accelerated collaborations through brief, brainstorming sessions and use of the Risograph as a generative tool for making. The ideation process begins with interpreting a story from audio samples and continues with prompts that allow participants to accidentally recreate/rethink/mash-up stories. These audio stories and a shared reserve of found images serve as catalysts for small groups to visualize an intersection of the narratives and develop two-page spreads for inclusion in a collective booklet. Each participant leaves with a copy or two of the editioned book and the skills to print on the spectacular Risograph.
-----
Tricia Treacy is an interdisciplinary artist, designer, and educator raised in an Irish American family whose experimental and collaborative practice intersects print media, design, and publishing into participatory projects. She attempts to blur the boundaries between art and design while extending the notion of a book. Creative research has been presented at venues including Atypi (Hong Kong + Barcelona), the Type Directors Club (New York), Tasmeen biennial Art + Design conference (Doha, Qatar), and TypeCon national conferences. She was awarded the Rome Prize in Design from the American Academy in Rome, a Center for Craft, Creativity and Design Project Grant, and a Women in Design Biennial Special Mention Researchers Award from Association Italian Design of Visual Communication. Her work has been exhibited widely and books are housed in over sixty collections. Tricia is an associate professor of studio art at Dartmouth College in Hanover, NH and holds an M.F.A.(Printmaking) from The University of the Arts.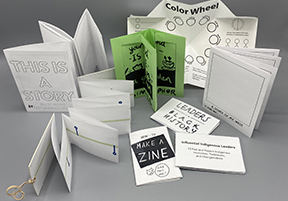 Books for Every Classroom: Templates and Beyond
Jazmin Gallegos
July 11th
Tuesday, 9 am – 12 pm
Love using book arts in the classroom but looking for new ideas for familiar book forms? New to book arts and hoping to integrate paper folding into the curriculum? All Utah K-12 educators are welcome to participate in hands-on learning either in-person on July 11 or online when convenient. This workshop explores the world of possibilities for using pre-designed, "templated" books in K-12 classrooms. Join us in learning new ways to apply book arts across curricula through the use of simple book forms such as single-sheet books, accordions, sewn bindings, and more! Through instruction and discussions, participants produce a set of interdisciplinary book models to be used in the classroom "as is" or to be developed further with alternative, curriculum-specific content. This workshop is grant funded and free to all K-12 Utah educators. Space is limited so register today!
Asynchronous participation is also available for those who cannot attend in-person. Video links and bookmaking kits are provided for all who register for the online opportunity.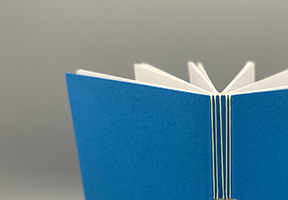 Stretch & Sketch(book) 
Jazmin Gallegos

July 29
Saturday, 10 am–1 pm
Gould Auditorium, Marriott Library, Level 1
$55
By combining thoughtful movement and bookbinding, yoga and book arts instructor Jazmin Gallegos facilitates calm for both body and mind. Take part in a 45-50 minute all-levels yoga session and then move to the Book Arts Studio for some bookmaking magic. Each participant walks away with a visual journal where meditative practices can continue to grow. All materials and art media are provided—just bring a yoga mat, water bottle, and wear comfy clothes. 
Participants are advised to discuss with their doctor any health concerns prior to participating in this yoga activity. Participants understand that they participate in the yoga activity at their own risk.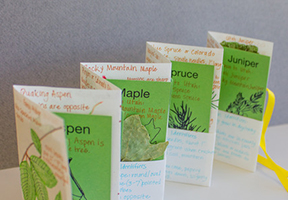 Family Bookmaking: Gather & Connect
Jazmin Gallegos
September 16
Saturday, 10 am–12 pm
$40 per pair
Children six to eighteen years-old are welcome to bring an adult friend or family member to explore bookmaking through the lens of a naturalist. Each pair of bookmakers receives two kits of materials when they join us in the Book Arts Studio for the workshop. Each child and adult creates both a folded book form with pockets for found materials and a sewn book made of recycled materials to document findings in the wild. The workshop covers simple stamp-making and embellishments. After the workshop, head outside to observe, collect, and connect with the natural world that awaits!
Your Place, Your Pace:
Bookmaking Sessions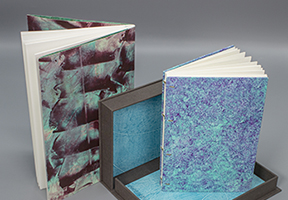 Join us for Your Place, Your Pace, a selection of pre-recorded workshops designed with your convenience in mind. Enjoy bookmaking from the comfort and privacy of your own home. Each session focuses on a different bookmaking technique and can be completed in one sitting or at your own pace. Take one, or take them all! Participants receive recording links and a materials kit, and are invited to ask questions via email. Availability is limited—don't miss out!
All workshops are pre-recorded, virtual workshops. Participants receive recording links and materials kit. (An additional $25 will be billed for international shipping.)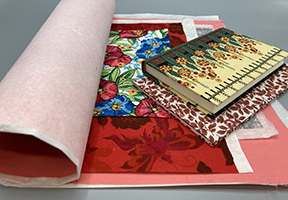 Customized Bookcloth: Backing Fabric
Emily Tipps
$55
REGISTER
Fabric offers an attractive and durable solution for covering boxes and book covers, but ready-made bookcloth presents a limited palette of mostly solid colors and humdrum textures. Don't get hemmed in by run-of-the-mill choices! Instead, back textiles with Japanese paper for use as bookcloth. Want to cover an artist's book with calico from grandma's apron? Think art-deco-printed percale would make a swell cover for a blank journal? Would sleek silk be an elegant solution for that photo album? In this workshop, participants expand their ability to tailor bookwork by learning to back natural-fiber fabric with simple materials and easy-to-access tools. List of required tools.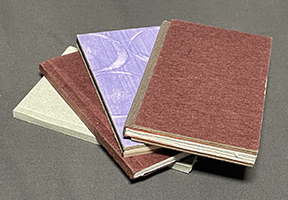 The Perfect Binding
Amy Thompson
$45
REGISTER
Looking for a simple way to bind single sheets or folios? This workshop presents the perfect solution: the perfect binding! Using a modified approach based on machine binding processes for commercial paperbacks, the instructor guides participants through the construction of a perfect-bound book. A materials kit is provided for a single book and participants are advised on tools to gather or purchase. Leave with a perfect book and the ability to continue the practice. List of required tools.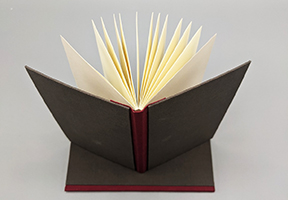 Content Round-Up: The Drum-Leaf Binding
Marnie Powers-Torrey
$45
REGISTER
Developed and perfected by Timothy C. Ely, the drum-leaf binding offers an elegant solution for joining single folios. This simple, ingenious book form allows the artist to work freely with single sheets, unencumbered by imposition concerns until the pages are bound. Because the book opens completely flat, content won't get hung up in the gutter. Leave with a book bound in quarter cloth and paper covered boards. List of required tools.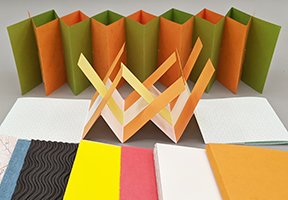 Accordion Variations, session 1
Marnie Powers-Torrey
$35, materials kit & shipping included
REGISTER
The first session begins with two basic accordions, introduces a hinged-panel accordion composed of pairs of boards, and then concludes with Hedi Kyle's beloved flag book. This video sequence covers basic tips to building well-aligned accordions, which can be trickier than the simple-looking form suggests. List of required tools.

Accordion Variations, session 2
Marnie Powers-Torrey
$35, materials kit & shipping included
REGISTER
The accordion is a basic book form that can be adapted in many creative ways. The second session explores some options: a concertina with pockets, the retreating accordion, a three-tiered accordion, and a paper slipcase to house the set of books. The slipcase is flexible and can accommodate books from both sessions, if desired. List of required tools.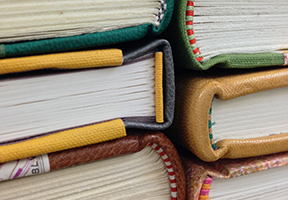 Endbands: Recipes and Techniques
Emily Tipps 
$40 materials kit & shipping included
REGISTER
Do you want your books to be a little more gourmet? Endbands contribute to the structure and visual presentation of a book. In this workshop, participants learn to make a variety of these sewn (and stuck-on) beauties. The BAP provides the ingredients and recipes; participants just need a taste for the details and the desire to sample something new! This session covers six endband styles, which participants sew onto instructional "recipe cards" for easy future reference. List of required tools.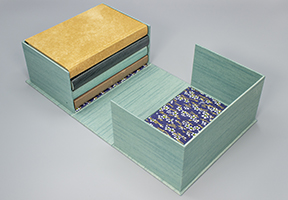 The Clamshell Box: A Safe Place for Books
Emily Tipps 
$65, materials kit & shipping included
REGISTER

When not being read, a book really just wants to be left alone in a safe place. The clamshell box is an ideal enclosure to keep books protected from dust, water, and light damage, as well as the general wear and tear of life on the shelf. Each participant in this workshop constructs a model clamshell box of a set size. Instruction includes basic strategies for measuring objects and cutting materials for future custom boxes. List of required tools.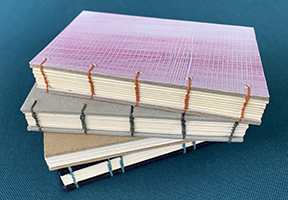 Coptic Binding
Amy Thompson
$45, materials kit & shipping included
REGISTER
In ancient Egypt, the Copts used this binding technique for hundreds of years. Notable for the chain links across the spine and sewn-on boards, the binding is very flexible and can open to 360º for display. List of required tools.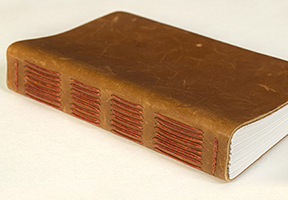 Long-Stitch with Leather
Amy Thompson
$50, materials kit & shipping included
REGISTER
The elegant long-stitch has been used for inventive artists' books and beautiful journals, but don't be fooled by the apparent complexity of this exposed-sewing binding. Participants receive one set of materials, and the instructor shares examples with an assortment of thread, buttons, covers, and closures to ensure that the long-stitch never gets old. List of required tools. 
Summer 2023
Studio Hours

May 6–August 20
The Book Arts Studio is closed for the summer semester. See you this fall!
Related Links