Contact: Photograph Archives
801-585-3073
Utah Inter-Urban Railway History in Photographs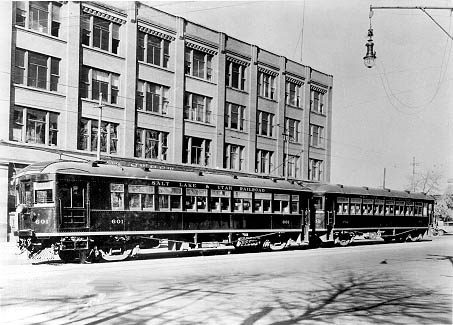 The opening of the new TRAX railroad line by the Utah Transit Authority on December 5, 1999, is one of the events of the decade for Salt Lake City and the growing communities along Utah's Wasatch Front. Planners and UTA officials believe that the fifteen miles of railroad from downtown Salt Lake City to Sandy will ease traffic congestion in Utah's most populous areas and usher in a new age of socially conscious transportation. Detractors see the new interurban line as a vast boondoggle.  (TRAX home page) . The construction of the new line has aroused passions in people of all political persuasions, and while it might seems like today's hottest news, this is not the first time that Utahn's have gone through major light rail line construction. Salt Lake City and the Wasatch Front have a long tradition of interurban railroads, stretching back over a hundred years. The first electric trolley cars ran on Salt Lake City's streets in 1890, six years before Utah even became a state. For more than fifty years, residents all along the Wasatch Front could hop on a red car of the Bamberger Line, and go almost anywhere from Ogden to Provo. TRAX is fifteen miles long; at their peak in Salt Lake alone there were 150 miles of trolley lines, with another 30 miles in Ogden, Logan, and Provo. They carried thousands of passengers every year, and were a major factor in the development of Salt Lake City from a big western town to the major urban center that it has become. 

For more on the fascinating history of interurban railroads along the Wasatch Front, click to read an article from the  UTAH HISTORY ENCYCLOPEDIA . 

The photographs on the gallery tabs on the top of the page depict many of the cars used by Salt Lake's interurban railway lines.
They are from the Special Collections Department of the J. Willard Marriott Library, University of Utah. Special Collections also holds books, papers, and other photographs documenting the history of railroads and streetcar lines in Salt Lake City, as well as many other aspects of Utah's history. These images are the property of the University of Utah. Any use for any reason must be applied for through our contact webform.