Samarkand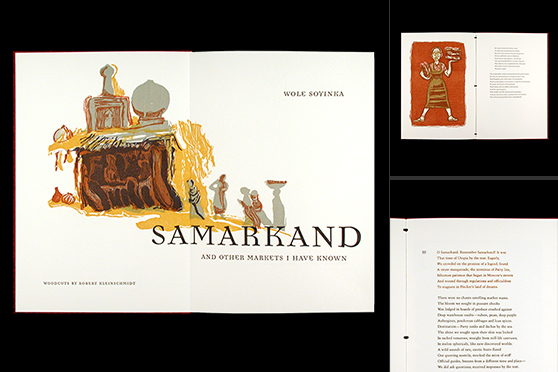 Samarkand and Other Markets I Have Known,
a monumental poem by Nigerian Nobel Laureate, poet, and playwright, Wole Soyinka, draws on history, myth, and contemporary culture to explore the poignancy of human exchange as posed through the world's great marketplaces. It is, in turn, lyrical and ironic—a piece that lays bare difficult religious, political, and social issues while nonetheless celebrating the potential of the human spirit. Illustrated by printmaker Robert Kleinschmidt, the book's images seize upon the richness of the poetry to intensify the dimension of Soyinka's words.
Samarkand
 was produced under the direction of the Red Butte Press and published by the International Institute of Modern Letters's Rainmaker Editions. Printing was completed by John Balkwill in January 2003 with assistance from Marnie Powers-Torrey and Antonia Nelson. Text was printed from photopolymer plates on a Vandercook 15-21 press.
Samarkand
contains four original color woodcuts by Robert Kleinschmidt, also letterpress printed. Daniel Kelm produced the bindings. Boxes and slipcases were made by Campbell-Logan Bindery. Concept, design, typesetting, and project coordination by Victoria Hindley.
Signed by both the author and artist, Samarkand has been issued in an edition of 26 lettered copies, 399 numbered copies, with 15
hors de commerce.
Purchase Info
Samarkand and Other Markets I Have Known

Wole Soyinka
2003
Woodcuts by Robert Kleinschmidt
Signed by author and artist
In collaboration with the publisher, the International Institute of Modern Letters
Japanese handmade and French mouldmade papers; housed in dark purple covered slipcase; 24 pages
Limited edition of 399 (plus 26 lettered): $900