Wo/Men at Work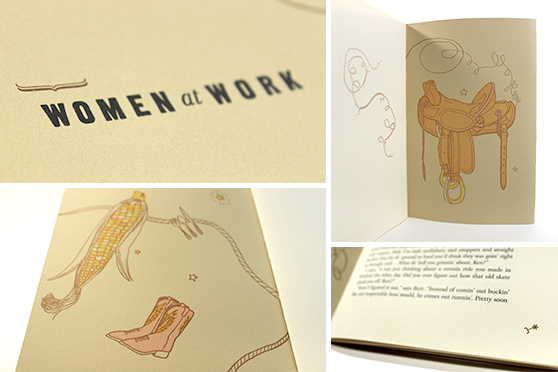 Wo/Men at Work contains an introductory essay by Matthew Basso and Andrew Farnsworth; Ralph Powell's story about the rodeo, "Everything's Dangerous," from the Federal Writer's Project collection Men at Work (forthcoming from University of Utah Press, edited by Matthew Basso); and a contemporary response by Judy Blunt entitled "Cooking from Scratch," in which the author, who grew up on a Montana ranch, explores the notion of "women's work." This unique, 32-page, W-fold pamphlet is printed on Rives Heavyweight and BFK papers.
The production of Wo/Men at Work furthers its investigation of American labor through physical practice and through the integration of cutting-edge and antiquated technologies. Photosensitive polymer plates created from digital files are employed alongside letterpress printing & hand bookbinding —processes contemporaneous with those used during the Men at Work era. The body typeface is a version of Fairfield, released in 1939 and designed for the Linotype machine. Additional typefaces, also evocative of 1930s and '40s printshop vernacular, are Hamilton, a revival of a popular 19th century wood type; Franklin Gothic, a workhorse sans serif found in printshops across America; and Cheltenham Italic, a ubiquitous early 20th century serif design.
Wo/Men at Work is a cross-departmental, interdisciplinary project, on which numerous hard-at-work men and women collaborated. Matthew Basso, faculty member in history and gender studies and Director of the American West Center, initiated the project. Book Arts Program Managing Director Marnie Powers-Torrey managed production. Creative Director David Wolske typeset and designed the text. Claire Taylor and Laura Decker produced multi-panel cover illustrations in dialogue with the essays and one another. Emily Tipps devised the structure, and oversaw binding. Candidates in the University of Utah's graduate creative writing and book arts programs were instrumental in production. MFA candidate Becky Thomas was an invaluable reader and editor. Under the advisement of Book Arts Program staff, PhD candidate and American West Center fellow Andrew Farnsworth, MFA candidate Chris Dunsmore, and Dayna Kerns printed and bound the edition.
Purchase Info
Wo/Men at Work
Matthew Basso and Andrew Farnsworth, Judy Blunt, and Ralph Powell
2012
Artwork by Laura Decker and Claire Taylor
French mouldmade papers bound in a W-fold pamphlet; 32 pages
Limited edition of 200 (plus 26 lettered): $125